Six art exhibits to visit this week
If Holy Week wasn't enough to soothe your soul, a few visits to an art gallery can help
Apr 22, 2019
So. It's the end of the month and you're feeling the blues. You might've thought that the Holy Week break would reinvigorate you for work, but it's only made you drag your feet to the office harder ('Is it possible to have a vacation hangover?' your incongrously tired body asks).
Before you start fantasizing about dropping your life and drifting aimlessly across the country à la Agnés Vardas' Vagabond, here are some art exhibits happening this week that might just put some spring back into your step. After all, art is its own form of therapy. (Read: Feeling sick? You might just need to go to the museum)
1. Rustan's For The Arts 2019
3F Rustan's Shangri-La, EDSA cor, Shaw Blvd, Mandaluyong
Mar. 26 to Apr. 30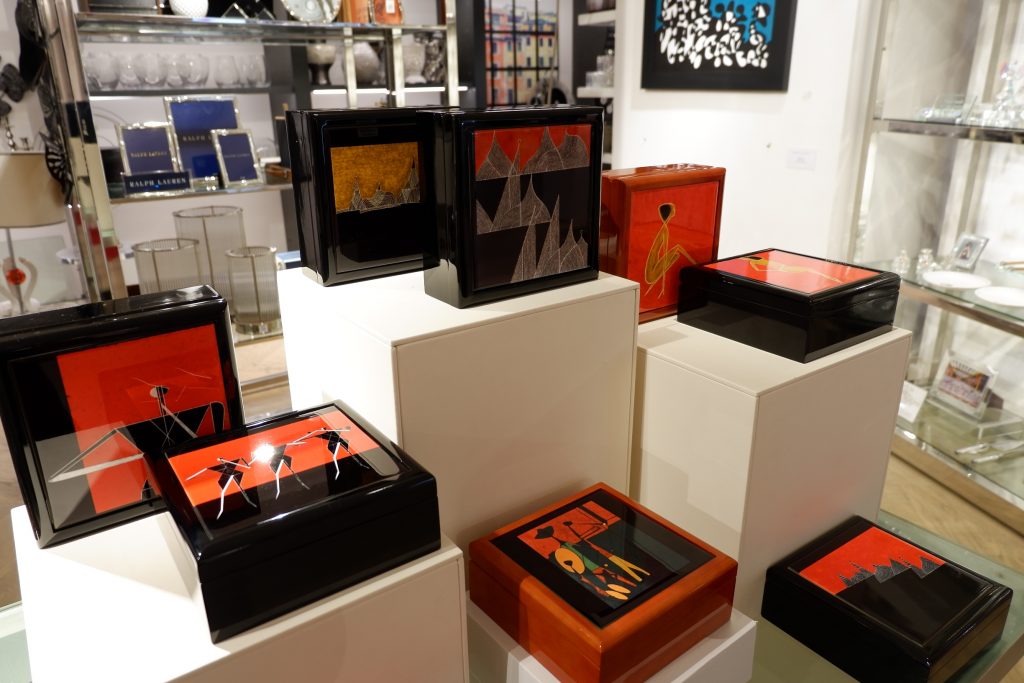 Every year, the shopping conglomerate holds an art exhibit "For The Arts" in partnership with Filipino artists. It's held within one of their department stores, making the artworks more accessible to the public. This year, Rustan's is partnering with National Artist for Visual Arts Arturo Luz and his granddaughter Paulina Luz Sotto, who both specialize in abstract and geometric art. At the exhibit, you can also find lunch boxes and serving trays bearing Luz's art on them.
2. A Glassful Of Ocean, Vinyl on Vinyl
2241 Pasillo 18 La Fuerza Compound Chino Roces Ave, Makati
Apr. 11 to May 2

"A Glassful of Ocean" is an exhibit featuring works by eight artists:  Teo Esguerra, Poeleen Alvarez, Yana Ofrasio, Rene Bituin, Jobert Cruz, Iori Espiritu, Jacob Lindo, and Eva Yu. All young artists, they employ various kinds of mediums, from Alvarez's Monopoly-inspired board game, Espiritu's ceramic installation, to Teo Esguerra's found objects.
3. Pag-alala sa Hinaharap, Eskinita Art Gallery
2F Makati Square, Chino Roces Ave, Makati
Mar. 30 to Apr. 23

"Pag-alala sa Hinaharap" is a solo exhibit by visual artist Eric Guazon. The pieces zero in on the brutality of war and Martial Law, and act as a sharp criticism on the country's past and present experiences of war and dictatorship. The name of the exhibit carries a double meaning: pag-alala as a remembrance of the hardships of war and fascism and of the work of his father, a political activist, and pag-alala as a call to start worrying over the country's increasing return to a dictatorship.
4. Circa, Kaida Contemporary
45 Scout Madrinan, South Triangle, Quezon City
Apr. 11 to 27

For visual artist Lui Gonzales' second solo show "Circa," Gonzales uses "layers of torn paper" to comment on the "fleetingness of memory." By presenting "bits and impressions of occurrences, snapshots of episodes that were once part of a larger experience," through these torn bits of paper, she is able to evoke a "sentimental familiarity" within the viewer.
1890 Vasquez St. Malate, Manila City
Mar. 22 to Jun. 23

Unlike the other exhibits on this list, "Underbelly" at Calle Wright is as aural and spatial as it is visual. Created by Robin Rivera, Tapio Snellman, and Nap Jamir II, the exhibit makes use of the entire four corners of the Calle Wright house. One room only contains Rivera's "Wash" installation, consisting of speakers that blast the sound of cymbals and drums which reverberate around the house.
6. A Mubble in a Puddle, Mo_Space
3F MOs Design Bldg, B2 9th Avenue, Bonifacio High Street, BGC
Apr. 27 to May 26
"A Mubble in a Puddle" by Yasmin Sison is a decidedly childlike exhibit, featuring works that were seemingly "spilled out of a child's toy box." Sison, known for her abstract expressionist works portraying children in all forms of emotions, presents movable sculptures, paintings, and collaborative works that are meant to be "finished" by the viewer.
Featured photo courtesy of Visions and Expressions, Inc.
Get more stories by subscribing to our newsletter here.
Read more:
The definitive guide to Manila's museums and galleries
Artist Leeroy New's "Aliens of Manila" takes over New York City
This "alternative arts school" is open to anyone interested in art—students, artists, or not
Read more by Zofiya Acosta:
For girls who've survived sexual abuse, art helps them deal with painful, messy emotions
Art therapy for young leukemia warriors
Please stop putting light-skinned models and actors in brownface
TAGS: art exhibit art therapy arts calle wright culture eskinita art gallery nolisoli.ph rustan's for the arts vinyl on vinyl