This "alternative arts school" is open to anyone interested in art—students, artists, or not
"Eskwela" offers interdisciplinary classes on fields such as art history, architecture, and dance
Apr 2, 2019
Prominent painters Juan Luna, Felix R. Hidalgo, Fernando Amorsolo, Guillermo Tolentino, Carlos "Botong" Francisco, Emilio Alvero, and Tomas Mapua may have different approaches in art, but they all honed their skills at the same place: the Escuela de Bellas Artes.
Known as one of the first fine arts academies in the Philippines, the arts school was located in a Quiapo mansion owned by artist Rafael Enriquez y Villanueva. After letting young artists gather in the mezzanine of his house in the 1870s, Enriquez decided to officially transform it to a school called Escuela de Bellas Artes.
Sadly, the school was moved to the Padre Faura campus of the University of the Philippines which left the Quiapo edifice in "a state of decline." An Inquirer Lifestyle article reported that after Enriquez' death, the house became "a dormitory, bowling center, restaurant, venue for live sex shows, even an abortion clinic before the homeless took over the house, as they did other stately homes in the area."
It wasn't until 2006 when the historical building was honored, following Jose "Jerry" Acuzar's decision to acquire the structure and restore it in the now famous Las Casas Filipinas de Acuzar.
(READ: Contemporary art finds a home in heritage park Las Casas de Filipinas de Acuzar)
Now that the building in Bataan has been rebuilt, non-profit organization Bellas Artes Projects decided to open in their Makati outpost a school like Escuela de Bellas Artes—a place where anyone interested in the arts can gather. Only this time, it's focused on a more interdisciplinary and contemporary approach.
"Eskwela"
Named "Eskwela," Bellas Artes Projects' new education intervention program aims to gather and teach anyone who wants to study the arts, whether the participants already have a background on it or not. It's like an "alternative arts school," Bellas Artes Projects' artistic director Inti Guerrero said.
(READ: Bellas Artes Outpost breaks ground in Manila)
The classes will be held at the Bellas Artes Outpost in Karrivin Plaza, Chino Roces Ave., Makati City.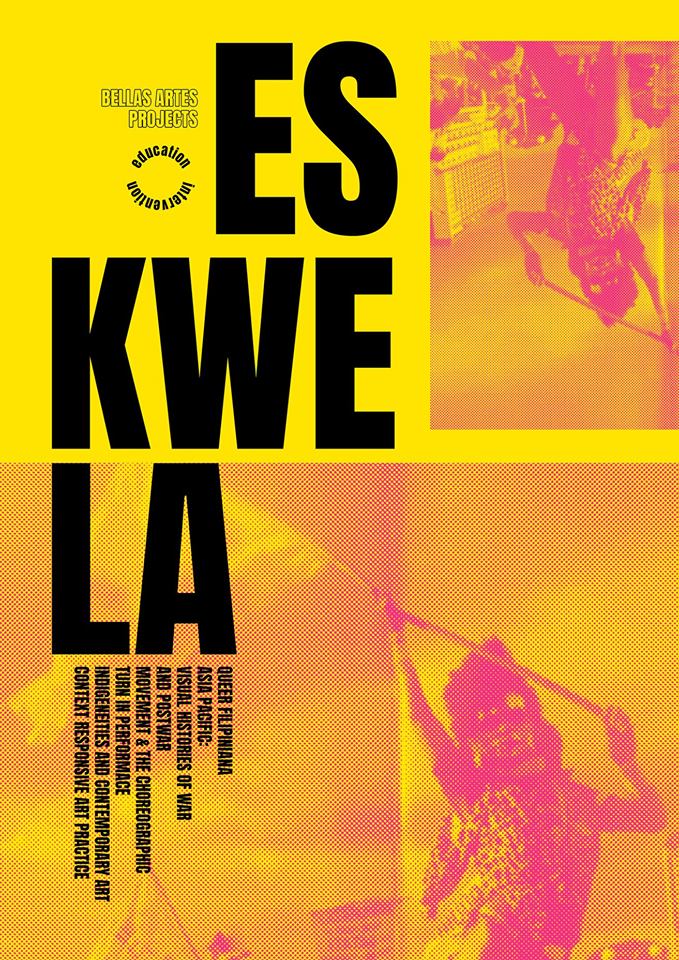 "Our main goal is to create more artistic spaces and widen the reach and role of art in the society," Guerrero told Nolisoli.ph. "It will give more people the opportunity to practice their passion and learn the topics they never got to."
Starting this May, the organization will be offering "intensive seminars and workshops" led by respected artists, historians, film theorists, performers, curators, and even anthropologists. The workshops are focused on five subjects deemed as important in the arts and humanities field today. Here's a short run-through for each:
Queer Filipiniana
This subject is rooted in the fact that in the country, "Filipiniana is often represented in hetero-normative lens," Guerrero said. They decided to give a critical look into the representation of the Filipiniana at present and in history with an approach not limited to gender. Multi-awarded filmmaker and historian Nick Deocampo, creative writing teacher and writer J. Neil Garcia, and American scholar and transactivist Susan Stryker will be among the instructors.
Asia Pacific: Visual Histories of War and Postwar
Guerrero said they also felt the need to highlight other narratives in World War II, especially the "transformative art practices that followed the aftershock of the Pacific Ocean Theater" where a series of battles took place. The subject will be led by mostly international artists "to give Filipinos a look into the different artistic attitudes across Asia." The list of lecturers includes Asian American filmmaker James T. Hong whose works mostly highlight historical conflicts and race issues.
Indigeneities and Contemporary Art
How does contemporary art affect the indigenous traditions of each country in the world? Like any other artistic movement, contemporary art has been finding tis way throughout the globe. Curators from Romania, Germany, Canada, and the Philippines will be addressing its effect to the traditions in rural areas.
(READ: Why it's important to view art to understand than to critique)
Context Responsive Art Practice
Contemporary artists Isabel and Alfredo Aquilizan will be joining Colombian, Turkish, Mexicans, and other international creatives in theoretical and practical workshops that focus on the history and influence of architectural sites to communities.
Movement & Choreographic Turn in Performance
Aside from visual and architectural arts, the program will also be giving performance art mavens a treat with this subject which will have dancer Joshua Serafin at the helm. He will be sharing the "conceptual possibilities of dance and choreography" and its role to the body and in the society.
Students, artists, historians, dancers, museum workers, creatives, or anyone who just wants to study the arts can enroll in all of these classes. If you want to obtain a certificate of participation, however, you should enroll in at least three of these. Each seminar costs P800.
"Eskwela" will have two legs in 2019. The first cycle, which is now accepting applications, will run from May to June while the second cycle is from September to November. Read this catalog to learn more about the first cycle's schedule of workshops.
Get more stories like this by subscribing to our weekly newsletter here.
Read more:
Artist Leeroy New's "Aliens of Manila" takes over New York City
LOOK: Local artists pay homage to Apo Whang-Od's culture through murals
Art Fair has a tea salon where you can try local tea, cocktails, and Thai desserts
Read more by Amierielle Anne Bulan:
National Museum now displays Jose P. Alcantara's 50-feet relief sculpture
How Francisca Reyes-Aquino sought and fought for our country's folk dances
Spot the National Artist: Where the BenCab and Ocampo works are in this year's Art Fair
TAGS: Alternative art art artist Bellas Artes ProjectsE Eskwela professional school seminar studenta workshop