To all the books we haven't read, yet are already on our bookshelves
For World Book Day, here are the books that everyone should read—including us
Apr 23, 2019
The Nolisoli.ph team has a confession to make. We're the last people who should be doing this (we literally work in publishing!), but we've been hoarding books and not reading them. We have very good reasons for getting these books ("I heard this was good!" "Didn't this win an award?" "This is a classic! In suburban underground chic circles"), and maybe not so much for letting them go unread (Life?).
So in the vein of Lara Jean's honest and heartfelt letters, we're baring out our great shame, the piles of books that we've been meaning to read but haven't. 
Expletives Deleted by Angela Carter
I've heard a lot about Angela Carter—how she was always deemed "ahead of her time" by critics; how she often gives life to strong female leads who challenge the norms of her time (she was born in 1940); and how her approach to fairy tales were completely different, twisted even. So when I saw the last collection of her short stories, Expletives Deleted, on sale at the Big Bad Wolf, I knew I had to bring it home with me. It's filled with 17 of the author's fictional write-ups and essays which—although I haven't skimmed through it—I think are enough for me to understand why she's a truly remarkable writer. – Amierielle Anne Bulan, Junior Content Creator
Lonely Planet's A Moveable Feast edited by Don George
I got this book at last year's Manila International Book Fair. It's an anthology of travel stories that revolve around food—two things I love. Aside from the book's themes, it also features a story by Anthony Bourdain, which was a major plus for me because I loved Kitchen Confidential and A Cook's Tour. I also wanted to learn more about writing about food and about travel, so I thought getting this book would hit two birds with one stone. – Pauline Miranda, Associate Managing Editor
Enigma Variations by Andre Aciman
I haven't gotten to reading, much less opening, the book. In fact, it is wrapped in acid-free parchment paper as I am saving it for the long break. It came from the Manila International Book Fair where I got it for 10 percent less than its original price (that's how they get you). I thoroughly enjoyed reading Call Me By Your Name many summers ago so I thought I would pick up more of his works. Another book of Aciman's I have is an anthology of non-fiction short stories which I am half done with and have grown to like so I keep it on my bedside pile along with many half-read books. I don't know what to expect of this book because I have been putting off reading its plot online as well. I hope it pays off. – Christian San Jose, Junior Content Creator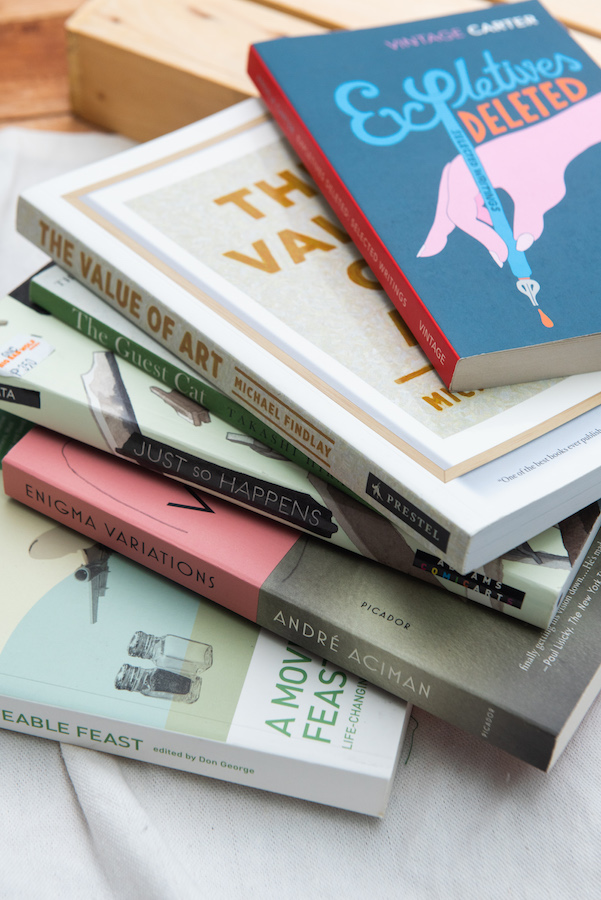 The Value of Art by Michael Findlay
A confession: I'm pretty dumb when it comes to art. I like looking at art, I know of a few artists, but talk to me about the finer details, and I'm going to zone out and draw a big fat blank. So to change that, I got myself this book from the recent Art Fair Philippines. Art theory aside, I really want to get a better picture of how art gets priced and sold, so that the next time someone auctions off a boceto (heh) or never-before-seen artwork by a master, I can finally relate. (Though I still believe art should be in museums, where they're more accessible to people. But I don't know, maybe that's just me as a non-collecting commoner speaking.) – Pauline Miranda, Associate Managing Editor
The Guest Cat by Takashi Hiraide
This book has been sitting on my shelf for the longest time; if I remember correctly, I got this one in 2016 at a bookstore in Singapore. I had just started to read some of Murakami's works by then (South of the Border, West of the Sun is such an underrated Murakami book); so when I came across this book, which also happens to be written by a Japanese author, I thought I'd give it a shot. Plus, it's about cats! I read a few pages back then but I haven't gotten the chance to actually finish it because, you know, life happened (yup, another lame excuse). – Jill Chua, Junior Content Creator
Just So Happens by Fumio Obata
Last February, my brother asked me to look for cookbooks or graphic novels for him at the Big Bad Wolf. While I got to snag some decent cookbooks for him, this graphic novel stood out from a sea of superhero graphic novels. It's about the journey of a woman returning to her roots in Japan, after making a name for herself in London. Upon skimming it, you can tell that it's a gorgeous graphic novel that bridges two different cultures. I was supposed to give this book to him but I eventually decided against it and kept it instead. So to my brother, if you ever come across this, I'm so sorry but I have no regrets. – Jill Chua, Junior Content Creator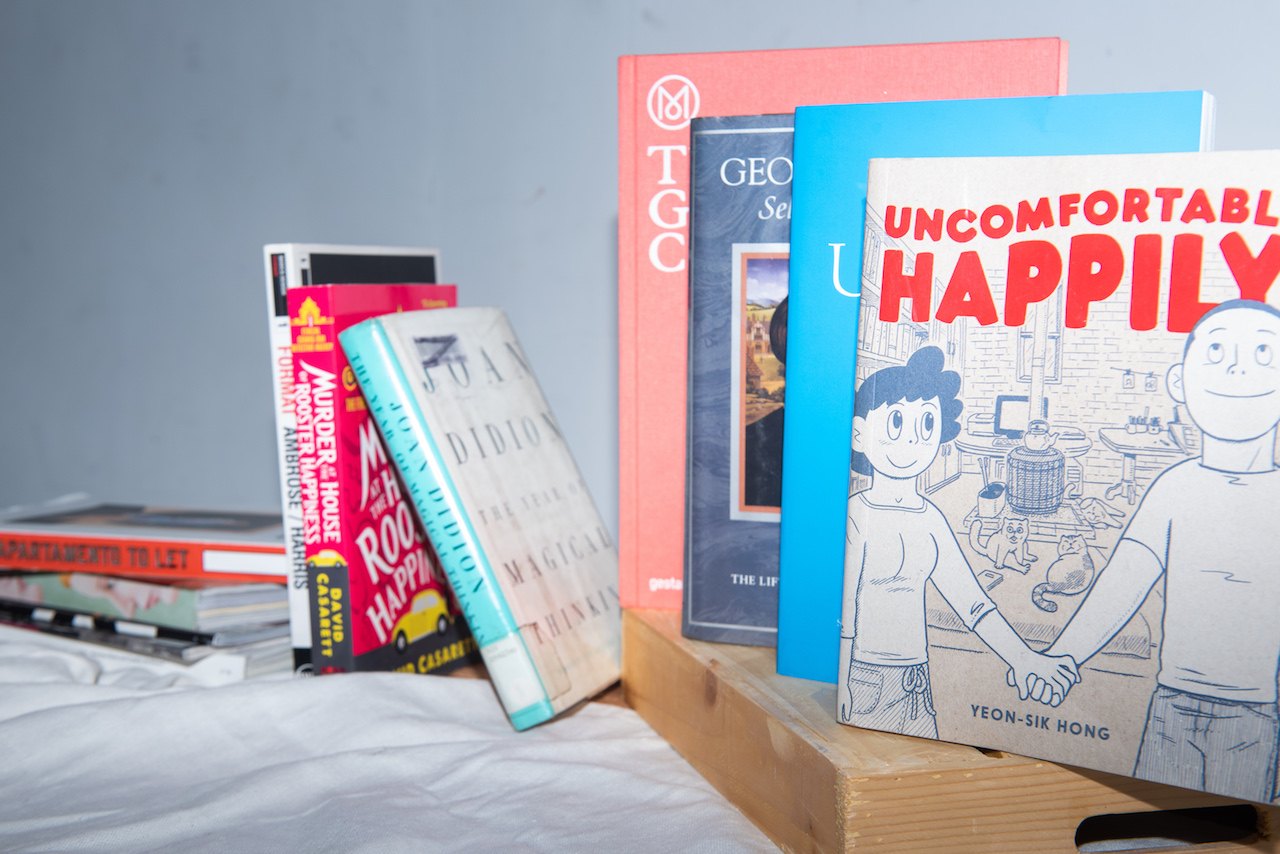 The Year of Magical Thinking by Joan Didion
I haven't read a physical Joan Didion book ever. Luckily, a colleague owns one, so I borrowed it regardless of the story. I've already started reading this, but every word, sentence, paragraph, chapter is too heavy; I couldn't finish it in one sitting. Here, Didion eloquently tells the story of her life after the death of her husband. – Yazhmin Malajito, Junior Content Creator
Uncomfortably Happy by Yeon-sik Hong
Alright, ladies and gentlemen, another borrowed book from another colleague! I wanted to start reading graphic novels because I need to try something new. So I borrowed this. Unlike Didion's, this one is easy to read. I've already started it as well, but I can't find the time to focus solely on reading. Lame excuse, I know. – Yazhmin Malajito, Junior Content Creator
Basic Designs: Format by Gavin Ambrose and Paul Harris
I spotted this book at Booksale's clearance rack for P15 and thought that it would be extremely useful for my reference. The book has info about different techniques and specifications for print. It's basically a layout designer's bible! – Tricia Guevara, Junior Designer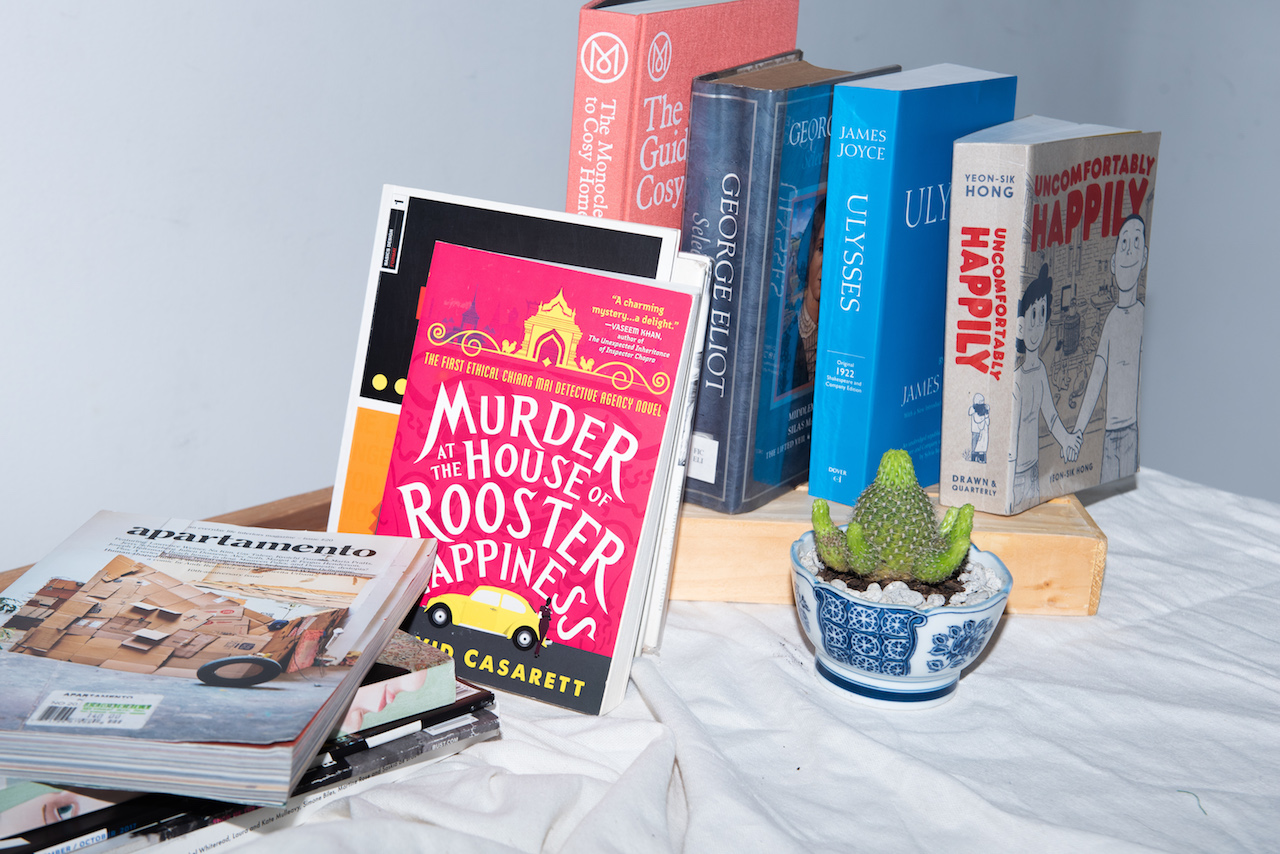 Murder at the House of Rooster Happiness by David Casarett
I'm a sucker for murder mystery books, especially when the lead character is a woman detective. I grew up with all volumes of Carolyn Keene's Nancy Drew Classic Collection by my side. When I finished reading all of it (I think I was a high school sophomore then), I ventured into the world of Agatha Christie's novels and continued to seek other collections in this genre. This is why when I saw this book at the recent Big Bad Wolf, I couldn't take my hands off of it. Sadly I haven't gotten the time to actually open it, but that doesn't mean I won't in the near future. – Amierielle Anne Bulan, Junior Content Creator
Ulysses by James Joyce
If I'm going to be honest, the only reason why I wanted to read this in the first place is because James Joyce is the kind of author that erudite writers read, and I want to be an erudite writer. I've read Joyce's short story "The Boardinghouse" and I liked it well enough, and I've read other famously esoteric works like Thomas Pynchon's and survived, so I thought I could handle it. I opened the first page to see the introduction by Enda Duffy which began with the sentence, "You are holding in your hands the most beautiful book in the history of English literature," and immediately felt suspicious. I flipped to the actual first pages of the story, saw the line "The snotgreen sea. The scrotumtightening sea," and closed the book. I'll make another attempt, I promise. Just not now. – Zofiya Acosta, Junior Content Creator
Selected works by George Eliot
This collection includes two of the best novels in English literature, Middlemarch and Silas Marner, or so I am told. I've wanted to read Eliot for a really long time—a female writer! in the Victorian era! who used a masculine pen name so she could write her mature, unlady-like novels in peace!—so I jumped at the chance to get this when I found it at Reading Club 2000. However, now that I have it, I just haven't found the energy to read anything so intellectually stimulating. One of these days, I'm going to turn off the internet and curl up with my cat and read this book, I swear. – Zofiya Acosta, Junior Content Creator
The Monocle Guide to Cosy Homes
I am trying to build a collection of coffee table books and fortunately, National Bookstore recently had a warehouse sale where I got this book for P300, along with a few other marked down titles. I like Monocle the magazine and their guides and have been on the lookout for their books so when I saw it I immediately knew that I had to get it. It has been on my work desk since. Oh and I like that it's in this salmony pink color. – Christian San Jose, Junior Content Creator
An assortment of magazines
In the process of rebranding Nolisoli's print issues, I had to do a lot of research. I took it upon myself to buy stacks and stacks of print magazines to study their layouts and how different elements work differently with each other. Now that print season is over, I figure I should actually take time to read what these titles have to say. – Tricia Guevara, Junior Designer
Get more stories like this by subscribing to our newsletter here.
Read more:
6 libraries in Metro Manila for your next reading break
Trick yourself into reading books again
What's on writer Mara Coson's reading list? Historical fiction, humor, and dogs with their humans
Read more by Zofiya Acosta:
Three local children's stories that talk about our society's biggest issues
This 24/7 library in Makati gives away books to visitors
Help shape the map of all bookstores and book-centric museums in the country
TAGS: andre aciman angela carter arts books female detective george eliot graphic novels james joyce joan didion lonely planet moveable feast monocle guide nolisoli.ph read reading world book day