Who has the power to claim historical cultural property?
Looks like there's really no stopping the auction of our historical documents
Nov 30, 2018
When historian Ambeth Ocampo said it is we who repeat history, it really hit me.
He's right. We really have no one else to blame over how repetitive the turn of events are in our country except ourselves. And this point really hits hard today.
Today is Andres Bonifacio's 155th birthday, but it's anything but happy.
In recent months we've written about the resurfacing of important historical documents and artifacts. Among these are Bonifacio's letters, his Katipunan flag, Juan Luna's disputed "Spoliarium" boceto, and now the latest, Emilio Aguinaldo's deadly telegram to Antonio Luna.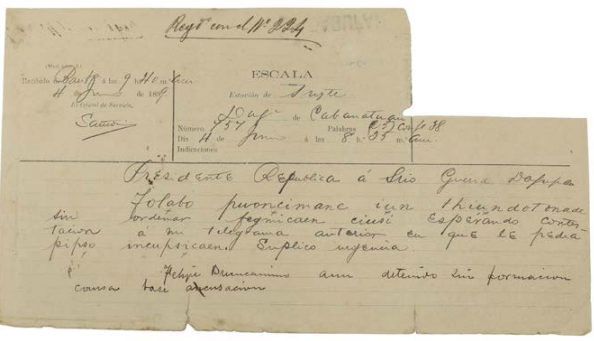 But the circumstances behind these discoveries aren't worth celebrating. They're all coming to light not because they're being placed in a museum where they belong—but under the gavel.
We keep harping on about how we need to instill patriotism and love for country, and yet we—our government and cultural agencies most especially—have no power to claim these properties back for the public to see and learn from. Simply because we can't afford it.
Our agencies' budgets can't match the rocketing prices of the auctions, and in the first place, our government can't participate in an auction. Our laws also don't give them the power to demand—or as Leon Gallery's Jaime Ponce de Leon states, "confiscate"—these items back.
ANC shares that the National Historical Commission of the Philippines (NHCP) had written to request the Leon Gallery to hold the lot of historical documents until the government can buy the items. NHCP said they might need more time before the purchase since the fund they will be using will come from the 2019 budget. De Leon protested this, saying current law does not stipulate the agency can do this.
This isn't the first time this has happened, and Leon certainly isn't the first gallery or auction house to do this. Instances like this will continue happening, I surmise, until we have a strong agency or government arm that will not only update laws, but have a strong political will to reclaim, protect, and preserve our historical and cultural properties.
In the meantime, on Bonifacio's birthday, we can only pray that whoever successfully wins the bid will put these documents to good use, and not just for clout. And perhaps utter a sorry to ol' Andoy, too. Sorry we keep repeating the mistakes you and your generation have.
Featured photo courtesy of Leon Gallery
Get more stories like this by subscribing to our newsletter here.
Read more:
Congress has little time left to create a Department of Culture
Aguinaldo's deadly telegram to Heneral Luna emerges in auction
Bonifacio's flag was auctioned off for P9.3 million—should we have allowed it?
Sold for P63M: Here's how the Spoliarium boceto went under the gavel
Recipe of Teodora Alonso for bologna sausage is up for Leon Gallery's Mid-Year Auction
TAGS: andres bonifacio emilio aguinaldo jaime ponce de leon Leon Gallery National Historical Commission of the Philippines