This Malang, Kiukok and Yonzon masterpiece is being auctioned for P20M
Own a piece of history from acclaimed local artists like Ang Kiukok and Anita Magsaysay Ho
Jun 10, 2020
You can bring home the Creation Story's local rendition from three acclaimed artists who joined forces to depict Adam and Eve as Filipinos.
Titled "Goddesses," the groundbreaking July 1974 three-panel collaboration between artists Mauro Malang Santos, Ang Kiukok and Hugo Yonzon, Jr. which is being auctioned for P20 million also features a touch of their signature cubist abstractions. As its title suggests, the triptych highlights the women they revere as goddesses.
Using a bold and colorful palette, the three artists transform the iconic biblical scene with elements from Philippine culture and its influences.
"The panorama of Goddesses begins with the azure sweep of Ang Kiukok's universe: barebreasted avatars descend gracefully to earth, floating among the shapes that are infinitely recognizable as Ang's," writes Lisa Guerrero Nakpil in the auction's e-catalog. For his panel, Yonzon then painted his own localized depiction of Adam and Eve with the Tree of Knowledge in the background and patterns inspired by the Maranaos' okir.
Lastly, Malang Santos drew whimsical elements such as a vista of houses, jeepney and the word "Hello" written twice alongside a burst of colors for his side of the panel.
This women-inspired piece will be showcased in the upcoming Spectacular Mid-Year Auction 2020 at Leon Gallery. In addition to "Goddesses," female artists are also taking the spotlight at the auction. Works by four of the country's most prominent women in the world of art will be up for the event.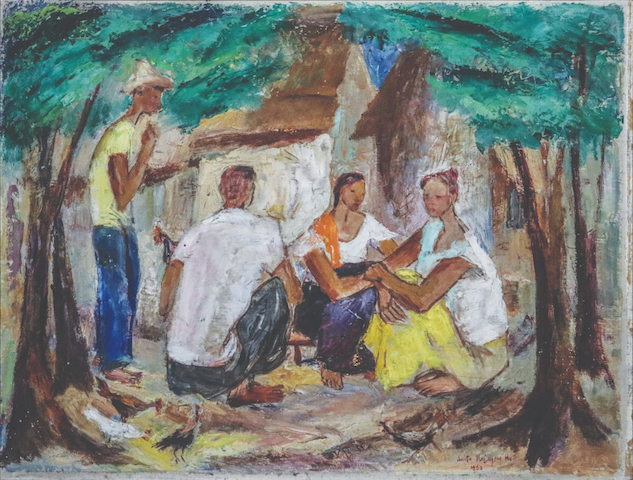 Among these are Anita Magsaysay Ho's "Untitled (Barrio Scene)", which was inspired by her childhood memories of summer vacations in Zambales. 
Another work that captures the beauty of nature is "Kakawate Tree in Tagaytay" by Betsy Westendorp. Capturing the silence and solitude of Taal Volcano's magnificent view, the painting aims to evoke one's memory of the scenic place.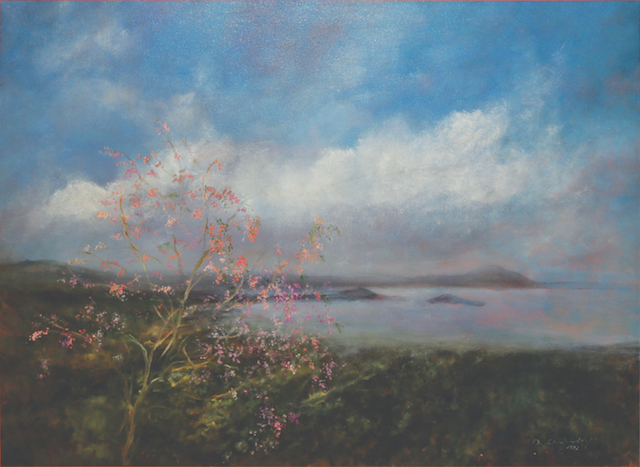 In contrast to these delicate atmospheres, world-renowned Filipina artist Pacita Abad goes for a bold and proto-primitivist style for her pre-colonial tribal art-inspired masterpiece "Untitled." 
Going for a different medium, Marina Cruz uses fabric to showcase her skills in contemporary art with the hyperrealistic piece titled "Red Blue and White Stripes Swimming."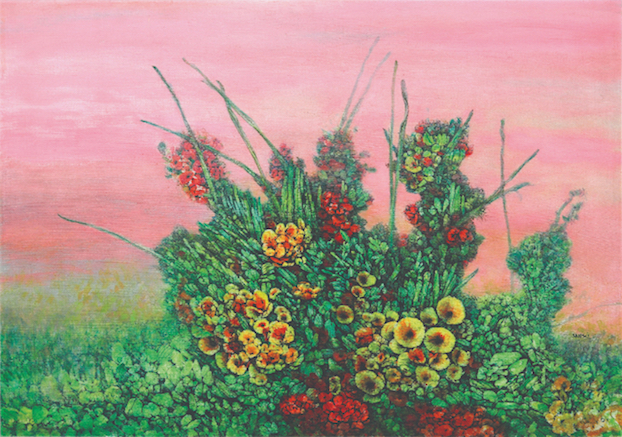 Other masterpieces by local artists which will be available for auction include Juvenal Sanso's "Flower Garden," Justin Nuyda's "Abstract Landscape," Jason Montinola's "Untitled," Jigger Cruz's "Sunflower with Beer and Peanuts," Lao Lianben's "A Matter" and Mark Justiniani's "Spectator."
Art collectors and enthusiasts may also check out the pieces by various national artists such as Carlos V. Francisco, Jose Joya, Fernando Amorsolo, Victorio Edades and Benedicto Cabrera included in the auction.
Portrait artist Antonio Garcia Llamas will also show how he earned his title as the "Filipino Gaugin" by displaying his masterpiece "Nude," which belongs to his roster of prized collector artworks.
All of these artworks will be up for grabs in Leon Gallery's upcoming The Spectacular Mid-Year Auction 2020 on June 20 at 2 p.m. The exhibit will be at the Eurovilla I ground-floor galleries at Rufino corner Legazpi Streets, Legaspi Village, Makati. Its catalog, as well as the registration to bid, is also available on Leon Gallery's website.
Header photo: "Goddesses" by Mauro Malang Santos, Ang Kiukok and Hugo Yonzon, Jr.; Courtesy of Leon Gallery
Get more stories like this by subscribing to our weekly newsletter here.
Read more:
Recommended for you: Local theater productions to watch online
Get to know the stories behind Ang Kiukok, H.R. Ocampo and Justin Nuyda's paintings at this auction
This year's Art in the Park will be postponed due to the coronavirus outbreak
TAGS: Ang Kiukok Anita Magsaysay Ho Betsy Westendorp Hugo Yonzon Jr. Leon Gallery Marina Cruz mauro malang santos Pacita Abad