Last July, the world commemorated the 50th anniversary of the first moon landing by Americans Neil Armstrong and his Apollo 11 team. This is done by the US to prove their (space) supremacy over the Soviet Union, who 12 years prior sent out a dog named Laika to orbit the Earth in a spacecraft called Sputnik 2.
But neither of these superpowers was actually the first to send out a living creature on the lunar surface. It was actually China—but not in a literal sense.
A book of Chinese poems from the Warring States era tells of the story of a rabbit on the moon that constantly pounds herbs in a mortar to produce the elixir of immortality for the moon goddess Chang'e.* The folklore has been passed down to succeeding dynasties and taken various versions in other cultures.
In Japanese and Korean texts, for example, the rabbit is believed to be pounding the ingredients for rice cake, which makes sense and also leads some to believe that this glutinous food is actually the elixir of life.
In San Juan, the legendary rabbit on the moon is the namesake of a restaurant called Moon Rabbit.
Much like the contested contents of the lunar rabbit's mortar, Moon Rabbit is a melting pot of influence. Although no other cuisine welds so much influence as Chinese in the menu, Patrick Sen, its operations manager, will be the first to admit that it is not strictly that. Or at least, not just that, either in a bid to differentiate it from the throngs of other restaurants in the vicinity or to temper the expectations of Chinese customers who come in anticipating familiar flavors of homemade dishes.
But regardless of familiarity with its dishes, this 1,500-sq.m. former preschool-turned-restaurant lures anyone with its swanky mid-century modern interiors that go well with the original structure. Wooden floors and exposed pillars, plenty of huge glass windows to let enough sunlight in, and light taupe walls make it feel as if you are in fact at home and not in a restaurant—a stark contrast to the stereotypical Chinese establishment.
Then again, the Moon Rabbit has its fair share of contradictions. The way its management is structured veers away from the usual family-run businesses where elders take the lead. Sen and his third-generation cousins take full control of the operations while their parents, aunts, uncles, and grandparents take more passive yet influential roles like suggesting which family recipes make it to the menu.
There is none of those unfamiliar dish names and character that alienates non-Chinese diners, either. Instead, there are basic recipe descriptions they pass off as names that are more approachable both lexicon- and price-wise, as most dishes are priced between P100-P500.
Just like its interiors, the menu is strikingly modern while still keeping one eye out for tradition. For appetizers, the Hong Ma Foccacia (P125) is a spin on the mantou pork buns but using an Italian bread, while Three Kinds of Eggs (P150) combines steamed, salted, and century eggs, which are all fixtures in the cuisine. The chilled tofu (P160) in all its simplicity is telling of Moon Rabbit's direction: fuss-free and uncomplicated. 
Reminiscent of Hainan chicken is the White Chicken (P295), poached chicken in aromatics served with ginger paste. It's easily one of their best-sellers owing to its tender and flavorful meat and gelatinous skin.
At the end of the meal, Sen asks if we are ready for dessert, almost low-key hyping their new creation. In comes the sweet ending, plated no less on their signature white and blue ceramic. Fittingly, it's a rabbit, inanimate but pure as snow and almost like a delicate porcelain creation. "You have five minutes to take all the pictures you want of it," Sen invites. 
It was the perfect Instagram food—doesn't melt quickly, easy to photograph, and wouldn't make a dent in your wallet—a baffling new genre of food that most dining establishments are racing to create to cater to a new market of tech-savvy and social media-minded customers.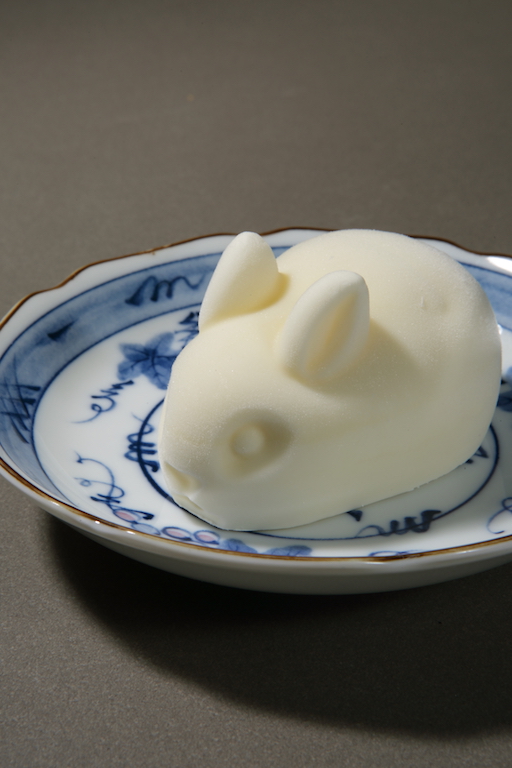 That was until we sliced it open to reveal the crimson-colored strawberry purée inside of the frozen pannacotta skin. The act of slicing through it made it seem almost like dissecting a live rabbit, which made one of my colleagues who has pet rabbits a tad uncomfortable. Still, we forked through it until it was only the snout that's left.
Disclaimer: No rabbits were harmed in the making of this dessert or this story. Only a rabbit owner that was slightly distressed.
*The first human in the moon, at least according to Chinese legend. She is also the prominent subject of the mid-autumn festival.
Get more stories like this by subscribing to our weekly newsletter here.
Read more:
This QC Chinese spot has heavy, customizable, and budget-friendly rice bowls
There is no chop suey in China—and other dishes that aren't actually Chinese
Roasted ducks and asado rice topping are the stars at this New Manila dining spot
Writer: CHRISTIAN SAN JOSE
PHOTOGRAPHY PATRICK MATEO