Anyone who's been to Palawan knows that the beautiful scenery leads to even more countless sights. But just outside Coron town's center is a new resort facility where guests can find plenty of room to roam, relax, and rediscover the reasons why Coron, as difficult as it is to get to, is even harder not to revisit over and over again. 
Five minutes away from the town's cultural center is Bacau Bay Resort Coron, an eight-month old hotel under the Lhuillier Group, that offers a fascinatingly different glimpse of Coron's pleasant pace at a time when much of the area is starting to feel the effects of modern influence. Cases in point being the new McDonald's opening recently as well as a network of sari-sari stores and commercial establishments and eateries revealing themselves on virtually every block and corner. "It's a sign that tourism in the region is slowly gaining traction," says one of the local guides on the 30-minute van ride to the man-made Maquinit Hot Springs—itself rapidly populated by tourists.  
Yet while progress means good opportunities, industrialized alterations—including two new international airports being constructed in Busuanga and San Vicente—should be met with foresight. Powered by a vision that revolves around Filipino artistry and eco-friendly initiatives, Bacau Bay Resort Coron looks to buck the trend with an architectural expression that coexists rather than competes with nature; one that touches on a deeper connection with its location.
"You can move around," says general manager Gilbert Uy, whose 21-year experience at Dusit Thani in Manila was commissioned to oversee the operations of the contemporary resort hotel. "There's a garden, scattered hammocks, and swinging garden chairs," he says of the 1.6-hectare property while traversing the 750-step walking path around the resort. But Uy isn't only hoping the resort would pave a new path to experience Coron, he also wants to map out a new arrangement for the island's resort sector. 
The political climate just west of Palawan may be wrapped in tension and uncertainty but it doesn't dampen the spirit of locals who proudly sail across the West Philippine Sea or overshadow the increasingly multicultural atmosphere of resorts. If anything, the arrival of sustainability-driven establishments has rededicated the idea of travel towards respect and courtesy that will hopefully do justice to a homegrown hospitality experience in Palawan. Judging by the examples shown by Bacau Bay Resort Coron's commitment to Filipino artistry—as much as 60 percent of its guests are locals—what results is a potential look into the future of how tourism should be like—an act that a few more local resorts could learn a thing or two from. 
Fitted with Filipino sensibilities
Walking around the facility, a theme starts to emerge: It's a clear celebration of Filipino craftsmanship. Design is a difficult practice to master and few have the clout to pull it off adeptly but under the watchful eye of Makati-based architect Rolly Mercado, the 80-room resort overlooking Coron Bay becomes a loosely minimalist space taking varied inspiration from nature—wood furnishings, rattan headboards and ceilings, mangrove wall decals, artwork by Anton Cunanan—as well as the local community. "Weaving is an industry here," says Uy, as he points out the iconic bayong keycard holders and banig umbrella stands as obvious nods to Filipino culture. That the F&B outlets (Amihan Restaurant, Pugon Café, Isla Pool Bar) and in-house Alon Spa are all labeled in the vernacular is another concrete expression of how local culture is championed.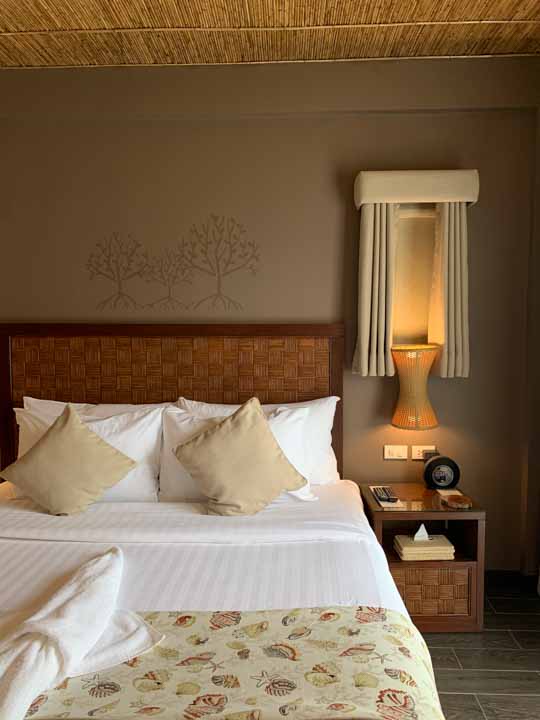 Source local as much as possible 
"In our menus, we don't have beef because we don't have beef here in Coron," says Uy. "In fact even chicken and pork are imported from nearby provinces like Mindoro since there's not many of these products here. Ngayon na lang, when people from Manila are migrating to start doing business here."
Nowhere is sustainability more apparent than in food. If there's any indication of how good a hospitality establishment is, it's in the way they play with the flavors of the community they are part of.
"We started with a small menu with what is really available and then introduce new ones as we go along," says Uy. At its flagship restaurant Amihan, chef Reg Saguin created a menu built on locality—and it works.
Freshly caught samaral and tanigue supplied by a local fisherman are either salted and peppered to a crisp or grilled to moist perfection, their local clams called kibao are baked to just-right juiciness, and the house-made sinigang na bagnet is a heady mix of irreverence and modernism.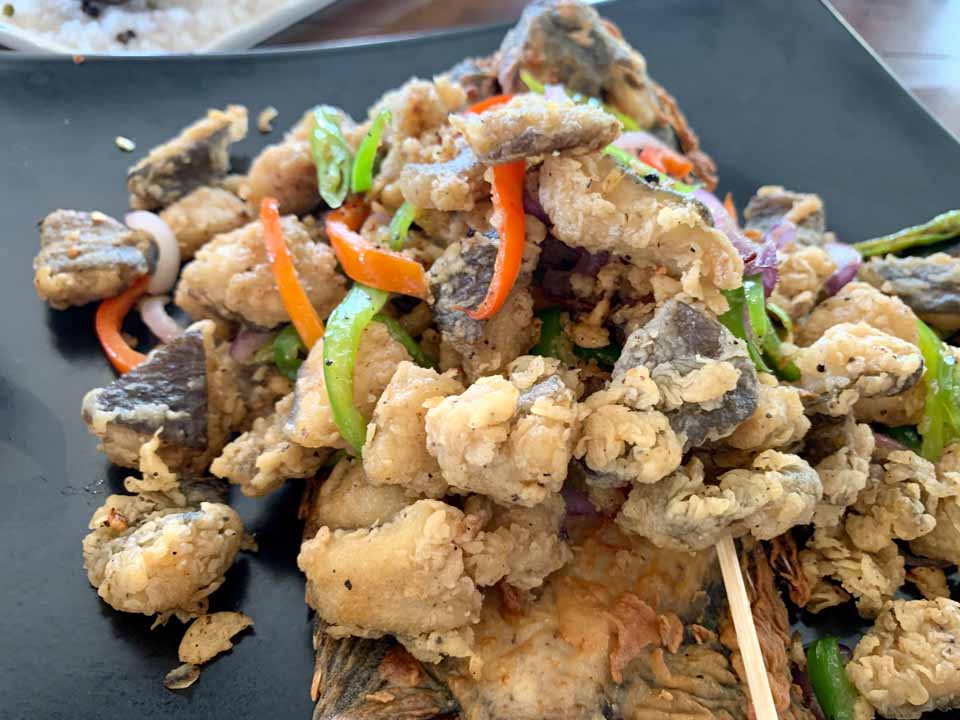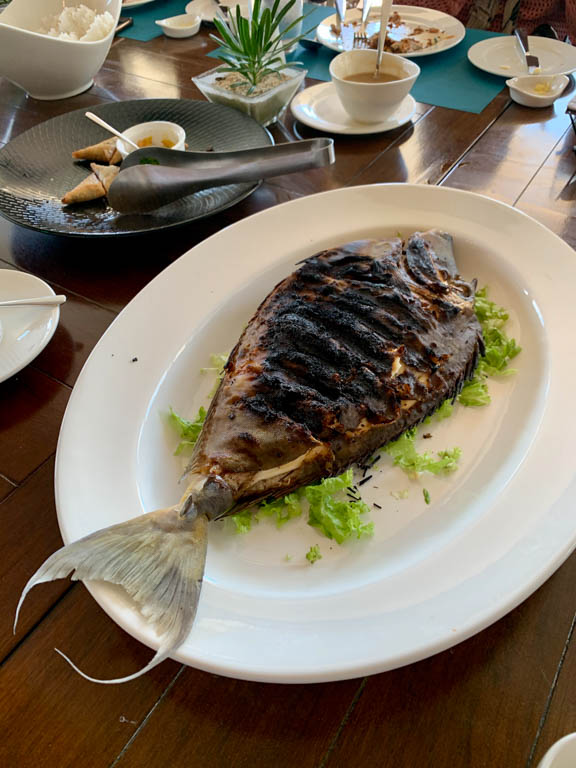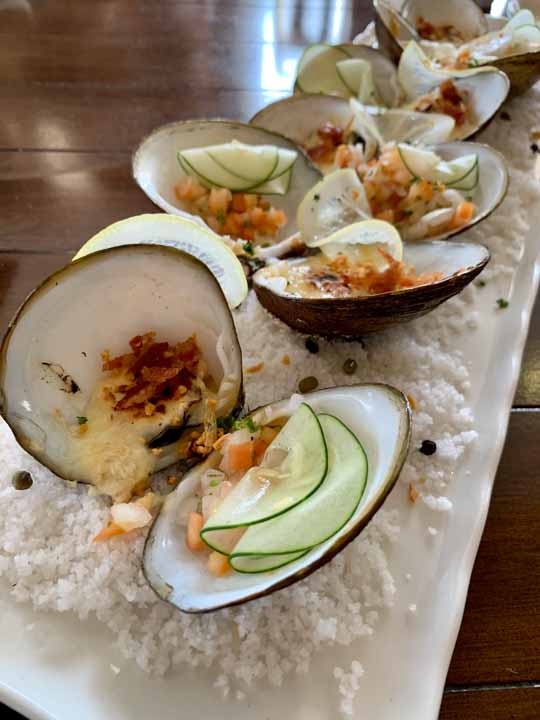 Eco-friendly empowerment
Because the resort is named after the mangroves just next to its private jetty port, a luxury considering that most island hopping commences in the town pier, Bacau Bay Resort Coron's environmental initiatives are heavy works in progress founded on both the roots and surface of what it means to be sustainable.
"We want to be as natural [as possible]. We'd like of course to espouse [being] environmentally-friendly [to our guests]" explains Uy. Like most hotels, single-use bathroom amenities are nowhere in sight. Glass carafes are used instead of plastic water bottles and "linens and bath towels are changed only on the third day."
But even management is aware that those are not enough to mitigate the effects of tourism to the environment so to bring about more change, mangroves in their area are cared for and plans of opening up its exclusive complementary facility called Paca Island for non-guests is being considered.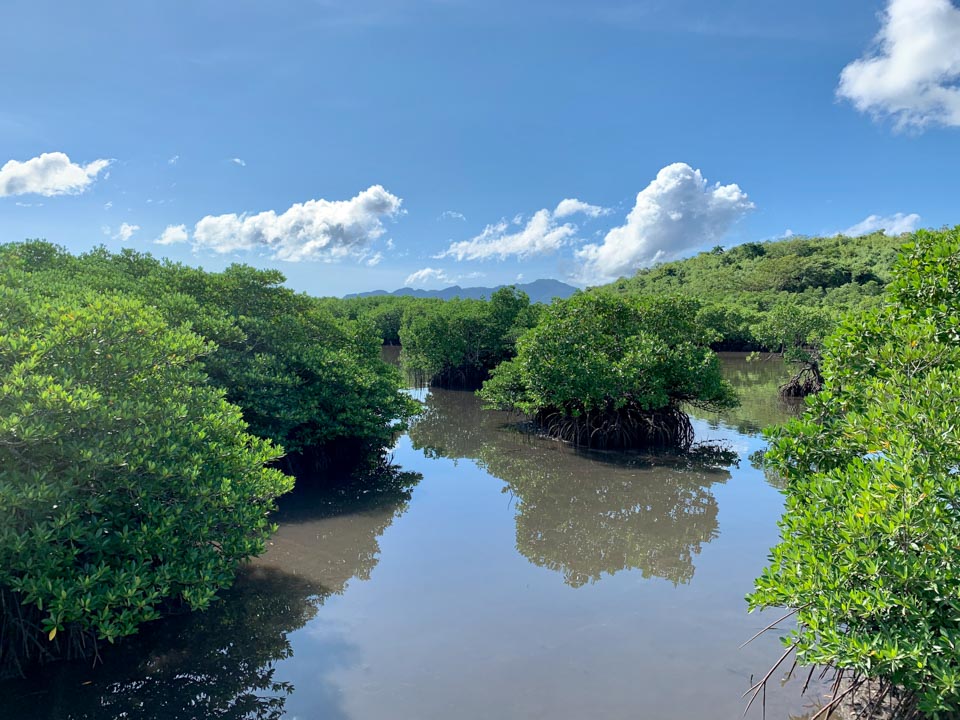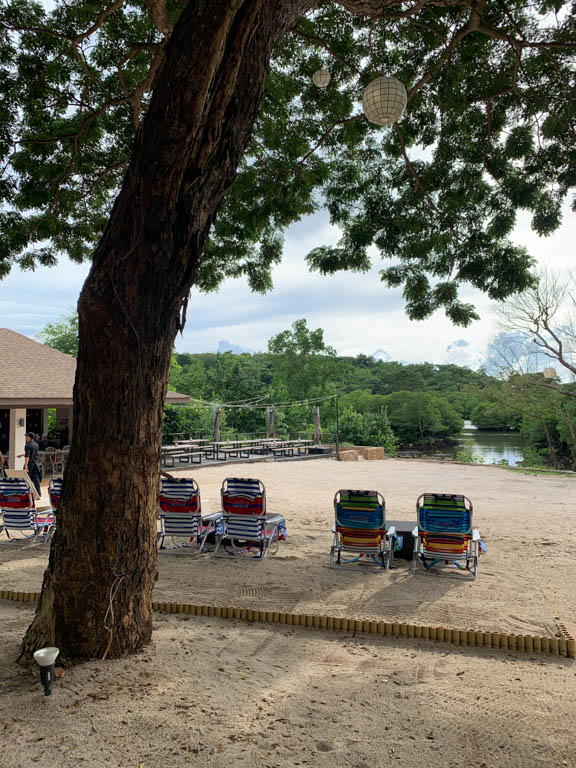 A 30-minute boat ride from the resort and just a kayak away from the Coron Youth Club, the elevated Paca Island with its sea views serves as a facility for guests to unwind in its cabanas and lounges and, up a flight of rock steps, tuck into more local dishes like fresh pako and danggit lamayo. And because the open deck is set up with clean toilets, a proper kitchen, and trash cans, the vision for Paca Island is, according to Uy, to become a vantage point for tour operators to minimize the movement of people to overcrowded isles and, naturally, the possibility of waste in traditional island setups. It's a big, bright idea on an attractive corner of Coron that, while ambitious in its pursuit, can mean a better future for this side of Palawan.
Get more stories like this by subscribing to our weekly newsletter here.
Read more:
Palawan is the second best island in the world right now according to this list
The ultimate, curated guide to El Nido, Palawan
This white sand beach in Basilan doesn't want to be the next Boracay