The best bike shops in Teacher's Village
Teacher's Village has a few local bike shops, but these three stand out like a brand new set of wheels
Jan 20, 2020
Teacher's Village in Diliman, Quezon City is one of the most popular food hubs in the metro these days. Home to outdoor food parks and family-owned restaurants, there's no better place for your post-ride food trip session with biker buddies than the streets of Maginhawa, Malingap, and beyond. Bikers will also be happy to know that there are also a few friendly neighborhood local bike shops (LBS) catering to all kinds of cyclists hidden among the foodie haunts.
In his article 8 tips on buying Your first mountain bike, Art Fuentes of biking blog Outside Slacker points out the value of seeking out these bike shops.
"A lot of bikers go to Quiapo and Cartimar where bikes and bike parts are generally cheaper, but I recommend going to an LBS for your first bike. This allows you to meet other bikers in your area and become part of a biking community. They may even invite you to a ride eventually. And if anything goes wrong with your bike, at least you don't have to travel too far to get it fixed by the LBS' bike mechanics," says Fuentes.
Here are three spots he recommends where you can upgrade your gear, get repairs done, and grab a good meal at the same time.
Glorious Ride Bike Shop
Opened in 2010, Glorious Ride Bike Shop is your one-stop shop for all things bike. From their original location on the corner of Madasalin Street in Sikatuna Village, they have since moved to a bigger space in Anonas St., Barangay East Kamias.
Glorious Ride has a huge selection of bicycles on stock—from mountain bikes, road and tri to TT, folding bikes, and even accessories like helmets, clothing, cycling shoes, and bike parts. They carry big-name brands like Shimano, Merida, Specialized, and Cannondale to name a few. They offer same day service for repairs and maintenance services and whiz mechanics can custom-build bikes, do tune-ups, quick fixes, installations, and even wash your bike while you wait. You can expect fast, efficient, and friendly service from store owner Carlo Clemente and his staff.
"I get nearly all of my stuff from Glorious Ride Bikeshop in nearby Sikatuna. As a longtime customer, I get excellent service and great discounts from them. And yes, don't be afraid to ask for discounts," says Fuentes.
"Glorious Ride allows you to buy a fully built bike and trade in its entry-level components (like fork, wheels, and drive train) for higher-end parts for extra cash. This is a sweet deal," he adds.
Glorious Ride Bikeshop is located right next to Route 88 Bike Cafe, a bicycle-themed café that offers budget-friendly eats. Not bad for your post-ride meals or hanging out with other bikers while waiting for your ride to get serviced.
Raven Cycles
Tucked behind a row of dining establishments along Malingap Street is Raven Cycles, a compact bike shop housed in a garage that traces its beginnings from an online shop selling bikes and bike parts. Operated by Ben Bartolome, Raven Cycles offers all kinds of bike services including tune-up, building, wheel alignment, and bike wash. Raven Cycles sells a wide range of products from bike parts, accessories, and outdoor gear. But what they're known for in the cycling community is their hands-on approach and custom-build services.
"I got my steel frame from Raven Cycles. I was looking all over Metro Manila and the internet for this particular frame, and it turned out that Raven had it. The bike shop has a lot of hard-to-find stuff that may surprise you," says Fuentes. And if you're looking for a place to eat near Raven Cycles, check out Z Compound, a budget-friendly food park across the street. For a great meal on the go, order from Meshwe, which serves authentic-tasting Lebanese beef and chicken shawarma.
Dimple's (Carlito Gomez) Bike Shop
Technically not part of Teacher's Village but close enough along C.P. Garcia near the gate going to UP Diliman is Dimple's or Carlito's Bike Shop. For supplies, spare parts, and repair, it's one of the more budget-friendly go-to bike shops in the area. The shop is located near several vulcanizing shops and car repair shops along the street, if you ever need a quick fix or got a flat tire. "This no-nonsense shop is surprisingly well stocked with affordable parts. Just don't expect any high-end components," says Fuentes.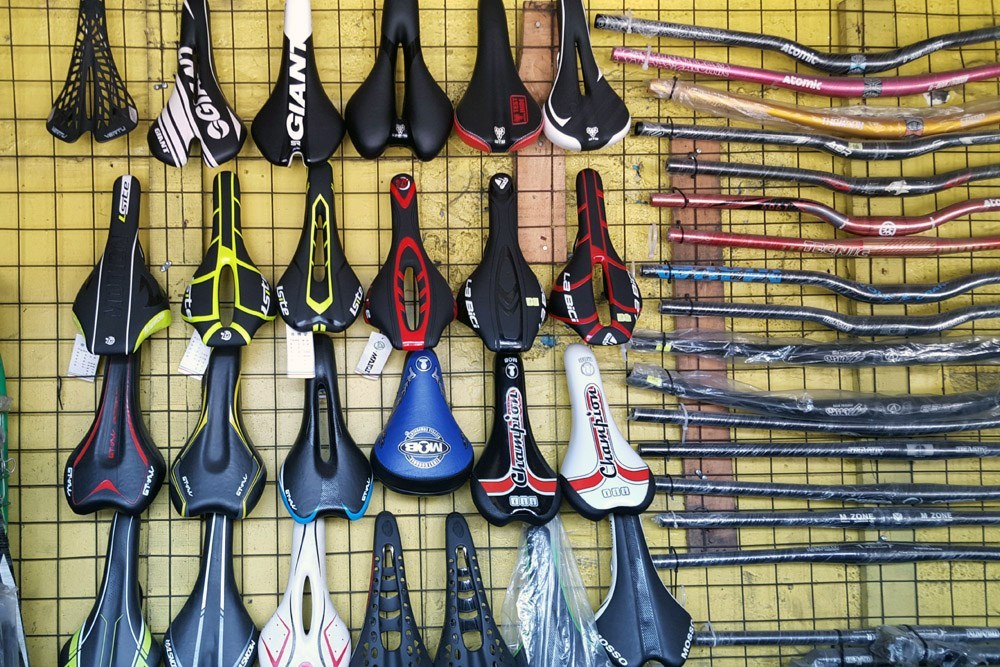 This story originally appeared on Multisport.ph
Get more stories like this by subscribing to our weekly newsletter here.
Read more:
Cartimar: The best place to buy all things bike
These Filipina riders are changing the way we look at motorcycles
Bambike takes green transportation to a new level with its use of sustainable material
TAGS: bike services bike shops philippines Bikes maginhawa sikatuna teacher's village wheels