The last time I was in the northern stretch of Maginhawa was for a dreaded dinner with highschool classmates four years ago, when we ate at a themed restaurant, which I will not describe any further as it is still in existence today.
This street part of the greater Teachers Village in Quezon City is more known for its closer to UP Diliman and EDSA tenants, who themselves are trying their best to outlast the competition by either gimmicky themed tactics, legacy, or just plain budget-friendly appeal.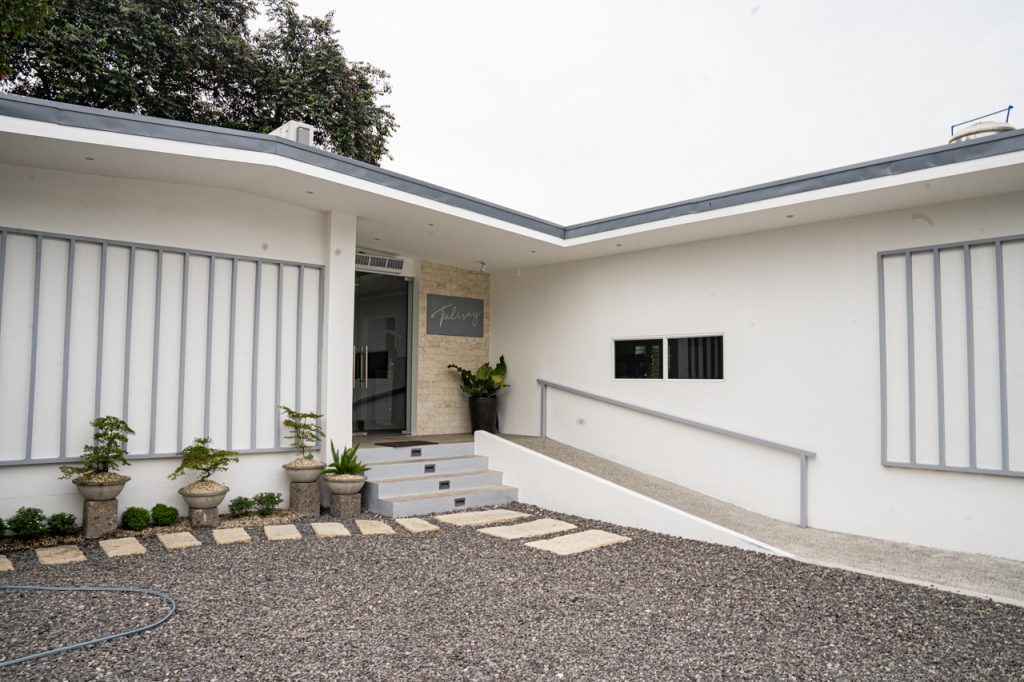 As far as themed restaurants go, for me, it's just really hard to dispel the feeling of disbelief. Why would a space obviously a residential advertise, much less, try to transport diners to Italy? Or a very industrial concept of a food park try very hard to mimic the white and blue serenity of the Mediterranean?
Lately, what seems to be the next target simulation is the concept of a home. Or has it always been that especially for those whose prime market are families? This trend has prompted many to ask, "why would I want to go there if I could easily eat at home with the same ease?"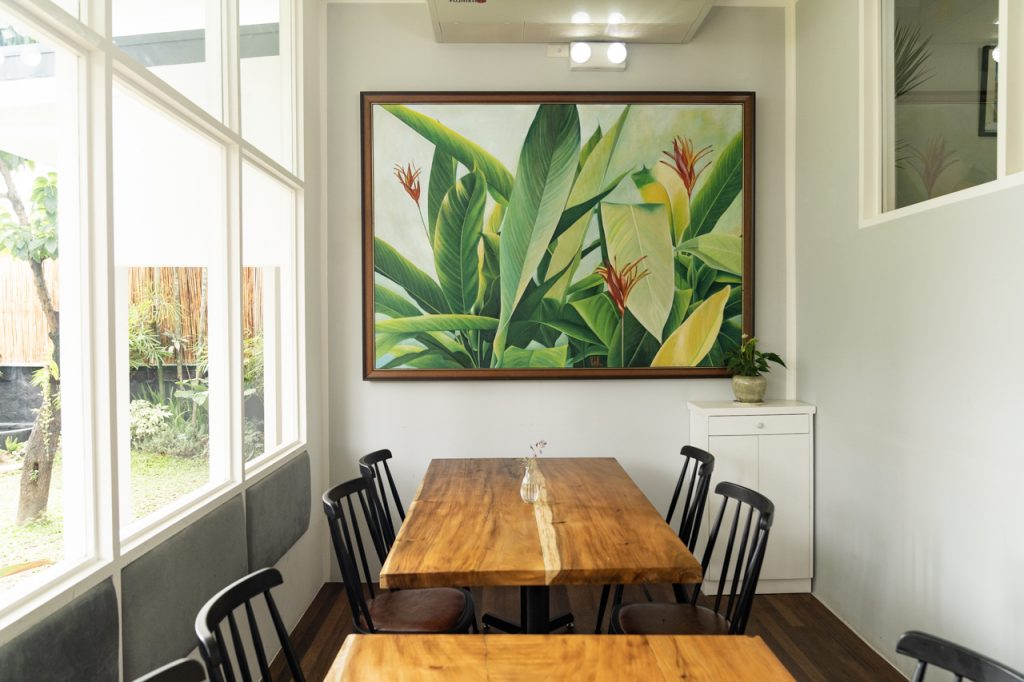 Chef Myke "Tatung" Sarthou kind of answers this in his 2018 book, "DISHkarte:" because there's such a thing as "sawa factor" and domestic kitchens are inherently limited by ingredients and equipment.
One Tuesday afternoon at his new restaurant in Maginhawa, he expounds that another reason is that no one really "cooks" the way mothers did before. No one has the time and patience to do the intricate work of preparing a Filipino meal that takes hours to marinate, tenderize, and imbue with flavor.
At his new restaurant Talisay in a refurbished 1970s house along Maginhawa St., despite the expansive seating and the sprawling garden, there is no room for pretentions, no room for gimmicks, and maybe just enough square foot milage for the millennials who are after reinterpreted Filipino food. There's none of that here.
Forget the millennials and their new-found purchasing power. For restaurateurs like Sarthou, the big money is still with the conservative, hardcore classic-Filipino-cuisine-or-nothing moms and dads, and lolos and lolas who get the tab after every meal.
"Sometimes there's a tendency when we try to reinvent Filipino food to take it to the extreme na parang sabog-sabog na," he says.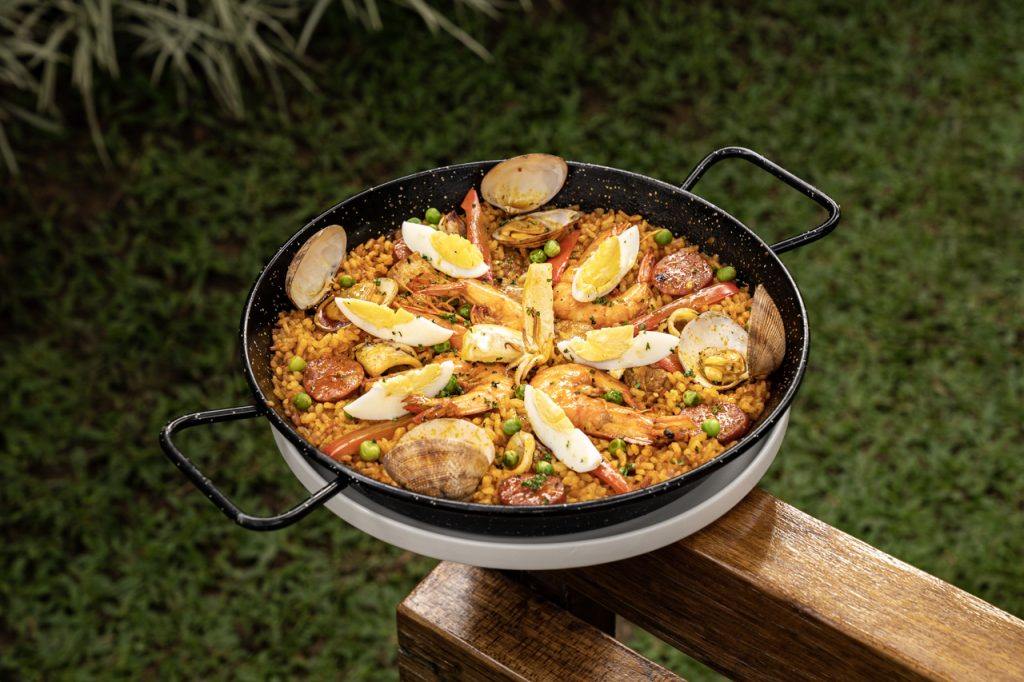 "I think what's very essential for a Filipino meal is the 'busog factor.' Dinners are willing to spend in order to get satisfaction. Ayaw nila 'yung pang-Instagram lang. That's what we're trying to create here. 'Di ka aalis kapag 'di ka busog."
So there are no deconstructed plates, reinterpreted classics, and what-have-you. That's not chef Tatung's gig—at least not here. At Talisay, it's all about wholesome, grandma-style approach to Filipino cooking.
Their balbacua, a popular Visayan dish that's a dead-ringer of the kare-kare takes eight hours to cook; their bread, a hybrid pandesal loaf made with levain starter is made in-house, so is the flavored butter that goes with it. Everything, simply put, is not just reminiscent of a family kitchen but actually employs the necessary tedious work behind it. And why not? Sarthou has the space to pull it off.
Next to the main structure that's now a three-part dining area is a kitchen big enough to house the main service line as well as a commissary. Ah, the joys of not succumbing to commercial malls or high-rent business district spaces and the compromises that go with it, Sarthou says with relief.
The property belongs to the family of journalist Cheche Lazaro and was previously a shop that was recently vacated and left idle. A rare bungalow-style house, one of the few that remains along Maginhawa St. as others had been converted to money-generating restaurants or commercial buildings in the last few years.
Apart from the aesthetic changes to the floor plan and the facade, nothing else was done to restore or the place look eerily like a home that it once was. That was not at all Sarthou and his brother and business partner Jomi's MO. None of that nostalgia by visual association. It's all nostalgia by taste, as it should be.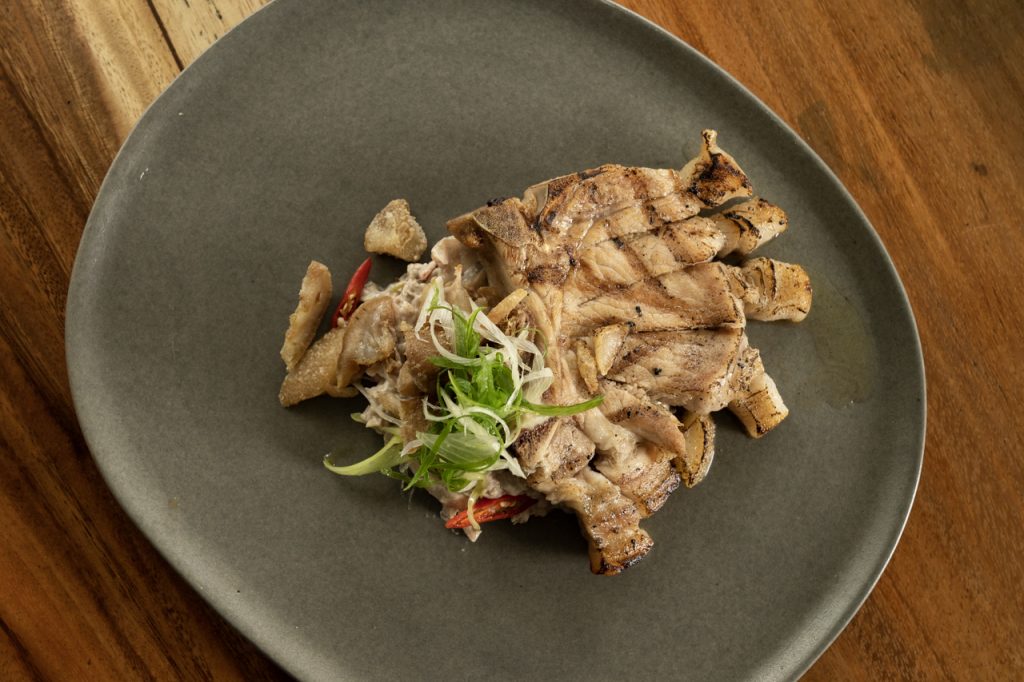 Okay, maybe despite Sarthou's denial there are little hints of innovations and small touches of personalization that show in fact that he cares about the "look" of his new restaurant. His choice to substitute paella rice with a local variety from Benguet called Tinawon rice is exemplary of his eye for modernizing the traditional. This seasonal stout-grained rice that resists sogging in the process of mixing with the rest of the paella is procured directly from farmers who ship them weekly in sacks via provincial buses. The result is al dente rice all the time with a distinct but not too overpowering taste.
On the looks department, there is the fact that utmost attention to detail has been utilized to come up with the plates and cutlery. The ceramic plates engraved with "Talisay" underneath are custom-made and the matte stainless utensils are shipped from Germany. So yes, it is a home as far as these details are concerned.
During our visit, there was a power outage (what could be homier than that?) after an electric line exploded across the street. Sarthou firmly apologizes even before we arrive and he does so table after table to the families dining in that day.
The unfortunate circumstance has rendered the split level called "the gallery" useless. A waste really as it houses many artworks depicting food from a Quezon City collective called Art Kitchen.
But lunch continues. A family stays knowing how inefficient the electric company can be, and that it may take the whole afternoon for the repairmen to respond. They don't mind. Neither do the kids who are carelessly running around the garden, offering flowers to what they thought was a dead fish in the man-made pond.
Because that's what good food does. More than making you remember the good stuff, it makes you forget the bad.
Get more stories like this by subscribing to our weekly newsletter here.
Read more:
Sisig, inasal, and other Filipino dishes wow at gastronomy congress in Spain
This documentary explains the journey behind Filipino food making it to America
Banli, busa, sangkutsa, and other essential Filipino cooking terms you need to know
Writer: CHRISTIAN SAN JOSE
PHOTOGRAPHY SAMANTHA ONG