How do you describe Filipino cuisine to people of different nationalities who only have a slight idea of what our culinary tradition is like? For chefs Sau del Rosario and JP Anglo, there is no better way than making them taste it themselves.
This year's San Sebastian Gastronomika—one of Europe's most important food congress—invited del Rosario and Anglo along with many other chefs hailing from other countries to celebrate the 500th anniversary of the first successful circumnavigation of the globe by Basque explorer Juan Sebastián Elcano.
Alongside culinary stars like Joan Roca, Carme Ruescalleda, and Juan Mari Arzak, the two Filipino talents gave impassioned presentations on the food culture of their regions: Luzon, where del Rosario's hometown Angeles, Pampanga is located, and Visayas where Anglo's Negrense roots are from.
[READ:
4 restaurants in Angeles City to visit for an authentic Kapampangan food trip
]
25 Seeds and Café Fleur founder and Kapampangan chef del Rosario took on the stage on the first day of the Gastronomika together with three Michelin-starred restaurant Arzak's Elena Arzak, Andalusian chef Dani Garcia, and Basque culinary giant Martin Berasategui.
He begins with a short background of his hometown hailed as the culinary capital of the country, which his family had to leave behind after the Pinatubo explosion and for his personal dreams of working in the world's best kitchens.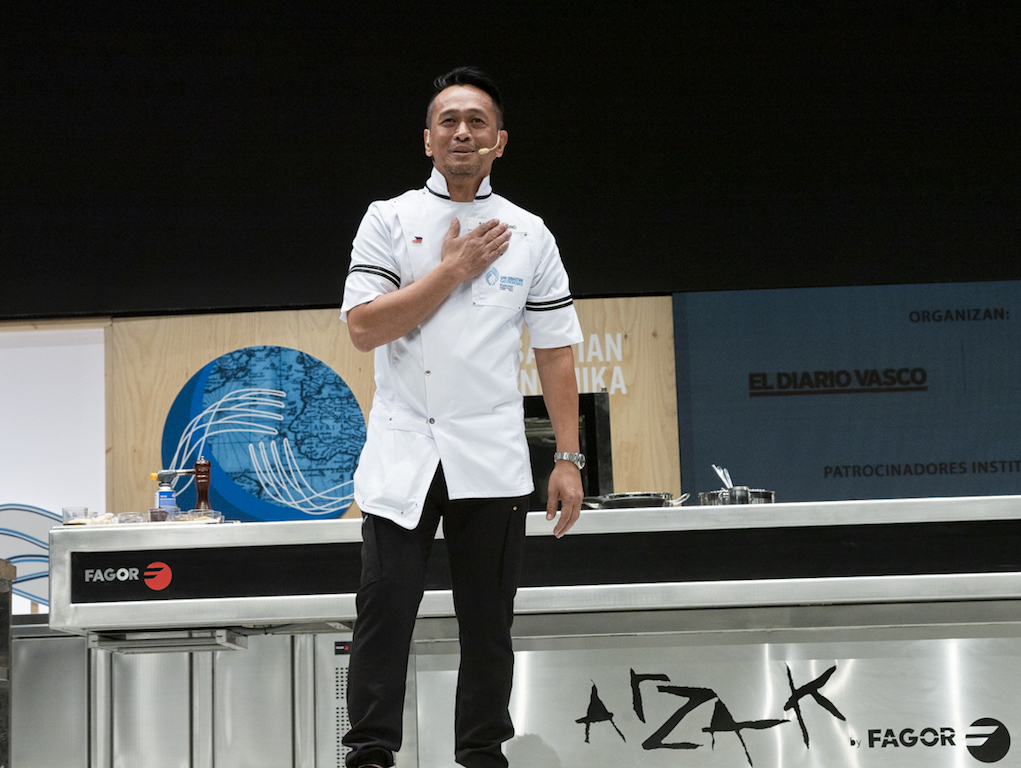 del Rosario described Filipino cooking as "multi-cultural, free-flowing, and complex" due in part to the diverse cultures that influenced it. He also briefly touched on his recent trip to the Aeta communities in Pampanga where the way of living is far removed from the urbanized cities and yet stayed true to the prehispanic sensibilities of indigenous groups.
Using cacao and its by-products, he did a live demo of three dishes that encapsulate his avant-garde style of cooking that's still grounded in familiar flavors. His first dish, for example, is a version of his hometown's famous sisig. The chopped pieces of pork snout and ears prepared with cacao vinegar was served in hollowed and dried cacao pods with the addition of caviar-like soy-calamansi tapioca pearls.
[READ:
Will UNESCO add sisig to its Intangible Cultural Heritage list?
]
Two more dishes utilized other cacao products such as tablea in his version of the champorado with adobong bacalao or cod topped with latik or toasted coconut milk curd.
[READ:
Here's how to cook all the adobo featured in the new 'Chef's Table'-inspired DOT-Jollibee campaign
]
On the third day of the Gastronomika, Anglo's Negrese showcase begun with the chicken inasal, Bacolod's prized recipe for grilled chicken basted with annatto oil. If del Rosario highlighted cacao, Anglo's star ingredient was the coconut and its many by-products like the spiced coconut sap vinegar locally known as sukang pinakurat, which even top-billed San Sebastian-born chef Pedro Subijana is a fan of. Anglo shared some bottles of it with him during the tribute dinner to Ruescalleda, which Subijana used during his live demo the day after on oysters.
[READ:
This is as close to legit Bacolod inasal as you can get
]

Although a little rushed on his presentation Anglo, still managed to finish strong thanks to his boodle fight setup, which featured many other Filipino favorites, among them a cochinillo or roasted suckling pig laid on a bed of ginisang monggo. At the beginning of his speech, he already alluded to this American military-inspired way of eating together in one table with all dishes served in one large banana leaf saying, "I can't just serve two dishes and call it Filipino cuisine because it is more than that."
In the end, he managed to call some people from the audiences to participate in the boodle fight and later proposed a toast dedicated to his sous chef Claudia who due to chemotherapy couldn't make it to San Sebastian.
But apart from these two big names, one other chef stood out for introducing Filipino flavor at the San Sebastian Gastronomika stage. It was Christina Sunae.
Although born to American and Korean parents, Sunae was raised by a Filipina mother and spent most of her childhood in Angeles, Pampanga. Now she's a chef in Argentina who runs Cantina Sunae, a restaurant that fuses Latin American dishes with Southeast Asian flavors.
During her presentation, she recounted her childhood spent together with her Filipino family in Pampanga as well as her recent trip around the Philippines doing a survey of flavors for her upcoming book, which will feature the diversity of our local cuisine. The book, the first about the subject written in Spanish, will be out March next year.
[READ:
The secret to this Tausug beef stew is burnt coconut
]
Apart from a book, she also announced that she will be opening her namesake restaurant in Manila in February in Bonifacio High Street. It will highlight not just Filipino flavors but ultimately Southeast Asian cuisines.
Photos courtesy of San Sebastian Gastronomika
Get more stories like this by subscribing to our weekly newsletter here.
Read more:
This Twitter thread enlightened us on the true origins of sisig
Banli, busa, sangkutsa, and other essential Filipino cooking terms you need to know
The past, present, and future of the Filipino kitchen is female
Writer: CHRISTIAN SAN JOSE
ART LEVENSPEIL SANGALANG