When Duncan Macmillan's "Every Brilliant Thing" was first staged by The Sandbox Collective in 2019, audiences came in droves to see the solo-cast, interactive show. As part of The Sandbox Collective's 6th year, "Every Brilliant Thing" is currently being re-staged for Sandbox Fest 2020. While it remains a one-woman, interactive play, the production has moved venues to the BGC Arts Center, with a new set: A bare stage with just recycled wooden boxes (from where props are pulled out of). This setup helps put the focus on the character and the story. Scene changes are marked by slight costume changes, lighting, and verbal cues by the actor.
I came in feel a mix of excitement and jitters because I knew it was an interactive show that would require audience participation. I'm not good at adlibs (or acting), and I'm generally shy around strangers and uncertainty also makes me anxious. But I came out of the theater that night wiping tears from my eyes but with a smile.
There are a lot of things to be happy about with The Sandbox Collective's "Every Brilliant Thing," but here are five of the most striking.
It's an all-woman production.
An apt offering for Women's Month, "Every Brilliant Thing" is led by three women—Teresa Herrera and Kakki Teodoro who both alternate as the play's main character, Angela, and Jenny Jamora, who takes the helm once again as director.
There's an energy that these women have been able to inject into the production that makes it even more engaging and heartfelt.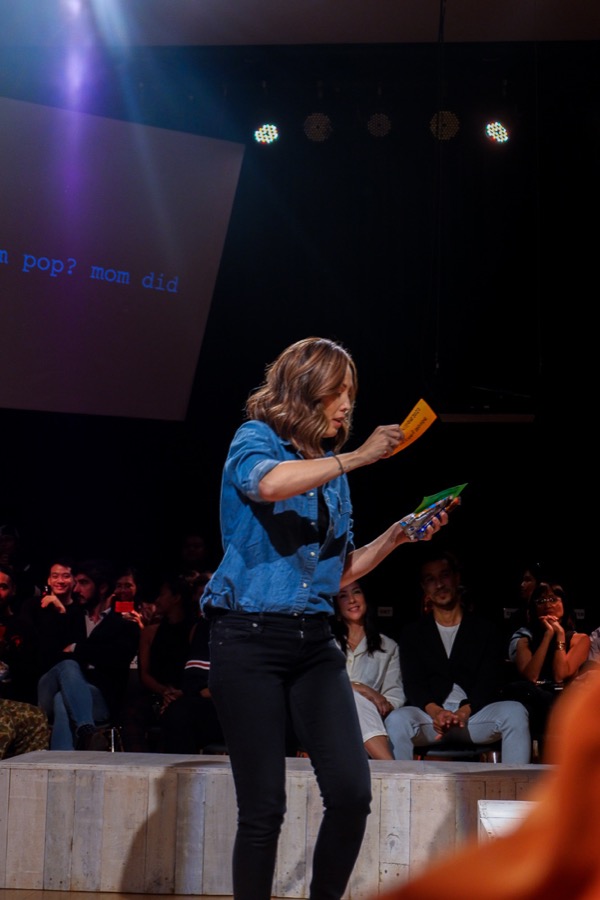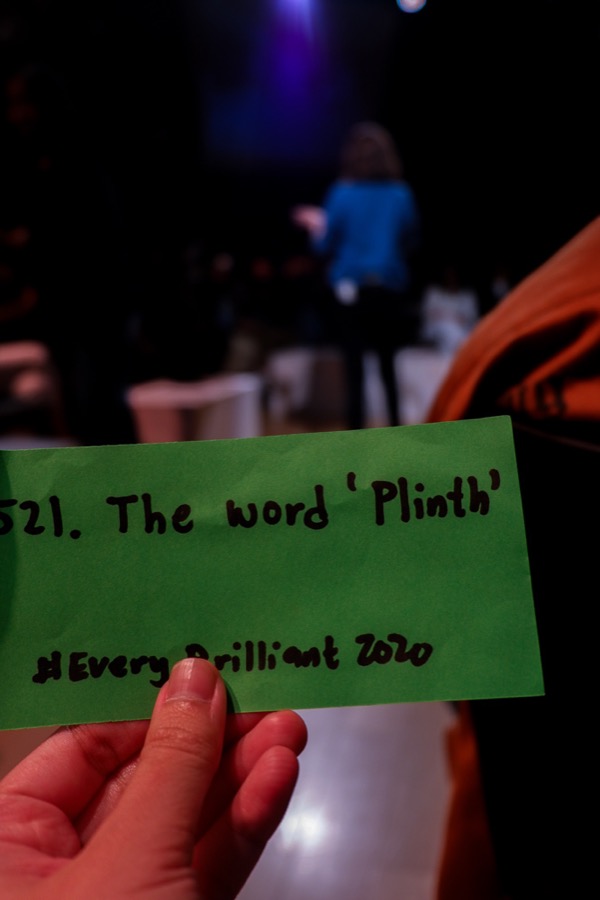 It's interactive.
Although it is a one-woman play, the story isn't just a monologue by Angela. There are several other characters that figure in her story, and what makes "Every Brilliant Thing" interesting and fresh at each show is how it's interactive. Audience members are asked to actively participate in the storytelling, either by chiming in with Angela's prompts (when she asks to list out "brilliant things") or even actually acting out scenes with her. Because each audience member will have their own take on the "roles" assigned to them, and because there's a great deal of improvisation involved, each show becomes a new experience.
It's interesting to see how the "new cast members" add to the story, too, making scenes funnier or more touching.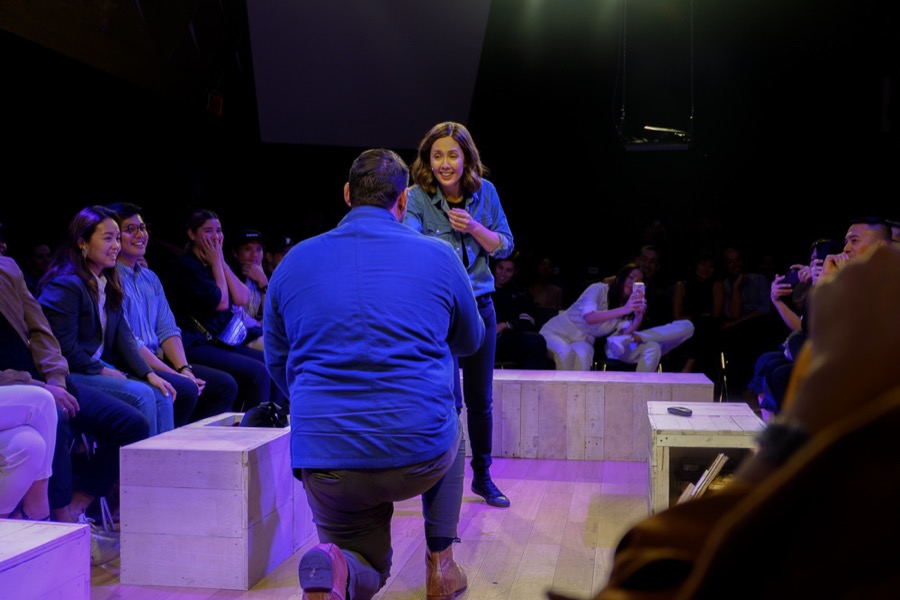 The interactivity also calls for the audience to be more attentive to every scene, which I think is great because it also reinforces how the theater space can be a community, establishing connection with each person.
Because of the interactive, improv elements of the show, it also highlights the actor's abilities to adapt to the unpredictable scenes. Teresa, in the press preview show, was deftly able to steer her scenes with some of her shier scene partners in such a gentle way that it all still results in a hearty-laugh-inducing but also very charming episode.
I'll admit before coming into the theater I was a bit nervous about the potential of being called to "act" (I wasn't, but I was given a slip of paper part of Angela's "every brilliant thing" list), but Teresa was able to turn the room into a safe space. 
It's relatable.
Another thing that helps make the show connect so well with the audience is how relatable the instances of Angela's life are to many. And if not exactly something we've experienced, it's told in a way that takes us into the scene that it becomes just as real for us, too. 
The list of every brilliant thing that Angela creates is also in itself relatable, and as each random audience member chimes up with their assigned "brilliant thing"—things like, coffee, or the smell of old books, or bacon—there's a visible and audible agreement throughout the room.
It's these little details, along with how Teresa makes sure she makes eye contact (and even actual contact in the form of high-fives) with the audience that make the show not only relatable, but also as if it were less of a performance but more of a conversation between friends.
A scene even opens up our vulnerabilities, as some are asked to share if they have experiences with anxiety or depression, turning the entire room into a huge support group.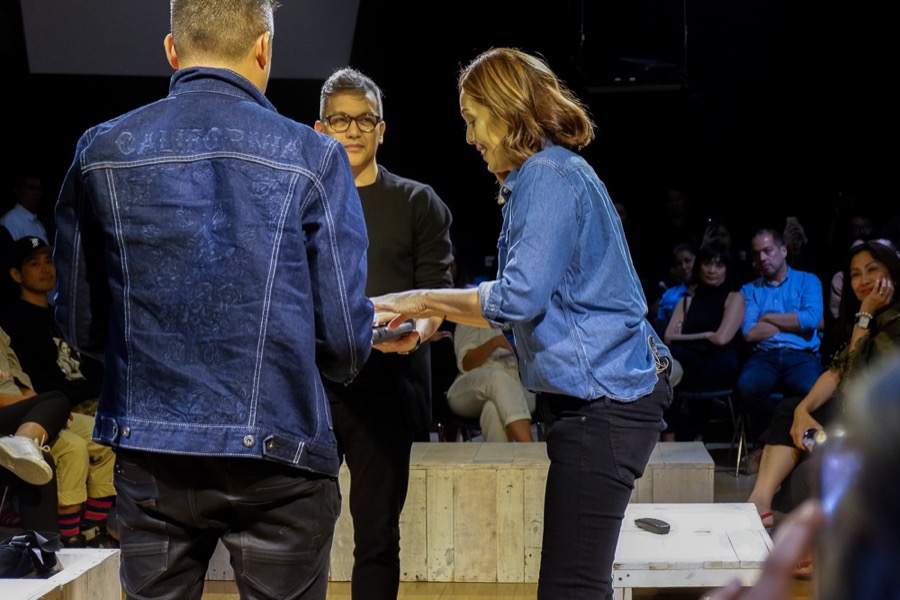 It's informative.
"Every Brilliant Thing" is, at its core, a story about how one deals with and understands mental health issues like depression, anxiety and suicide, not just with oneself but with our friends and family, too. As such, there are segments of the show that serve as short "lectures" on how to approach these topics.
One scene has Angela talking about the Werther effect, which notes the mimicry of suicide after one is highly publicized in the media. This comes especially when high-profile personalities die by suicide. It's an important "lesson" to take note of, whether we're in the media or not, as the way we talk about suicide can affect others.
Some things of note include not mentioning generalized or simplistic causes (i.e. "because he lost his job"), saying a suicide was "committed" or "successful," not providing technical details about the method, and not publishing suicide notes, among others.
Each show of "Every Brilliant Thing" is also capped off with a talkback session with mental health experts and professionals, from which audience members can ask questions.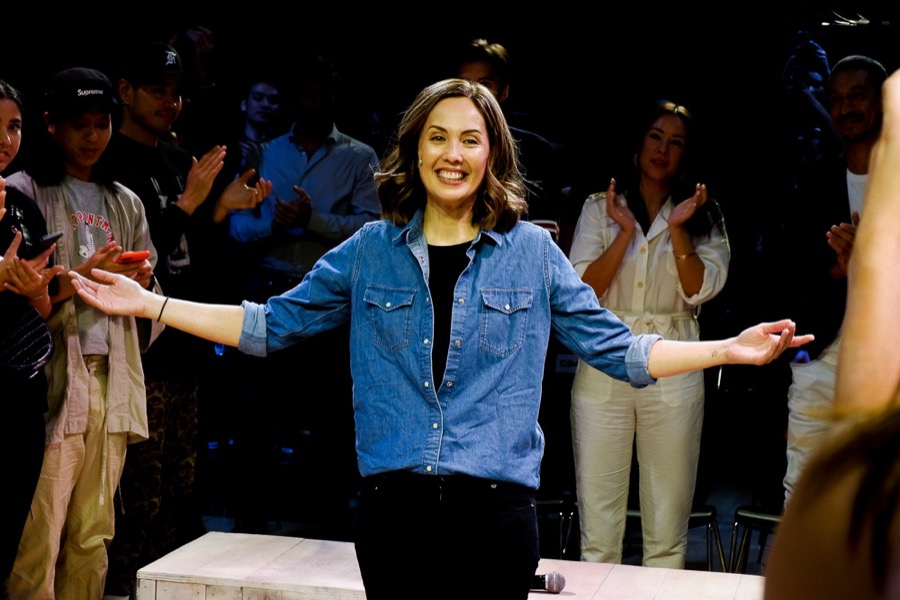 It makes talking about mental health less intimidating.
The balance of sobering conversations, light moments, conversational language and the simple but functional set help in easing audiences into the conversation about mental health. For those who may not be as knowledgeable yet about how to approach to discuss the topic, "Every Brilliant Thing" provides some clear examples without being preachy, nor being too clinical about it.
Ultimately, "Every Brilliant Thing" speaks on a level that everyone can understand, and in a way that speaks to the heart. And led by the dazzling performance of Teresa Herrera, this play should very well be item number 1,000,001 on the list of every brilliant thing in the world.
"Every Brilliant Thing" is part of Sandbox Fest 2020, which runs from Mar. 6 to Mar. 29 at the Maybank Performing Arts Theater, BGC Arts Center, BGC. It runs back to back with "Lungs" on Mar. 28.
Get more stories like this by subscribing to our weekly newsletter here.
Read more:
It's an artist's world, too: 'Dekada '70' musical proves art can still push social discourse
2020's Color of the Year can help homeowners manage emotional and mental health
ICYMI: There's a new 24/7 mental health crisis hotline
Writer: and PHOTOGRAPHY PAULINE MIRANDA