Rent price freeze and 30-day grace period among provisions in Bayanihan to Heal as One Act
Senator Grace Poe pushed for this provision in the recently signed Bayanihan to Heal as One Act
Mar 25, 2020
With the most recent signing of the Bayanihan to Heal as One Act into law, a provision for a price rent freeze for citizens under the enhanced community quarantine over Luzon was reportedly pushed for by Senator Grace Poe. 
Just this morning, President Rodrigo Duterte signed the Bayanihan to Heal as One Act which grants him additional powers to adopt "temporary emergency measures" to respond to the COVID-19 crisis in the country. In line with this, the copy of the amended and approved bill has also recently been released and we now have reports of more beneficial provisions for those who will be economically hit by the pandemic. 
In Sec. 4 (bb) of RA No. 11469 or the Bayanihan to Heal as One Act, the provision states that it should "provide for a minimum of 30-day grace period on residential rents falling due within the period of the enhanced community quarantine." This means that if a citizen's rent is due within the lockdown period, they should at least be given a 30 day grace period from the due date which is subject to extension depending on the lockdown period.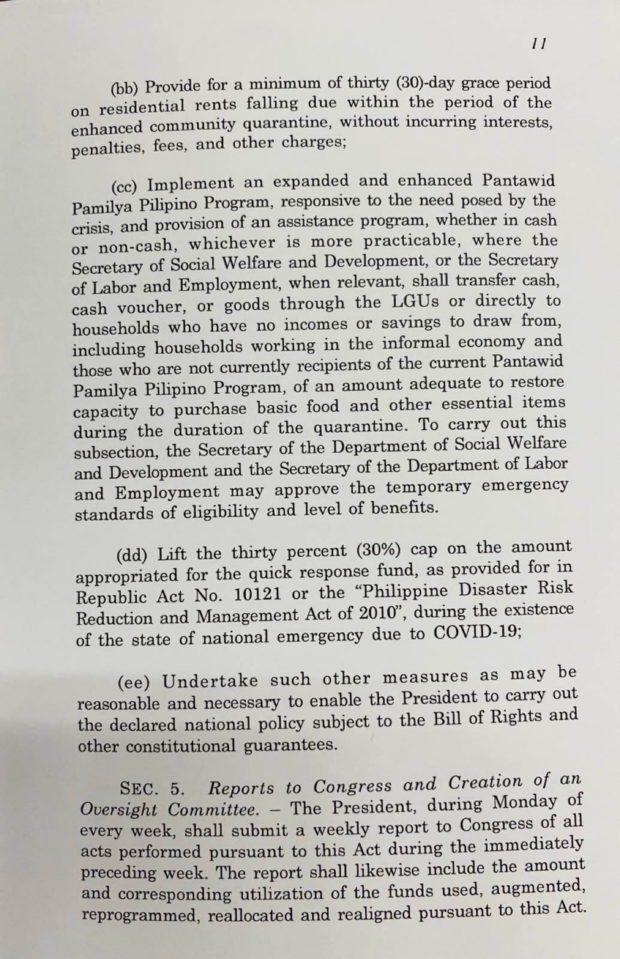 In a statement from Inquirer, Senator Grace Poe stated the said provision which she pushed for during their special session at Congress last Mar. 23, is aimed at easing the financial burden of tenants who are the millions of Filipinos in poor households and who rely on their daily pay checks. 
Here, Poe elaborates that: "Many renters live paycheck to paycheck but during these extraordinary times when they suddenly need to work or not at all, they might not have enough to pay for their rent and may even face the possibility of eviction." 
Apart from the grace period which will prompt landlords to be more lenient with their tenants, Poe alongside the provision also reassures that "interests, penalties, fees and other charges shall not be imposed on tenants following the 30-day moratorium on their rental payments." With this, Poe sees the need to fast track the cash subsidy to low-income households which is also among the highlights of the newly signed  act. Though, it is always easier said than done. 
It is to be noted that among the provisions of the Bayanihan Act is somewhat of an expanded version of the Pantawid Pamilyang Pilipino program which aims to allot P5,000 to P8,000 financial aid for two months to over 18 million low-income households in the Philippines. 
It has been more than a week since Luzon was placed under an enhanced community quarantine [READ:Duterte places Luzon on "enhanced community quarantine": Here's what it really means] which will last until April 14, while the Bayanihan to Heal as One Act  will be enacted for three months. 
Header photo courtesy of Canadian.inquirer.net
Get more stories like this by subscribing to our weekly newsletter here.
Read more:
Rights rundown: What you can and refuse to do when facing arrest
Duterte signs law declaring national emergency, granting special powers vs COVID-19
What we know so far about Duterte's proposed Bayanihan Act seeking national emergency, special powers
TAGS: 2020 bayanihan act bayanihan to heal as one act Filipinos free rent Grace Poe house rent manila president duterte quezon city rent freeze