Our country is no stranger to violence at the hands of police.
A dark period in our modern history was rife with these abuses. When dictator Ferdinand Marcos put the entire nation under martial law, the streets saw numbers of the Philippine Constabulary (PC)—the precursor to today's Philippine National Police (PNP)—"enforcing" the law of the land, but at the cost of human rights. During that period, around 70,000 were arrested mostly without warrants and more than 30,000 were tortured—a total of more than 100,000 civilians were victimized and stripped of their human rights.
But that isn't the sole instance of police brutality in our history. Even long after the end of martial law, now in the so-called period of democracy and power of the people, police and military abuse still happen, hidden from the eyes of the public and the media. In a 2014 report entitled "Above the law: Police torture in the Philippines," Amnesty International cited the Commission on Human Rights (CHR), which, in January of that year, found a secret "police safe house" in Laguna where detainees appeared to have been tortured for "entertainment." 
"The CHR found a large roulette wheel on which were written descriptions of various torture positions. If the wheel was spun and landed on '30 second bat position,' for example, this meant that the detainee would be hung upside down (like a bat) for 30 seconds. '20 second Manny Pacquiao' meant that a detainee would be punched non-stop for 20 seconds. The existence of such a device, apparently for police officers' entertainment, clearly demonstrates the casual attitude towards torture within the police force," the Amnesty International report read.
Fast forward to a new administration, the torture, abuses and killings continue—seemingly encouraged, even. Within just the past few months of quarantine alone, President Rodrigo Duterte had given orders to the police to detain and shoot left-leaning individuals and other violators of the law. And if we look even further, the Duterte administration has already long been marred by rising numbers of extrajudicial killings and human rights abuses as part of its war on drugs. A report by the United Nations High Commissioner for Human Rights submitted June 4 stated that "the most conservative figure, based on government data, suggests that since July 2016, 8,663 people have been killed—with other estimates of up to triple that number."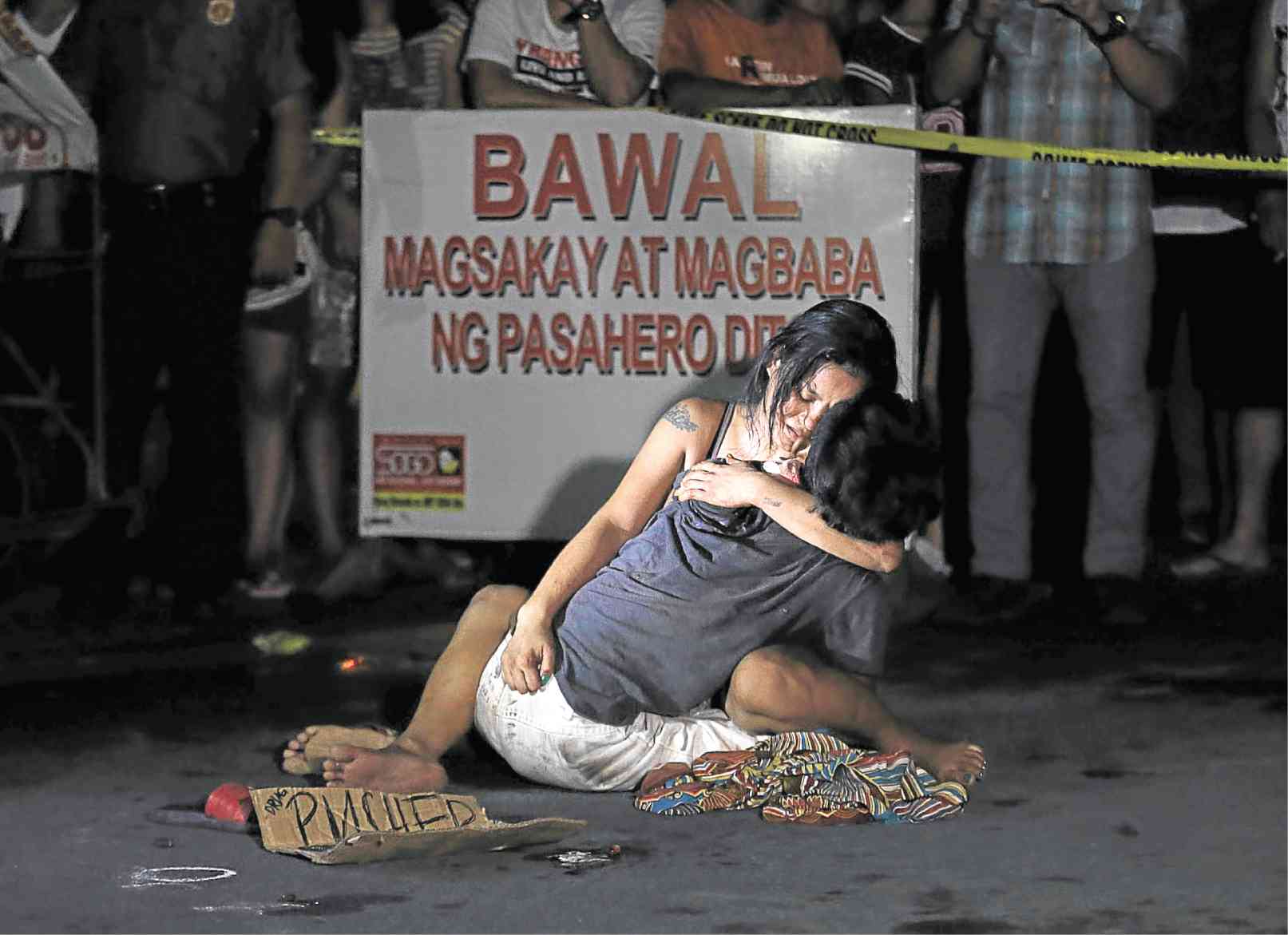 Those most vulnerable to abuse
If you've been following the news closely, it will be easy to spot the trend: Victims of these human rights abuses, those subject to torture or even assaulted and left to die share similar backgrounds. They are "people from disadvantaged and marginalized backgrounds," Amnesty International noted in their research.
These people are most at risk, especially "children (suspected juvenile offenders), suspected repeat offenders and criminal suspects whose alleged crimes have personally affected police officers… so are suspected members or sympathizers of armed groups and political activists," the human rights organization reported. 
Batang nanlaban
"Tama na po, may test pa po ako bukas!"
Who can forget the cry of Kian delos Santos, who was killed by three policemen in 2017 at the height of the drug war? Delos Santos, 17, was said to have "fought back" when he was being apprehended by the Caloocan police. But that was their story. CCTV footage and subsequent court trials have found that the police had murdered him.
He's not the only one. 
Also in 2017, two other young boys died at the hands of the police, in the name of the drug war. Carl Arnaiz, 19, and Reynaldo "Kulot" de Guzman, 14, the police said, were involved in a robbery, which resulted in the two boys' deaths. Al Jazeera noted the night of Arnaiz' and de Guzman's disappearance also happened on the same night Manila police launched a "major drug war operation," which left 80 dead in three days. 
As of 2018, the number of children killed or extrajudicially executed amid the drug war has reached 101, according to Human Rights Watch.
[READ: 
Why Kian's death is a breaking point for Duterte's drug war
]
Quarantine violators
Turning to more recent events, last Apr. 21, social media was once again in an uproar (being angry is pretty much all we do online these days) over the shooting of retired soldier Winston Ragos at a quarantine checkpoint in Quezon City. 
The incident painted an almost familiar scene: the alleged suspect, outnumbered by the police, gets mercilessly, fatally shot.
Except this time, it happened in broad daylight. In the afternoon, Ragos was shot by police for allegedly violating quarantine regulations. Witnesses had been shouting at the police to stop them, claiming Ragos lived with post-traumatic stress disorder.
[READ: 
Military power shows its fatality as policeman guns down man in Quezon City]
The circumstances may be different but the act of violence remains the same. Human rights group Karapatan in an Inquirer report said, "His killing only goes to show that the President's 'shoot them dead' orders and threats of a martial law-like takeover are not mere exaggerations—we have heard this order in the bloody drug war before."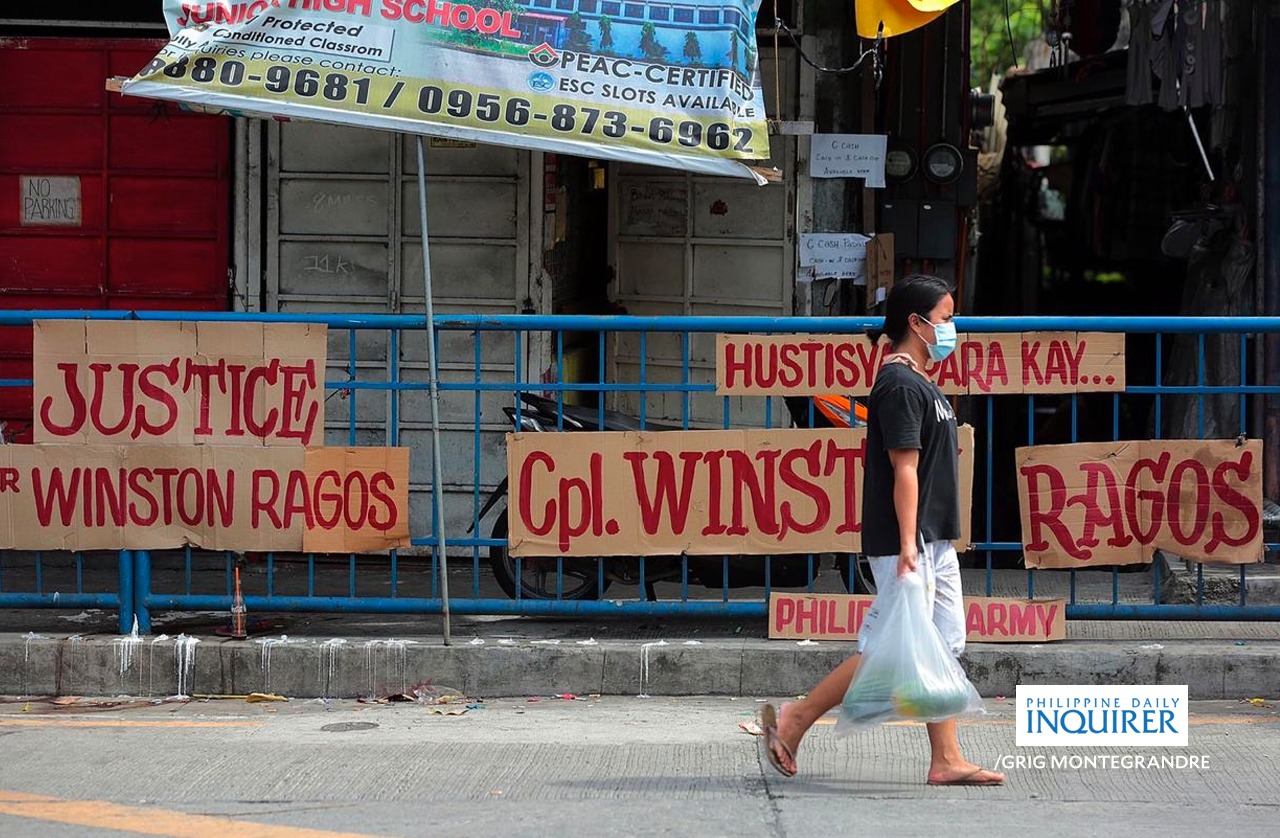 Less than a week later, again in Quezon City, a fish vendor was subject to beating by members of the city's Oplan Task Force Disiplina for allegedly violating quarantine guidelines to wear a face mask outside.
Video footage showed that the task force officers continued beating the vendor despite his cries, "Wala naman po akong ginagawa!"
[READ:
 QC fish vendor beaten, dragged by city authorities for not wearing face mask]
They come for the activists
Alleged criminals or law violators are not the only ones the police seem keen to go after. Over the course of our history, activists, those who protest against social injustices, are among those targeted by police and subject to violence. (Again, look no further than martial law under Marcos.)
One notable case happened in 2016, when a police van repeatedly rammed into a group of protesters outside the US Embassy. The protest was held to express disapproval against the ongoing American military presence in the country. Around 1,000 protesters were reportedly present at the demonstration, and students and Lumads were among those rounded up by the police.
Aside from injuries sustained from being run over by the police van, protesters were also "lobbed teargas" by the police.
Former Department of Social Welfare and Development Secretary Judy Taguiwalo condemned the incident then, saying, particularly of the protest's Lumad participants, "Our sisters and brothers face development aggression and militarization in the provinces. Now they were subjected to police brutality."
The police have also recently exercised their might against a group of protesters last Apr. 1, amid the COVID-19 pandemic. The protesters, a group of workers, most of whom were residents of Sitio San Roque in Quezon City, were arrested on the grounds of protesting without a permit.
In a Rappler report, Sitio San Roque resident Bernadeth Caboboy said that the group went to the area (EDSA Kilyawan in Quezon City) because they received word that they would be given aid there. However, upon arriving at the location, Caboboy said that police arrived and hit the men in the group.
The 21 "protesters" were released after five days in detention, after their lawyers produced the necessary documents for them to post bail.
Going digital
With the community quarantine over Metro Manila still in place for more than 70 days now, many discontented citizens have resorted to airing their grievances online instead of hitting the streets to protest. Social media has become the digital street—each platform and each hashtag a location pin leading to the issues driving Filipinos to demonstrate against injustice.
Last Apr. 2, citizens' freedom to express criticism and dissent online was challenged when news broke of subpoenas being issued by the National Bureau of Investigation (NBI) to regular citizens. The NBI is involved in the investigation of crimes. The agency also coordinates closely with the police. 
The subpoenas were reportedly in response to the spread of "false information" online, an Inquirer report said. One case, which was shared by Atty. Chel Diokno, involved a citizen's post about the alleged misuse of government funds in response to the COVID-19 crisis.
"The situation is turning inhumane…Tinanggap ko ang kasong ito dahil 'di na makatao ang nangyayari. Ang dami nang namamatay pati frontliners, pero imbis na COVID, kritiko ang gusto nilang puksain," Diokno said in a statement.
This is troubling because this move impinges on citizens' right to free speech and expression.
Quarantine has also seen a rise in arrests made in response to "threats" on social media. This May, a series of arrests have been made of citizens who posted death threats against the President. The first was public school teacher Rommel Mas on May 11. He was made to "confess" at a media briefing. Critics, journalists and lawyers have since come forward calling the move to arrest these netizens illegal, as most, if not all, were warrantless arrests.
Lawyer Christian Monsod, in a message to Inquirer.net, reminded law enforcers that "arresting a cyber-libel suspect for allegedly maligning President Rodrigo Duterte, without a formal complaint, is both illegal and unconstitutional." Monsod was one of the authors of the 1987 Constitution—the constitution the country follows to this day.
Anti-Terror Bill
As the country's capital enters general community quarantine (GCQ), Congress has also been busy working on new legislation. Their regular session concluded on June 5 (and will resume in July, at the President's State of the Nation Address). Among the bills recently passed is the controversial Anti-Terrorism Bill.
Senate's version of the bill was already passed on its third reading last Feb. 26, with Senators Kiko Pangilinan and Risa Hontiveros voting against it. On June 3, the House of Representatives voted, with 173 lawmakers in favor of the adopted Senate version of the bill. (On the evening of June 4, Kabataan Partylist Representative Sarah Elago tweeted that the votes on the bill have been updated. A total of 168 representatives voted yes, while 36 voted no. Twenty-nine abstained.) As of this writing, the President has yet to sign the bill.
As it is, the nation is already burdened by issues of insufficient mass testing and inadequate transportation options. The possible repercussions of the Anti-Terror Bill have added undue stress to citizens' constantly growing collective anxiety and anger, prompting many to take to the streets (and launch online protests).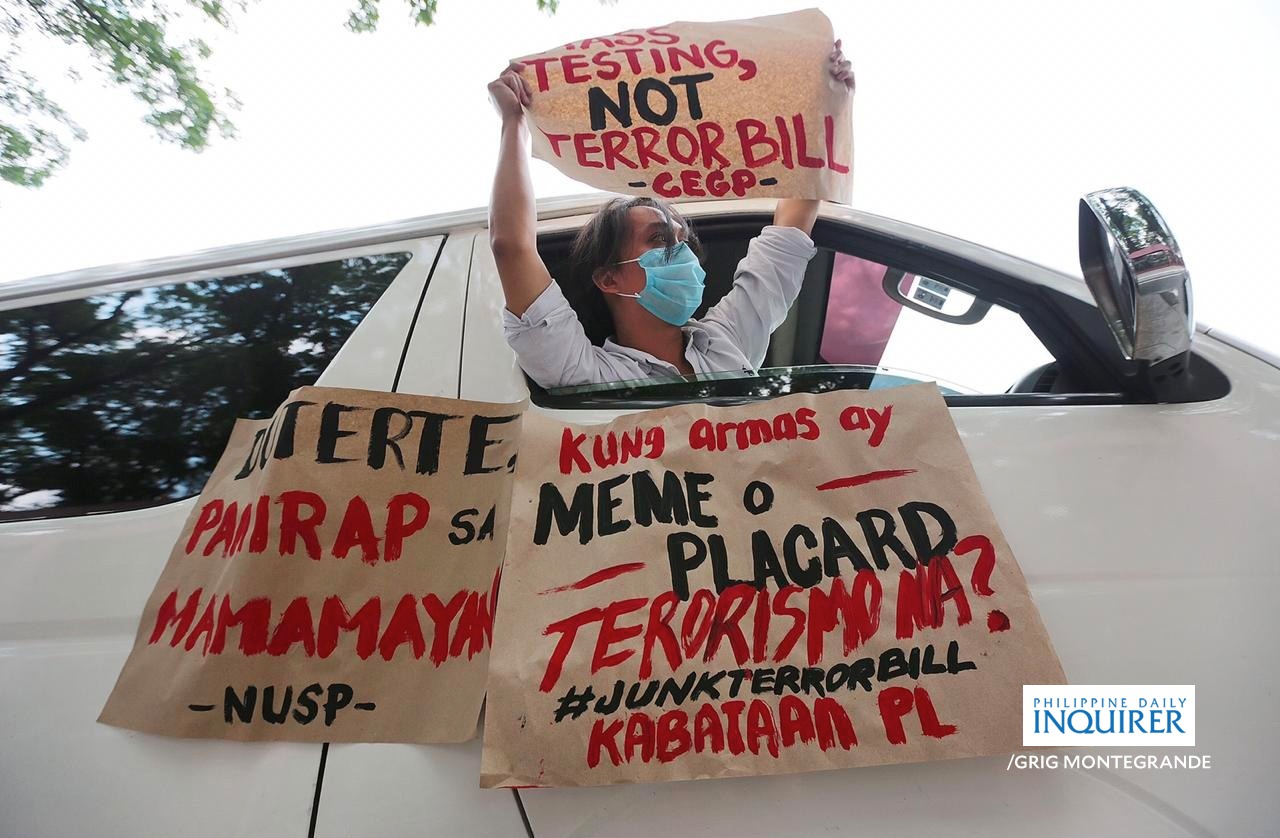 Possible vague interpretations of the bill's definition of acts of terrorism endanger Filipinos' right to free expression. Should the bill be signed into law, expressions of social or political opinion may be deemed too critical or as inciting acts of violence or terror.
But more than this, provisions in the bill that allow law enforcers to carry out warrantless arrests and hold people in detention for 14 days, and even carry out secret surveillance on "suspected terrorists" encroach on civil liberties and rights.
"Under Section 29 the Anti-Terrorism Council (ATC) is authorized to order the arrest of any person even if he or she has not committed any crime of terrorism," retired justice Antonio Carpio says in Inquirer. "In the exact words of the principal author of the law, even if 'hindi naman siya nag-commit ng crime xxx hindi pa nangyari xxx puede na nating arestuhin.'"
"Under the Anti-Terrorism Law, executive officials under the control of the President can order the arrest of any person even if they know full well that no crime of terrorism has been committed, that is, even without 'probable cause.' This is truly mind-boggling."
In the wake of the bill's approval in Congress, sightings of police in riot gear and SWAT have been reported online. On June 5, police were seen around the University of the Philippines-Cebu campus as groups were expected to hold protests. Protesters were dispersed and eight were arrested. This is happening even before the bill has been signed into law. But if the lack of a presidential signature's not hindering the police from these actions, can we still be shocked at what will happen should the bill be enacted?
Get more stories like this by subscribing to our weekly newsletter here.
Read more:
Terrorism undefined: The Anti-Terrorism Bill is an indication of an authoritarian regime
"Are we safe in our homes?": An unpopular opinion on police force from a concerned citizen
Anti-Terror Bill not yet law, but Cebu police in riot gear already came for protesters
Writer: PAULINE MIRANDA
ILLUSTRATION LEVENSPIEL SANGALANG