So apparently, DENR allowed Vista Residences to cut down 50+ pine trees in Baguio. Now what?
The real estate developer said DENR granted them a special private land timber permit to proceed with the construction of a 12-story condominium
Jun 29, 2020
So before we focus solely on one perpetrator behind the cutting of 53 old-growth Benguet pine and one Norfolk pine trees in Baguio City almost two weeks ago, here's another fact to consider: It turns out the Department of Environment and Natural Resources (DENR) permitted Vista Residences to do so through a permit valid from June 24 to July 15.
This is according to the real estate development company headed by Sen. Manny Villar Jr., who defended their tree cutting activity saying they were granted a special private land timber permit to proceed with their planned 12-story condominium project located behind the presidential mansion.
[READ: Cherry blossoms, cable cars, and a monorail planned as part of Baguio's rehab]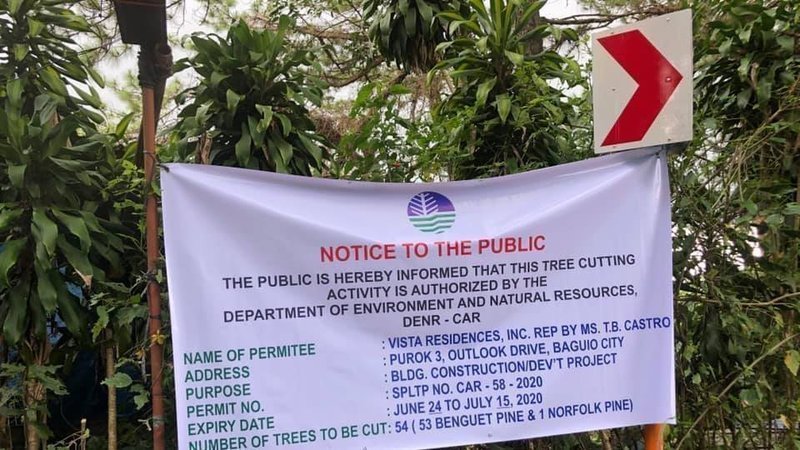 This was also confirmed by Rappler, who found out that the permit was signed by DENR undersecretary for field operations and Muslim affairs Jim Sampulina during the quarantine.
In a statement released by the realty corporation today, June 29, it said that 10,800 Baguio pine seedlings will be donated to replace the ones they cut down. 
"In support of the National Greening Program, we turned over 5,400 seedlings of Benguet Pine to the local units of DENR. Further, as resolved in a meeting with Mayor Benjamin Magalong on 25 June 2020, we agreed to turn over an additional 5,400 seedlings," the statement read.
It also reiterated that their operations were "undertaken in full compliance with all relevant rules and regulations."
[READ: More Baguio Rehab: Former dumpsite to become a solar-powered park with gardens and cafés]
Baguio Mayor Benjamin Magalong, who claimed to be unaware of the tree cutting situation, in a statement, said "We are saddened because we feel it is a big blow to our Re-greening Master Plan amid our request to the Office of the President for a tree-cutting moratorium.
"While the proposed moratorium has been taken over by this health crisis, we need to follow this up to ensure that our remaining trees will be preserved."
Header photo courtesy of Inquirer
Get more stories like this by subscribing to our weekly newsletter here.
Read more:
Cherry blossoms, cable cars, and a monorail planned as part of Baguio's rehab
Post-COVID La Union and Baguio travel time will be shorter, thanks to this upcoming expressway
Good news from Baguio: BCC's raisin bread and banana bread now available in Metro Manila
TAGS: Baguio City baguio pines DENR pine trees tree cutting villar vista residences