Aside from its wondrous sights and rich culture, Thailand is known among travelers as a culinary jewel. Its delectable cuisine is filled with dishes rich in flavor yet friendly to a traveler's budget. From fancy restaurants to mall food courts and even simply by the street, there's a Thai dish that will surely cater to your taste.
Unfortunately, due to travel restrictions, we can't board a plane at the moment to visit Thailand and embark on a hearty food trip. However, we don't have to travel (for now!) to enjoy authentic and delicious Thai dishes—because some of them can be found here, too.
Here's a tip for everyone on the prowl for the best-tasting Thai food available locally: Look for Thai Select, a seal of approval granted to Thai restaurants and food products that meet strict criteria of quality and authenticity. To make the search easier, we've gathered some of our restaurant recommendations (and its must-try dish) that offer takeout and delivery below.
Khao Niew Mamuang (Mango Sticky Rice) at Mango Tree
Address: 7th Avenue cor., 30th Street, Bonifacio Global City (BGC), Taguig
Contact: 7621-3233 / 0917-5349145 for BGC branch; for other branches, check here
How to order: Foodpanda, Grabfood or online.mangotree.com.ph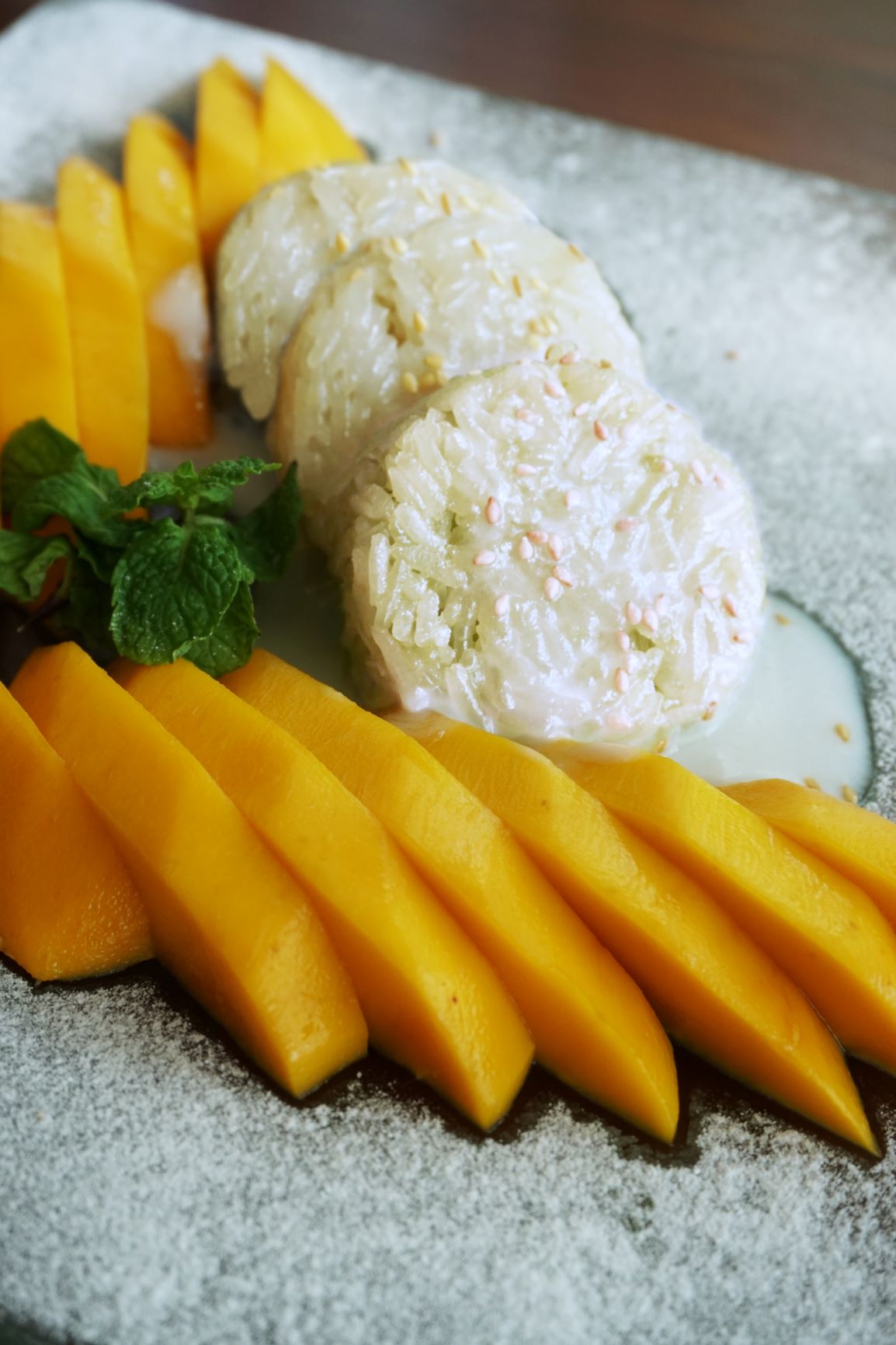 A staple in all corners of Thailand, this dessert combines the refreshing taste of ripe mango and sweet glutinous rice, plus a tasty coconut slurry to seal the flavors with a satisfying flourish. Locally, it is among the best dishes of the world-renowned Thai restaurant franchise Mango Tree, which offers an indulgent Thai dining experience with every bite.
Tom Yum soup at Nara Thai Cuisine
Address: SM Megamall Fashion Hall
Contact: 0995-9323147, 0998-4813484 or 8637-3860
How to order: Call branches directly or fill out this online form

Looking for an adventurous combination of hot, sour and herby flavors? Try Tom Yum, another staple dish in Thailand. This soup originated from Central Thailand and features a mix of lime leaves and lime juice, fish sauce, peppers, galangal (a ginger-like root) and a hint of lemongrass for its broth. Completing the dish as a protein source is shrimp, making it a great pick for seafood lovers. Get a bowl of this scrumptious Thai soup at Nara Thai Cuisine, which originated from Thailand itself and was even voted one of Bangkok's best Thai restaurants.
Gai Yang at Thai BBQ Original Restaurant
Address: Georgetown BGC Food Hub and Georgetown Tiendesitas Food Hub
Contact: 8228-9352 or 0917-1112121 (BGC); 8234-9996 or 0917-1145555 (Tiendesitas)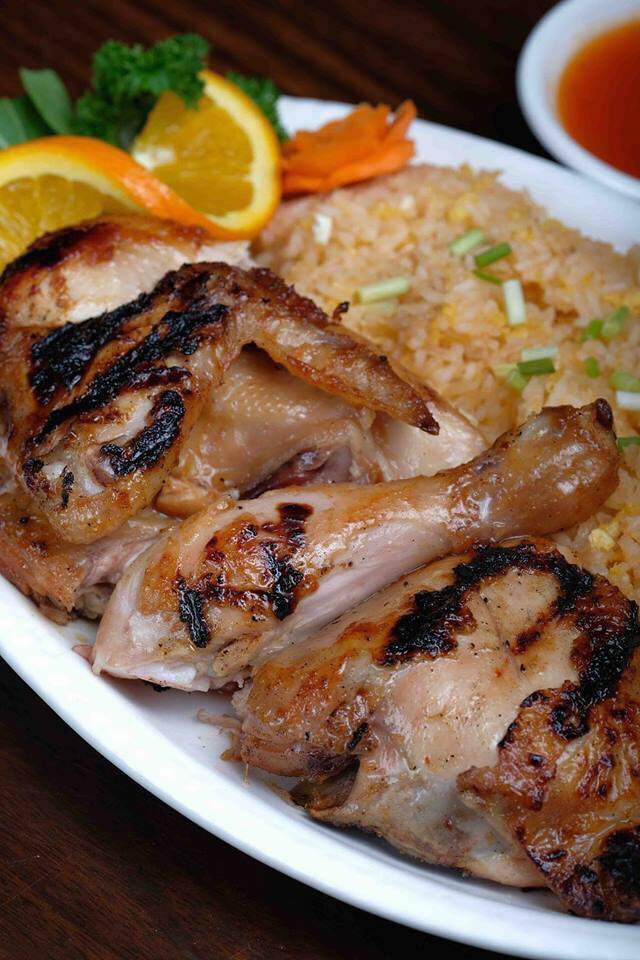 Fun fact: "Gai Yang" actually refers to the Thai way of grilling chicken that originated from the Northeastern or Isan part of Thailand. Enjoyed both by locals and tourists as street food, this dish is marinated in signature Thai ingredients such as fish sauce, cilantro, garlic, turmeric, lemongrass and chili before being cooked over a traditional charcoal grill.
Since we can't head to the colorful streetside food kiosks in Thailand right now, the hefty rice meal servings of this dish at Thai BBQ Original Restaurant is our best resort.
Pad Thai at Krung Thai Moo Ban
Address: 76 Liwasang Kalayaan Street, Marikina Heights, Marikina City Metro Manila
Contact: 8646-4041 (Marikina Bayan); 8634-9386 (Marikina Heights); 0917-8169704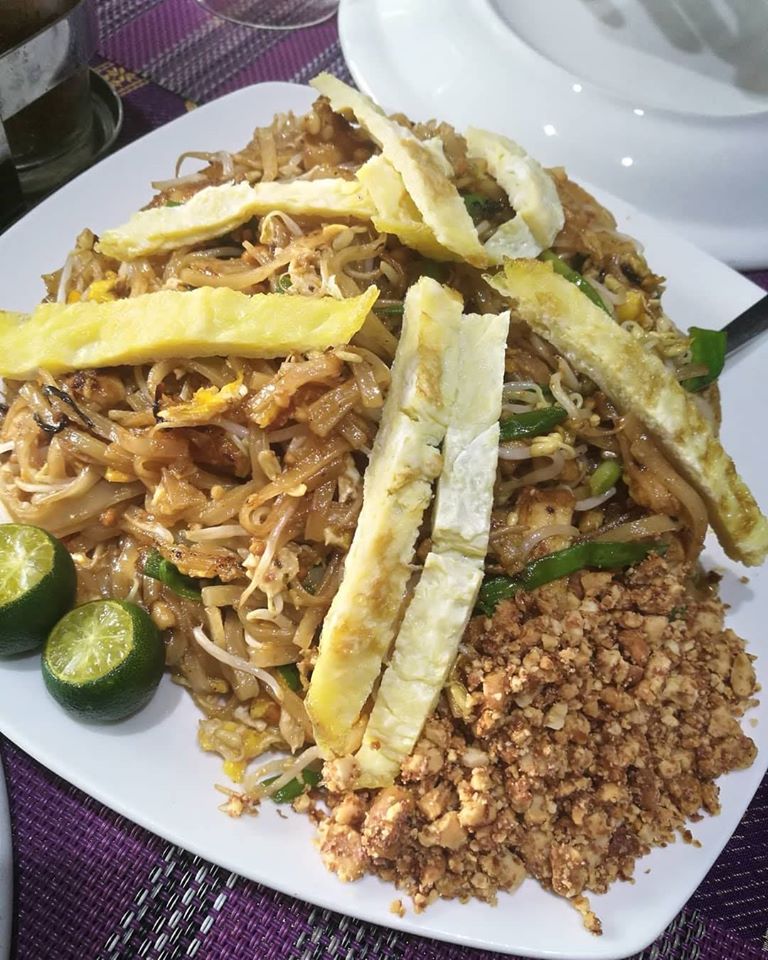 Honestly, what's a Thai food recommendation list without pad thai? This street food has long been loved for the rich flavors of its tamarind-based sauce, crushed peanuts and crunchy bean sprouts that complement its signature flat rice noodles. 
Part of what makes Pad Thai famous is its colorful history. Invented in the 1930s by then-Prime Minister Plaek "Phibun" Pibulsonggram, pad thai was created to be the country's national dish by promoting an image of unity and nation-building. It was also mandated to be sold in the country's streets to cater to everyone and up to now, you can find a good pad thai place just about anywhere there.
In the Philippines, a favorite among Marikina locals is Krung Thai Moo Ban, which has been serving this stir-fried noodle dish and other dishes from the land of smiles for years.
Pad Kra Pao Moo at Siam Sukh Jai Thai Home Cooking
Address: 2/L, S Maison, Marina Way, Mall of Asia Complex, 1300 Pasay City
Contact: 8821-6141
We Filipinos love our rice, which makes Pad Kra Pao an excellent lunchtime pick. Pad Kra Pao is a stir-fry ground pork dish with Thai basil best served with steaming hot rice and a lacy fried egg. Among the local places where you can order this dish is Siam Sukh Jai Thai Home Cooking, which delivers a dining experience reminiscent of getting a hot dish straight from a Thai home.
Here's a bonus: Add this new concept restaurant called Coffee War into your bucket list for when we can travel again. Literally placed inside a retired commercial plane, this interesting space was slightly renovated into a cabin-style interior restaurant for guests to feel like they are enjoying in-flight service. Located in Chonburi, Thailand where you can also find Pattaya, this interesting sight definitely makes the hour-long drive from Bangkok worth it.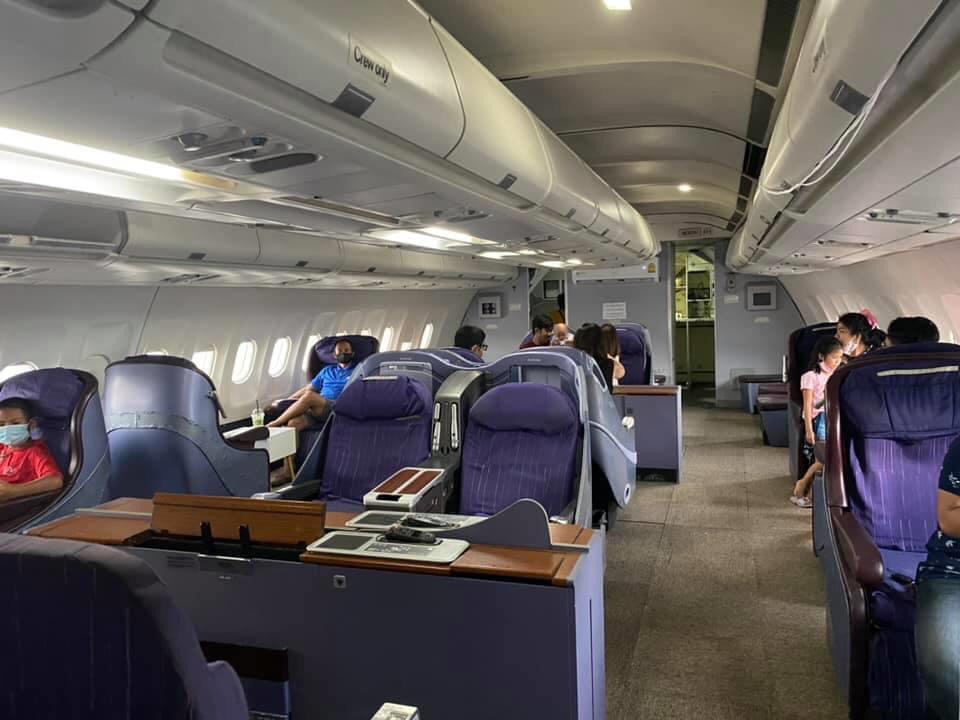 For more information on Thai restaurants in the Philippines and in Thailand, follow the Tourism Authority of Thailand on Instagram or download the Thai Select app on Google Play and the App Store.
Photos from Tourism Authority of Thailand 
Get more stories like this by subscribing to our weekly newsletter here.
Read more:
Don't say goodbye to iconic Thai restaurant People's Palace yet—it's only temporarily closed
Fine Thai food is just a drive away at Tagaytay's newest dining destination, Ayutthaya
Krapow Gai sends Thai food from your IG feed to your table
Writer: YANN MAGCAMIT