Say what you will about social media, but it's done a lot for democratizing the culinary world. It has provided avenues for home chefs and bakers to sell food straight from their kitchens and it has created a community where these cooks and their customers can gather. Combined with the rise of same-day delivery apps, it's changed ideas of what a restaurant could be: one that doesn't have to occupy a physical space.
That came to mind when I entered the home of Reginald Prospero, the person behind Krapow Gai. A home food service, Krapow Gai delivers Thai dishes straight to your doorstep (although Prospero notes that customers he's become friends through their continued patronage will sometimes drop by his condo to eat their orders at his kitchen), a kind of online-only business model that's become popular in recent years.  
Krapow Gai's name is a pun on the Thai chicken dish krapao gai. It's funny, and @krapaogai was already taken, he jokingly explains.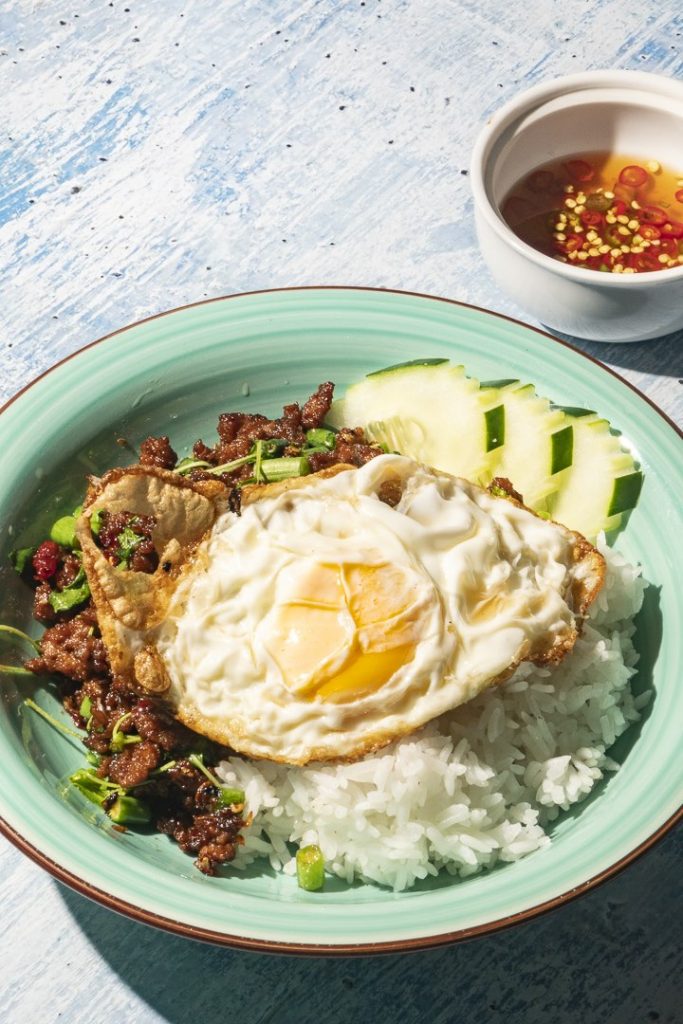 As he starts preparing the dishes, Prospero points to the text written with a marker on his kitchen wall cabinets. "This is my menu board," he says. "I post my menu on Friday." This is how his business works: After posting his weekly menu, either through Instagram or Facebook, his clients will message him his orders. "I then start figuring it out," he says. He transports his food through Lalamove in groups, his solution to the logistical concerns of daily deliveries and ensuring clients still get it while it's hot. 
"I follow the principle of Andy Ricker," Prospero mentions offhandedly, referring to the chef that brought Thai food to the general American dining public. It makes sense for him, with his end goal of demystifying Thai street food. Like Ricker, Prospero dealt with the challenge of bringing a foreign cuisine, one that he fell in love with while working in Bangkok, to his home country. 
Think about it this way: How would you make adobo without soy sauce and vinegar? Sinigang without tamarind or kamias? Without those key ingredients, you wouldn't truly be making adobo or sinigang, or at least one that other Filipinos would readily claim.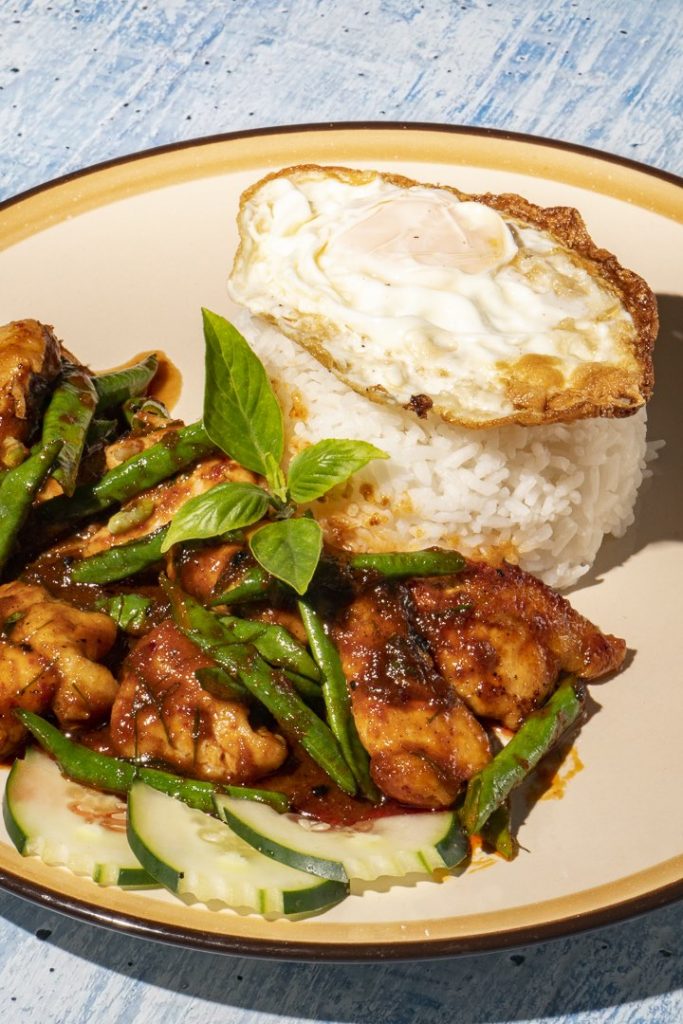 For a lot of Thai food, it's holy basil. The plant is not locally grown here, which is why many Thai restaurants switch it out with Thai basil instead. But Prospero remains resolute: "Krapao means holy basil," he says. "The difference between the two is that Thai basil has a licorice anise cooling effect. With holy basil, it gives you a hot peppery aftertaste. It's more of the mint family flavor." 
Unable to find a steady supplier of the spice, Prospero grows a few plants himself in his condo. He beckons us to check his plants growing in his balcony, a solitary hamster squeaking right in front of the balcony door. It's an obviously domestic scene, and I can imagine the younger Prospero, then, cooking in a foreign country for the first time and falling in love.
For more information on Krapow Gai, check out its Facebook and Instagram pages.
Get more stories like this by subscribing to our newsletter here.
Read more:
Cartoons as propaganda: How two animated films in 2019 dealt with history
Gina Apostol is not in the business of making people feel comfortable
A visit to The Grid's new Thai food stall Samyan should be on your to-do list
Writer: ZOFIYA ACOSTA
PHOTOGRAPHY SAMANTHA ONG