A visit to The Grid's new Thai food stall Samyan should be on your to-do list
At Samyan Thai Street Food, you can look forward to shrimp paste fried rice, warm creamy noodle soup, and a Michelin-star experience
info
Samyan Thai Street Food

Thai

Mon-Fri, 11 a.m. to 9 p.m., Sat-Sun, 10 a.m. to 10 p.m

₱

P 400-500
Inspired by his grandmother's home-cooked meals, chef ThiTid "Ton" Tassanakajohn has established a name for himself through innovative reinterpretations of Thai cuisine. 
The 33-year-old chef is best known for Le Du, a conceptual restaurant that began as a development project while he was studying at the Culinary Institute of America. The comfortable Bangkok restaurant serves dishes made with seasonal, high-quality ingredients from all over Thailand, while using French cooking techniques—it's this sophisticated touch that helped it earn a Michelin star in 2018 as well as a coveted spot on Asia's 50 Best Restaurants. 
And for the first time, Ton is bringing his culinary expertise to the Philippines through a new food stall concept at The Grid: Samyan Thai Street Food. Named after the neighborhood he grew up in and where he also learned about the street food scene, Samyan transports diners through the rich, textured layers of Thai flavors. Business partner Patrick Pesengco says that in order to deliver a true Thai experience, the cooks and chefs were even flown to Bangkok to train and personally experience the tricks of the trade.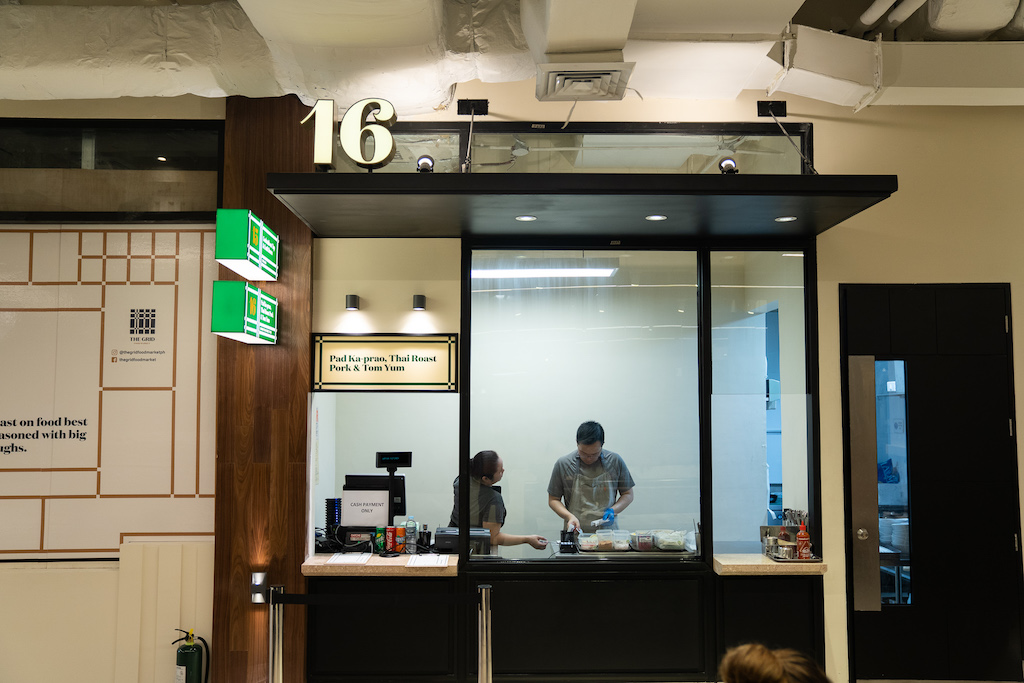 To kick things off, try the khao kluk kapi or the shrimp paste fried rice served with sliced shallots, shredded green mangoes, chili peppers, sliced egg omelet, and roasted pork, which diners can mix with the rice before digging in. For extra tart, squeeze the sliced lime all over the meal.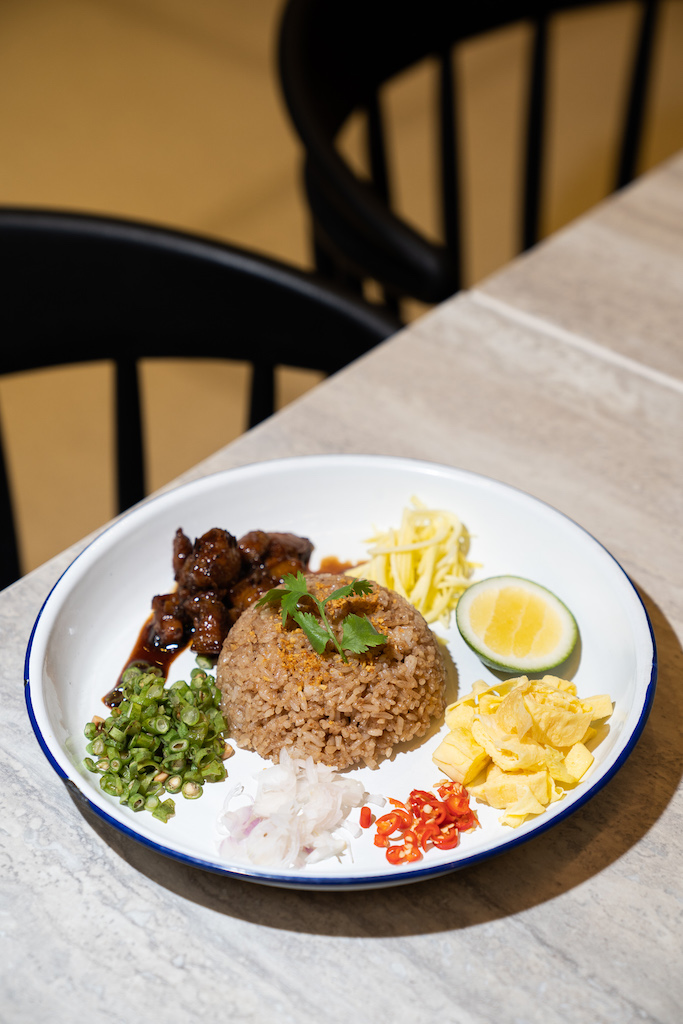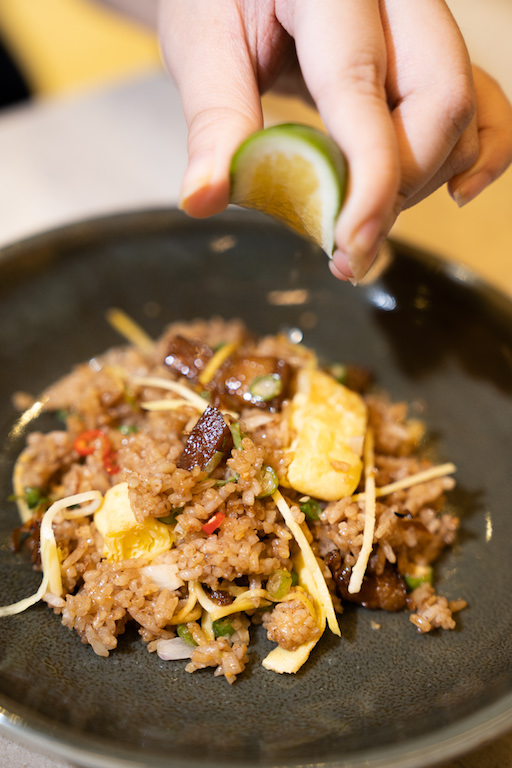 Noodles, meanwhile, are just as strong choices. 
Pair your meal with their kway teow tomyum, a warm, creamy noodle soup with shrimp. Their take on the Thai classic has a little kick of spice, thanks to the Thai chili paste mixed in with the broth; with a hint of sourness.
For people who are looking for a warm broth, but want to skip the noodles, Samyan also offers the tomyum kung namkun: an equally sour and spicy broth served with shrimp.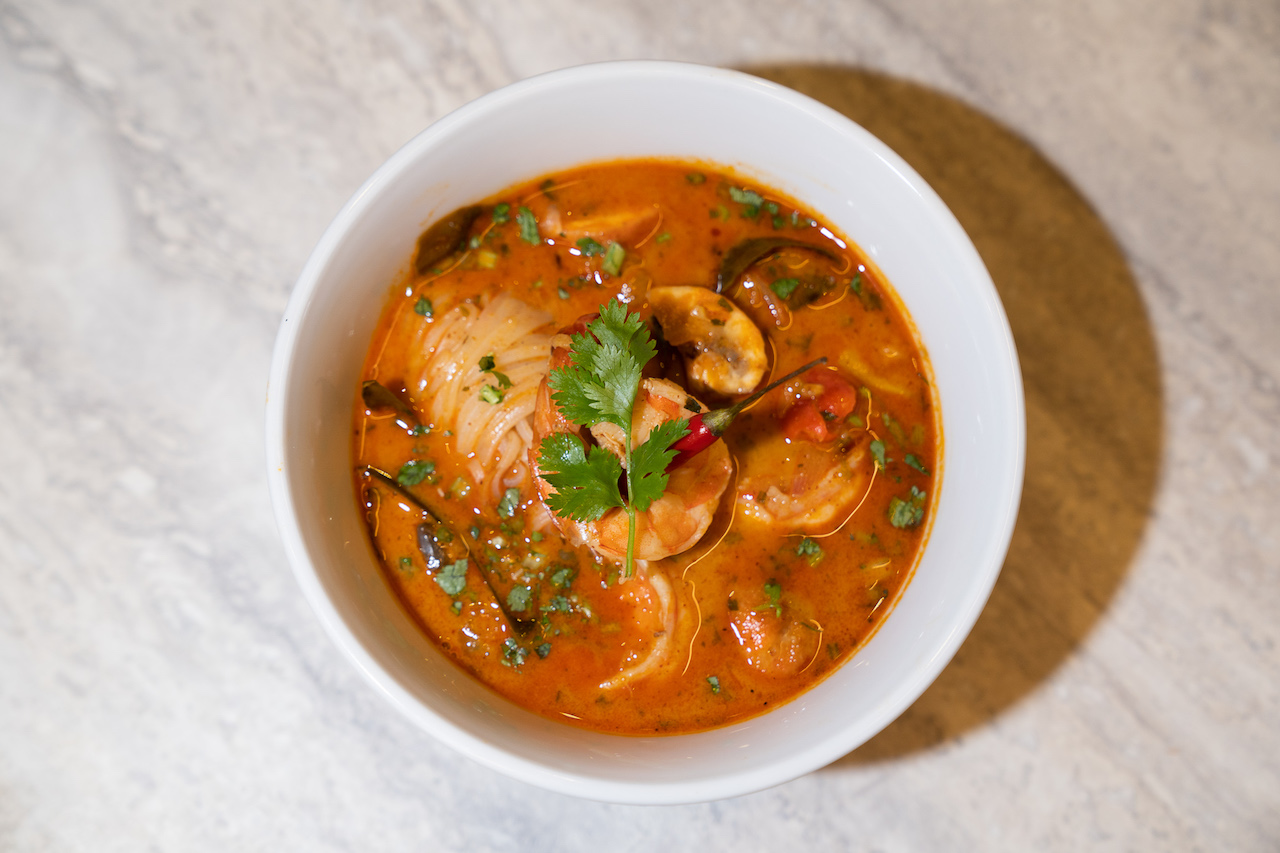 To cap off your meal, try their refreshing cha ma nao, which is Thai iced tea with lime. Diners can also look forward to the phad krapao moo (spicy stir fried pork), and their phad krapao gai (spicy stir fried chicken), which are both served with Thai basil.
Get more stories like this by subscribing to our weekly newsletter here
Read more:
You can choose from 9 different types of boba at this Thai milk tea shop
Khao Khai Thai doesn't believe in westernized Thai food
In Taguig, a restaurant serves Thai food beyond pad thai and milk tea
TAGS: nolisoli samyan thai street food thai cuisine the grid
WHY GO?
Get a taste of the khao kluk kapi, which is shrimp paste fried rice that can be mixed with sliced shallots, shredded green mangoes, chili peppers, sliced egg omelet, and roasted pork.
MENU