It may just be me, but good Thai food seems rare to come by in Manila these days. 
Keyword here is good.
Most Thai restaurants offer just the usual items like pad thai, spring rolls, bagoong rice, and pandan chicken—nothing bad with that (I love them, honestly), but there's so much more to Thai cuisine than that.
If you can't find it in Manila though, Bangkok isn't the next nearest place for real, good Thai food. There's always Tagaytay.
Fresh off the trail of Hapag's success (which just opened in June this year), chef Kevin Villarica has opened another fine dining concept. Ayutthaya takes after its "cousin" Hapag in that it is a reservation-only fine dining restaurant, but the Tagaytay concept, as the name suggests, focuses on Thai cuisine.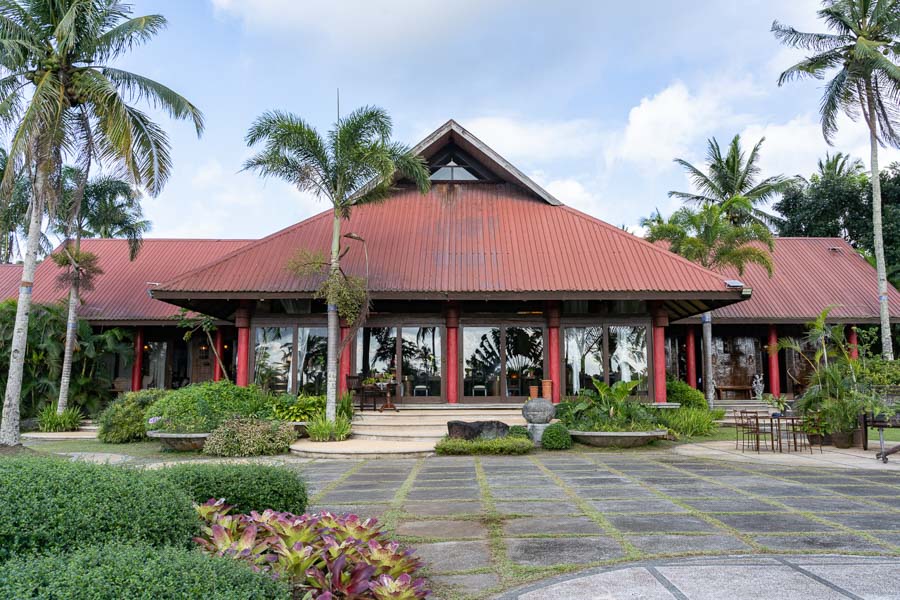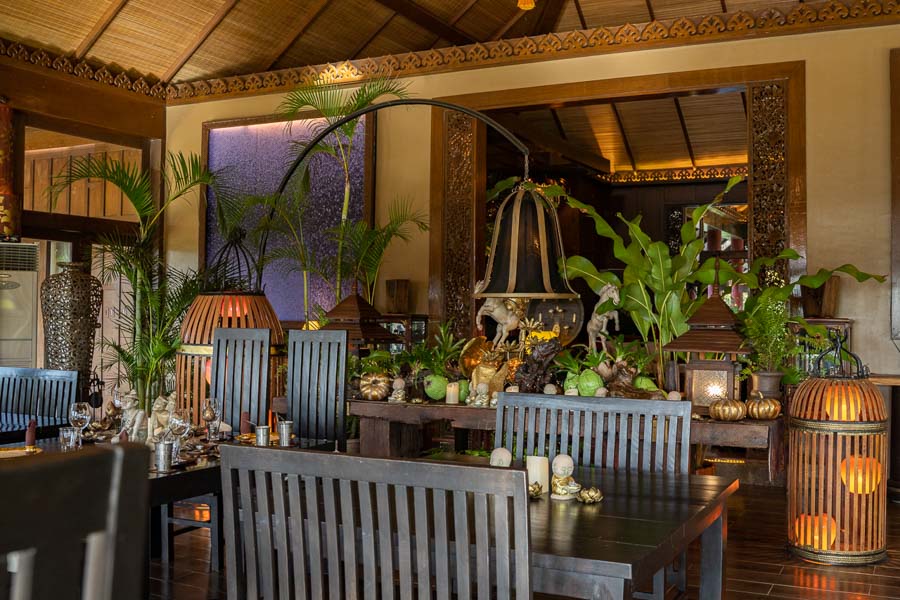 Situated inside the serene five-hectare EP Farm, Ayutthaya actually had serendipitous beginnings. Villarica and the restaurant's manager Bea Galang (who also happens to be the chef's fiancee) shares that initially, it was only set to be the venue for their upcoming wedding. With more talks came more plans, which, after an immersion in Thailand and its cuisine last August, led to the birth of Ayutthaya.
Named after the ancient Thai kingdom, Ayutthaya currently serves eight-course dinner made with all Thai ingredients—both brought in from Thailand and grown straight on the farm in Tagaytay.
Though the dinner is stated to be an eight-course meal, it starts even before the first plate is set down in front of you. First, you feast with your eyes and ears: the restaurant is opulently decked in gilded decor, mostly with lotus motifs—part of the owner's collection from decades spent living in Thailand.
Traditional music and chanting play, further setting the mood as you sip on tamarind iced tea (or wine) as the sun sets.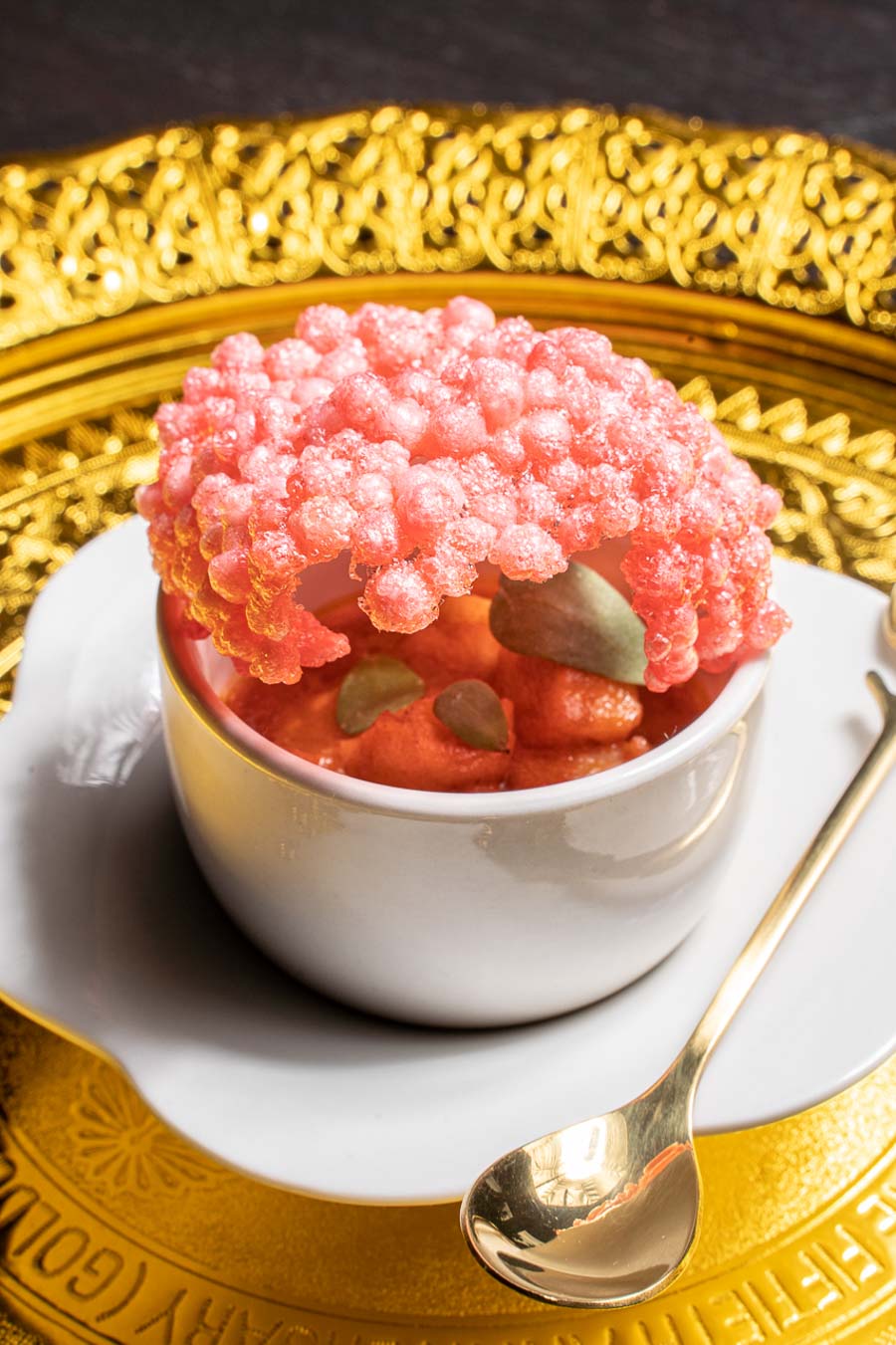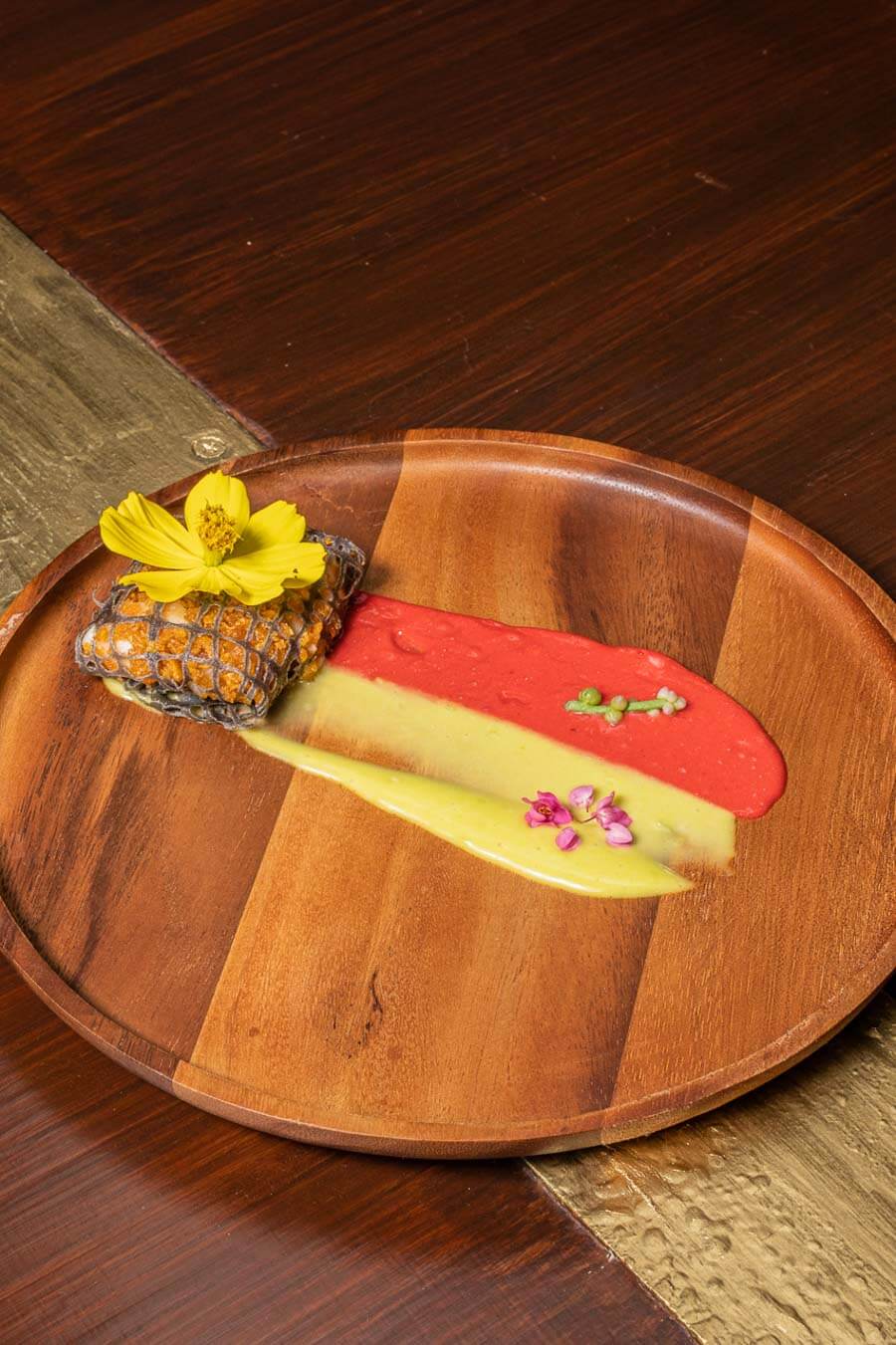 Then dinner starts: first with the fish curry, which comes with tapioca pearls turned into crisp chips by dehydrating them for eight hours. The dish primarily uses red curry but also has green curry reduction and basil oil. The fish—they use basa, a relative of the catfish native to Thailand—is served over a bed of Thai mashed potatoes. It's spicy, but not overwhelmingly so that it numbs your tongue; just enough to get your appetite going. 
Next is the la tieng, an appetizer allegedly served to the Thai royal family. It is primarily made with cereal prawns encased in an egg net blackened by squid ink. Smeared on the plate are basil and beetroot emulsions to "dip" the prawns into.
This is followed by a kaffir slider, a deceptively tiny burger made of pork and beef patty, sandwiched in a dinner roll with a crunchy basil leaf and a small dollop of basil emulsion. I say deceptively tiny—as most fine dining plates are—because while you can probably eat this "burger" in one bite, it's packed with flavor.
Villarica says though, that even if the plates seem to be small, they're filling—he's not lying.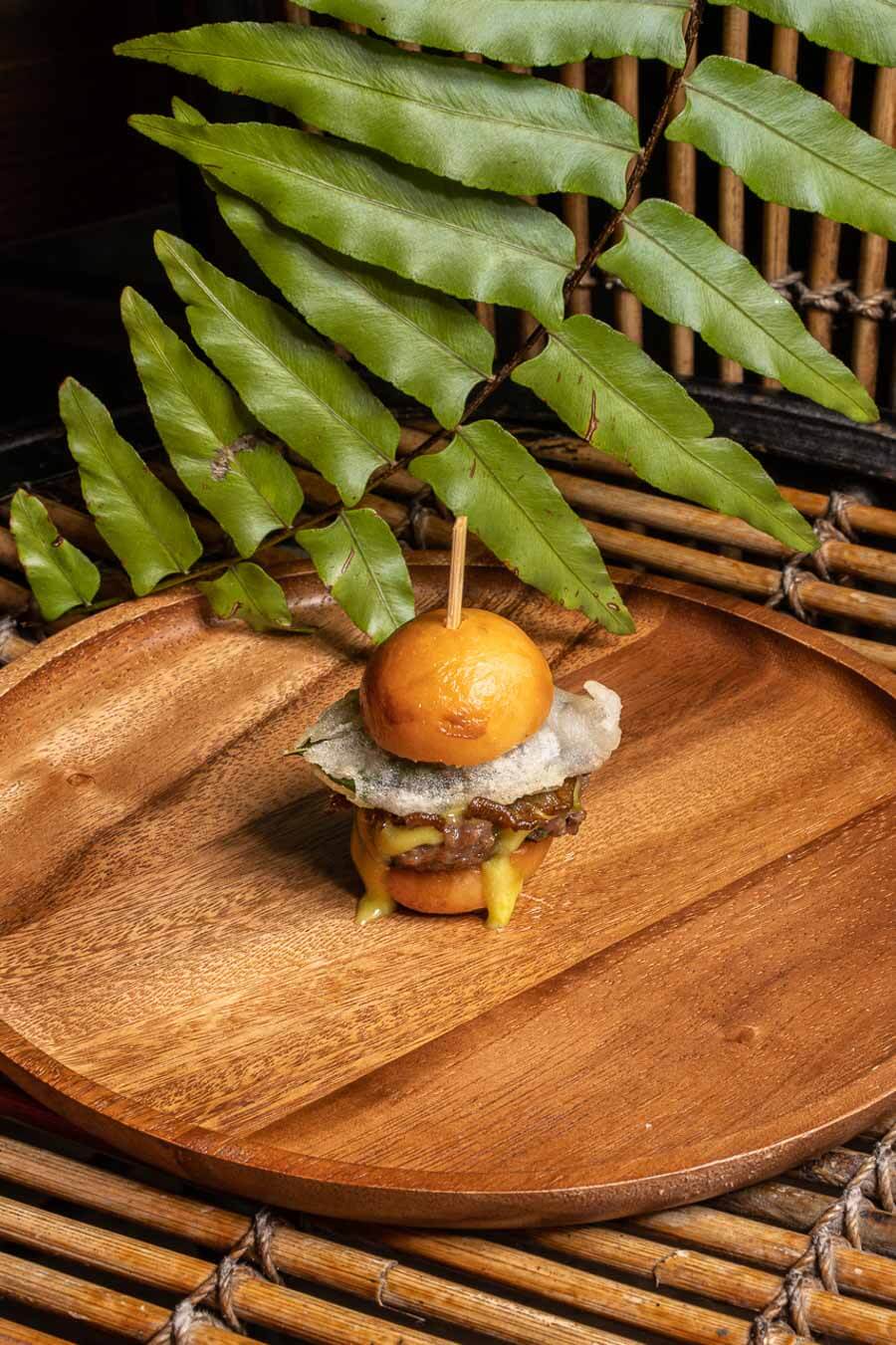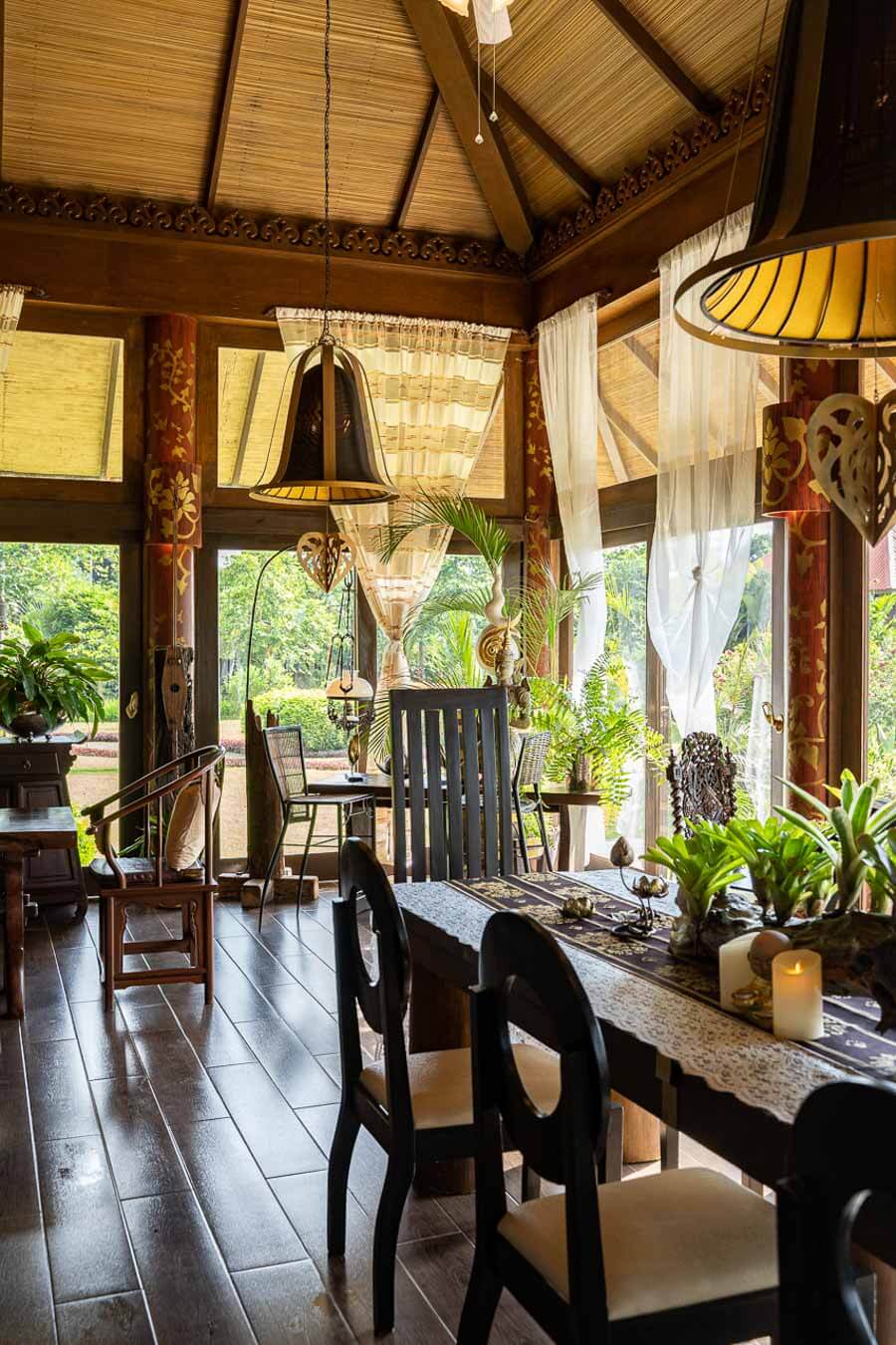 The dinner continues with the tom kha pla, a sour coconut broth with prawns and a variety of mushrooms. It's similar to the tom yum, except the soup stays while because instead of adding chili paste (which gives tom yum its red color), they use actual chilies and then strain them out. 
For full disclosure, let me tell you that I absolutely love tom yum, so I was thrilled to know there was a take on it in the menu. I underestimated Ayutthaya's broth though; the lack of the intimidating red hue in my soup left me surprised at the level of spice of the dish. Still, I finished it down to the last drop.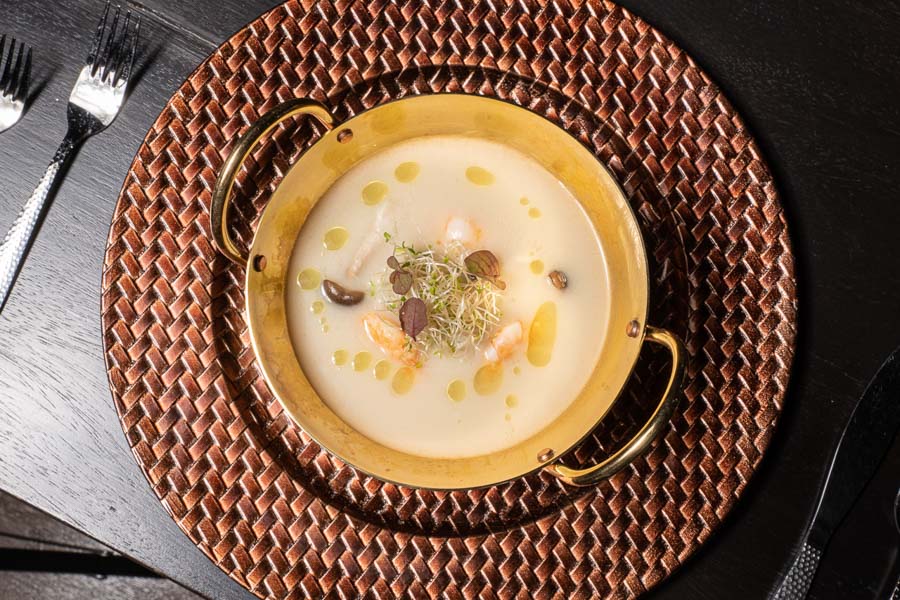 At some point after the first main I am dazed; my attention now solely on shooting so I can eat. I've forgotten to take notes.
But the latter half of the meal features some standouts, too. The pad grapao (holy basil stir-fry), which is normally a full meal of chicken with rice, is condensed into a basil leaf "taco" meant to be eaten in a single bite. The fresh Thai basil cuts through the flavors, giving it a minty, earthy flavor that blends with the crunch of the rice puffs and the spiciness of the eight-hour sous vide pork.
Then comes the first dessert: a serving of tarragon and dalandan sorbet, drizzled with makrut lime and beetroot oil, which, upon contact with the sorbet turns into a gel-like coating, adding a new texture to the dessert.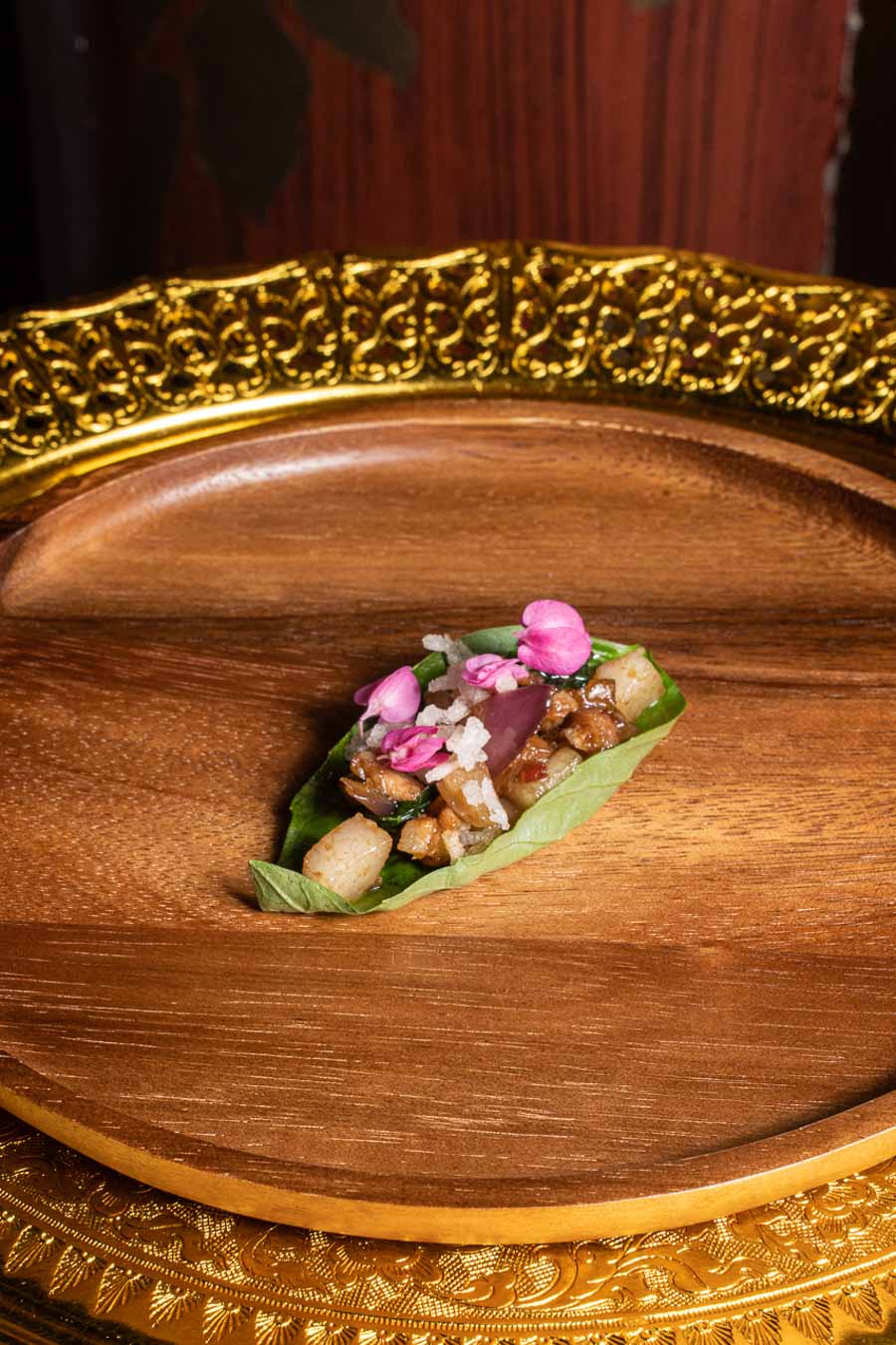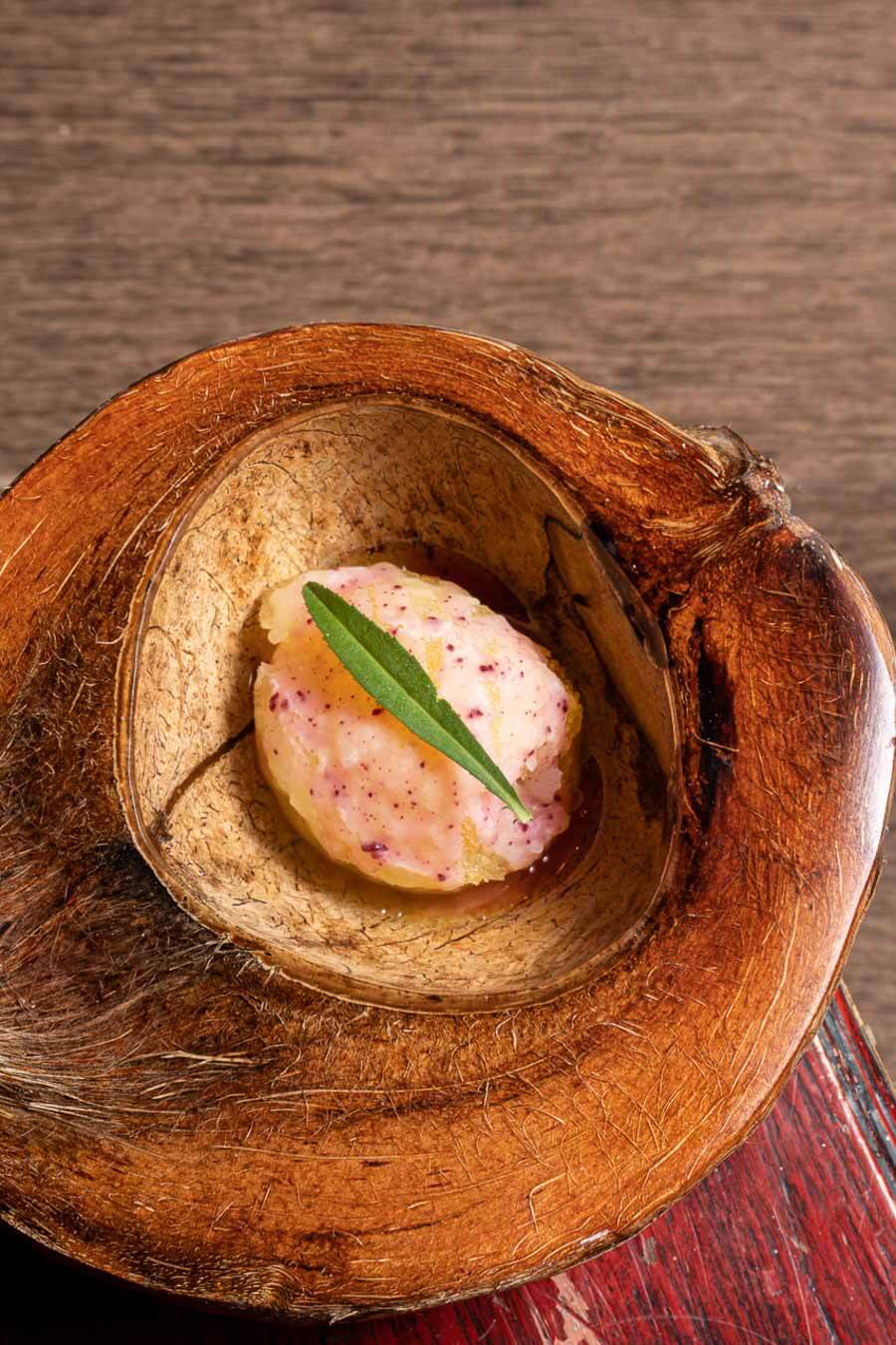 This short palate cleanser is followed by the last main dish: Thai chicken barbecue. The chicken owes its tenderness to being cooked sous vide in coconut milk marinade. The bagoong rice that it comes with is only mild in taste compared to the usual, which helps make the chicken and sauce stand out. My only qualm is maybe this serving was a little small. Because thinking back on it, I think I would very much like a full plate of it right now (although granted that during the actual dinner I, at this point, was already getting very, very full).
The meal then goes back to dessert, this time with a sweeter number. Thai tea sponge cake, which is best eaten with the salted caramel ice cream and lemon curd for a balance of sweetness and tartness.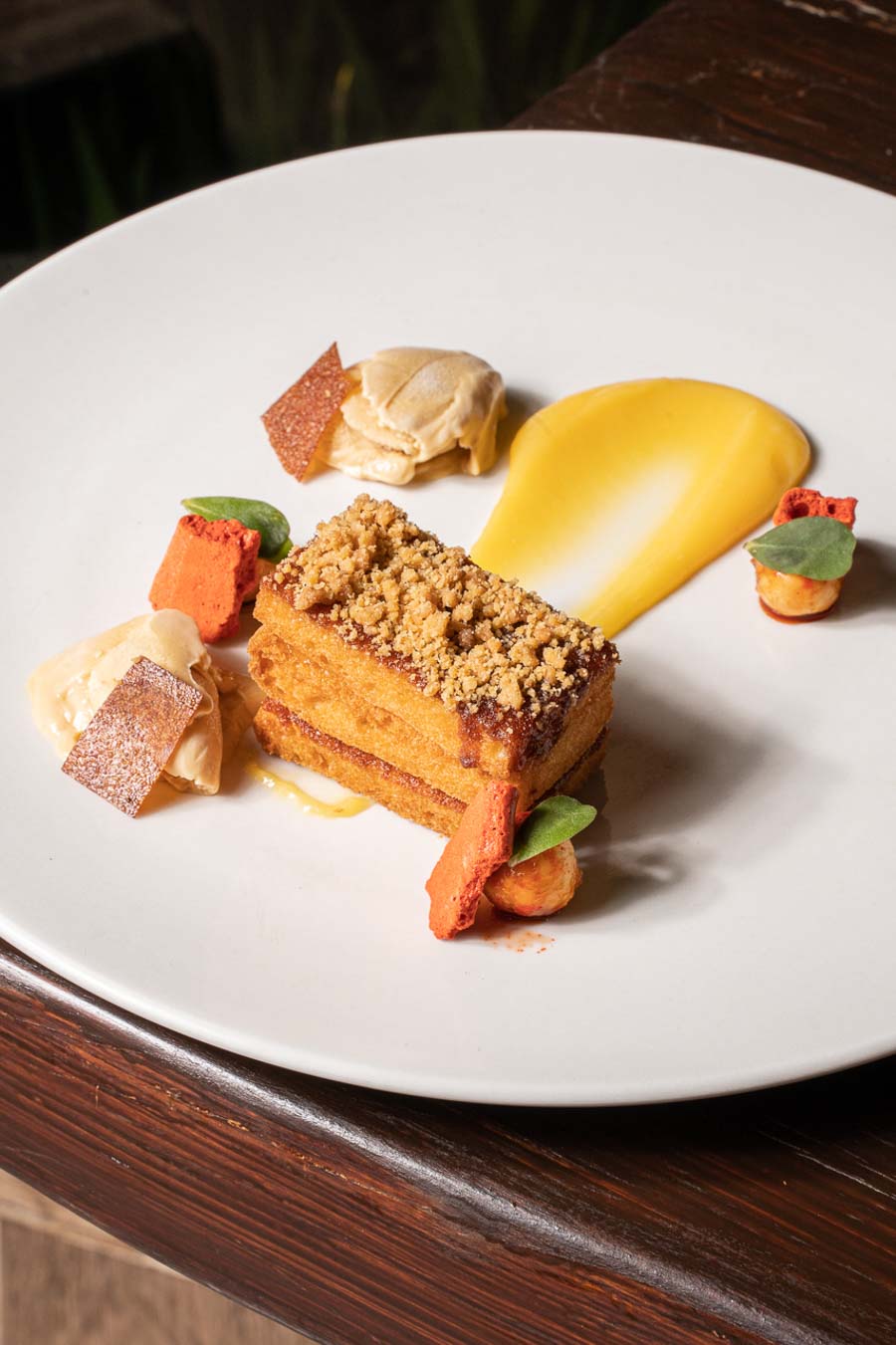 Villarica shares that he intends to update the menu every month. "Pero eto, two weeks pa lang pero may changes na ako," he says. Once the restaurant fully opens in 2020, he also plans to launch an a la carte menu.
Get more stories like this by subscribing to our weekly newsletter here.
Read more:
At Hapag, pots of plants like this are actually edible
4 private concepts for your next intimate dinner
A Toyo-trained young chef opens his home for 16-course private dinners
Writer: PAULINE MIRANDA
PHOTOGRAPHY SAMANTHA ONG