When chefs Kevin Villarica, Thirdy Dolatre, and John Kevin Navoa decided to expand their private catering business into a brick-and-mortar restaurant, there were a lot of things they weren't definite about, which includes their location and way of collaboration. But to them, one thing was already for sure: that everything is going to be truly, genuinely Filipino.
For the past two years, the chefs have been creating playful takes on Filipino dishes through Hapag Private Dining. It is only late last year when they felt the need to set up their own commissary, which they later on decided to turn into a small restaurant.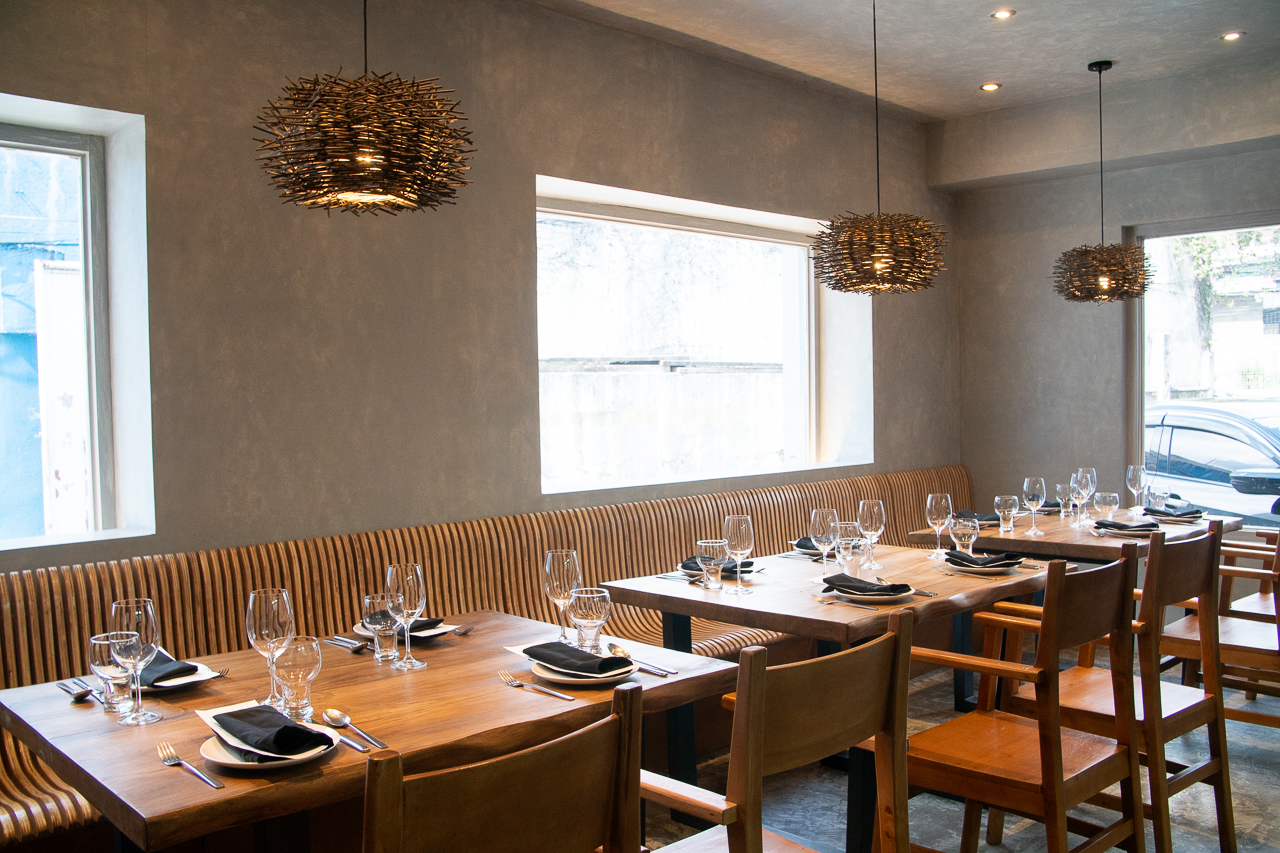 Hapag, the restaurant, is, indeed, small, with a seating capacity of 30 people. It's walls are bare and untouched; tables and chairs just simple and firm. You wouldn't notice that it's a fine dining restaurant immediately outside, given that it just seems like a giant box of concrete carrying the name "Hapag" on a land that's formerly owned by a burger shop.
But that is because Hapag aims not to enthrall the diner with its design, but with its elaborate and picturesque takes on classic Filipino dishes.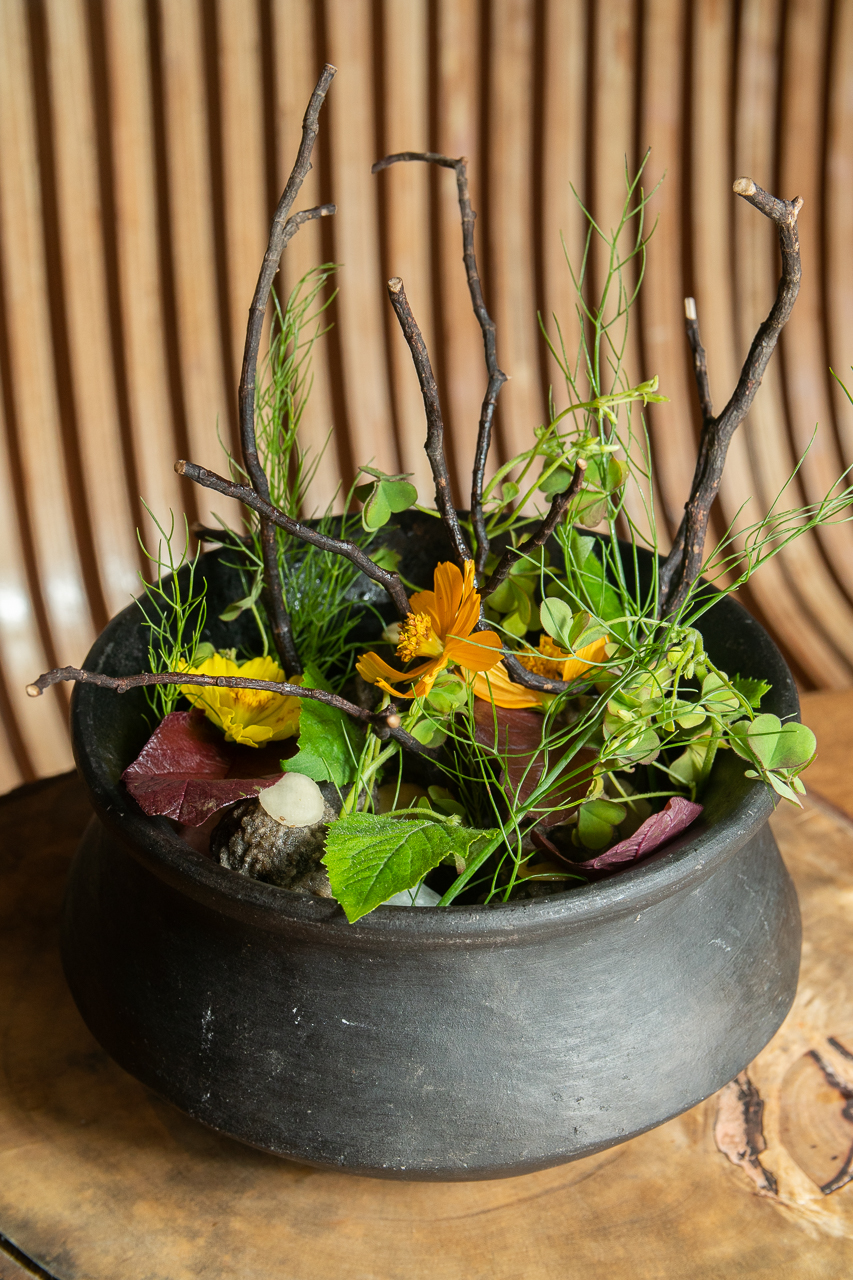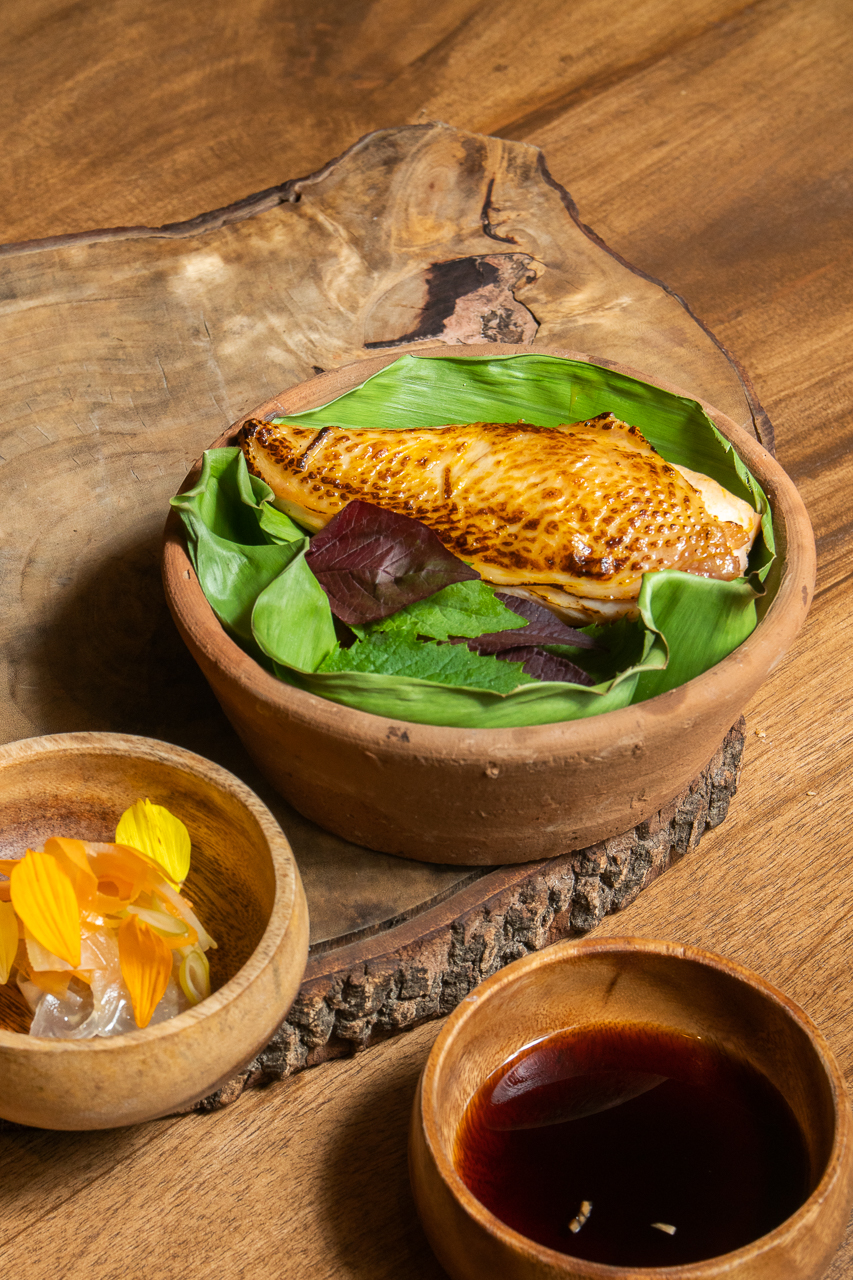 Take their laing, for example. Juicy, crispy, and deep-fried with squid ink, Hapag's laing is still bursting with the same, authentic Bicolano dish flavor most Filipinos love.
The only difference here is that laing is balled up and made prettier with twigs, greens, and edible flowers sprayed with mango pickles. Oh, and that it's served together with actual stones in the bottom of a black palayok, challenging diners to rummage through the plants to know which is the laing and which is the stone.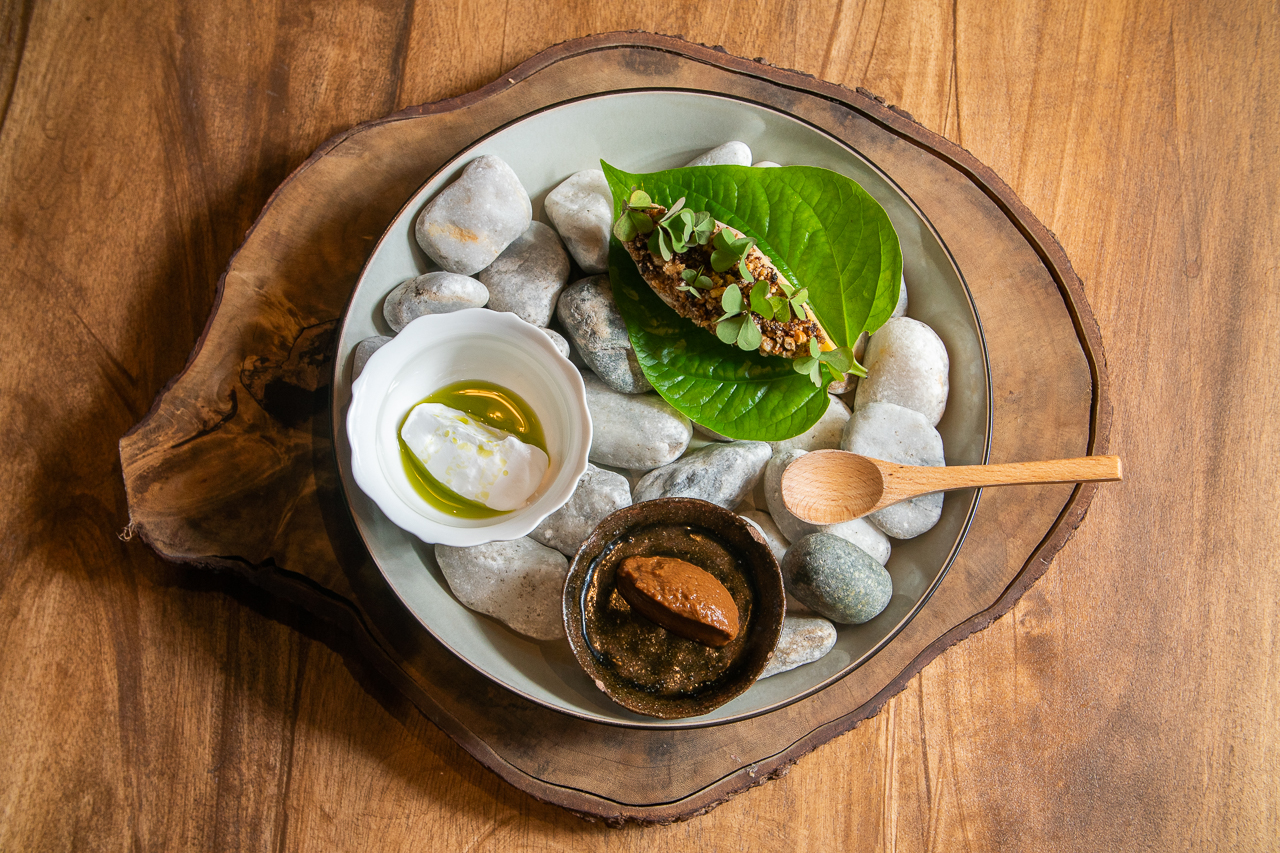 The presence of stones doesn't end with laing, as seen in the Banana Heart Granola dish above. One of Hapag's appetizers, this puso ng saging dish is slow-cooked and served like a taco, with betel leaf as the shell and pinipig-cashew-raisin granola as the toppings. It comes with vegan bagoong made from black banana.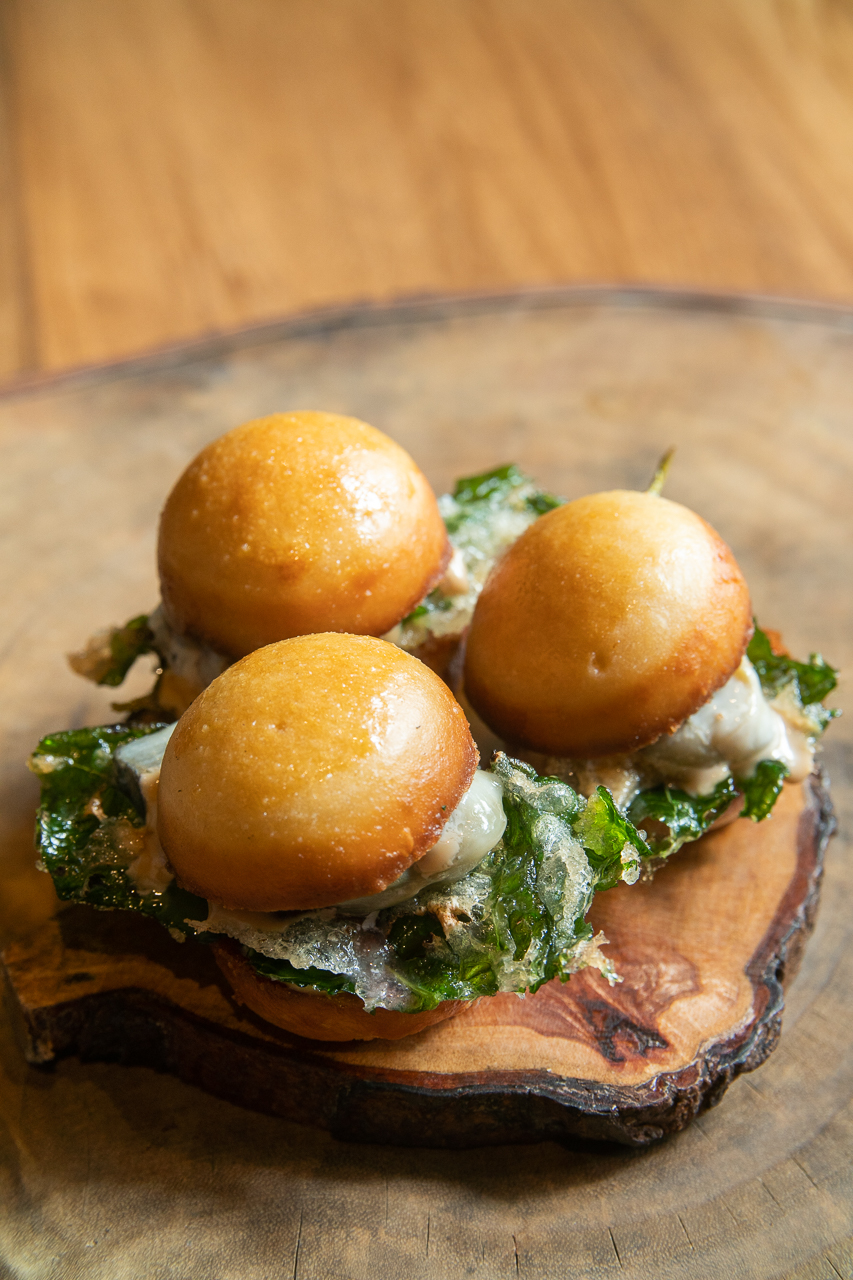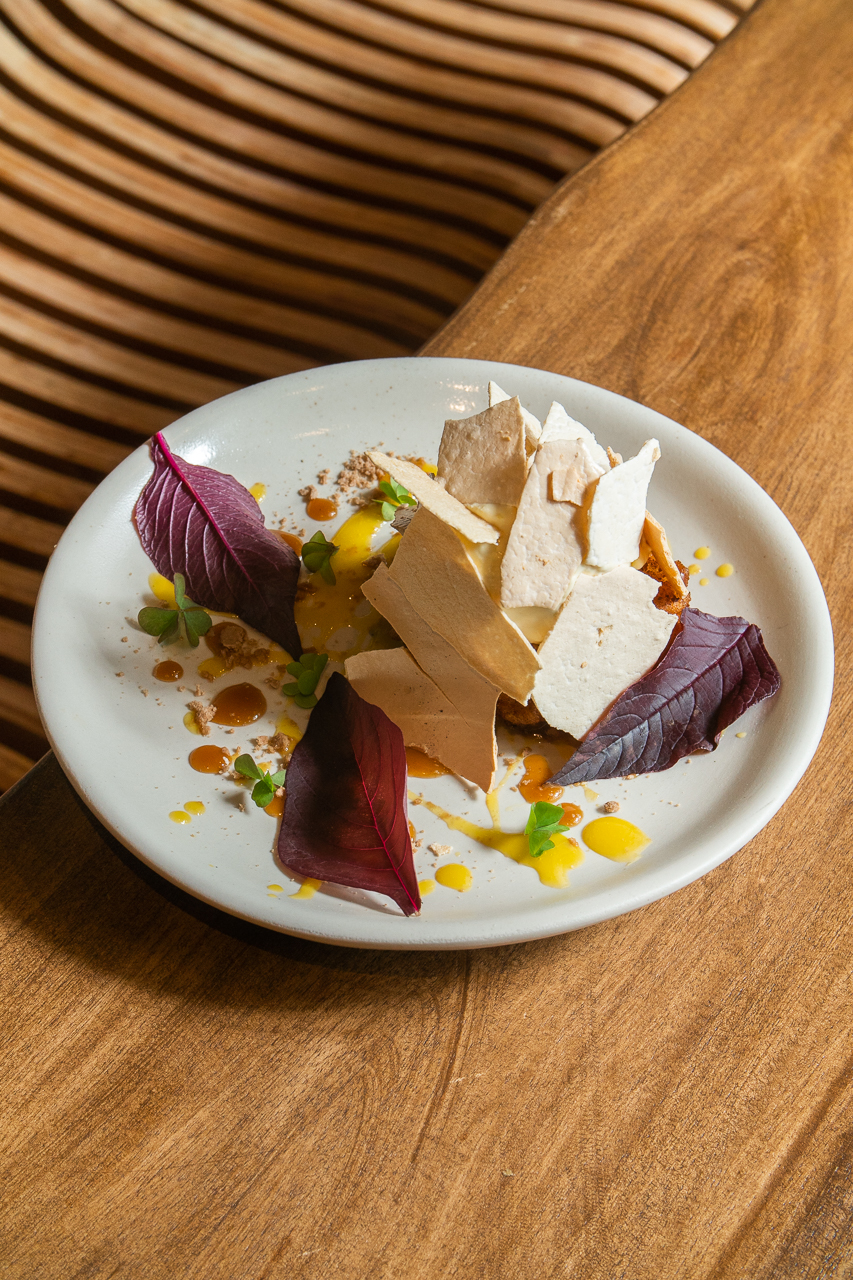 "Our aim is to make Filipino food more inviting. We don't want to change it, but just make it look nice," said Navoa.
It's no secret that while Filipino food is undoubtedly good, a lot of our dishes aren't immediately pleasing to the eyes upon first look, mainly because it's almost always a mix of a lot of things—from stew to greens and other types of vegetables. As Dolatre said, "You don't really know kung ano ang nasa loob if you're not familiar with [the food]."
Villarica has an answer to this with his version of kare-kare. Using his grandmother's recipe, the chef made kare-kare the way he has always wanted it to be: deconstructed. "Para ito sa mga katulad kong tamad mag-himay," he said in jest. "Kare-kare is really good, pero mahirap kainin. So we decided to make it easier for our diners."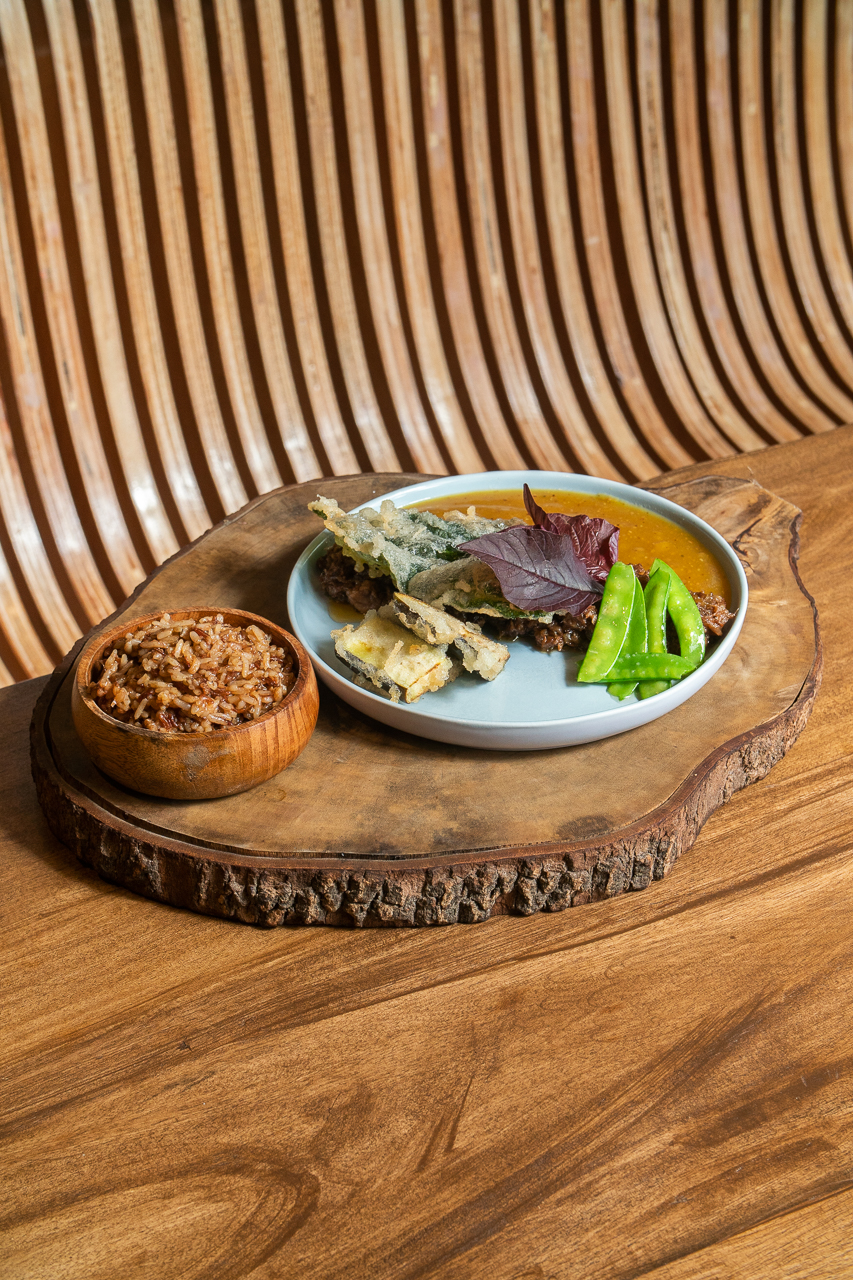 "What I did in this deconstructed kare-kare is dry the oxtail flakes and sauté it in bagoong," Villarica said. He then serves it with separate peanut sauce, fried vegetables, smoked eggplant puree, and bagoong rice.
While there have been a lot of different and interesting takes on Filipino food (not just in Hapag but in other restaurants as well), the chefs stressed how it is important to understand that "there are dishes in Filipino cuisine that you cannot really play or change."
Hapag's take on inasal, for one, is to remain true to the classics. "We don't want to say that it's inasal pero hindi naman talaga sya inasal, parang 'yong kare-kare," Navoa said. "There are cases in cooking when you have to respect the tradition talaga. And we do that; we make Filipino food as it is, just cleaned up."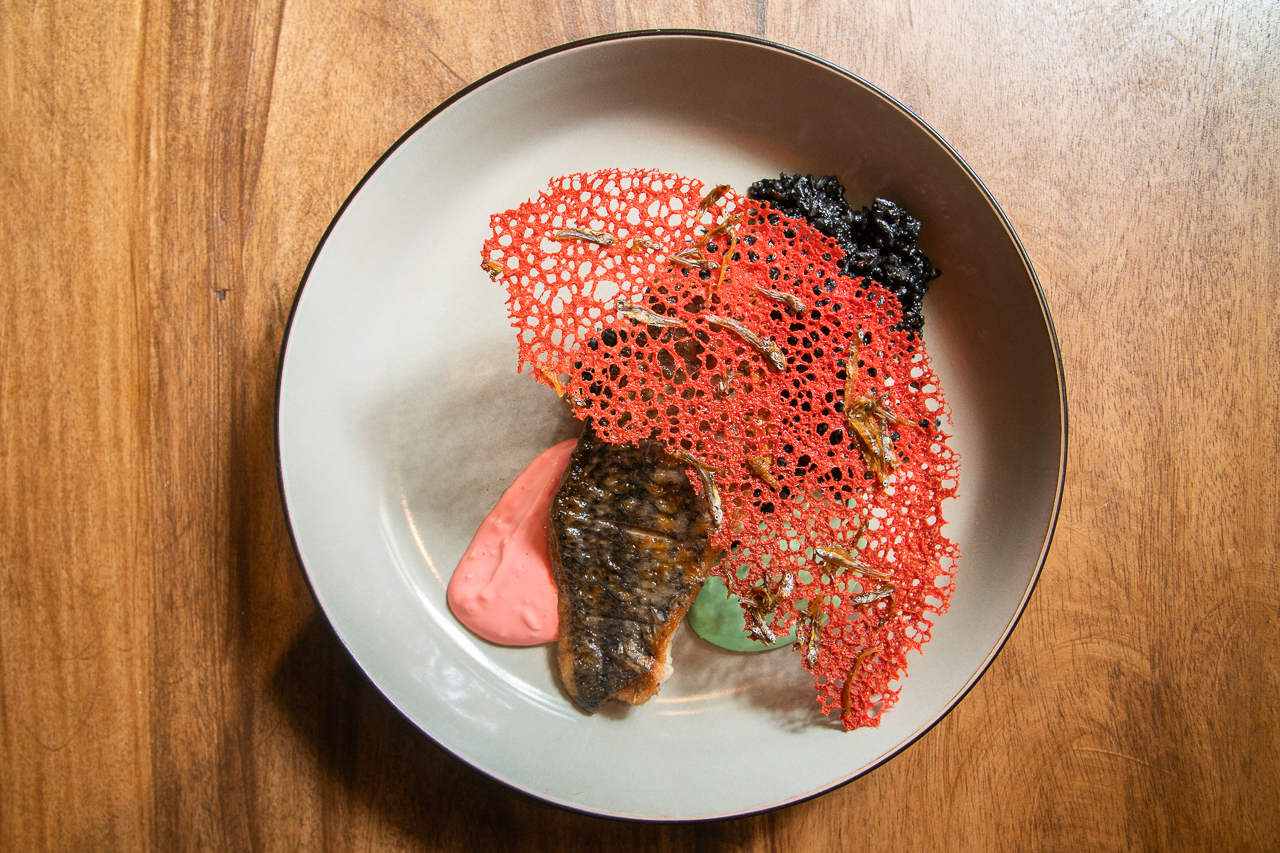 The great thing about this new restaurant is that it doesn't make our food foreign to us. Their takes are new and unconventional, yes, but it's authentic. It's charming to the eyes yet the familiar to the mouth. Hapag kind of reminded me this famous Doreen Fernandez quote which says, "Food to the FIlipino is history. It is also bond, culture, and identity."
Amid all the playfulness and creativity these three chefs applied to Philippine food, it still embodies history, bond, culture, and identity.
Get more stories like this by subscribing to our weekly newsletter here.
Read more:
This vegan joint has meatless Filipino food to rival the real thing
LOOK: Eater's new series follows Filipino food across America
What exactly is Filipino café food?
Writer: AMIERIELLE ANNE BULAN
PHOTOGRAPHY SAMANTHA ONG