Chef Josh Boutwood is launching a fried chicken and pizza menu. Here's how you can order online
Meet ChowCiao, another endeavor that brings simple yet chef-driven food to your home
Aug 14, 2020
Chef Josh Boutwood and The Bistro Group continue to cater to our quarantine cravings. This time, they're introducing a new menu filled with scrumptious fried chicken and pizza, aka one of our constant comfort foods even sans pandemic. Meet ChowCiao, another endeavor that brings simple yet chef-driven food to your home.
"Chow symbolizes the act of eating and Ciao is the well-known Italian greeting for 'hello.' Italian-American cuisine has always been a favorite of the local market and I, myself, love this iconic combination," said Boutwood.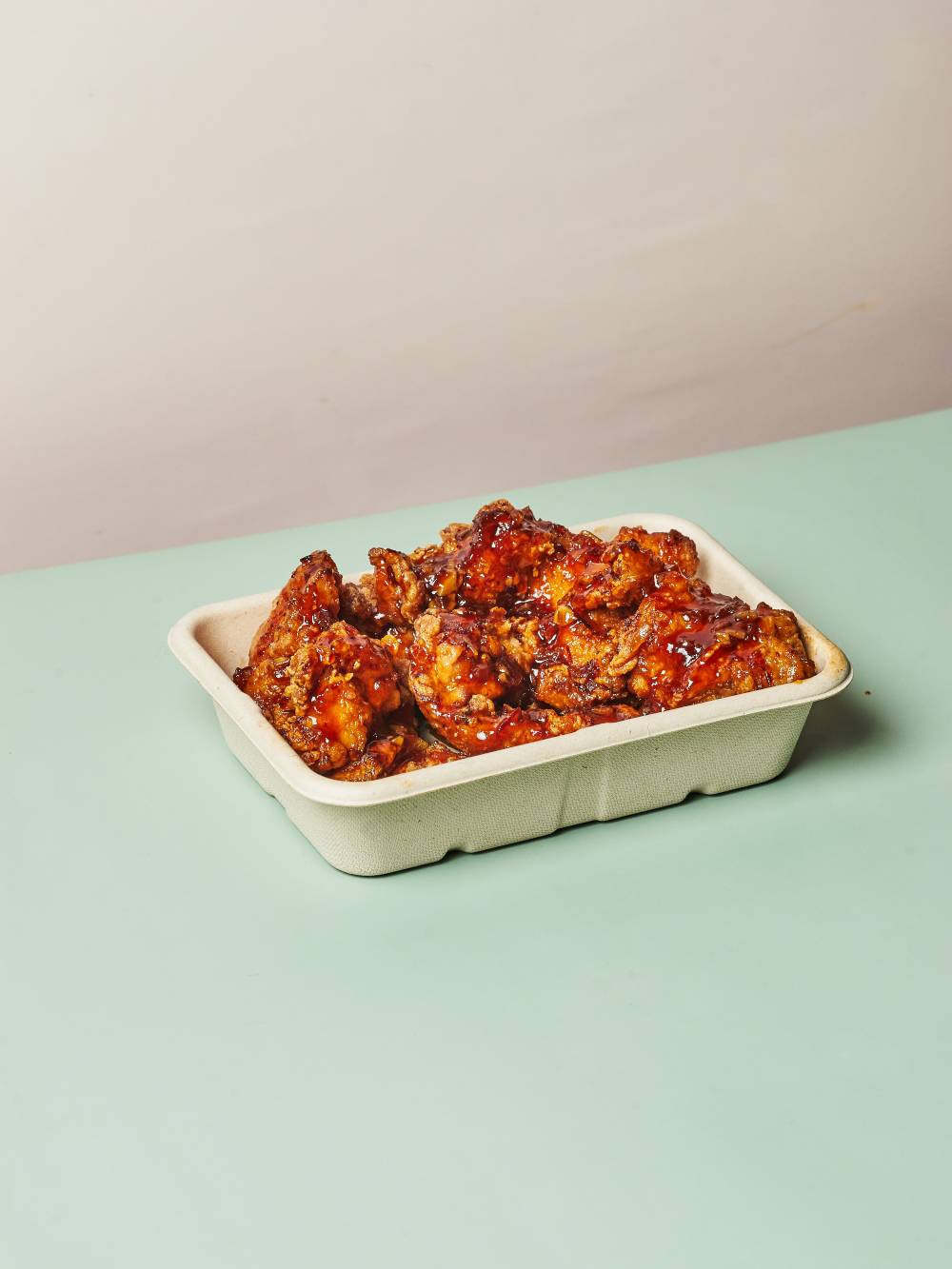 ChowCiao's chicken line comes in five different flavors, including original and sweet barbeque. Those who love spicy food will surely enjoy buffalo, while those craving Japanese food might want to try Honey Miso and Furikake. If you're looking for something a bit smokey and savory, Chipotle and Queso Fresco might be for you.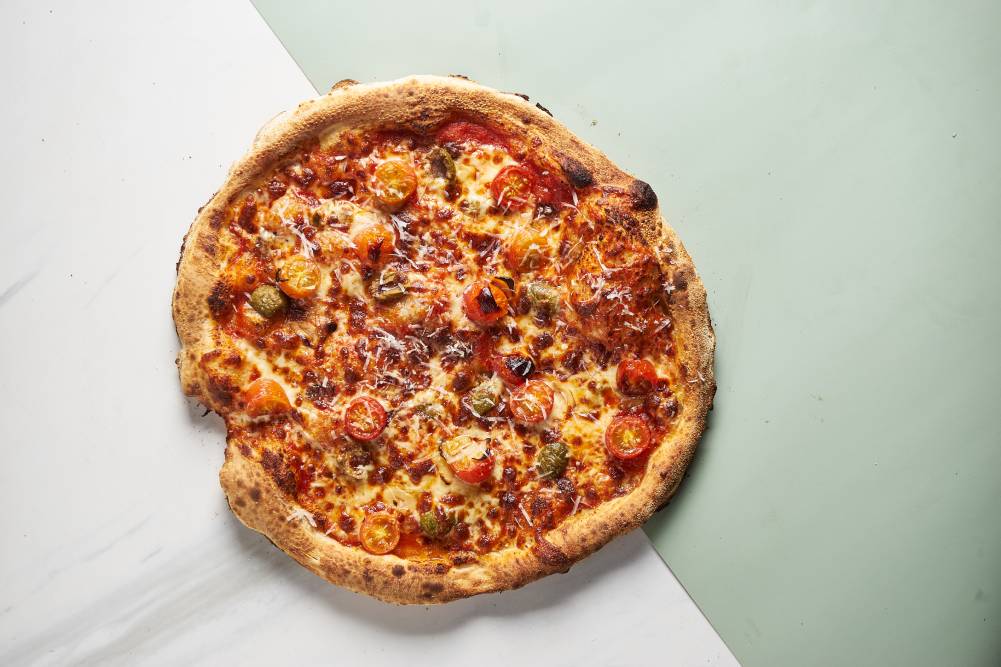 Pizza lovers will also get their comfort food fix as ChowCiao introduces both red and white pizzas on their menu. In case you didn't know, the difference between the two lies in the existence of tomato sauce: White pizza doesn't use one.
Check out the pizza flavors offered by ChowCiao:
Margherita (tomato, mozzarella, basil)

Spicy Pepperoni (tomato, chili, pepperoni, mozzarella, oregano)

Prosciutto (tomato, mozzarella, oregano, arugula, prosciutto ham)

Three-meat (tomato, mozzarella, smoked bacon, fennel sausage, pepperoni, oregano)

Napolitana (tomato, olive, garlic, cherry tomatoes, anchovy)

Hawaiian (tomato, mozzarella, pineapple, smoked ham)

Truffle (black truffle, mushroom, mozzarella, oregano)

Agliata (marinated garlic, oregano, cherry tomatoes)

Four Cheese (mozzarella, gorgonzola, asiago, pecorino, romano cheeses)

Campagna (spinach, fennel sausage, mozzarella, chili)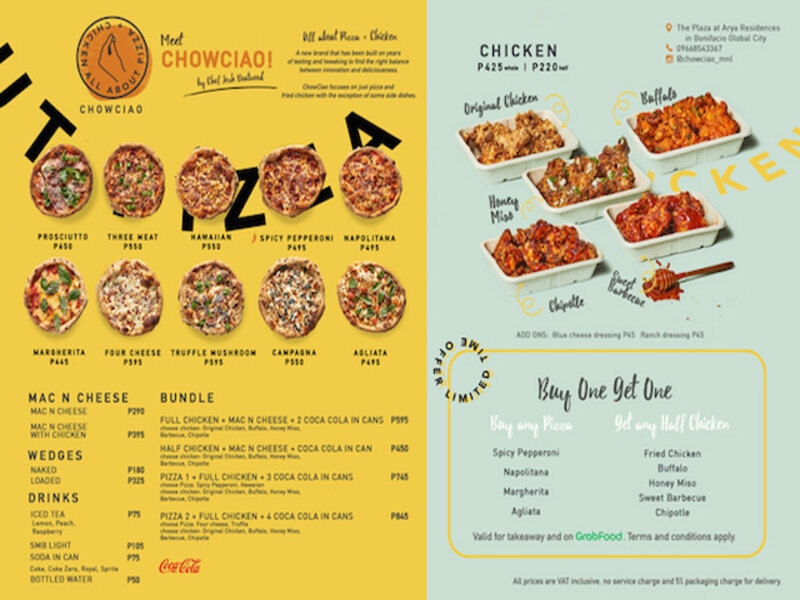 Aside from fried chicken and pizza, Boutwood and The Bistro Group's new food menu includes seasoned wedges that come in naked and loaded variants as well as Macaroni N Cheese.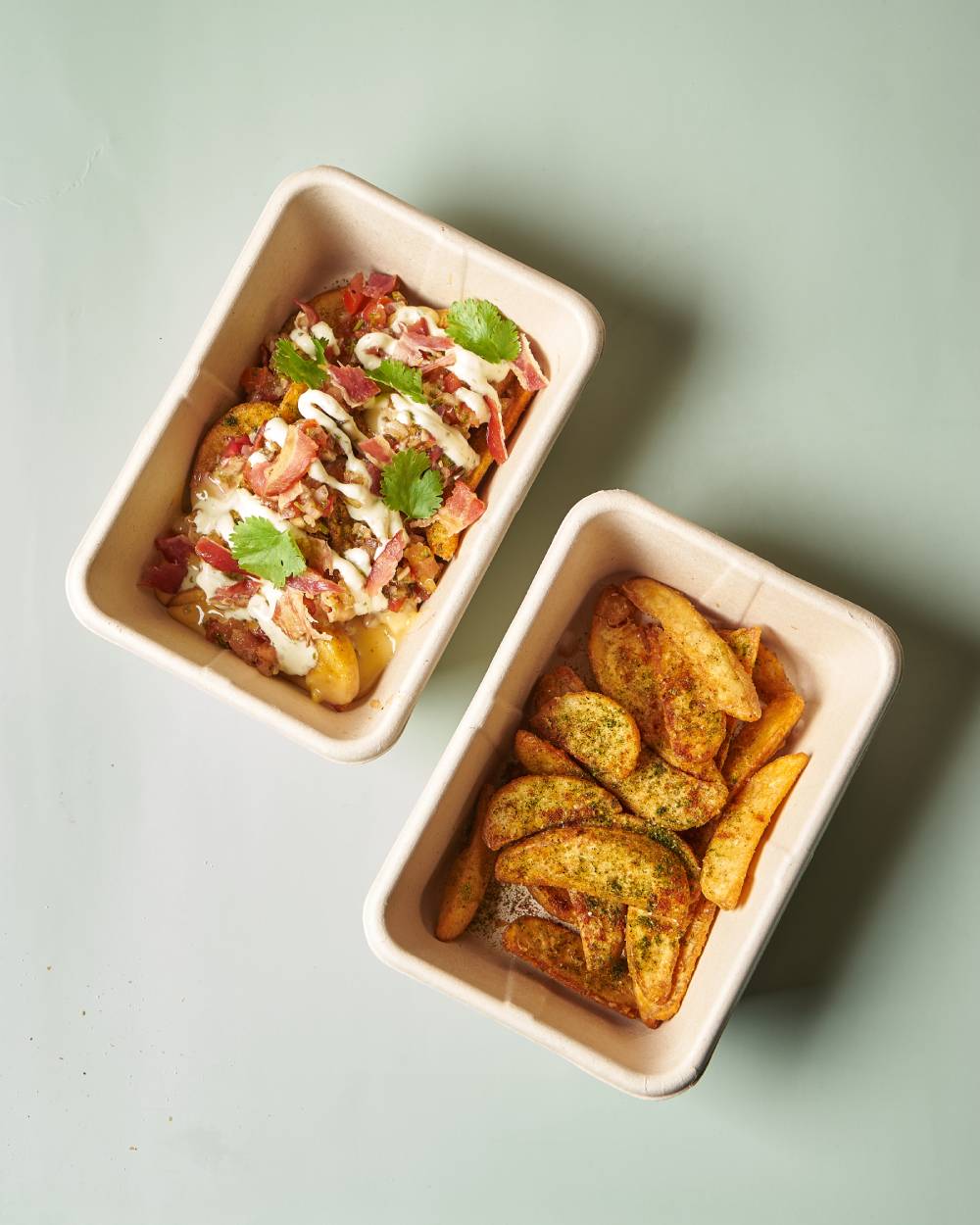 Dishes from ChowCiao are available on GrabFood starting today (Aug. 14). Direct delivery and pick up at The Plaza at Arya Residences, BGC are also available and can be arranged by contacting 0966-8543367. You can also follow ChowCiao on Instagram at @chowciao_mnl.
Header and featured photos courtesy of The Bistro Group
Get more stories like this by subscribing to our weekly newsletter here.
Read more:
Watch how chef Josh Boutwood cooks The Test Kitchen's dishes—then do it yourself
WATCH: How chef Josh Boutwood cooks simple dishes
Chef Josh Boutwood's survival guide to Manila's culinary scene
TAGS: Chef Josh Boutwood chowciao chowciao fried chicken pizza fried chicken delivery pizza delivery the bistro group