Tricycle drivers are among the daily wage earners hardest hit by the pandemic. Quarantine restrictions had previously halted their operations.  When allowed back in the streets, they could only ferry passengers at a limited capacity.
Initially criticized for pressing tricycles back into service in March, Pasig Mayor Vico Sotto has remained undaunted and has come up with another initiative to help displaced trike drivers. 
Yesterday, Pasig became the newest city to be serviced by MyTODA, the first tricycle ride-hailing application in the country. 
The app, which is available for download on Android phones, hopes to help distressed tricycle drivers by making their services available on demand.  The service is not limited to rides. Users can also book a MyTODA trike for delivery and pabili.
The first fleet of MyTODA drivers was introduced to Pasig trike-riding commuters yesterday, Oct. 27, at the SM City East Ortigas Transport Terminal.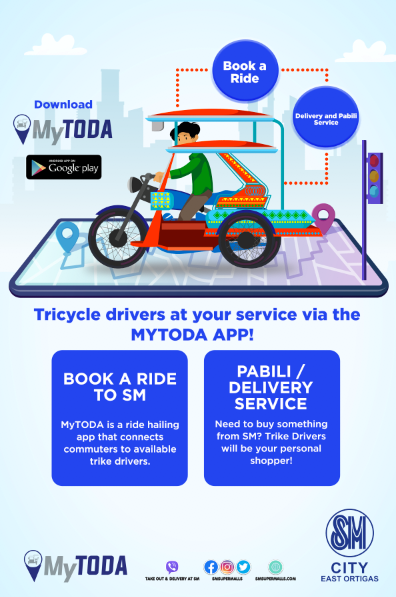 Up next on MyTODA's planned expansion is a partnership with the Angono, Rizal local government and SM Supermalls.
To check, if your area can be serviced through MyTODA app, check its website.
Photos courtesy of Philippine News Agency and MyTODA
Get more stories like this by subscribing to our weekly newsletter here.
Read more:
Todo na para sa TODA: We're adding art and jewelry to our auction—ready, set, bid!
VP Robredo's next project: A delivery app to help small-scale vendors, tricycle drivers
Manila City offers free swab testing for market vendors, tricycle, pedicab and PUV drivers
Writer: CHRISTIAN SAN JOSE