For Pride Month, Nolisoli revisited queer spaces—past and present—through the stories of people who lived in and through them. There's Malate with its dimmed but nonetheless still inclusive streets, Cubao that was once home to music hangout Today x Future, Makati with its artistic meccas XX XX and Pineapple Lab, Taguig with its buzzing nightlife fixture Nectar, Ortigas with the loud and proud home of the drag queens O Bar, and the transient spiritual hub that is Open Table Metropolitan Community Church (MCC) now in Mandaluyong.
***
Today x Future, a litmus test for temperament
By photographer Joseph Pascual
I've brought people I was interested in seeing to Future as a sort of litmus test for their temperament. Were they okay with hanging out in Cubao? Sitting on a curb? Hearing music outside of the Top 40? Peeing in bathrooms with Russian roulette cleanliness?
Future was my last stop for the day, regardless of where I came from or what I did. Whoever I dated—or loved'—had to love its energy and its people the way I did. My friends have done this too. One friend of mine brought a date to Future, and all the date did, besides have his bodyguards watch from across the street, was ask where the chairs were. They didn't last and they wouldn't have.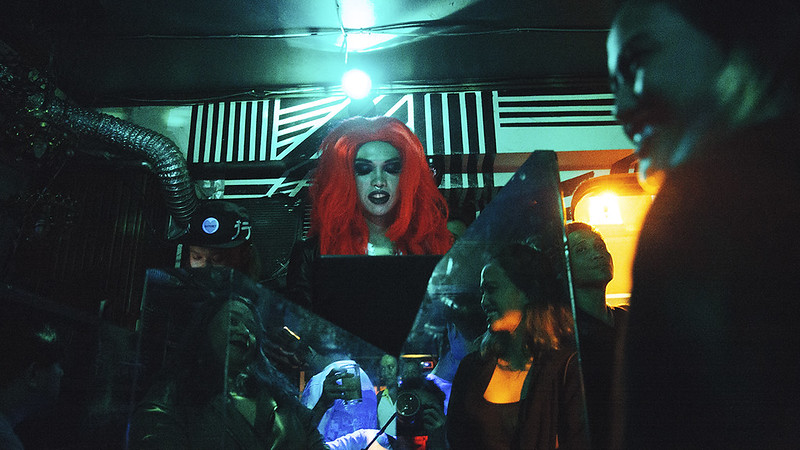 Music was everything at Future, and it changed every night. Old school hip-hop on Monday with Misyonaryo, Tuesday Jazz, The Strict Rules Of Polite Society on Wednesday played indie pop, Thursdays were for guilty pleasures with Kids These Days, and anything went on weekends. Later events like Expert Trip and Stunning Melodic Noises by Ruthless brought in experimental sound baths and live music. Being a regular was a weekly crash course of what everyone liked—of what existed.
I remember walking to the door and seeing or hearing something unfamiliar, and thinking to myself, "Well, naturally." I think it's the same with people. The best spaces can accommodate its people's needs, and TxF expanded and contracted to welcome whoever you were. I think that's so gay.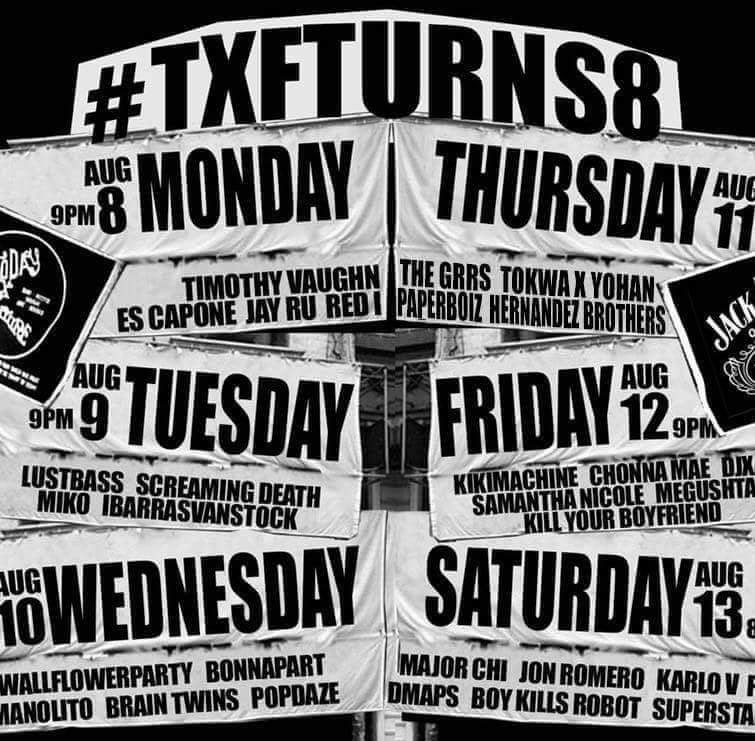 Future's week-long 8th anniversary celebration fully embraced this, with its regular promoters taking over one day of the week and playing their best. It was one week of the greatest hits. I went every single night, and by Saturday I was hungover for days, and hadn't met that many people or heard that much music in a single week of my entire life.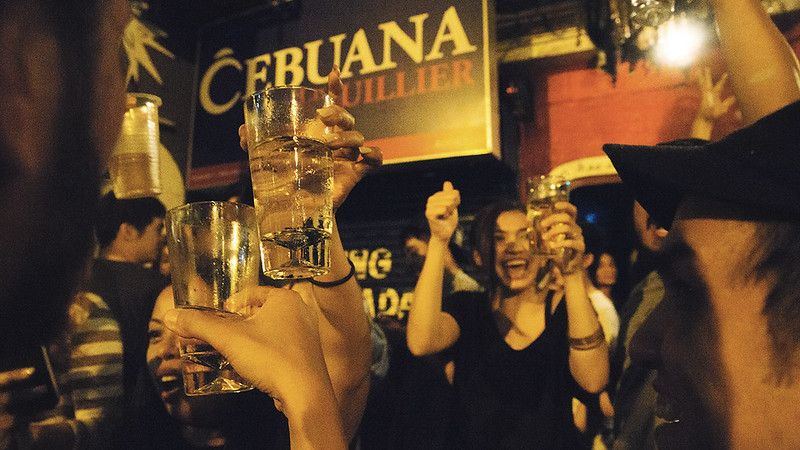 Future was a place for any genre, and the people who loved it. That's what I remember and miss about Future the most. Going often enough wouldn't make you gay—nothing can help you there. But sooner or later, your ears expand and your mind opens. You see a world beyond your own and step into it. Or you could bring your bodyguards and ask for a proper chair, like that date my friend brought, and never come back.
Talking about 'Future' in the past tense
By TxF programming director Samantha Nicole
Future formed me in many ways. It's where I found my love for the scene, where I found my community, where I found my fellow misfits, my mentors, my extended family, my friends, and it's where I found my wife, where I found myself. Future and the people it took care of taught me the foundation I didn't know I needed.
But really, to be honest, I just miss everything about it: the sweaty packed nights, DJs playing belters, us yelling at people to shut the f*ck up when they request flowing shots, birthday pizzas, our staff who were so tireless, were so friendly, who carried us through our hunger and hangovers; the progression from a banger to a sudden "Crazy for You" sing-along towards the end of the night, where everyone's just kissing and hugging. I miss the edge, I miss the beauty, I miss the grit to warmth, and the authenticity.
I keep looking back and wondering if we could have done anything differently to make this all last but, if anything, Future taught us to look forward but not to forget.

Samantha Nicole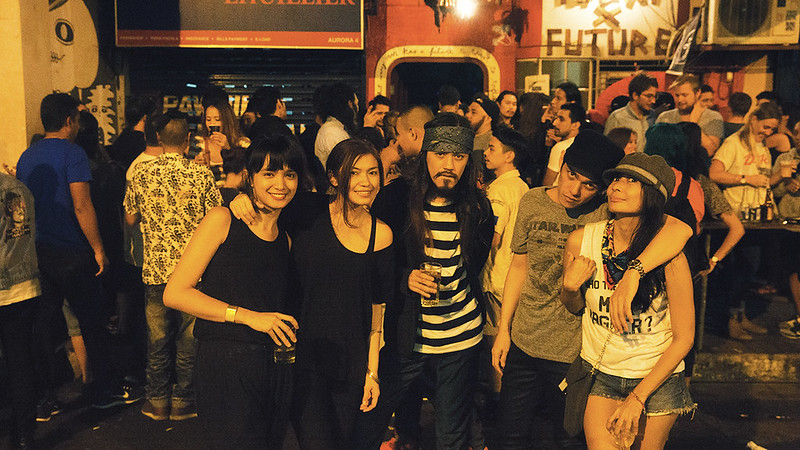 It feels so strange to speak about the Future in the past tense. I keep looking back and wondering if we could have done anything differently to make this all last but, if anything, Future taught us to look forward but not to forget. I hope all the Futurists out there are thriving in their own way, that they carry Future in their hearts and they wear it on their sleeves, and they're still living vicariously, dangerously through all those unforgettable nights that we all had together. I just miss it all really.
I can still hear the music
By TxF co-founder Leah Castañeda
I miss everything about my baby. I miss my walking over from my place to Today x Future. Those moments before the music blasts, setting up, even problem-solving with the staff. I actually miss them the most and the whole team, and of course all the friends and the community we've built. I miss meeting new people, hearing their stories, and seeing them come back again and again until eventually, they become part of our big family.
It's not easy to lose something you've built from the ground up. Then again, I'm proud of what we did and what we made, and all of the Today x Future kids—from season 1 to season 11! I can still hear the music!