Read more related stories

San Miguel Corp. (SMC) president Ramon Ang, defending its P95-billion project Pasig River Expressway (PAREX) last week, dispelled claims that the six-lane expressway will cover the Pasig River. He said, "That is not true. This will be built on the side of the river, along the easement of the Pasig River to be exact. It will not cover the river. The posts for the project will only take up one meter of space, while the average width of the Pasig River is 200 meters."
[READ:
What to know about PAREX and why critics think it will 'harm' Pasig River
]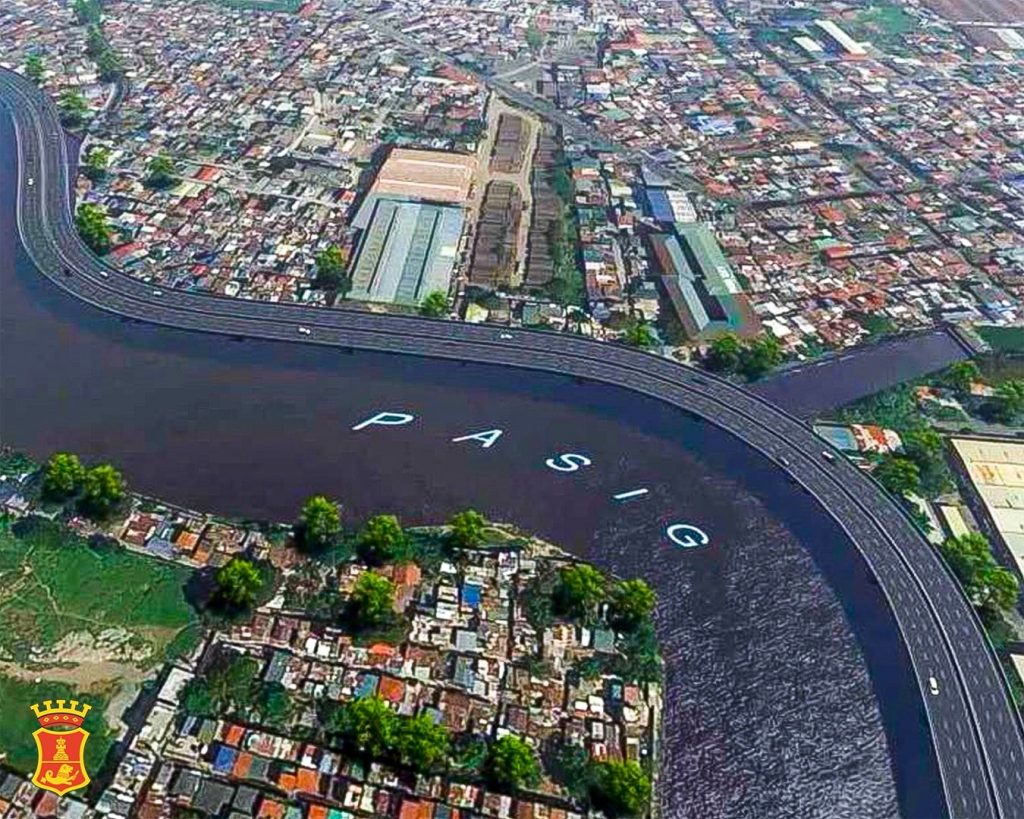 Now, critics of PAREX are pointing out that SMC got their data wrong about the river's average width. According to the Water Environment Partnership in Asia, an initiative under the Ministry of Environment of Japan, the 27-km-long river, in fact, only has an average width of 91 meters. This figure is backed by a 2014 report by the now-defunct Pasig River Rehabilitation Commission.
'Manila's last lung' at risk again?
Due to this miscalculation, environment advocates fear that PAREX will disturb surrounding ecosystems, contrary to SMC's promise. This includes the Arroceros Forest Park, says urban planner and architect Paulo Alcazaren. He himself did the math via Google Earth and came to the conclusion that the widths of the sections of the river where PAREX will pass are only between 60-100 meters. The river easement from the riverside park to the adjacent side is at 95.81 by his calculations.
"At the Arroceros Forest Park, does this mean that close to half of the 8,000 plants and mature trees and space for 10 bird species in the park will be sacrificed for PAREX?" he asks on a Facebook post.
The park is a 2.2-hectare land with 61 types of trees and more than 8,000 plant species. It is also home to 10 species of birds. In 2018, it was almost destroyed to give way to a commercial space. Thankfully it was spared and last year, Arroceros Park was declared a permanent forest park. Under Ordinance No. 8607, cutting of trees, improper waste disposal, and excavation within the area are prohibited.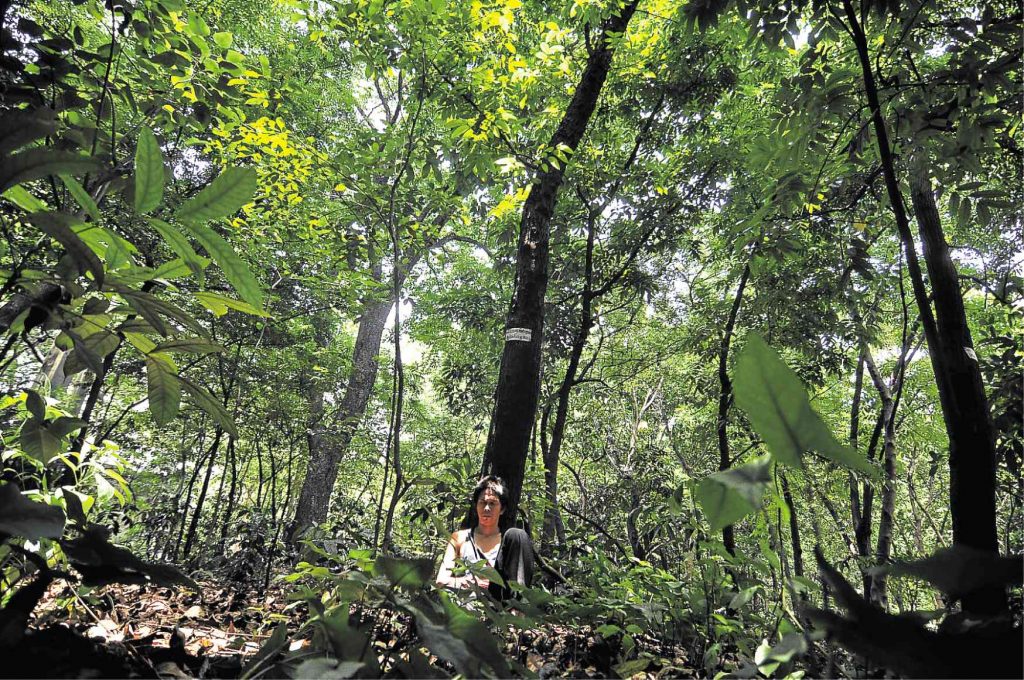 Arroceros Park is located on Antonio Villegas Street in the central district of Ermita, Manila. It was first established in 1993 through a memorandum of agreement signed by the City of Manila and then First Lady Amelita Ramos. Aside from its lush greenery, it also carries historical and archaeological value. It became a trading post in the 16th and 17th centuries, where Filipino dealers bartered with Malay and Chinese traders. It was also the site of the historic Fabrica de Tabacos in the 19th century and a military barracks during the American era.
Heritage sites—not just in Manila, but also in Makati and Pasig—are also among the projected casualties of the PAREX project, according to advocates. 
Among these are Intramuros, San Agustin Church, Jones Bridge, Manila Central Post Office, and Manila Metropolitan Theater in Manila; heritage houses of Barangay Poblacion, old municipio, Guadalupe Bliss, and San Nicolas de Tolentino Chapel in Makati; and the old capitol building in Pasig.
PAREX, a privately funded expressway, is a 19.37-kilometer six-lane elevated expressway that will run alongside Pasig River from Radial Road 10 in Manila to C-6 Road. Mobility and environmental advocates are questioning the speed at which the project was approved. ​​
AltMobility PH, a group advocating sustainable and inclusive transportations, says it only took PAREX 72 to get greenlit. Last week, San SMC and the Department of Transportation already broke ground.
An online petition against the construction of PAREX is already underway with over 4,000 signatures as of writing.
Last week, San Miguel Corp. (SMC) and the Department of Transportation (DOTr) broke ground for the Pasig River Expressway (PAREX) days after its proposal was approved by the government. The 19.37-kilometer six-lane elevated expressway will run alongside Pasig River from Radial Road 10 in Manila to C-6 Road, also known as the future South East Metro Manila Expressway (SEMME) in Taguig. The project is estimated to cost P95 billion and is fully funded by SMC with no taxpayer money, the company said.
According to the Department of Public Works and Highways' website, PAREX will have three major segments: Segment 1 from R-10 to Skyway 3 Plaza Azul, Manila; Segment 2 from Skyway 3 San Juan River to C-5, and Segment 3 from C-5 to C-6. PAREX will also connect to, and utilize a 2.7-km portion of the new Skyway Stage 3 from Nagtahan to Plaza Azul.

"This will be an inclusive, user-centered infrastructure that will integrate various modes of transportation beyond cars. It will have dedicated bike lanes, walkways, a bus rapid transit system, among others," Ramon S. Ang, SMC president said in a statement.
Criticisms of PAREX
Ang also addressed criticisms of the project coming from mobility, environment, and heritage advocacy groups, who fear that the project will affect Pasig River and promote inequality between private car owners and the carless commuting sector.
Criticisms of PAREX were outlined in a petition backed by over 60 civic groups and signed by over 700 private citizens as of writing. The groups argue that the "harm from PAREX will far outweigh any projected benefits." Apart from fearing for Pasig River's viability after the project, criticisms also zeroed in on the PAREX's alleged promotion of a car-centric city. "By inducing more car travel, PAREX will harm not just public transport commuters, but slow down car users, too—and will worsen Metro Manila's car-centric investments over the past decade," the statement read, citing an ongoing decade-long paper on local transport systems.
It added that SMC's promised bus rapid transit system and cycling lanes are not supported by "formal, detailed, and publicly available documents and feasibility studies."
Another environmental concern for groups against PAREX is the increase in "non-exhaust emissions" like microplastics from car tires, road dust, and particulate matter.
Reacting to these criticisms, Ang said in a statement last Friday, Sept. 24, "Through PAREX, we will solve traffic and congestion, provide jobs for thousands of Filipinos, boost productivity, improve people's daily commutes, address flooding, and save the Pasig River itself. More than that, we can also encourage more people to be active and healthy. This is what it means to help make Metro Manila truly livable again."
SMC's environmental commitment
As for the environmental aspect of the project, SMC said PAREX will not cover the river as some allegedly misleading posts claim. "The posts for the project will only take up one meter of space, while the average width of the Pasig River is 200 meters," Ang said. 
The corporation, he said, is also committed to maintaining the body of water for the next 30 years. SMC also boasts a P2 billion Pasig River rehabilitation initiative, which plans to expand water transport through ferry boats that will link people to cities along the waterfronts of Metro Manila including Laguna Lake, Pasig River, Manila Bay, and Marikina River, among others.
SMC will also continue to dredge and clean up the river because, as Ang said, "We know that no matter what, garbage will still make its way into the river."
In a Sept. 21 news release from SMC, Ang disclosed that for the project, SMC tapped Palafox Associates of internationally-renowned architect, environment planner, and green urbanism advocate Arch. Felino Palafox Jr.
On Sunday, Sept. 26, the firm said that they have "not signed any contract" with SMC on the project. "While it is true that the SMC and Mr. Ramon Ang have reached out to our principal architect and urban planner Felino 'Jun' Palafox Jr. to introduce green architecture and green urbanism principles in SMC infrastructure projects, this has never been formalized specifically for the PAREX project," the firm's statement read.
In a series of Facebook posts, urban planner and architect Paulo Alcazaren juxtaposed the proposed PAREX to the current state of the Pasig River and asked: Which would you choose?
In one of the said posts, Alcazaren suggests that the P95 billion budget would be better off spent on infrastructures that improve Pasig River such as pedestrian bridges and a ferry system. He says of the historic river system: "It should therefore be conserved, brought back to health, improved for public access all along its banks, which can be developed into a 25-kilometer linear park so everyone can enjoy the corridor that is relatively untouched by the heavy pollution that surrounds all vehicular infrastructure in Metro Manila."
Mate Burger in New South Wales in Australia is infusing Filipino flavors into the most American food staple out there: burgers. As if a bun stuffed with beef patties, pickles, cheese, maybe a strip or two of bacon isn't enough, the Filipino-Australian-run business takes it to the next level.
Founded in 2016 by Filipino-Australian former finance guy Henry Paraan, Mate Burgers has done a handful of burger creations: ensaymada burger with cheese on top, ube bun burger, and even a burger with okoy (shrimp and sweet potato fritters) as buns. But perhaps the most indulgent of them all is its lechon burger.
Imagine half a kilo of roasted pork belly as a bun, sandwiching two beef patties, double cheese, pickles, onions, and in other iterations, apples, truffle mayo, and even rice! The lechon burger (16 AUD or approximately P600) was introduced in 2019 and has been on Mate Burger's menu on and off since.
Mate Burger is available for online orders through delivery apps servicing Australia. Visit their website for more details.
"Bobotantes," a shorthand for the so-called "uneducated" and "irrational" voters, are often blamed for unsatisfactory election results—by those who are under the impression that a rightful leader should've been elected instead. Politics is divisive, hence this phenomenon.
It can also be argued that such a classification is classist, as people often labeled as bobotante belong to lower-income groups, with little to no educational background. Said deficiency is often blamed for their "illogical" voting behavior, prompting righteous voters to call for limiting the right to a ballot to those who are "educated."
"The dangerous myth of 'bobotante' (misguided) voters, which foolishly blames the masses for all the country's political troubles eerily reflects the profound inequities that besmirch our democratic aspirations," Inquirer columnist Richard Heydarian wrote in August. "You know a democracy is in trouble when foolish ('bobo') victim-blaming supplants civic duty and cross-class solidarity."
[READ:
LIST: Register to vote at these mall satellite voting centers
]
An upcoming symposium organized by UP Socius, the University of the Philippines Los Baños Department of Social Sciences' academic organization, will tackle this phenomenon and more on Sept. 24.
The webinar entitled "Dispelling the Myth of the Bobotante: A sociopolitical analysis of the voting behavior of the Filipino masses" argues that blaming a specific set of voters can do more harm than good. The organization invited researchers who have been studying voter behavior and related fields to back this. 
Associate Professor Jayeel Cornelio PhD, director of the Development Studies Program in Ateneo de Manila University, was the co-investigator in the "Vote of the Poor 2016: Bottom-up Perception of Electoral and Political Strategies," a study published by the Institute of Philippine Culture.
Joining him in the webinar is Renee Karunungan, a doctoral researcher at Loughborough University. Her doctoral thesis is entitled "The Role of Influencers in shaping the narratives of the Rodrigo Duterte Era."
"Dispelling the Myth of the Bobotante: A sociopolitical analysis of the voting behavior of the Filipino masses" will be held online on Sept. 24, Friday, from 2:00 p.m. to 5:00 p.m. Click here to register.
The Department of Education (DepEd) this week was surprised to find that over 600,000 Facebook users, presumably students, are members of an online cheating group named—for a lack of imagination—"Online Kopyahan." The group was taken down shortly but there are more unimaginatively named cheating cohorts online, according to an INQUIRER.net report.
The agency's surprise comes despite its awareness that the alternative learning setup amidst a pandemic has proven to be difficult for students and teachers alike. That and its awareness that cheating has been a lingering problem even before COVID-19, and not to mention, a human condition. "Cheating is a problem in society, not just in the Philippines, but in human nature itself," DepEd Secretary Leonor Briones said in a Palace briefing Monday.
To combat online cheating in the time of online learning, DepEd says it is now exhausting all means, including enlisting the help of authorities. (Why do we keep employing the Philippine National Police (PNP)'s help in matters outside of their jurisdiction and capacity? First, COVID-19 mitigation and now halting academic dishonesty?)
[READ:
Cops aren't afraid of harassing teachers. Here's why
]
Of course, before reaching out to PNP, DepEd called out to parents, because good deeds start at home, right? It's not as if the parents' plate is not full as is given the precarious state of employment and the false promise of work-life balance in a work-from-home arrangement?
And when "keeping it in the family" doesn't work, DepEd suggests teachers draft contracts against academic dishonesty with the parent and student as signatories.
Here's another idea from DepEd undersecretary for curriculum and instruction Diosdado San Antonio: make multiple versions of tests, randomize test items, and show questions only once "to avoid retracing of previous answers." Surely, this too will fall under the teachers' responsibilities on top of a pile of others.
Here's an idea from an academic, Professor Jayeel Cornelio, director of Ateneo de Manila University's development studies program: Why don't we rethink the design of alternative learning?
Are we expecting too much of students, of teachers and their capacity to impart knowledge in such a disadvantageous setup? Cornelio asked in an interview with Rappler.
"The reality is that this is not a new industry, if we could call it that," he said, referring to the industry of academic dishonesty. He said such services have been here since the 1980s and 1990s in Recto, where it used to thrive exclusively until the rise of social media. Cornelio said, "Social media as a space has merely amplified this, perhaps as an entrepreneurial endeavor on the part of those who need money. But perhaps the question is really for those who avail of their services."
And for students, I was rooting for you, we were all rooting for you! How dare you! Learn something from this! When you go to bed at night, you lay there and you take responsibility for yourself because nobody's going to take responsibility for you.
No truer words were spoken by Tyra Banks (who is in the middle of a college admission scandal-related casting, so maybe she is not the right person to quote for this after all).
Yes, intellectual dishonesty is never an excusable offense and DepEd is right not to tolerate it. But if it can't be rooted out when the threat is far too obvious and traceable in a face-to-face setting, how then do we expect to get rid of it in the far trickier context of online learning. We could try, but maybe not at the expense of already burnt-out teachers, of overworked parents.
Working from home is a constant battle for our backs. When we are not looking down on our phones, we are straining our necks over non-office-grade makeshift tables.
[READ:
Stretching is the simple fix you need to get rid of WFH stress
]
That's what laptop stands are for—to make screens leveled with our eyes so our necks don't work extra hard to hold our heads up. And if you are in the market for stands that don't make your WFH setup dreary, here is one recommendation: artist Cynthia Bauzon-Arre's native flowering trees-printed acrylic risers.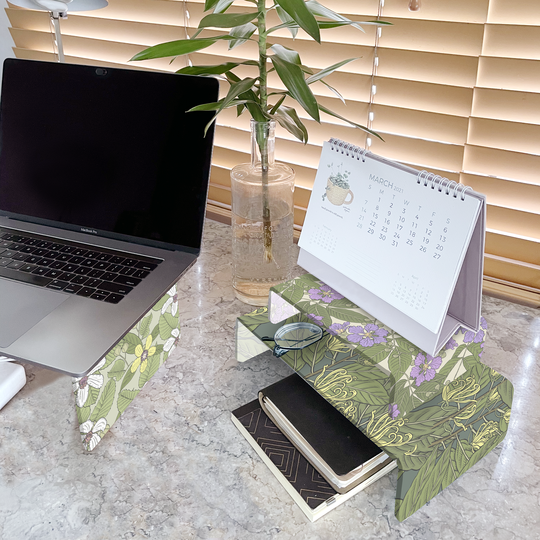 Technically, they are not laptop stands; they don't hold up or suspend your device at an angle. But they can elevate your laptop to eye level if the table you are using is a bit low.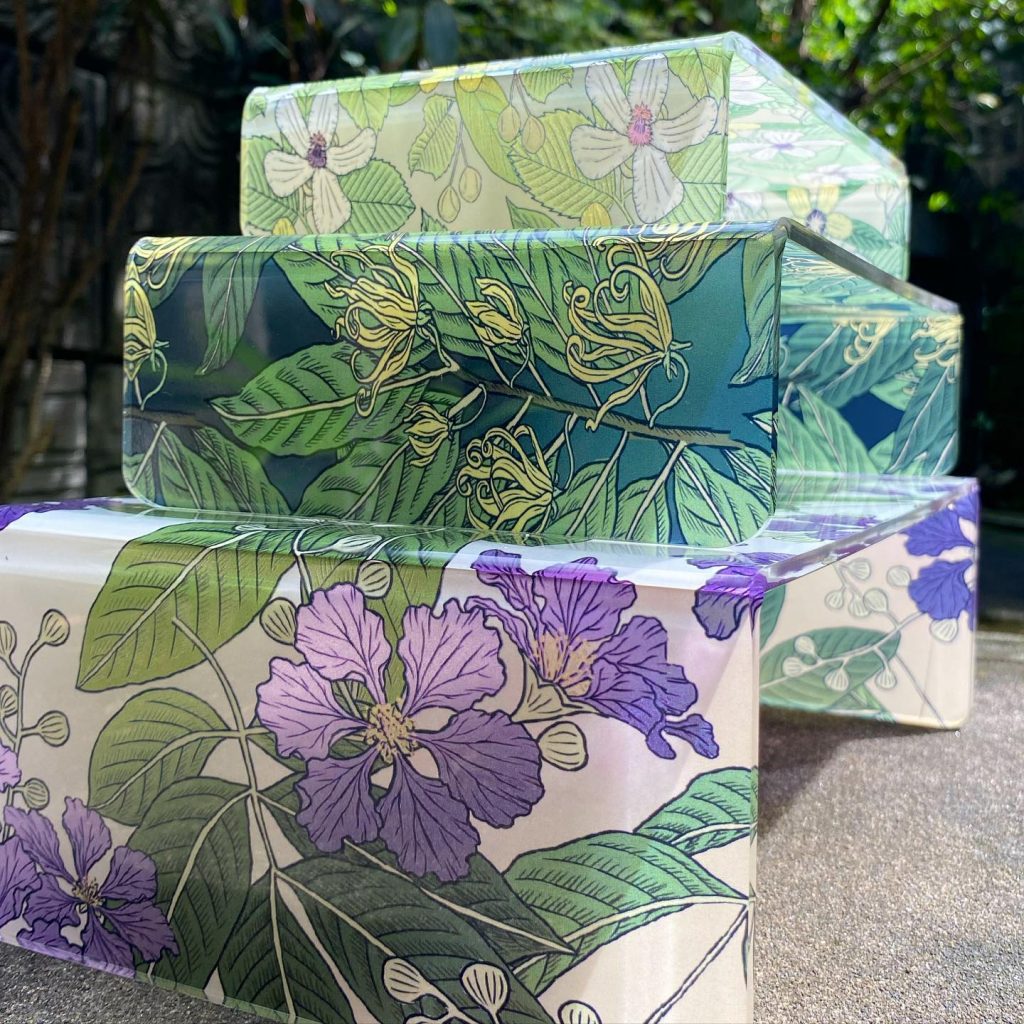 Plus, illustrations of the ilang-ilang's elongated yellow flowers, katmon's orchid-like bloom, and banaba's lavender petals are welcome visuals to distract us from the grind of daily work.
The acrylic risers are available in three sizes starting at P950. The large one (P1,790) comfortably fits a 15" laptop without having to worry that it might fall.
You can order through crazyaboutpaper.com.
Tomorrow marks the 49th anniversary of former President Ferdinand Marcos signing Proclamation No. 1081 on Sept. 21, 1972. In effect, this placed the country under martial law. Yep, it's Sept. 21, not Sept. 22, or 17.
With the national elections coming next year, misinformation is rampant on the internet and attempts at historical revisionism are once again in full gear (if it ever stopped). Case in point, that controversial interview of a celebrity blogger with a Marcos scion.
"49 years later, we continue to deal with lies, misinformation, and historical revisionism of martial law and the Marcos regime on various media platforms," a statement from the University of the Philippines (UP) about the upcoming observance reads.
The national university, which has played a vital role as grounds of dissent during the martial law era, has had enough of these lies. This is why this week, from Sept. 20 to 24, 9 a.m. to 12 p.m., it is hosting a week-long virtual commemoration with a series of virtual discussions and conversations to dispel these myths.
Through UP Days of Remembrance, scholars of history and social sciences from UP and other local and international universities will team up with human rights activists to set the record straight regarding the myths of martial law and the Marcos regime.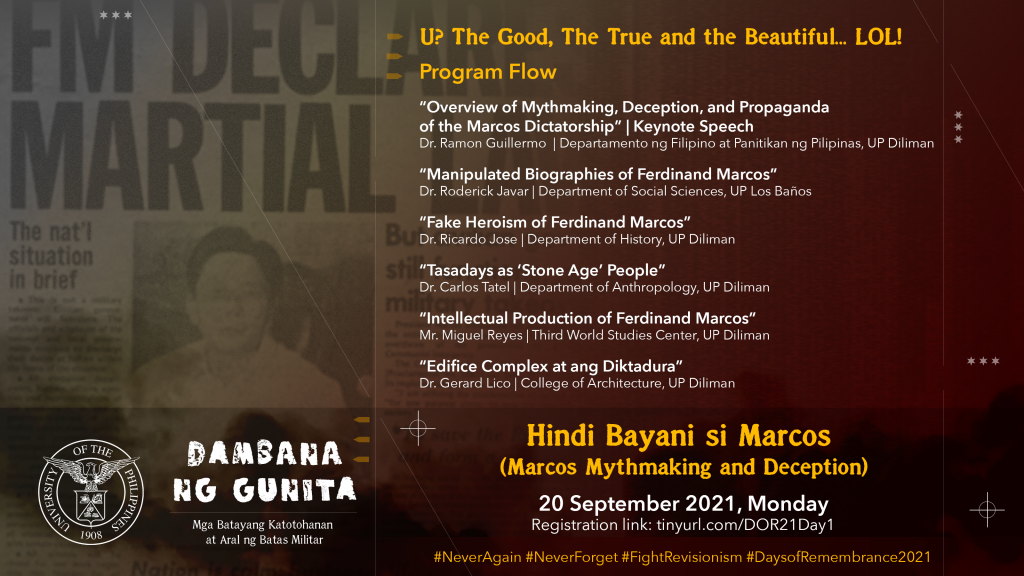 Among the topics of said discussions will be Marcos's alleged heroism, the supposed peaceful society during the Martial Law years, human rights violations under the Marcos regime, the myth of an economic golden age, and the rampant corruption and cronyism of the Marcos administration.
The series will kick off with a talk on Zoom called "Hindi Bayani si Marcos: Marcos Mythmaking and Deception" with Dr. Ramon G. Guillermo of the UP Diliman Center for International Studies. It will also be live-streamed on YouTube.
Register to join the Zoom stream here.
Program:
"Manipulated Biographies of Ferdinand Marcos"
Dr. Roderick C. Javar Department of Social Sciences, UP Los Baños
"Fake Heroism of Ferdinand Marcos" 
Dr. Ricardo T. Jose, UP Diliman Department of History
"Tasadays as 'Stone Age' People"
Dr. Carlos P. Tatel, Jr., UP Diliman Department of Anthropology
"Intellectual Production of Ferdinand Marcos"
Prof. Miguel Reyes, UP Diliman Third World Studies Center
"Edifice Complex at ang Diktadura"
Dr. Gerard Rey Lico, UP Diliman College of Architecture
The Human Rights Violations Victims' Memorial Commission also partnered with the UP Open University and the Bantayog ng mga Bayani Foundation for a series of talks on martial law this week. "Essential Truths on the Martial Law Years" will feature talks from "prominent human rights advocates, academics, and victims of the martial law period" from Sept. 21 to 24, 3 to5 p.m. It will be live-streamed via Zoom. Register here.
Manila is overflowing with heritage structures. Unfortunately, because of lack of heritage literacy and ample government institutional support, some of them have fallen to a state of neglect, or worse, have been demolished to give way to new structures.
[READ:
In Memoriam: Historical structures we lost over the years
]
Other important structures that once ruled the Manila skyline, we can now only see a glimpse of through old photographs. Most of them were ravaged in the Battle of Manila during the Second World War in 1945.
These were era-defining architectures that could have coherently bridged the visual history of the city from Spanish influence to its gradual shift to a Brutalist style after the war years. These include Art Deco structures that used to pepper the length of Escolta Street.
A project led by artists heritage advocacy group Renacimiento Manila aims to reconstruct these structures, if only digitally. Prewar Manila 3D Model is a part of its Digital Manila Project, with a goal to recreate Manila's cityscape during the Commonwealth period.
Through the digital renders of its volunteers, Renacimiento Manila reimagines these historical buildings in their former glory as a means to remind Filipinos of the olden days.
So far, the team has digitally reconstructed parts of Escolta, Plazas Moraga and Cervantes, Jones Bridge, and Calle Rosario and Luna. ​​Renacimiento Manila is also exploring ways to develop these models into an app, a game, or other digital executions.
They are currently accepting donations to fund the project and keep it free for everyone to access. You can help by sending cash donations through GCash at 0945-2141182.
Here are some of the structures they have successfully reconstructed:
Insular Life Building
Plaza Moraga, Binondo
It used to be the headquarters of insurance company Insular Life from 1931 until it transferred to Ayala Avenue in 1963. At seven floors high, it used to be the tallest building in the area. The building was gutted by a fire in 2018 and has since been in a state of disrepair.
Lyric Theater
Calle Escolta, Binondo
Designed by National Artist for Architecture Pablo Antonio, the Lyric Theater was home to many firsts in local cinema. Its 1,600-seat theater was where Disney's first full-length animated feature "Snow White and the Seven Dwarfs" premiered on May 1, 1938. It was one of the casualties of the Battle of Manila.
Filipinas Insurance Co. Building
Binondo
It was home to Filipinas Compañia de Seguros, the first domestically-owned fire insurance company in the country established in 1913. Ironically, the building suffered from fire during the war, which damaged some parts of the structure.
Cu Unjieng Building
Calle Escolta cor. Tomas Pinpin St.
Designed by architect Fernando Ocampo in the Art Deco style, the building was bombed and collapsed in 1945. In its space now stands the Peterson Building.
Jones Bridge
Binondo River Crossing
Jones Bridge designer Juan M. Arellano was Commissioned by the U.S. government in the Philippines in 1918. It was said that Arellano was so inspired by Pont Alexander III during his trip to Paris that Jones Bridge also had the statuaries of boys on dolphins. Jones Bridge was recently renovated to its original white color.
Natividad Building
Calle Escolta cor. Tomas Pinpin St.
A classic example of Beaux-Arts architecture, this served as a home to several offices in its past. Damaged during the war, it was restored shortly after and still stands in Escolta today.
The National Panciteria Building
Calle Escolta cor. Plaza Santa Cruz
A massive bahay na bato facing Plaza Santa Cruz with its back to the Estero de la Reina, the building got its name from the tenants that occupied its space: panciterias. It was destroyed during the Battle of Manila.
Old Monte de Piedad Building
Calle Escolta cor. Plaza Goiti
The building housed the country's first savings bank and is now popularly known as the Don Roman Santos Building. It has since been expanded and remodeled into a Neoclassical structure, which coincidentally is home to another commercial bank.
Filipino restaurant Jeepney in New York is closing its doors on Sept. 25.
Its founder and chief operating officer Nicole Ponseca told Eater: "I want to graduate from being an independent operator into something more formidable with more support. I don't want this to be the end of Jeepney." Ponseca is the same restaurateur behind Modern Filipino restaurant Maharlika, which also closed down its East Village location in 2019.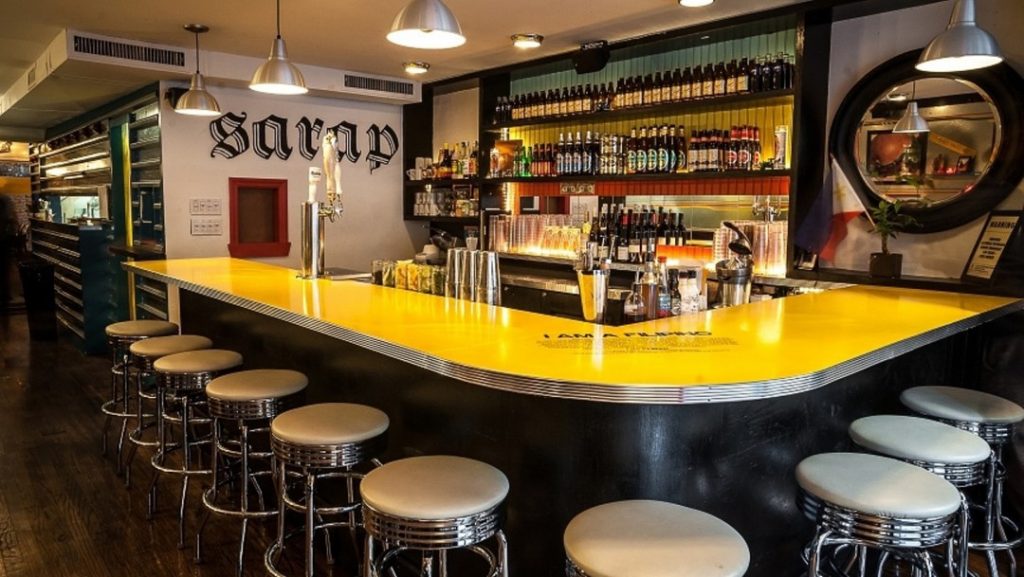 [READ:
NY restos Maharlika and Jeepney owners write a cookbook
]
She added that she hopes to partner with a restaurant group to open a more casual version of Jeepney in multiple cities.
Earlier this year Jeepney opened its first Miami location. According to Ponseca, the future iteration of Jeepney will look something like that. "It's a hybrid of something that is fast-casual and something that is fine-casual. I call it fast-fancy."
Jeepney was opened in 2012 following Maharlika's closing. The latter was open for nine years.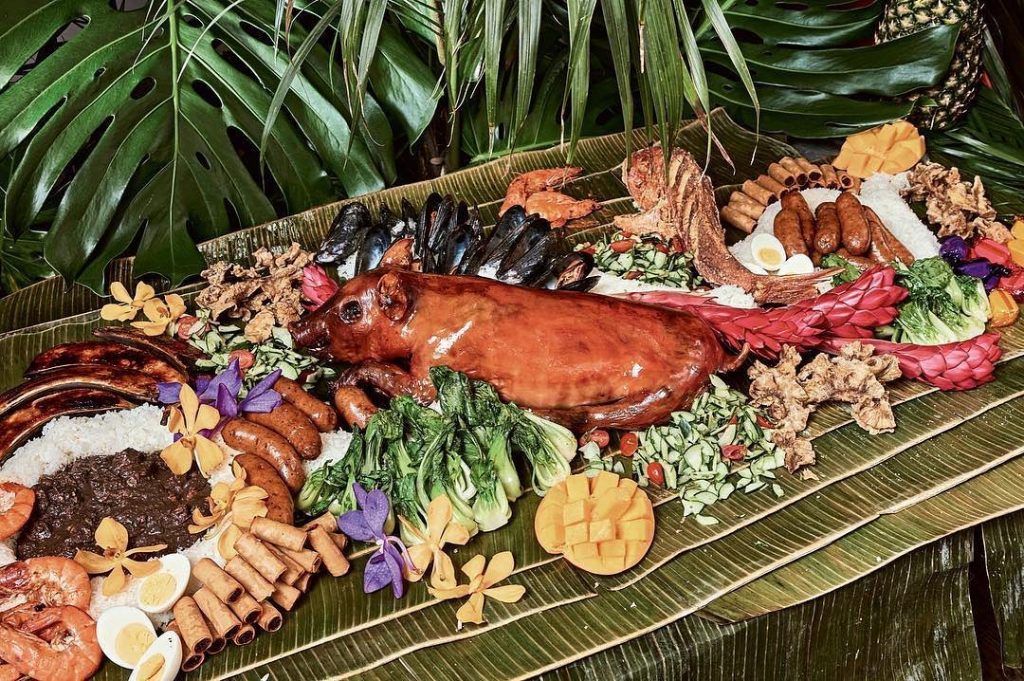 "At Jeepney, two nights a week are devoted to eating kamayan style, with banana leaves spread over tables and food—slow-roasted pork with bagoong (fermented shrimp), adobo head-on prawns, sweet-hot tubes of longanisa (sic)—piled on top, without intervening china or silverware," The New York Times wrote in a 2015 article.

At its new Miami location inside the 1-800-Lucky food hall in Wynwood, ​​Jeepney serves up three types of sisig: [chopped] pork, chicken, and a vegetarian/vegan option with jackfruit along with the Filipino classic silog. Its brunch menu has a unique take on a ubiquitous Filipino rice cake called Bibingka Benedicts. "Instead of English muffins, we will be doing bibingka [coconut rice cake], poached eggs and calamansi hollandaise, with either Spam, sisig or pulled chicken. Then I'll have different sauces: adobo, ginataan [cooked with coconut milk] and my own banana ketchup," Ponseca told Forbes last year.