One of my favorite pieces of food writing is in defense of cheap sushi. In it, the author argues—or at least the message I got out of it is that—there is greatness in "lesser" objects, and that looking for the "best" is often a fraught effort. "In a sense, connoisseurship is the enemy of enlightenment."
This is what I often think when people look down on Filipinized versions of Western dishes; for one, carbonara. I scoff at those who dismiss localized pasta made with cream, insisting it should be eggs and cheese and not soft grocery store cheese. Go to Italy, girl, or to a fancy fine dining restaurant. "It is craving for something that is not here… to crave is to suffer." 
So I was glad when someone—not to mention a restaurant owner—openly admitted theirs *might* be more Pinoy than Italian. This, despite the recipe being the closest approximation of the "best" Italian carbonara their son had tried in his time in Rome. So yes, to answer your question, it has pecorino cheese and eggs, and guanciale—lots of it.
Tuny RestoFarm in Silang, Cavite is a 15-year project in the making by husband and wife Anthony and Emely Mendoza. The one-hectare property was originally bought to be a weekend resthouse until the pandemic happened, prompting them to consider turning it into an intimate farm-to-table restaurant. 
To be fair, Tuny already has the makings of a decent dining space. Reclaimed wood makes up most of the structures like the dining hall with an uninterrupted view of the property and the outdoor kitchen (personal use for now but the owners have plans to turn it into a cafe). 
As it is "off-the-grid," it is surrounded by greenery that the owners and its caretakers further highlighted by putting up an herb garden. There is also a small pen where free-range chickens and small pigs roam free before they ultimately make the greatest self-sacrifice for your gustatory pleasure. That's farm-to-table for you.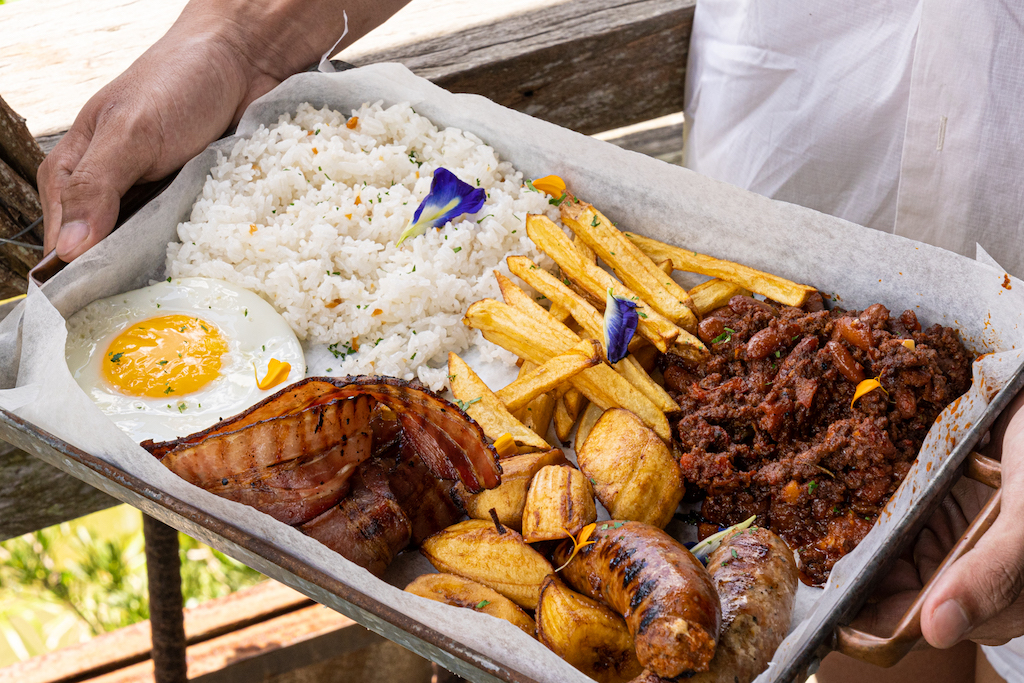 Speaking of food, the menu, like the place, is as comforting as a weekend (pre-booked, no walk-ins here) getaway. Almost everything is made in-house, from the smoked bacon and Italian and Spanish sausages that appear in almost every dish to the herbs and edible flowers picked fresh from plant to plate. Anthony, after whom the restaurant is named, smokes the meats himself in the grill on display in the dining area.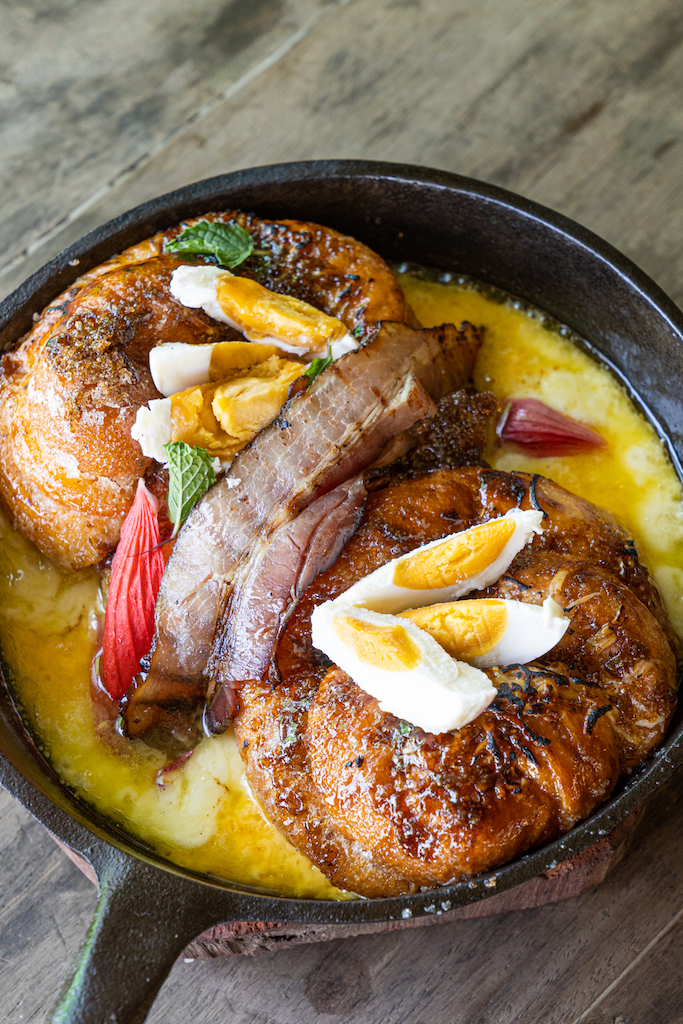 A personal favorite after the unapologetically Pinoy-leaning carbonara is the ensaymada, two pillow-like brioche buns generously buttered, topped with bacon, and served over melted mozzarella on a skillet. It's the perfect bookend to a lineup of meaty dishes that we had during our visit.
Should you find yourself with family, the best way to go is to order a range of dishes, chief among them Antonio's bandejado. It's a platter inspired by an English breakfast, complete with smoked bacon, sausages, sunny-side-up egg, fried rice, potatoes, fried plantains, and chili con carne.
If you are a non-meat eater, or are in the company of one, there are a few other good choices at Tuny, too. For pescatarians, they've started making their own salmon gravlax for their salmon crostini. And a starter that omnivores and plant-based eaters alike will enjoy is their Caprese salad prepared with the plumpest little tomatoes.
It's important to note though that Tuny is at best an intimate dining experience, hence the appointment system. The owners want to keep it that way. Often, they said, they'd get couples going on dates, which is a great choice because aside from the relaxing view, the food here is substantial. Anthony, describing the servings, said, "It must be more than enough for one person, but not for two."