The microwave is probably one of our favorite food-related inventions. Aside from reheating leftovers, this multi-talented kitchen appliance can also make cakes, cook egg custard, and crisp up a perfect batch of potato chips. Not to mention other applications like instant popcorn.
Aside from all those wonderful things, we also found another way to use the microwave: dehydrating herbs and fruits. No, we're not joking. Big kitchens and bars around the world use a specialized piece of equipment to dehydrate their produce, but you can do it at home with your trusty microwave.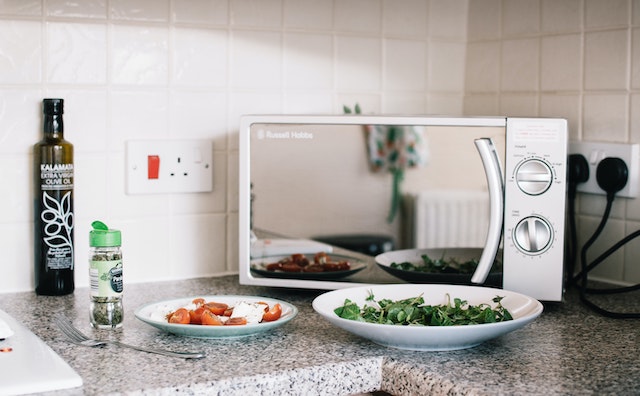 The defrost setting on your microwave is the key to dehydrating whatever your heart desires. Instead of using the normal setting on the microwave, the defrost setting will emit a low level of heat, which will dry out whatever fruit or herb you've put in.
Dehydrating produce can be used for a variety of things. You can make snacks like apple and pear chips in the microwave. If you're a cocktail enthusiast, you can also use the microwave to dehydrate citrus fruits as a garnish. Your microwave can also come in handy if you've splurged on wholesale fresh herbs and want them to last longer by drying them.
For fresh fruits like citruses, apples, mangoes, pears, and tomatoes (yes, even tomatoes!), it can take up to 30 minutes to an hour to completely dry them out. The rule of thumb is the higher the water content, the longer it will take. The best way to ensure that they're evenly dried is to slice them in thin, uniform pieces and distribute them evenly across the microwave's glass plate.
Apples and other non-citrus fruits should be consumed within a week, but you can store dehydrated oranges, lemons, and limes for longer.
Drying herbs is a lot faster than drying fruit. On average, it only takes about a minute on high to dry them out. Just make sure to lay your herbs flush against the paper towel (which should be completely flat) to avoid burning.
When it comes to drying herbs, you have to be careful with what you pick. Leafy, soft herbs like parsley and basil tend to lose a lot of flavor along with moisture. Heartier herbs like rosemary, thyme, and oregano perform a lot better. They not only retain their flavor, but their color, too. 
You can store the dried herbs in a cool, dark place and keep them around for longer.