I didn't know how much I needed my microwave until I lost it. I have been so preoccupied with the wonders of its much newer, much-hyped cousin, the airfryer, that I lost sight of the marvels of microwaving. Sure it does the simple things that make life easier: defrosting frozen meat, reheating pizza (although I would agree, the "pan method" is still superior), and, of course, its greatest contribution: making popcorn in an instant.
But it wasn't until recently, when our I-don't-know-how-many-years-old unit broke down last week, that I discovered its hidden potential—hidden at least to me.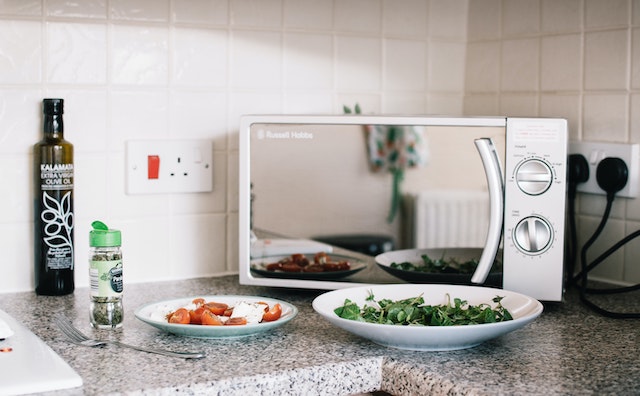 We know you can make a mug cake in the microwave, even a mac and cheese under five minutes, as entrepreneur Rissa Mananquil Trillo demonstrates. On TikTok, #microwaverecipes yields hundreds if not thousands of results, including a recipe for apple crumble in a mug, poached egg, and even a few for rice.
One recipe I have only recently discovered is microwave potato chips, which I partly blame for the breakdown, prompting me to buy a new one. They are insanely easy to make—except maybe for the slicing sans a mandolin part, cooking in batches, and resisting the urge to immediately munch on them.
You just have to soak potato slices in cold water for 15 minutes then wash them in running water to remove the starch to ensure a crispy batch. This recipe requires less oil and salt compared to commercially available potato chips, too. But yes, your microwave may not be well-suited for repeated high-heat cycles like ours. Making crisps requires dialing your microwave to its maximum level and letting it crisp up for three to five minutes.
But what's really a revelation to me was the fact that you can make chawanmushi or savory egg custard in your microwave—and in a quarter of the time it takes for artist Nicole Coson to make her version in a steamer!
[READ:
We tried making silky Chinese steamed eggs as effortlessly as artist Nicole Coson
]
Hong Kong-based chef Lucas Sin last year shared his 3-ingredient recipe for microwaved egg custard. I've only tried it once before the unexpected passing of our beloved microwave, but I tell you, it is just as silky and flavorful as Coson's (which I also tried many times!). The secret, same as Coson's, is to skim the bubbles that form from whisking. This is so that the resulting curd is solid and comes without air bubbles that form dents on the surface and inside.
It's a simple recipe that requires basic ingredients that you already have—eggs, water or stock, and salt—but what really takes it there is an assortment of toppings. I like to top mine with soy sauce, sesame oil, scallions, and furikake.
Momofuku's David Chang has an even more pared down (read: eyeballing-friendly) version that uses eggs, dashi, tamari sauce, and agave nectar. It skips the skimming bubbles part and cooks for much longer, nine minutes on 30 percent power, hence the sponge-like appearance, but it is just as jiggly and flavorful (I bet).
So yes, the lesson here is never to underestimate your microwave. Maybe consider these recipes for a weekday lunch or a pick-me-up in the middle of a workweek.