Hot pot is one of the things that I will never tire of. Whenever the weather feels a little chilly or I feel a little sick, hot pot is always on the roster. Even when it's hot or I'm feeling completely fine, the craving for hot pot will always find its way to me.
One of my favorite hot pot joints happens to be Red House Taiwan Shabu-Shabu. It's a Taiwanese hot pot restaurant that first opened in Cebu during the early 2010s. Aside from the typical meat and veggies, they also served an astonishing selection of seafood balls. Most of the ingredients have been imported from Taiwan, which means the quality is never lacking.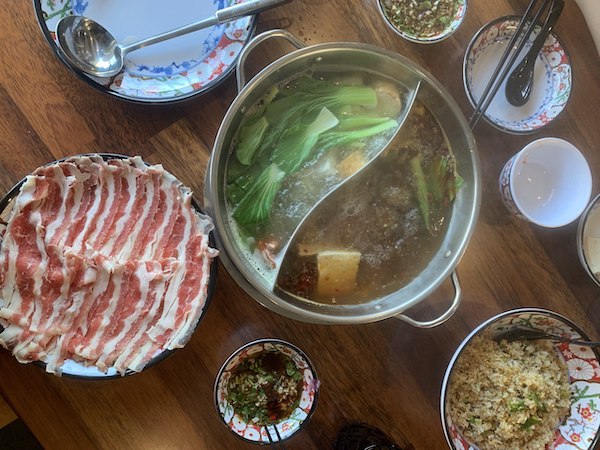 My family and I would frequent the restaurant for dinner and always come home completely sated. We'd order trays and trays of delicious meats, vegetables, and noodles to make sure that we thoroughly take advantage of the meal. Even to this day, Red House is one of my non-negotiables whenever I go home for a visit.
Which is why I was floored to find out that they've opened a branch in Manila.
As soon as I confirmed that they had a branch open in Manila, I wasted no time. Since you can't really have hot pot alone, I immediately called up my boss and Nolisoli's managing editor Pauline Miranda and convinced her to have a late lunch at the restaurant the following day. 
The Manila branch of Red House is located all the way in Festival Mall in Alabang. Admittedly, it's a little far for most people, but this was my hot pot soulmate. I was more than willing to make the trip to the south.
Personally, I had a lot riding on this. My expectations were stacked to high heaven because of how fondly I remember (and how recently I ate at) the original branch in Cebu. There was also the additional pressure of having my boss with me.
But after having traveled for almost an hour and then stuffing myself to nearly the brim, it's safe to say that the Manila branch delivered.
And did so tenfold.
Some minor differences
Walking into the Red House in Cebu, the first thing that greets you is the lingering scent of broth in the air. All the tables are full (with more people waiting outside), and there's a real-life filter of steam lingering through the air. It's decorated like your traditional Chinese uncle's house with bright lighting, light marble, gilded furniture, and large landscape paintings everywhere. 
The tables are necessarily gigantic—to fit everything you've ordered with some leftover space to eat comfortably. And it's always loud.
The Red House here is a little different.
Since we ate at the restaurant at around 3 p.m., the place was relatively empty. Save for two other tables, there were no other customers dining in at the time. This was perfect because my plan was to enjoy the meal in peace. 
The interiors were markedly different from the original branch I frequented in Cebu. The restaurant was decked out in sleek black interiors with red accents all throughout. The broth cloud greeting was nowhere to be found (most likely because the restaurant wasn't busy) and there was a glowing neon sign that advertised ice cream for dessert.
The tables were still huge, though.
Without looking at the menu, I rattled off my order to the server. Lunch for that day was going to be beef, fresh tofu, Taiwan pechay, scallop balls, the mashed cuttlefish meal (more on this later), and categorically the best pork fried rice ever. We decided to go with a half original and half spicy base, which comes with an additional charge.
Mind you, this is for two people, but no regrets though.
Digging in
One of the things that can make or break any hot pot experience is the sauce you make yourself. My Red House sauce recipe is always the same. It's 50 percent satay sauce, 25 percent soy sauce, and 25 percent vinegar.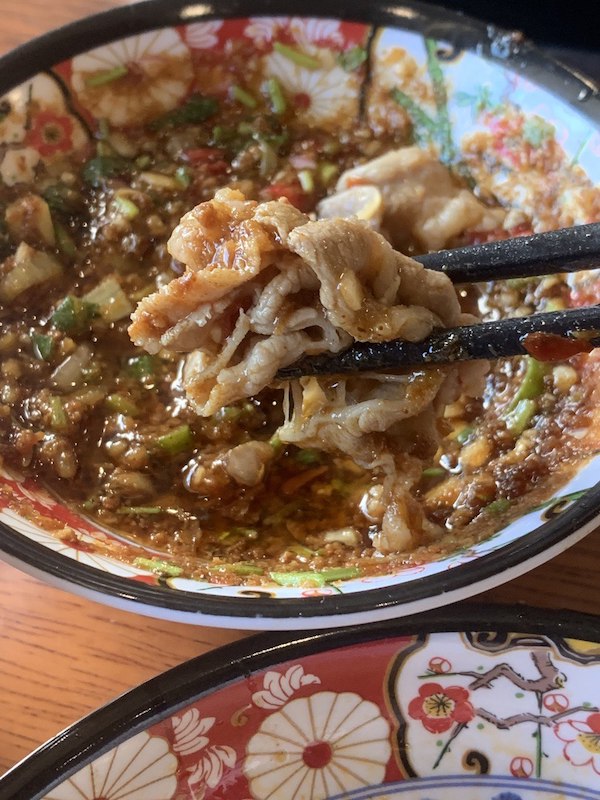 For the toppings, it's two huge scoops of minced garlic, chopped onion (yes, they have red onion available), and one scoop of finely chopped spring onion. Whatever space is left behind is occupied by heaps and heaps of cilantro for the perfect finish.
Once the food arrived, we wasted no time dumping all of the ingredients in.
The two things you must absolutely order when dining at any Red House restaurant are the mashed cuttlefish meal and the pork fried rice. 
The mashed cuttlefish meal is cuttlefish paste served in two bamboo-like tubes. The right way to prepare it is to scrape the mash into little dollops directly into the broth. Cuttlefish belong in the mollusk family and are related to other deep sea delights like squid and octopus. It has a mild, squid-like flavor with a bit more of a chewy bite.
Since the cuttlefish mash comes in a paste consistency, it soaks up the broth's spicy flavor more easily than the other things on the menu. Which is exactly what hot pot is all about.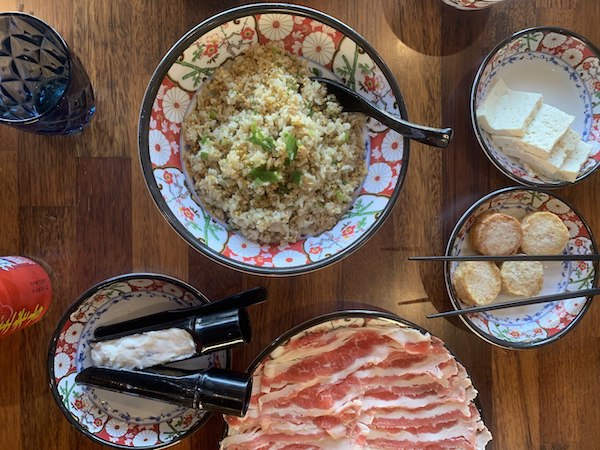 For my fellow fried rice fiends, Red House's pork fried rice is the superior fried rice. It's made with egg, garlic, onion, an array of spices, and some of the most savory bits of pork you'll ever try. 
The golden fried rice comes in a bowl, filled to the brim. The rice itself is fluffy, a little chewy, and comes with some welcome charring. The second I tried it, an embarrassing groan made its way from my soul and out of my mouth. It tasted exactly like the fried rice I grew up on and fell in love with at first bite.
Delicious is not a big enough word to describe the symphony of flavors and feelings I experienced after taking a bite of this dish. The fried rice was a physical manifestation of memory and earthly delight. And not a single grain was left in my bowl.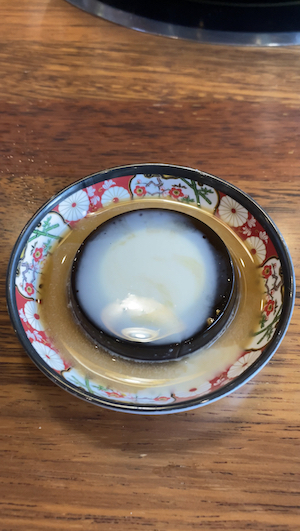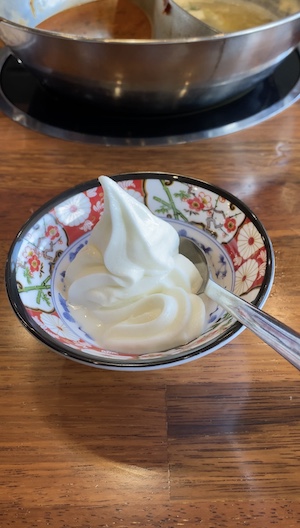 A perk of eating at Red House is their free dessert. After every meal, they serve a complimentary coffee jelly to help rid you of the umay. The coffee in the coffee jelly is quite strong but is balanced by the sweet milk sauce that they pour on top.
Another dessert item they serve is the vanilla ice cream. It's a Korean-style soft serve which is unique to the Red House in Manila. It's light, creamy, and reminiscent of the fast food-style of soft serve which we've all come to love. The soft serve also helps alleviate any stubborn spice left in your mouth after eating.
All in all, a fantastic, satisfying meal—which my boss also enjoyed.
Post-meal analysis
Reconnecting with a hometown favorite restaurant in a place I now call home felt like a full circle moment. It's the exact feeling of having my cake and eating it, too. Red House was my comfort restaurant and having it within (albeit, far) driving distance feels reassuring.
Some things to note when you go, though, is that it's not a restaurant you should visit alone. Hot pot is communal in nature, and enjoying it to the fullest means bringing other people along. It's also a little bit pricey, but the servings are large (and tasty) enough to make it worth it. 
There's so much joy in sharing food (and food recommendations). The standards I set for Red House were high as a devotee since my teen years, but the Manila branch has surpassed any and all expectations.
If you live in the south, run, don't walk. If you live elsewhere, take the time to dine here—and bring along all of your friends for the ride.
Red House Taiwan Shabu-Shabu is located at The River Park, Festival Mall, Alabang and is open daily from 11 a.m. to 11 p.m.