Beyond the fighting: What the Marawi crisis could also entail
There's more to war than death: mental health effects, anti-Islam sentiments, unguided orphans
Jun 9, 2017
It was a Tuesday afternoon, May 23, when the Marawi crisis started. Combined government forces stormed Abu Sayyaf leader Isnilon Hapilon's hiding place in the small city of Marawi in Lanao del Sur. Hapilon's legions retaliated with the Islamic State-sympathetic Maute group which is laying siege there for two weeks now. There are gun and firefights, fighter jets and air strikes, and Martial Law in Mindanao.
The warfare has taken roughly 200 lives; more than 130 of them are gunmen from the Maute and its ally Abu Sayyaf. Yesterday, Western Mindanao Command Chief Lt. Gen. Carlito Galvez said, "The end would be near" for the militants in Marawi since they are already preparing for a final push.
The terrorists' hold may be over soon, but these aftermaths will still linger.
Mental health consequences
According to a study on mental health consequences of war published in World Psychiatry in 2006, the most vulnerable to this kind of effect are women, children, the elderly, and the disabled. Mental health care should be part of the "total relief, rehabilitation and reconstruction processes." Physical and psychological support are needed to minimize the effects of war-related traumas.
This often gets overlooked as the country is only starting to put the well-deserved limelight on mental health.
People might sow deep anti-Islam sentiments
Islam talks of peace. It's the total opposite of what Jihadi groups, extremists and terrorist claim—that they do atrocities in the name of their faith, the same faith they actually betray. And for some reason, many believe their twisted words and lies inculcated in the intricacies of religion for the diffusion of their propaganda.
This is why others easily associate Islam to terrorism. US President Donald Trump even pushes for travel bans for citizens of Libya, Iran, Somalia, Sudan, Syria, and Yemen.  No. It doesn't follow.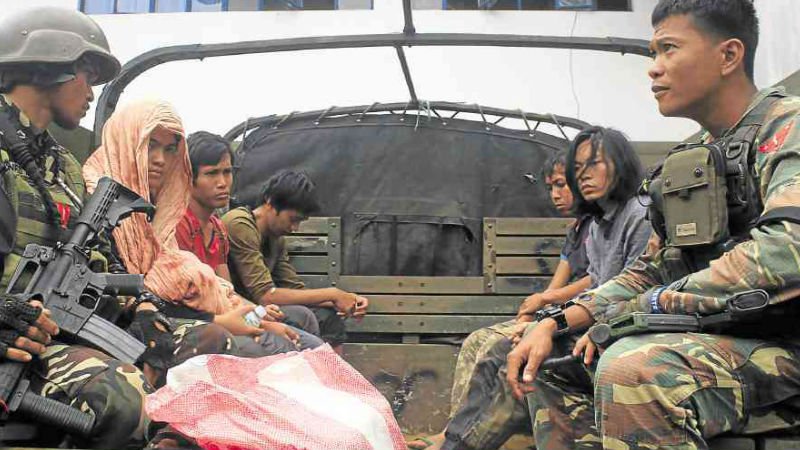 Fighting could turn orphans into terrorists
Muslim professor and researcher from the University of the Philippines Darwin Absari warned that "emerging rebels are mostly youth who are orphans of war." This is mainly because they lack guidance that brings forth minds with no deep-rooted ideologies and actual directions.
"They don't know anything but carry arms and shout 'Allahu Akbar' (Allah is great), even without the understanding of Islam," the Institute of Islamic Studies professor said. He also noted that most of the rebels are not schooled.
Marawi City is home to thousands of civilians whose lives are in peril and discomfort. May the fighting be over soon and may the local government and religious leaders offer the kind of solution their people deserve.
Featured image from Inquirer.net
Related stories:
We've broken down the President's speech on martial law
Have you seen the Philippines' tourism slogan?
How to deal with fake people
TAGS: Islam Marawi Maute group mental health Mindanao nolisoliph terrorism war