The business of making a statement
"I've been exporting to Europe since 1984. I started with Paris, and still deal with them up to now," says accessories designer Arnel Papa
Nov 29, 2016
Arnel Papa is known for producing bold, evocative pieces of jewelry. The words "earthy rawness" often come up in descriptions of his work, and his factory in Marilao, Bulacan resonates with them, just as surely as his products do. Far from the abstract, gossamer elegance that's usually associated with stereotypical jewelry, and worlds away from the soulless, mechanized assembly lines that "factory" brings to mind, Papa's workplace is unassuming, very much a part of the neighborhood in which it's located, and just cluttered enough to feel homey—appropriate, as it's actually part of his home. It feels authentic, a word that aptly characterizes both the man and his wares.
The factory, Papa explains, was converted from the extra space in his house, and most of the 100-odd workers are locals who live nearby. The atmosphere is fairly comfortable, evident in the interaction between Papa and his employees. "Even if you haven't washed up, it's okay; you can come to work," he explains in Filipino, then adds with a smile, "Even if you haven't taken a bath."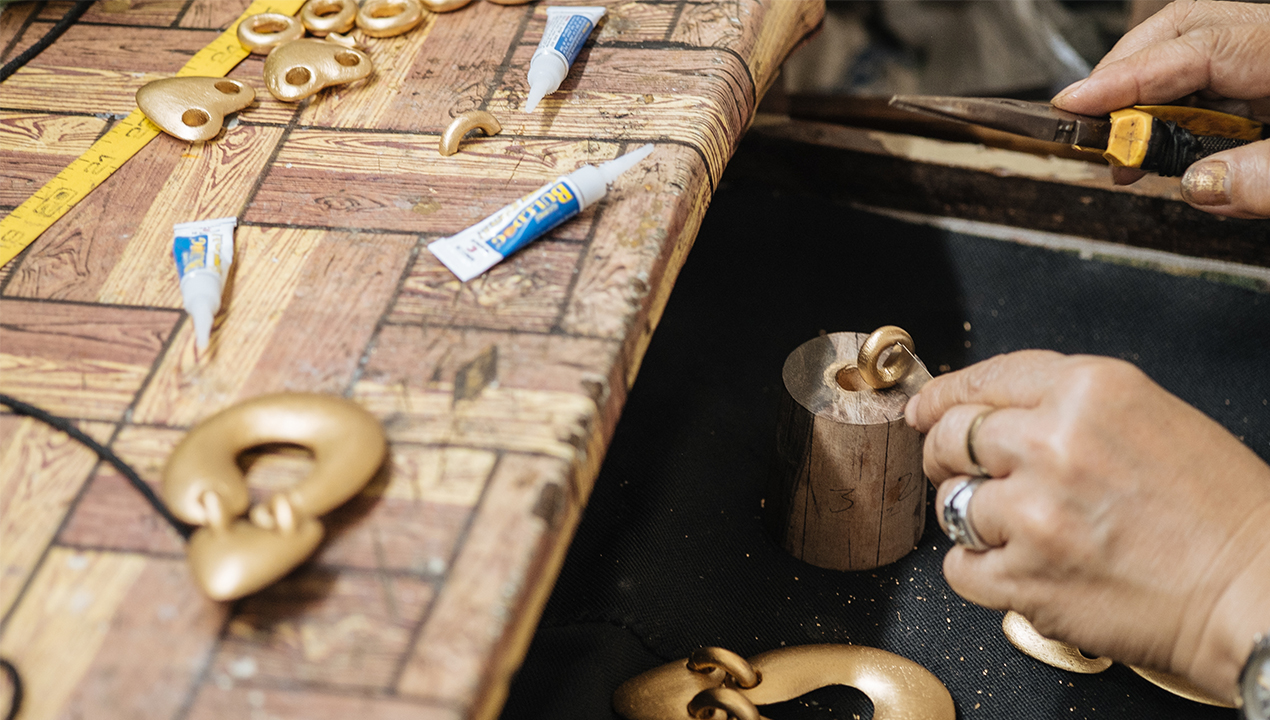 This sense of familiarity permeates Papa's entire operation, which is as much a community as it is a workplace and a business. You'll be tempted to call it laid-back but for the rigor with which it runs. A typical day in the factory starts at 8 a.m. and ostensibly ends at 5 p.m., but, as Papa explains, it can last "[for however long] they want to do overtime, but normally until 10 p.m." A single necklace can be assembled in one to two days; factor in the number of employees working on the pieces and the quality of the finished products, and the effectivity of Papa's approach becomes evident. Workers are given training, too, but as Papa points out, many of them are already seasoned veterans of their crafts.
"Everything is made here: the shaping, the beads," he says of the factory. Much is done by hand, and it shows in the uniqueness and the craftsmanship of the pieces. Papa also does design work and oversees assembly in the factory, ensuring that the vision behind each piece remains constant and informs each stage of the production process. Every work of jewelry, from start to finish, from raw materials to polished final piece, goes through its life cycle in the converted workspace.
"It's really great to have your factory in your house," adds Papa. "Any time you want to work on anything, even at night, even if you're the only one there, you can do it."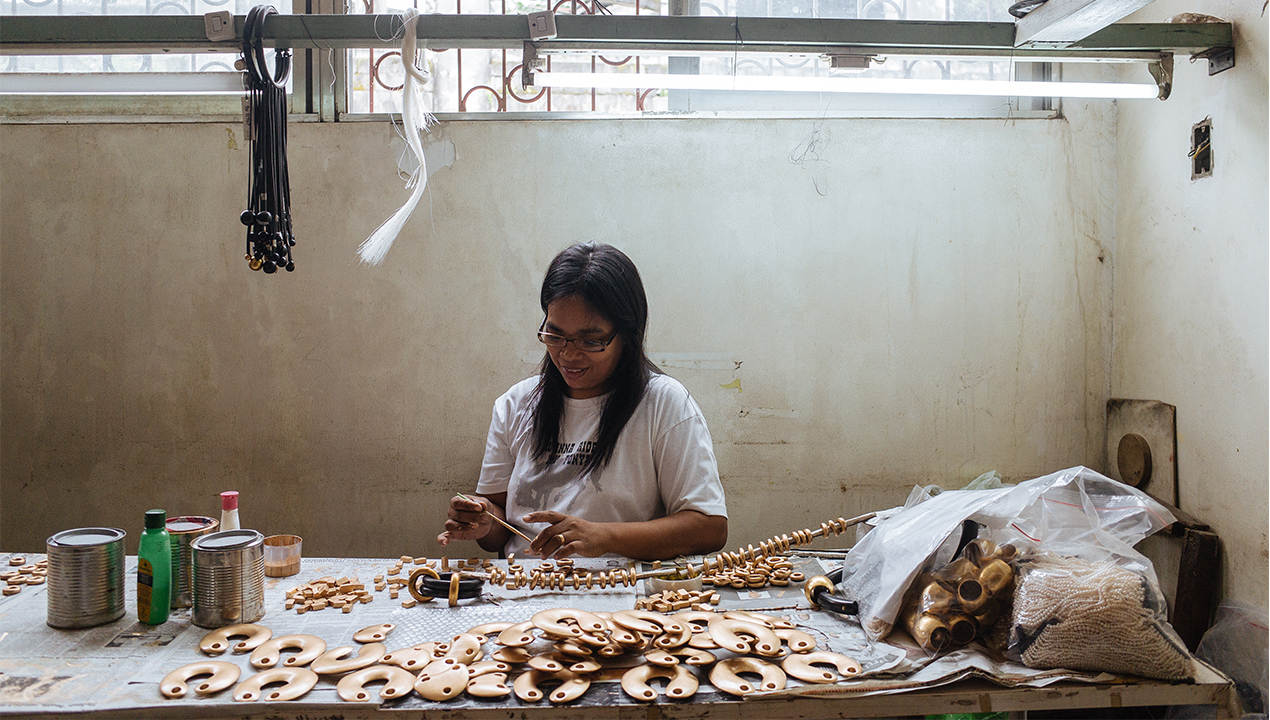 When asked about what inspires him, he is very clear: the materials. "What I like is when I see something and think of what I can do with it, what I can make it into," he explains. "The materials are gathered locally. Horn, bone, wood, shells, coconut shells… In Europe and the States, they want natural materials [like these] because they don't have much of those there. Locally, it's more about gold, silver, and stones." Papa also uses kamagong wood, coco shells, Philippine brass, and copper—a veritable catalog of local natural treasures, all put to use to create internationally acclaimed pieces with a distinctly Filipino voice, air, and origin.
On his favorite materials: "Mother of pearl, carabao horn, bone, cow bone," Papa rattles off. "The cow bone, when you have it finished, looks like ivory," he adds, with the pride of a craftsman who knows—and loves—his medium of choice. When he begins the design process, he needs two things: a relaxed frame of mind and all his components gathered. Always, the materials come first. "Of course, your ideas are there, your drawings. But when it comes to materials, you need to know what you'll be using. When you're exporting, your materials need to be there already. You might have a good idea, but [if you don't gather your materials], you might not be able to deliver anything. You can't have them there now, but not available tomorrow."
These elements are then shaped, assembled, and refined into pieces like necklaces, bracelets, and other accessories. Mother of pearl serves as a base for precious stones, dark kamagong is curved and shaped to just the right fit.
The shapes and contrasts that Papa creates are dramatic, eye-catching, and organic, suggesting natural forms made luxurious but still grounded in a down-to-earth, local aesthetic.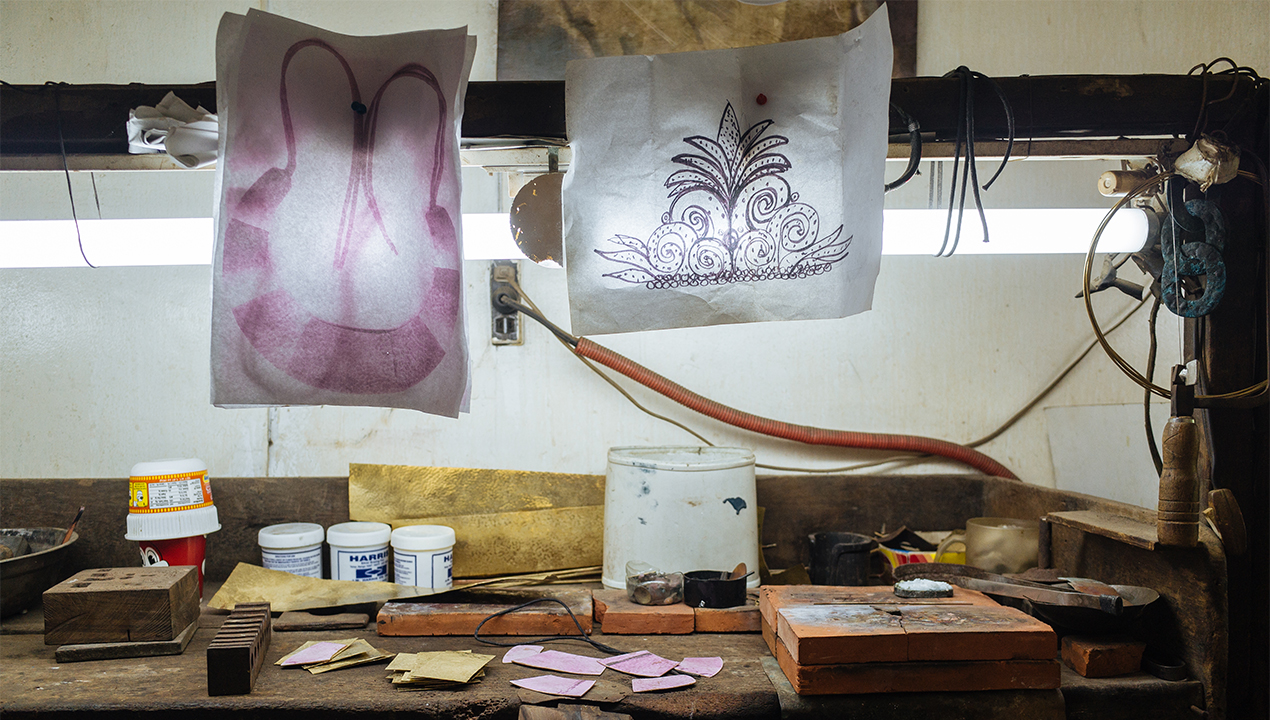 Many of these pieces bear the signature chunky Arnel Papa look, a fact that he attributes to his experiences with international audiences who are more accustomed to the style. "I've been exporting to Europe since 1984. I started with Paris, and still deal with them up to now, so I'm used to chunky pieces," he explains. These met mixed reactions from Filipino audiences at first, but in recent years, Papa believes that the local market has become more receptive to the idea. "Filipinos only started appreciating chunky pieces recently. Before, it was all dainty jewelry, things with single strands or beads. But now people are learning to like chunky jewelry."
When asked about making more toned-down pieces, Papa laughs. "Yeah, we do have some, because not everyone will wear the flashier stuff. But my chunkier pieces are something else. They're statement pieces that, when you see them, you'll think, 'That's an Arnel Papa.'"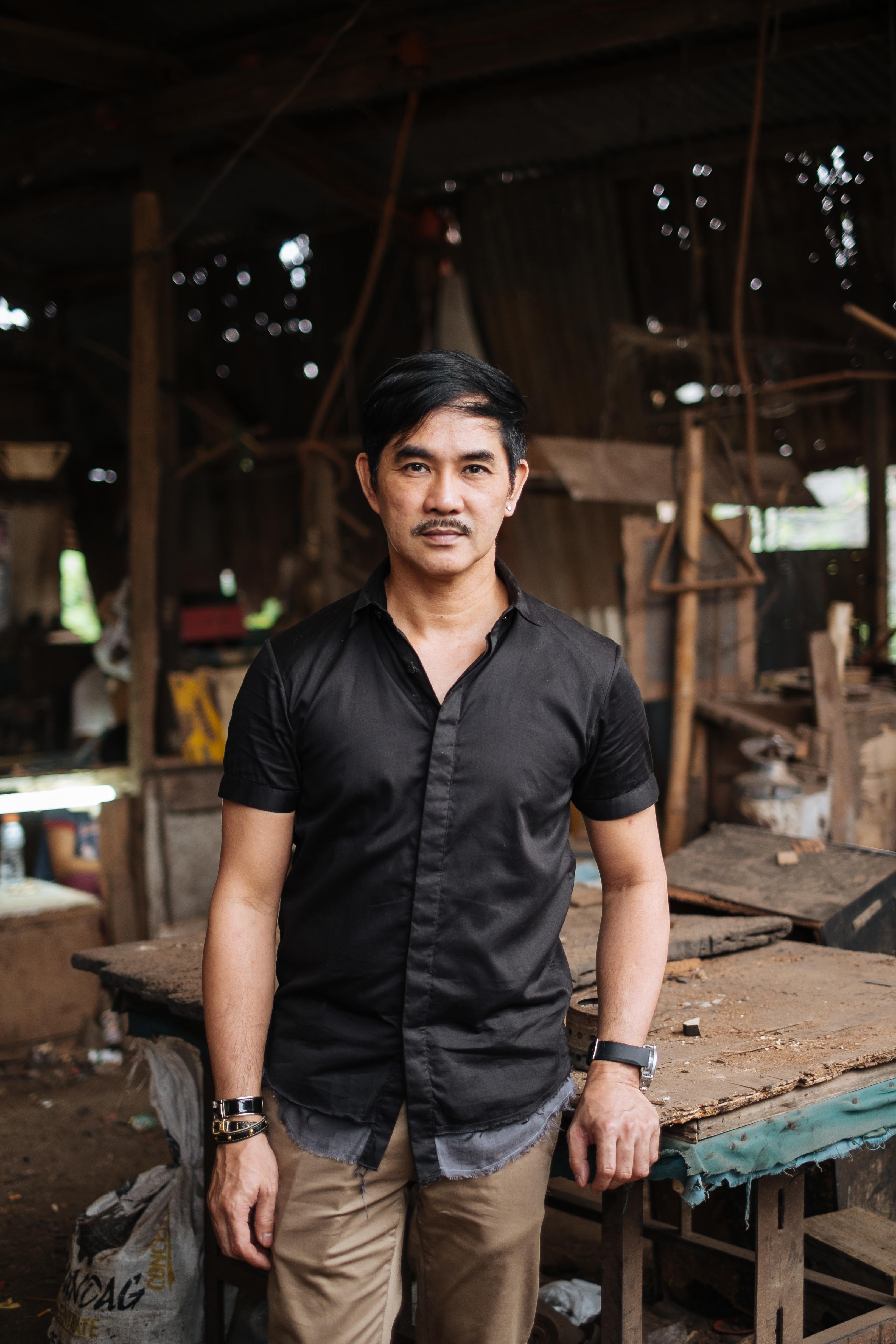 This commitment to authenticity has paid off well. As an international accessories designer, his pieces get displayed and exhibited both abroad and locally; he's working on four upcoming seasonal collections for his western audiences, and recently showed in the United States and Europe. He is continually exposed to audiences and experiences both Filipino and foreign, something from which he has bene ted and learned while still holding true to his personal style and aesthetic.
If anything, Papa has learned that the choice of jewelry is a matter of preference and confidence. "It depends on whether you can carry o the accessories. It doesn't matter whether you're chubby, thin, or anything else, as long as you have the guts to pull off what you're wearing," he insists. "Sometimes, I'll have a client who'll tell me they can't wear earrings that are too big because they don't wear big jewelry. 'Try,' I tell them. And now, they won't wear smaller jewelry [anymore]. They'll see a small piece and say, 'I don't want this. I want a big one.'"
And Papa's own preferences are clear: chunky, raw, and distinctive. His personality infuses each of his eye-catching statement pieces, enabling him to make a unique name for himself. Perhaps it's all summed up best by the Arnel Papa design philosophy, which—like the jewelry it creates and the man whose name it bears—is simple, substantial, and unapologetic: "It has to be original. It really has to be different from others."
TAGS: arnel papa jewelry nolisoliph