The Sunday we were there, the home had settled into bucolic bliss. Gregory Halili's house sits atop verdant hills in Silang, Cavite. It's an artist's escape if there ever was a need for one, a half-hour drive away from the bustling city and yet unsullied by its metropolitan repercussions. For Halili, however, this is where he now permanently lives and works since coming home from the U.S.
The artist greeted us at the gate and ushered us into a house done in a modern silhouette—clean lines with abundant natural light and ventilation—that he and his wife Monique chose to populate with antiques and furniture inherited from family. Halili's work is housed within these antiques. Lined up in display cases downstairs are his numerous eye paintings, while upstairs in his painting studio, he keeps his works on paper in organized binders.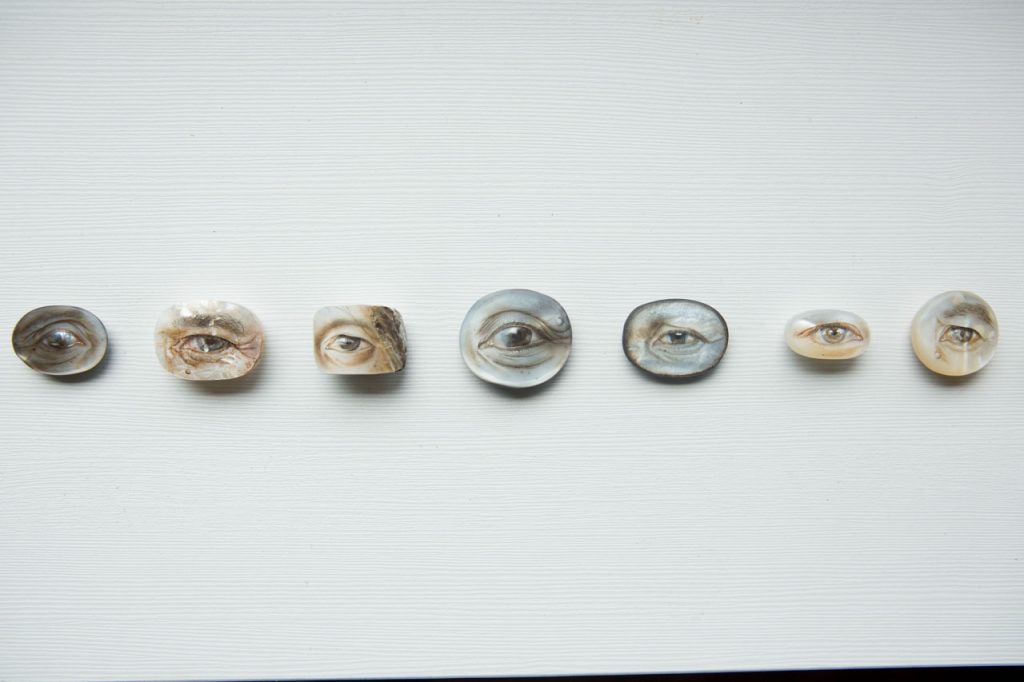 We spent the day traversing the house up and down, Halili pulling out his work from the wooden cabinets and placing them in our hands to touch and inspect as we pleased. This was how we came to know Halili in the few hours we were with him: by marveling at the tiny details that he pulls out of obscurity and into the spotlight, painting a portrait of himself through his work.
He led us first upstairs to his painting studio where he's working on his project for the 2016 Singapore Biennale. Like the rest of his home, the studio is a creative space, its inanimate inhabitants falling into a convenient arrangement for the artist: corals in a box for his "skeletal hands;" his work table containing the usual collection of brushes, fine haired and pointy tipped for the fine lines necessary for his paintings; and on the window, lined up in a row, the "eyes" for his show in Singapore.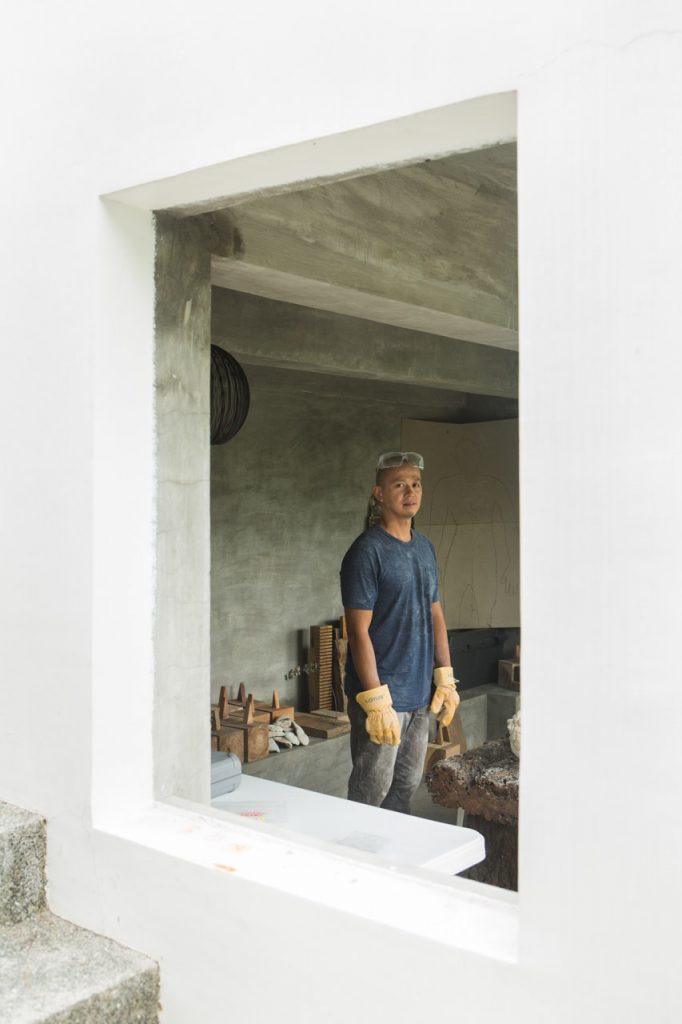 "The theme for the Singapore Biennale is reflection and connection. My proposal was to do a story of people living by the sea," said Halili. Having worked with eyes before, it was an easy connection for the artist to create a series of portraits featuring only his subjects' peepers.
Halili's interest in eyes began, however, when he was commissioned by the Nancy Hoffman Gallery in New York to come up with a collection for the show "All That Glitters." "For that, I decided to do the eyes because I like how they sparkled. Especially their highlights." Getting hold of some vintage ivory, he decided to shift from paper to a different material. "These," he said while holding one of his earlier eye portraits, "come from discarded ivory I found along Roxas Boulevard, in the antique stores. The early miniaturists, they really painted on small pieces of ivory." While doing some research for his work, Halili stumbled upon the old custom of portraiture that involved only the subject's eyes. "Back in the 17th or 18th century, there was a trend called 'lover's eye.' English noblemen who had mistresses wanted to keep them a secret, so they had someone paint their lover's eye. As a miniature painter, I wanted to get a feel of what they did."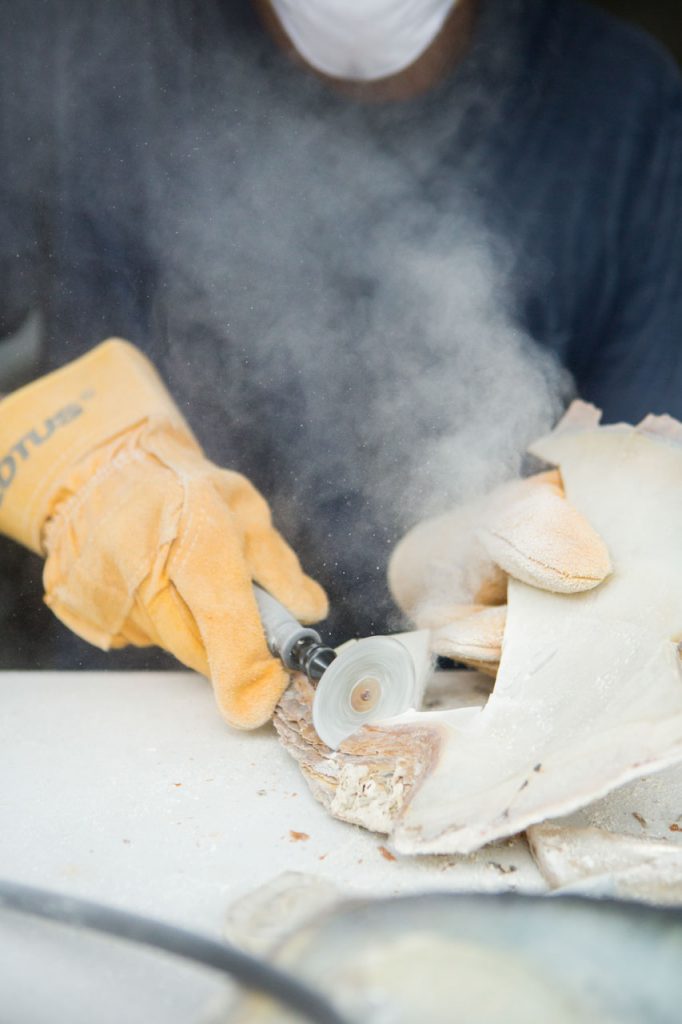 From the lover's eye, Halili would expand his work to include ivory jewelry (necklaces, brooches, and pendants) depicting sacrosanct imagery, shown at Silverlens Galleries entitled "Love and Loss," and exhausting the use of the material. "Eventually, I figured I had no connection with ivory, so I started to look for a more Filipino material. That's how I started playing with mother of pearl."
"The hard part is, though, I can see myself reflected in their eyes."
Moving on from ivory but not from the imagery of eyes, Halili began painting peepers on his newfound canvas. What he came up with was a collection of eyes depicting the waning of the moon and the rise and fall of the sun, an allusion to the cycle of life and death. While working on what would later be titled Moonrise and Sunrise, Halili said he saw the skull. "It was a sudden connection since I was working on the cycle. And when I saw it, I thought, well, I can connect this with my work." Both Moonrise and Sunrise and the skulls debuted in his exhibit "Memento," shown both in the Nancy Hoffman Gallery in New York and locally through Silverlens Galleries.
While still in the process of creating the skulls for "Memento," Halili saw death again in the form of petrified corals. Beginning with a coral that he said looked like a finger, "I thought I could make a hand with it. And then, I saw the pelvis." In his second studio, beneath his house, lies a macabre scene: a full skeleton made of corals in the center of his workspace. "It took two years to make the whole thing. Then, it was supposed to be on a boat— symbolic, you know, life and death—but I wanted to keep it raw." What he found instead as a pedestal for the unnamed figure was a mangled piece of molave, rotten through and riddled with petrified tube worms, lending a more eerie touch to the already grave skull. "Do your kids get scared?" we asked, standing around the collection of bones. "They used to, but now they don't. I asked them to help me look for 'bones,' in fact, during our beach trip." He walked over to a shelf and took out an ovoid piece of coral. "They gave me this, and said, 'Look, daddy, it's a skull!'"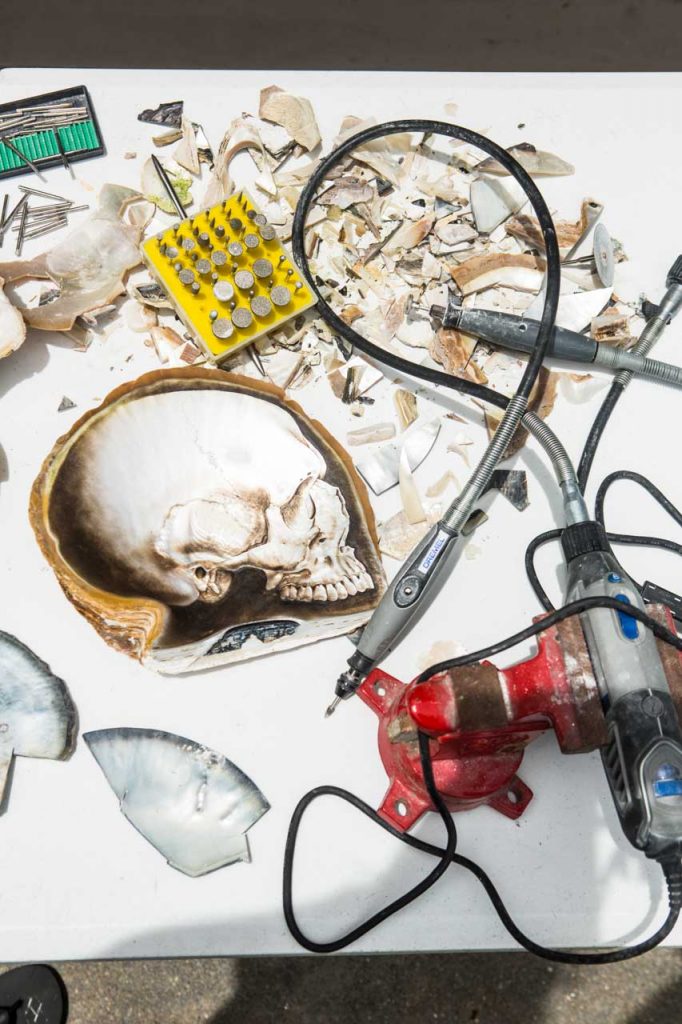 For Halili, death is not macabre. "The more you get exposed to it, the more you get to see it, and it becomes much more than death. It's about nature and understanding our connection with nature."
Following his own cycle, Halili found life where dead shells led him, coming full circle through the seaside communities that allow him to work with the materials he finds. "My initial proposal for the Singapore Biennale was actually just about pearls and people involved in the pearl business. They approved that and said I could go to Japan and talk to the pearl divers there, but due to time constraints, I decided to narrow it down to people making a living by the sea here in the Philippines."
I asked [my kids] to help me look for 'bones,' in fact, during our beach trip. They gave me this, and said, 'Look, daddy, it's a skull!'"
Back upstairs in his painting studio, we crouched over the eyes on the window sill again. It was a beguiling collection of exquisitely painted eyes that draw the viewer into them. It was easy to fall into the character of a spectator, one who simply marveled at the details, the way each eye shines with an unknown life, an untold story. But Halili pointed at each one, their unique features so familiar to him that he could tell which eye belonged to which subject. "This one is the pearl diver. He's young, just 31, but he's developing cataract. When I asked if I could take a picture of his eye, he asked me if it was okay that he had cataract. These two are [of ] an old couple. I couldn't include their son because his story wasn't tied to the series." He took out a black notebook, his field journal filled with his own handwriting in pencil and a collection of photos of each individual he'd met for this project. It was as if he were introducing us to friends and family he'd met on a homecoming.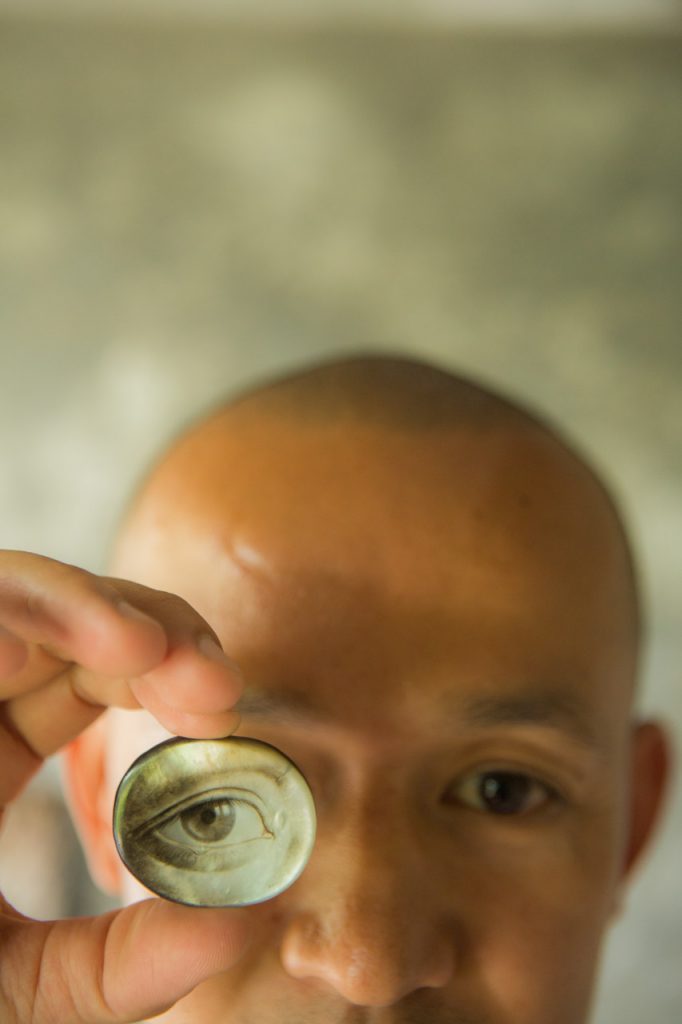 "The hard part is, though," he said, pointing to the photo of another eye, "I can see myself reflected in their eyes. See, there I am taking the photo." Looking into the eye and indeed seeing Halili there, the experience was half sublime, half trippy: The subtle role reversal between subject and spectator, between Halili seeing his subjects and in turn seeing himself reflected within them. It's a statement rife with symbolic iterations, and yet, as if he were not yet ready to reveal himself to us fully, Halili pulled back. "I had to work around that when I started painting them." A look into the painted version of the eyes revealed, in fact, no traces of the artist's silhouette. The only mark he seemed to have allowed himself were the fine lines of crow's feet, the bluish-gray film of cataract.
This story was originally published in Southern Living, May 2016.
Read more:
Calle Wright: The "slow" art house in Malate
How artist Patty Eustaquio uses familiar objects in her art
Artist Martha Atienza bags prestigious award
Writer: RENZ NOLLASE
PHOTOGRAPHY GERIC CRUZ