Flossom Kitchen + Cafe is undeniably charming. Hidden in a residential neighborhood in San Juan, it's also the facade of a newly built compound called Flossom Place, which consists of a co-working space, a salon, and other services focused on events needs.
From the outside, you can see how radiant the cafe could be on a clear day with tall windows and a portion of the roof in glass that draws natural light, and how dreamy the surrounding could be in a drizzly day. There's a chic glass room with faux grass ceiling that invites people to come, drink, and mellow out until the city traffic eases. Flossom isn't a speakeasy, but the neon sign on the unpainted wall inside works well with its flower-centric interiors.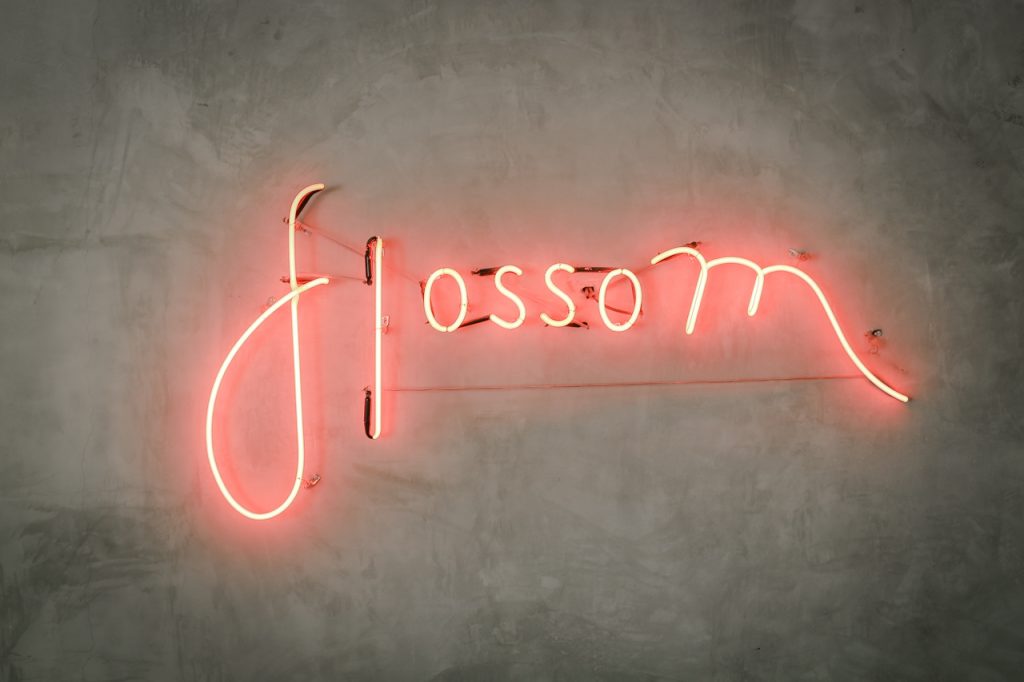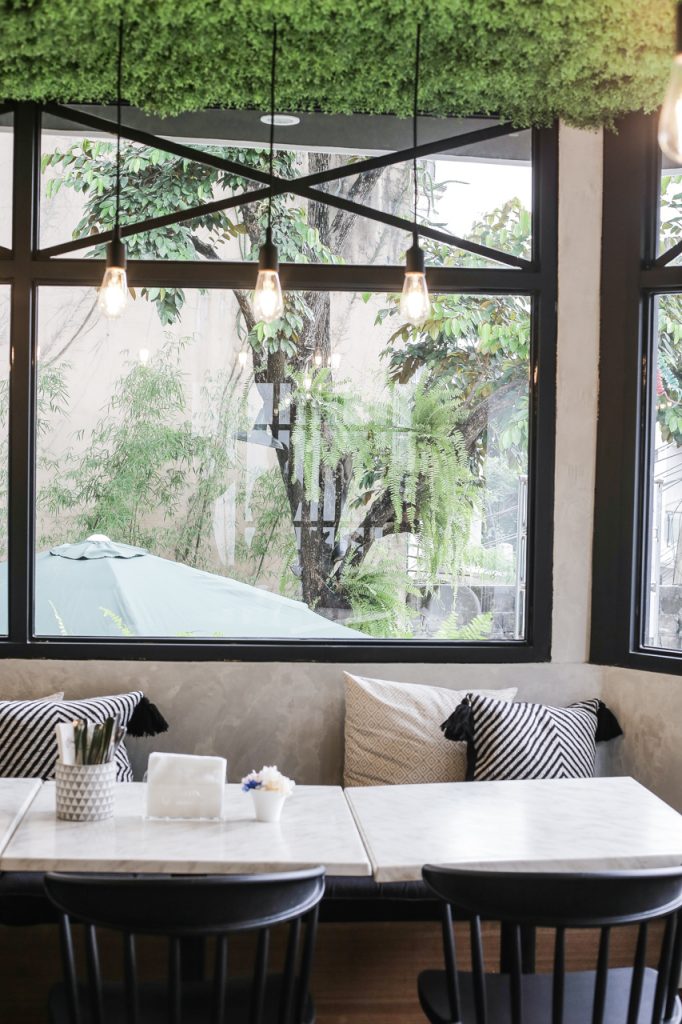 The charisma of the cafe overflows, and I'm amazed that it's beyond the Instagrammability of the place—the food is ridiculously appetizing and cheering. This is what marketing manager Janna Arceo promises to the customers—that this brainchild of two best friends who are also chefs, Jessica Wong and Betrina Lee, has something to make the cafe irresistible to customers that they'd feel the need to go back.
If you want to start your day in this cafe, it opens at 8 a.m. and its Ube Champorado would make great company. The cafe specializes in modern comfort food and this is Flossom's take on the classic chocolate rice porridge.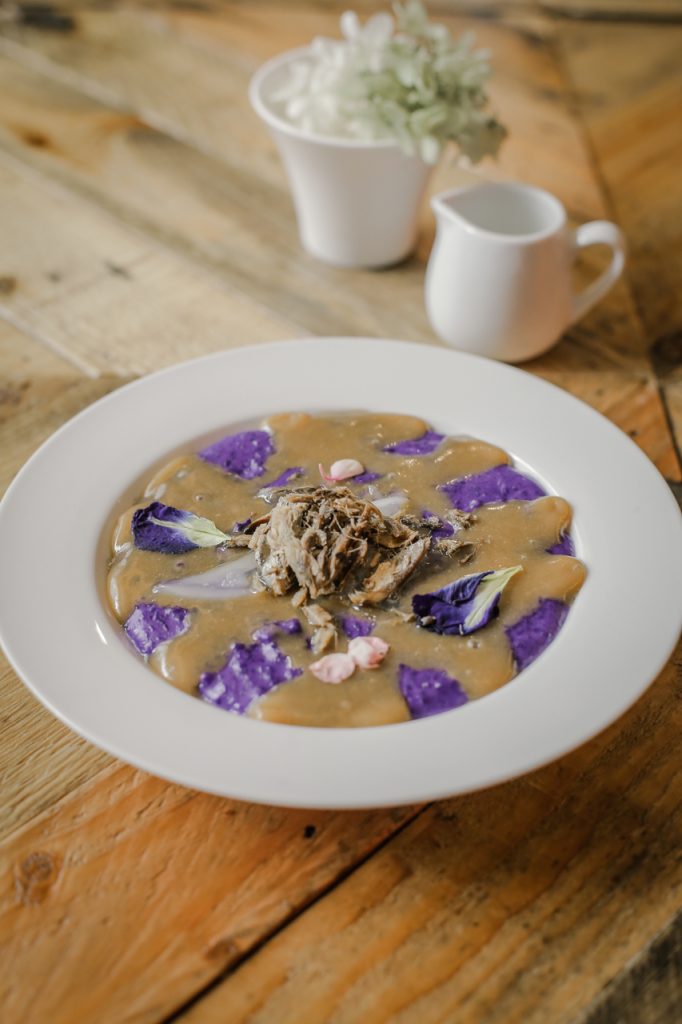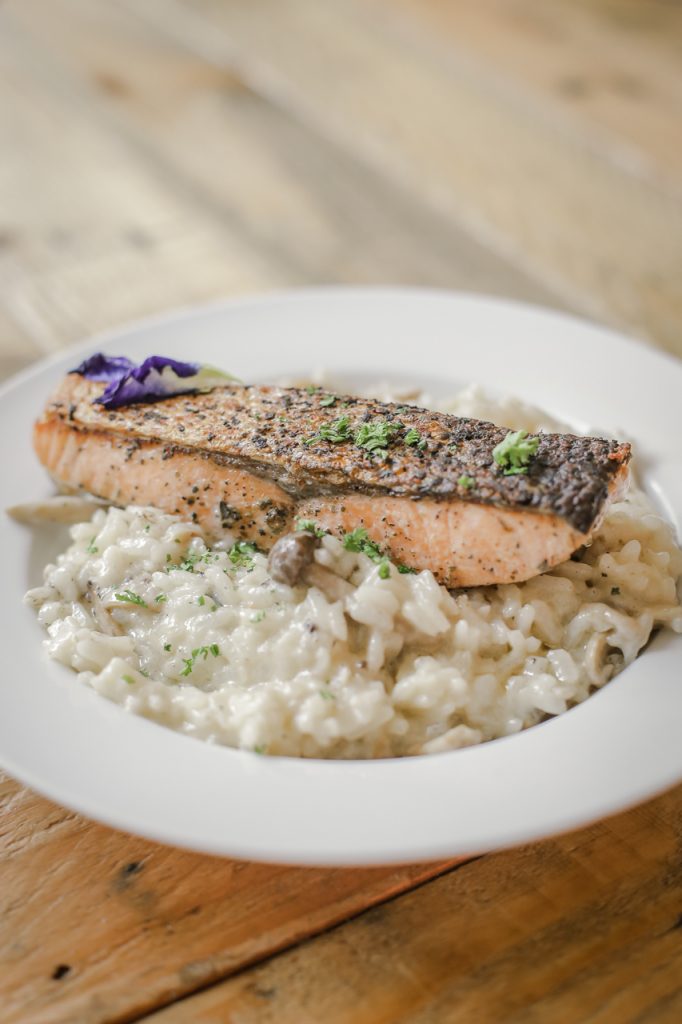 The purple yam rice stew is served with yema sauce on top and I shuddered when I first saw it—the potential of the dish to be too sweet was damn high. But I was proven wrong when I had a spoonful, thanks to the salted dried fish that balanced the sweetness out.
Flossom's Mushroom Truffle Risotto is a must-try. Using shiitake, button, and shimeji mushrooms cooked in chicken stock with aromatic truffle sauce, it's made creamy with melted parmesan cheese. You can have it topped with a thick, juicy slice of grilled Norwegian salmon fillet. I hope you miss the layers of flavor and texture in your mouth when you finish the dish as much as I did.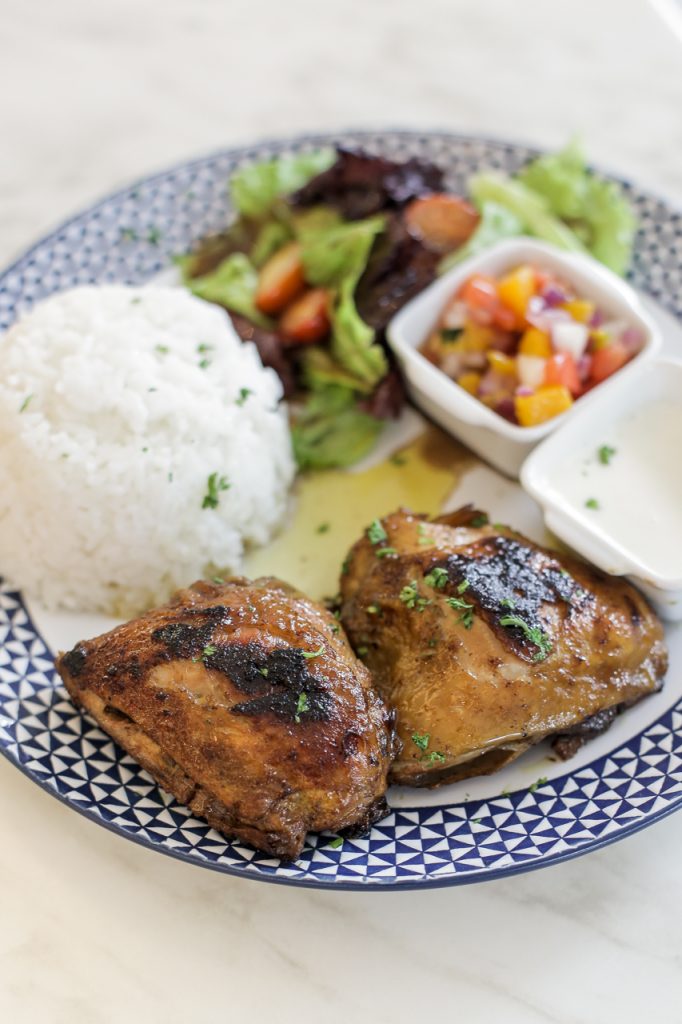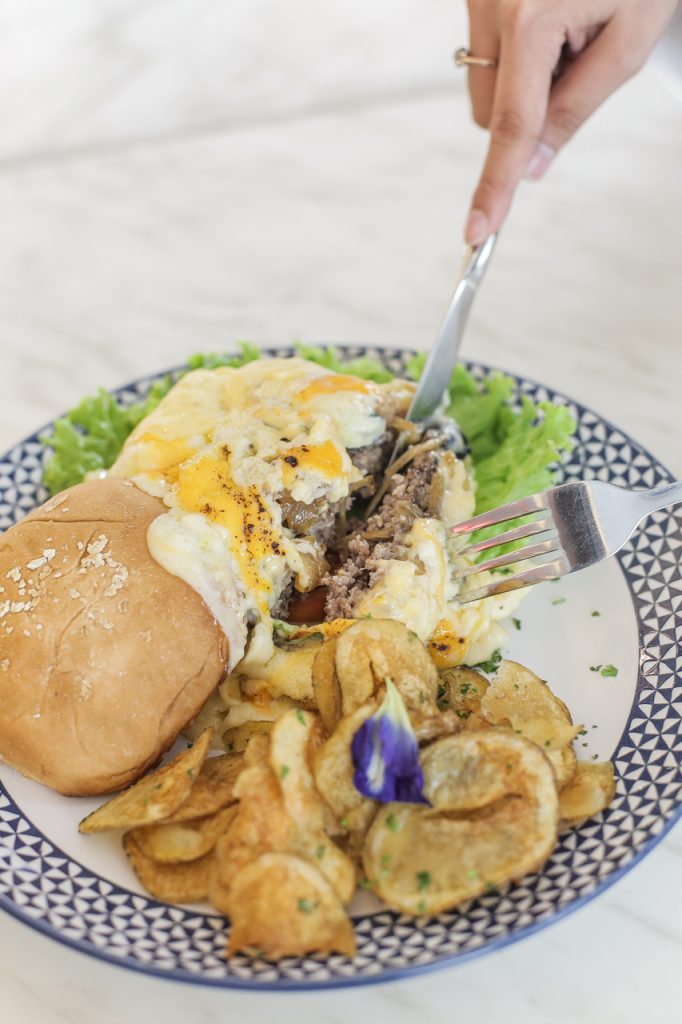 I know better than to betray my all-time favorite chicken dish, but I almost bid adobo goodbye when I tried Asian Chicken. I can't exactly identify what Wong, the chef responsible for the menu, marinated the chicken with, but the flavors are Oriental—beckoning and remarkable on the palate. It is served with onion cream on the side, but I personally prefer to devour the dish without it.
Burgers are essential in the comfort food department, so expect Flossom to go big time in this one with its Molten Lava Burger. Every order is served with a hot pan of sinfully rich melted grilled cheese of different types to be poured over the thick house-made patty.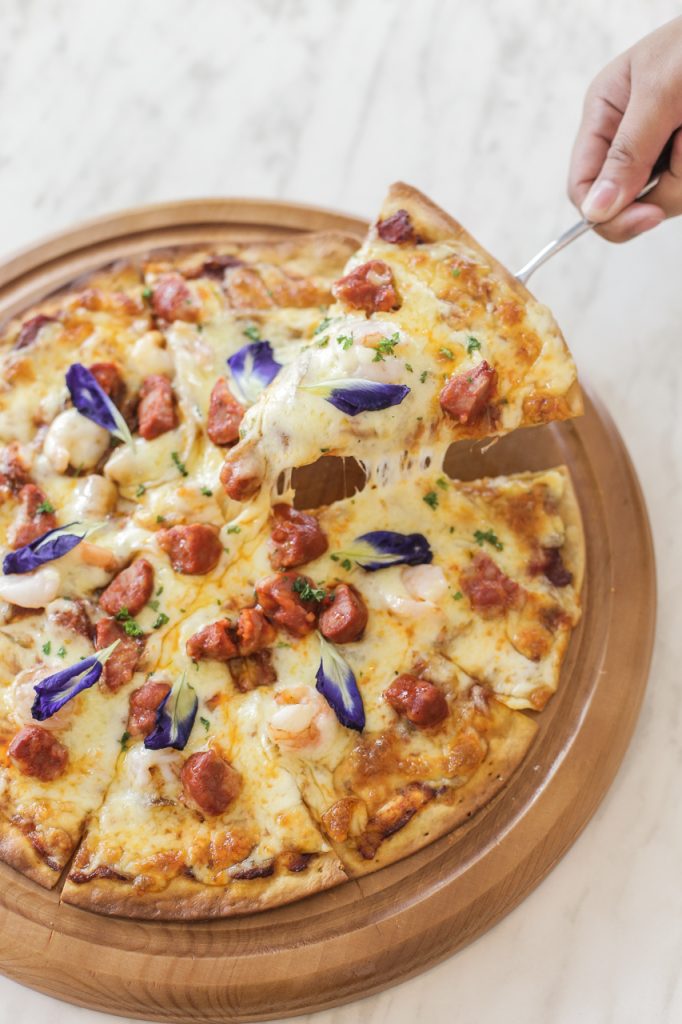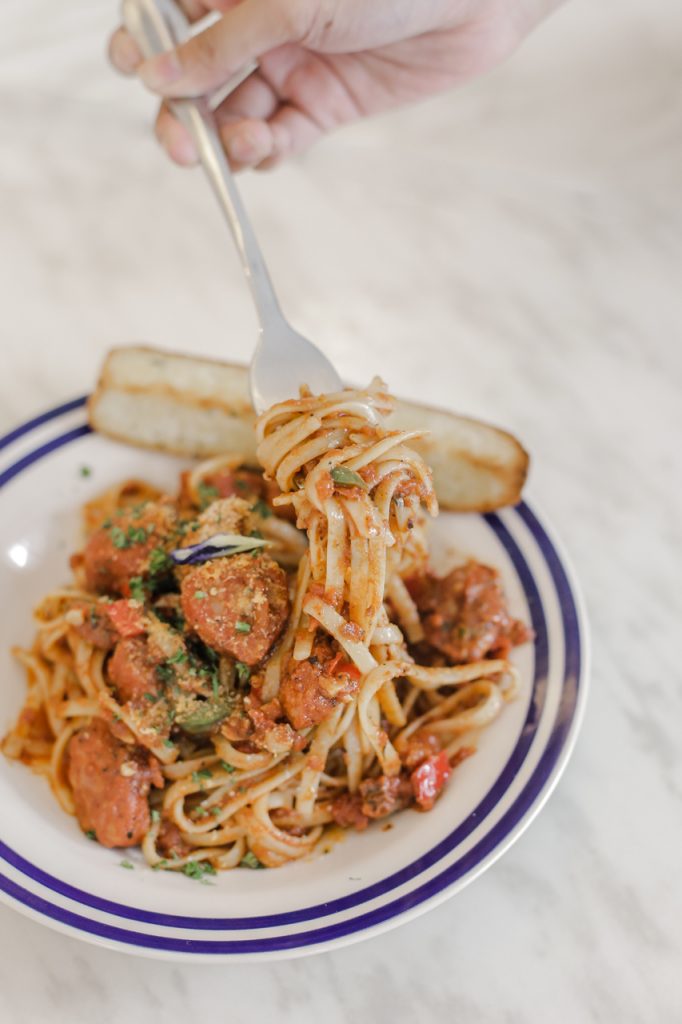 It's apparent that Wong and Lee give no less than their best for Flossom, their first restaurant. After all, when they secured their place in the compound, the two quit their own jobs in the food and hospitality industry and concentrated on sharing their dream with others.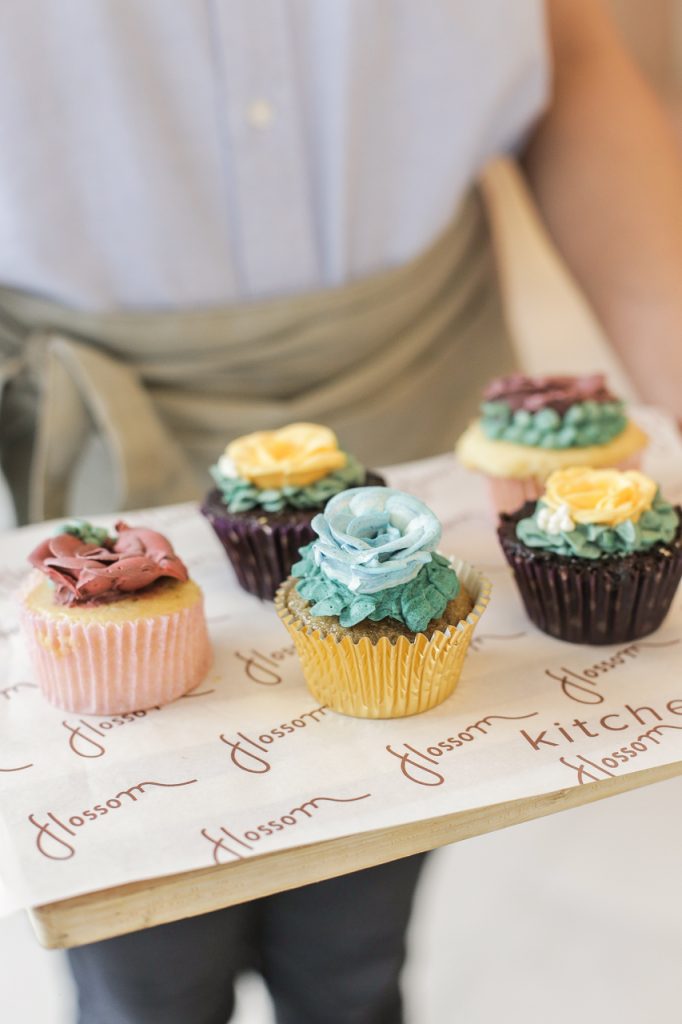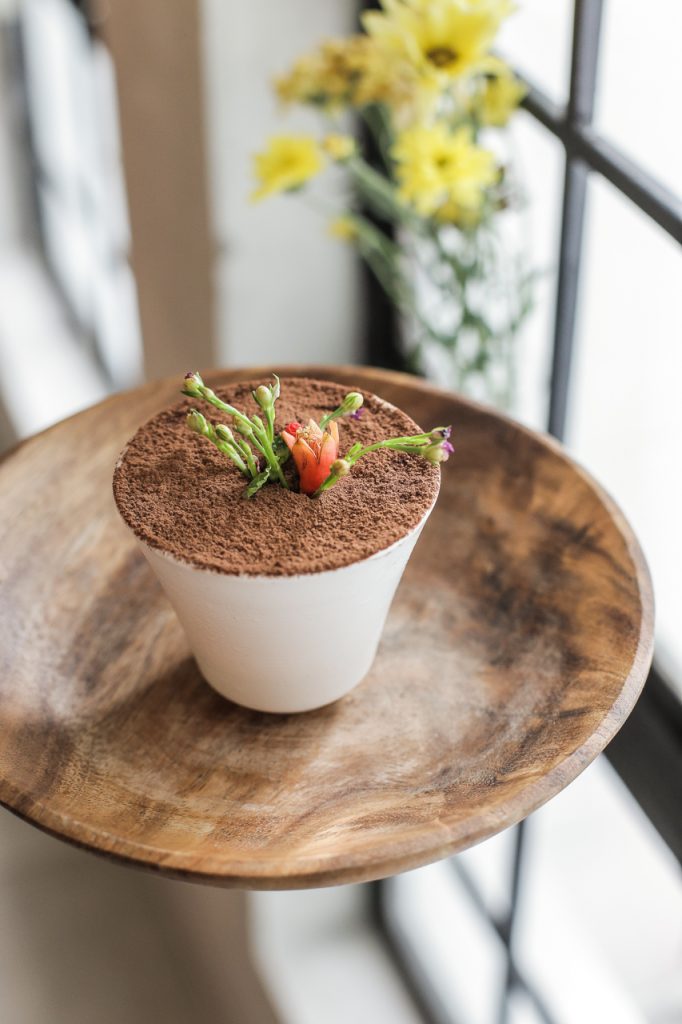 Eventually, Flossom will also have a catering service. But for now, it's content with offering customers an intimate place to gather, work at, and simmer down.
Read more:
There's an eggplant dish even haters will love
When comfort food is actually good for you
Expat missed Israeli comfort food so much, he put up his own resto
Writer: YAZHMIN MALAJITO
PHOTOGRAPHY DANICA CONDEZ