Thanks for choosing to read this story on a newish cafe restaurant concept in BGC, Key Coffee, when you could have discovered it on TikTok through an amateur foodie account as most of us do these days.
We were invited to its media launch a month after it opened in February, which makes the possibility of some TikToker already having reviewed Key Coffee all the more likely.
[READ:
2022 food trends: The year TikTok democratized eating well?
]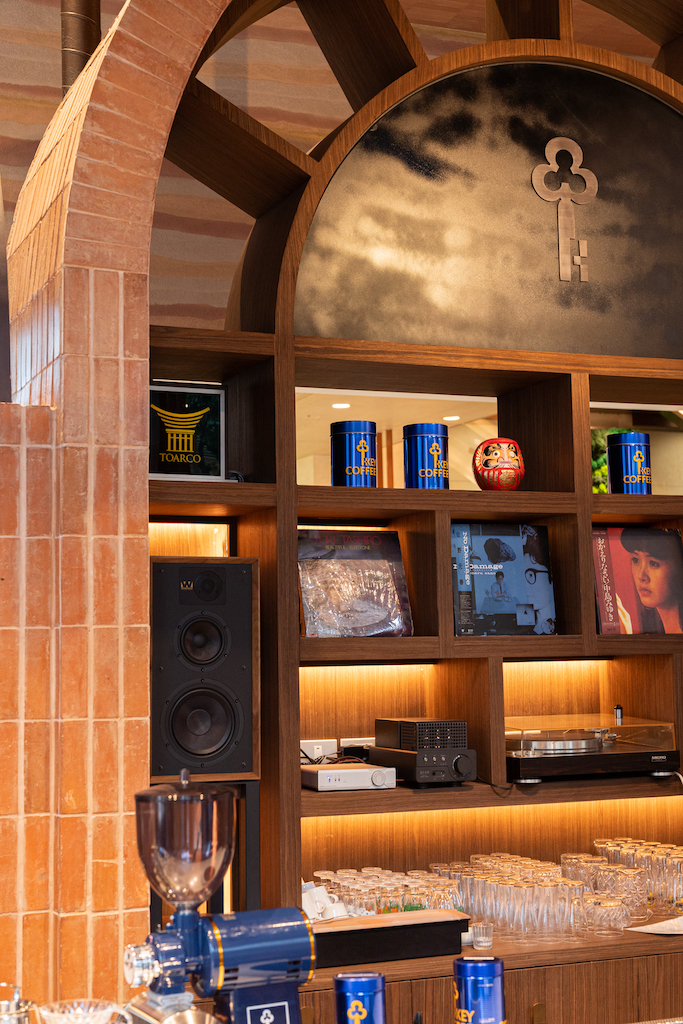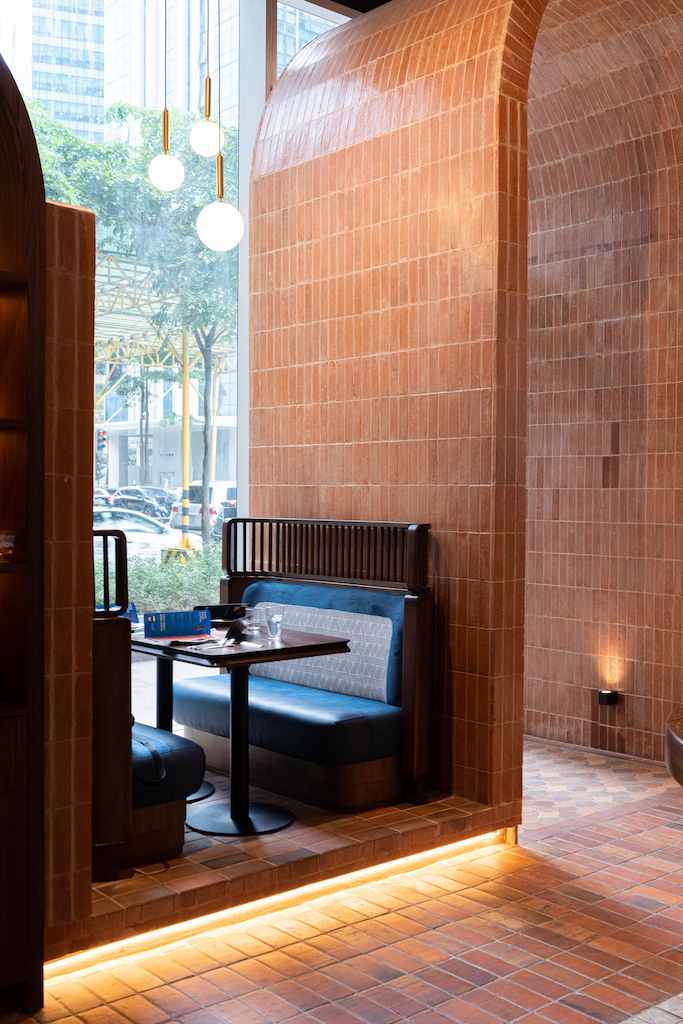 Kudos to those TikTokers though, as the reality is, most of the time, our dining experience is not really representative of a regular customer experience (so are most "reviews" by many media outlets) because we are after all, invited guests and not "anonymous" diners. But I figured I should at the very least tell you, readers, if it is worth trying out as any sensible feature should. As a freebie, however, here's a little background: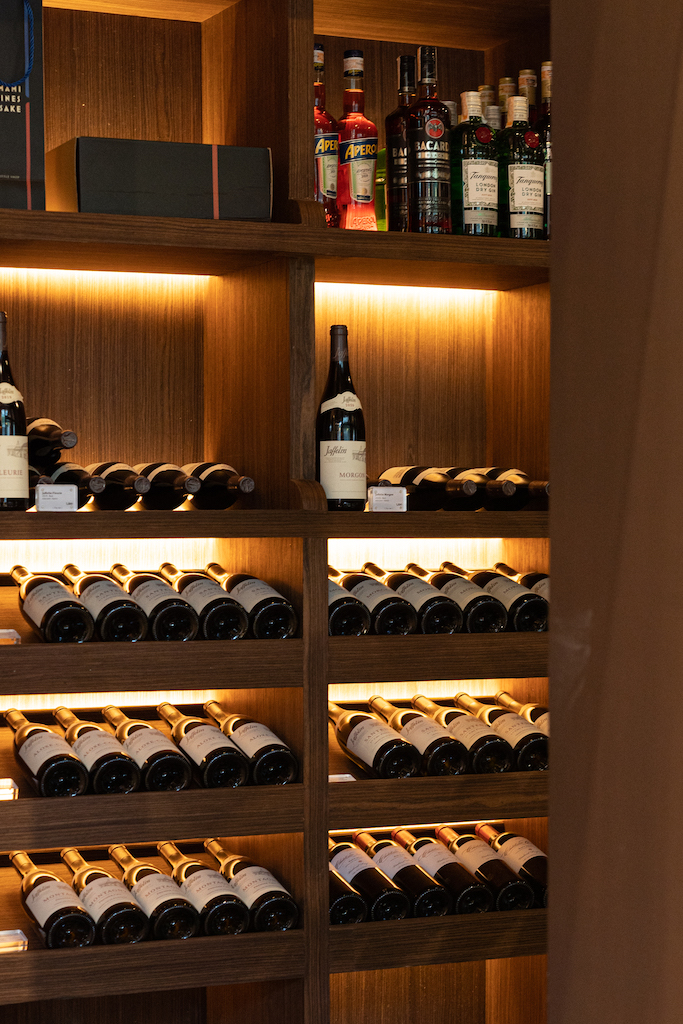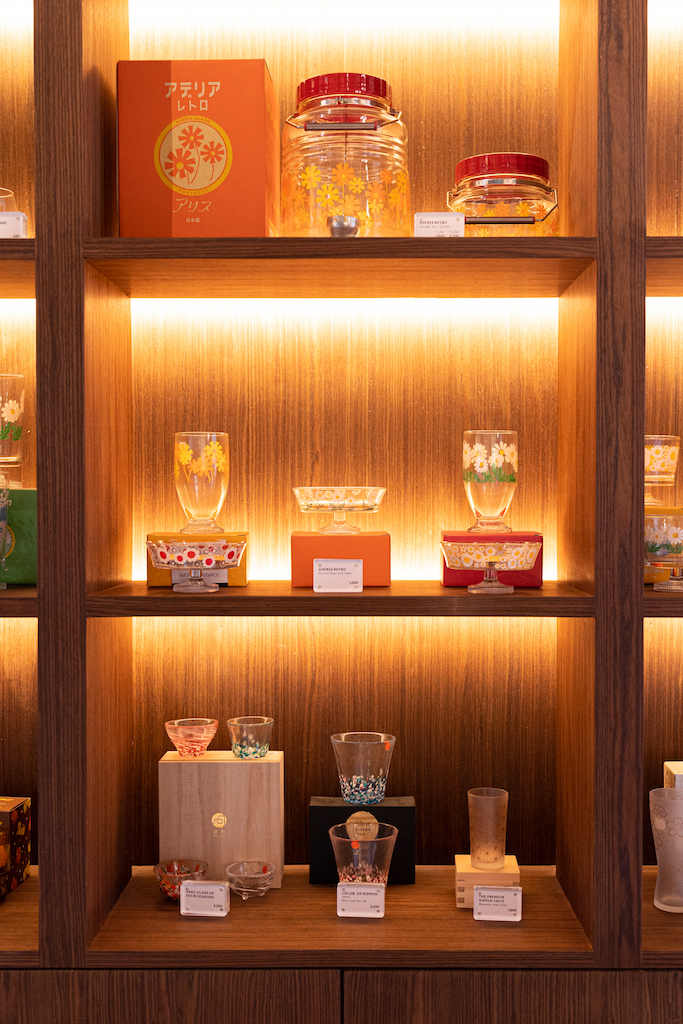 Key Coffee originated in Japan where it is a household coffee bean brand that's been around for more than a century. It is synonymous with kissaten or coffee shops that proliferated during the Jazz era, where intellectuals meet much like the cafe culture of Paris that supported its burgeoning ideas market as early as the 17th century.
Their space located inside the Mitsukoshi Mall has the look of a traditional kissa down, from the plush diner booths, red brick walls, low-light fixtures, and vinyl Jazz records to listen to while you sip hand-drip coffee, which kissas are believed to have proliferated way before Third Wave coffee.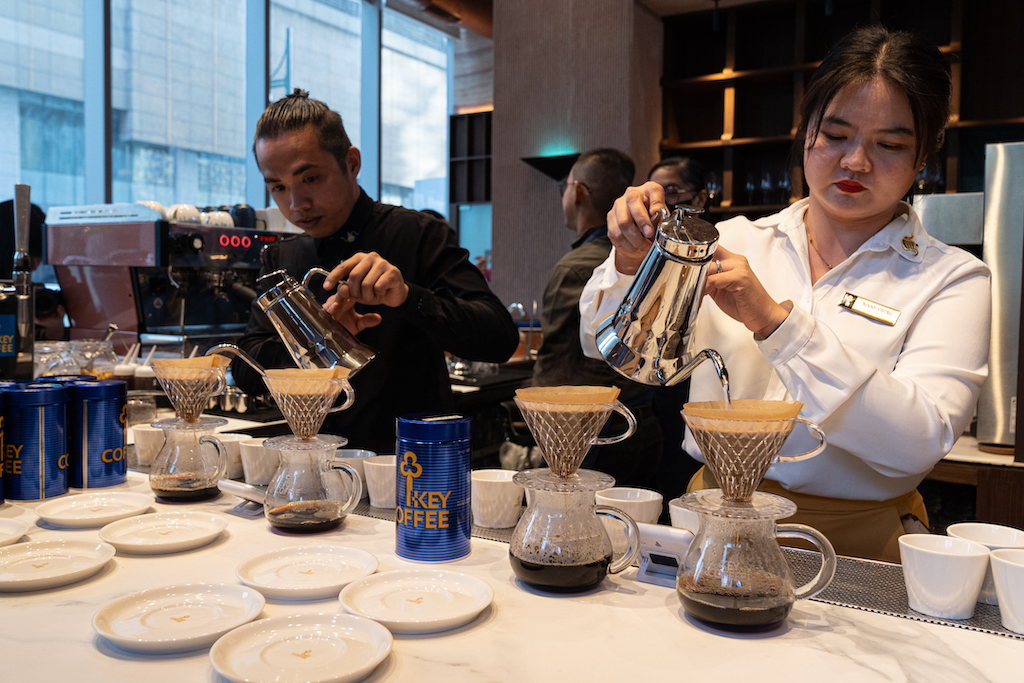 Other than their distinct interiors, kissas are known for their specific menu, which unlike its Western counterparts offers more filling options outside of just pastries and coffee. In Japan, kissas have an extensive teishoku or dining set menu of rice dishes with a few sides, plus miso soup. Chef Kiyoshi Ogawa of his eponymous traditional Japanese restaurant at The Fort created these traditional dishes for Key Coffee.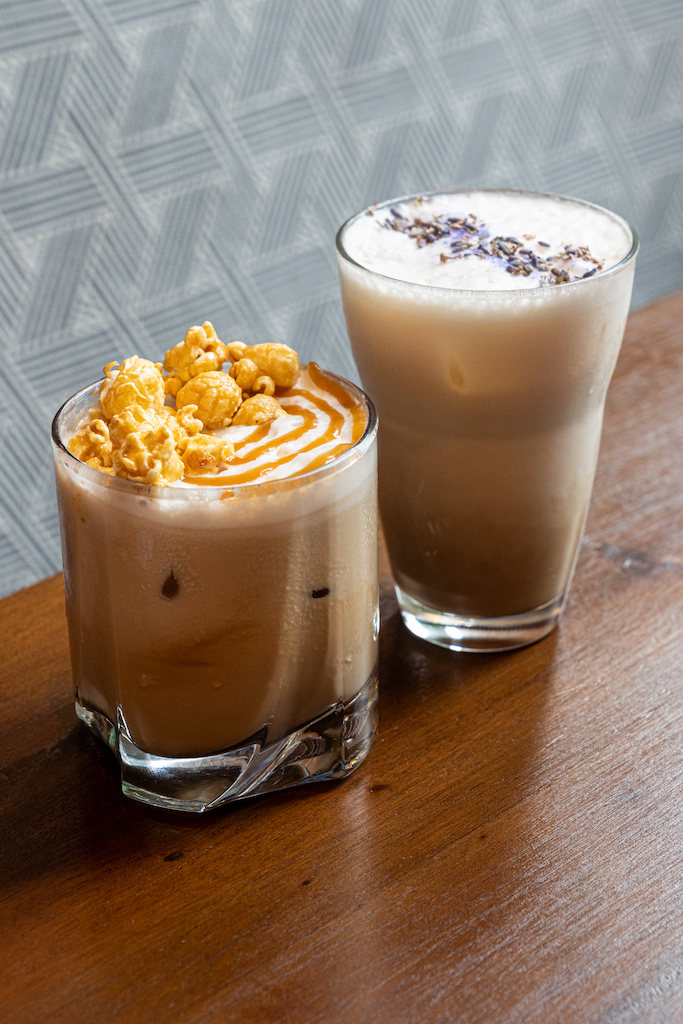 While its range of coffee drinks and products (they have a small nook for packaged beans and wine, too) is not to be missed for coffee purists—not me—its modern take on kissa food is also worth noting. Key Coffee continues kissas' long tradition of adapting and localizing Western food, starting with the revered Italian pizza and pasta. 
Key Coffee has six pizzas on its menu; half of it classic Napoletana and the other wafu Napoletana or Japanese fusion. The same goes for its pasta. There's the kissa classic red sauce spaghetti naporitan only served on a sizzling plate, as well as a Hokkaido-style mac and cheese kamameshi. Both should be interesting. We were only served the crab ikura udon for our table, which one media fellow rightfully described as Japanese palabok—a great compliment, by the way.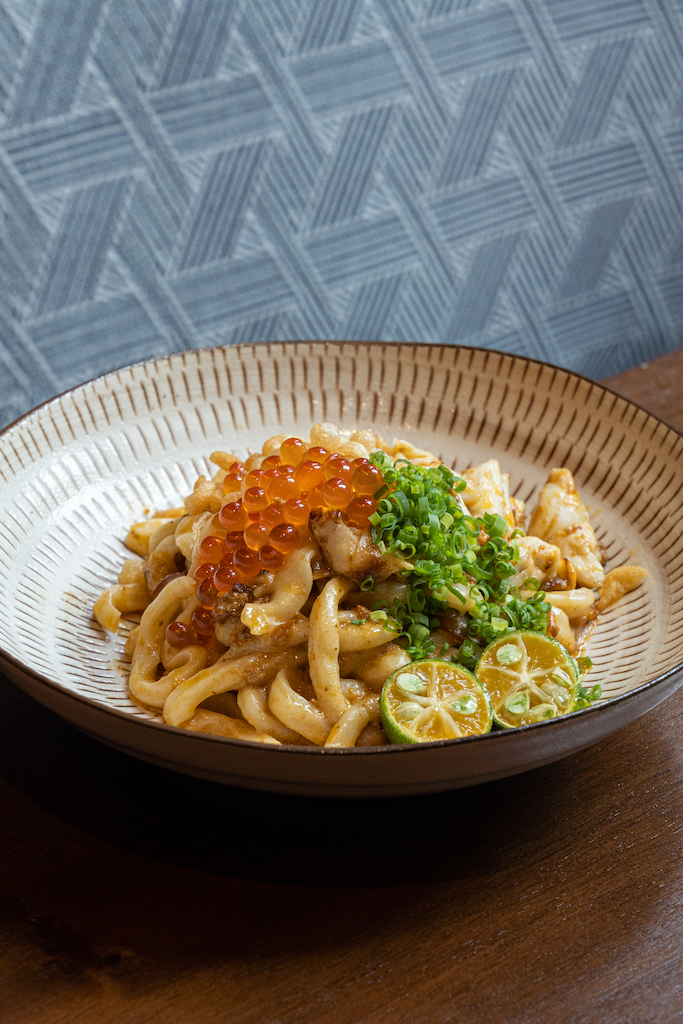 In keeping with the culinary ingenuity of kissas, Key Coffee got three on-the-rise Filipino chefs to build the innovative side of its menu: Thirdy Dolarte of Hapag, Jorge Mendez of the much-lauded newcomer Modan, and pastry chef Alexa Versoza who worked in various fine dining restaurants in Manila and known for her small business Apo Baking Society.
Against my better judgment and initial reluctance, here, I tell you all the fun I had going through Key Coffee's soft opening menu—served hot and in optimal serving sizes, for the press (very important disclaimer).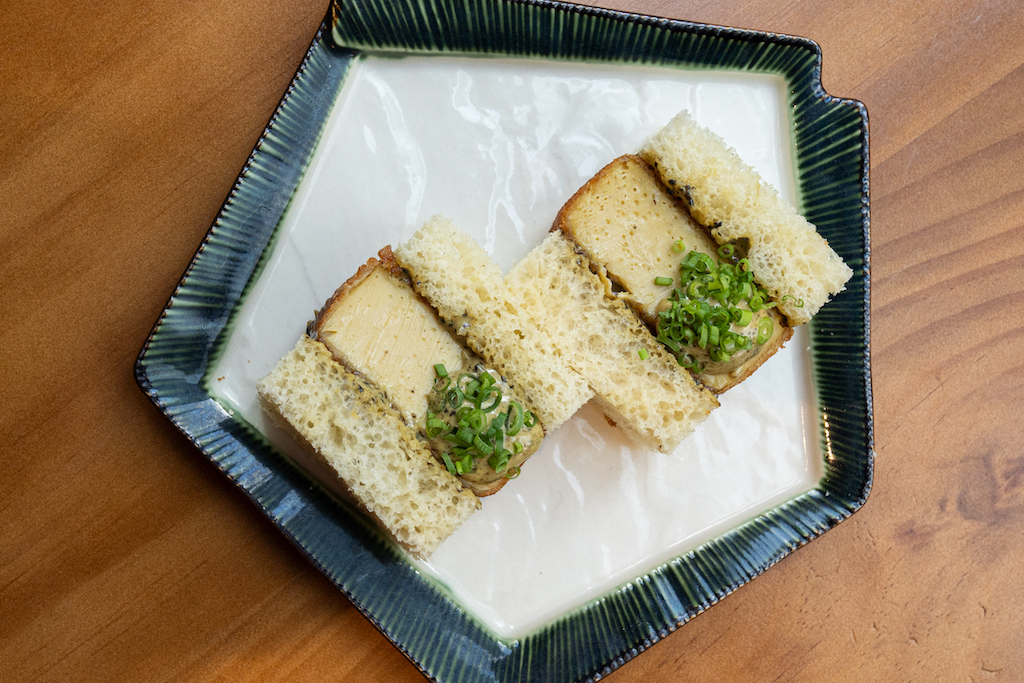 I can rant on and on about how I and the rest of our table thoroughly enjoyed the tamago katsu sando even though we all know that taste is subjective. Nonetheless, the breaded and deep-fried flan-like smooth tamago in between soft crustless slices of Japanese milk bread is a dream I hope to someday recreate—if only I know how. Arigato gozaimasu, Horje-San (Mendez, after which the sando is named after)!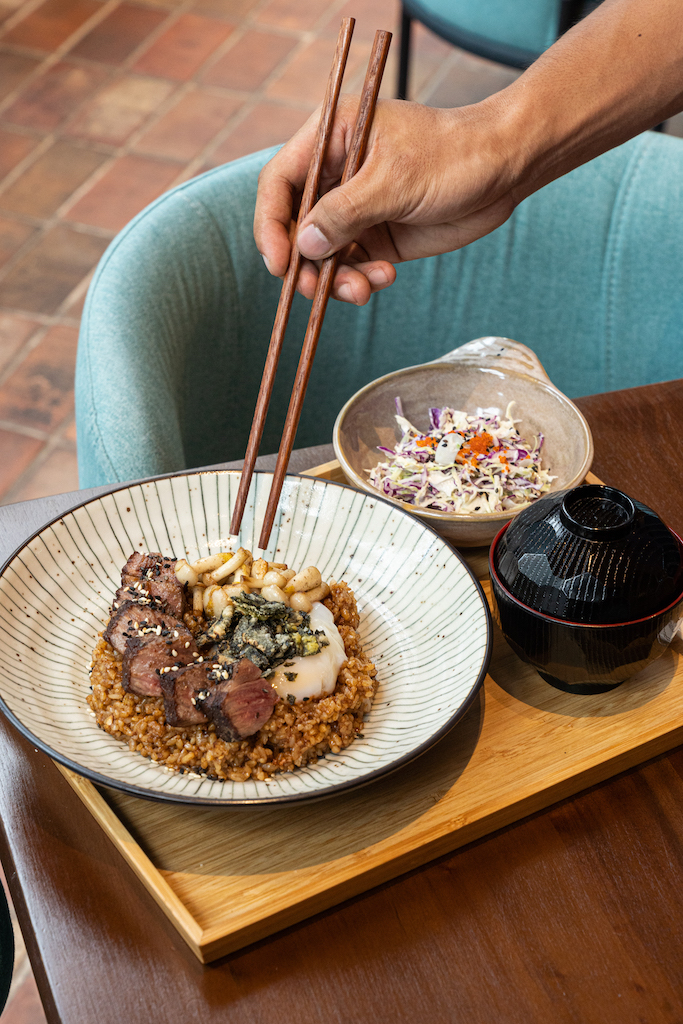 By the time the mains arrived (Chef Thirdy's gamet okayu bento that uses seaweed from Ilocos Norte; wagyu and onsen egg donburi bento; and kissa scallop and seafood doria doused in white sauce), we were full from the carbo-loaded appetizers, something I could not be thankful enough for and hence will continue to rant from here on.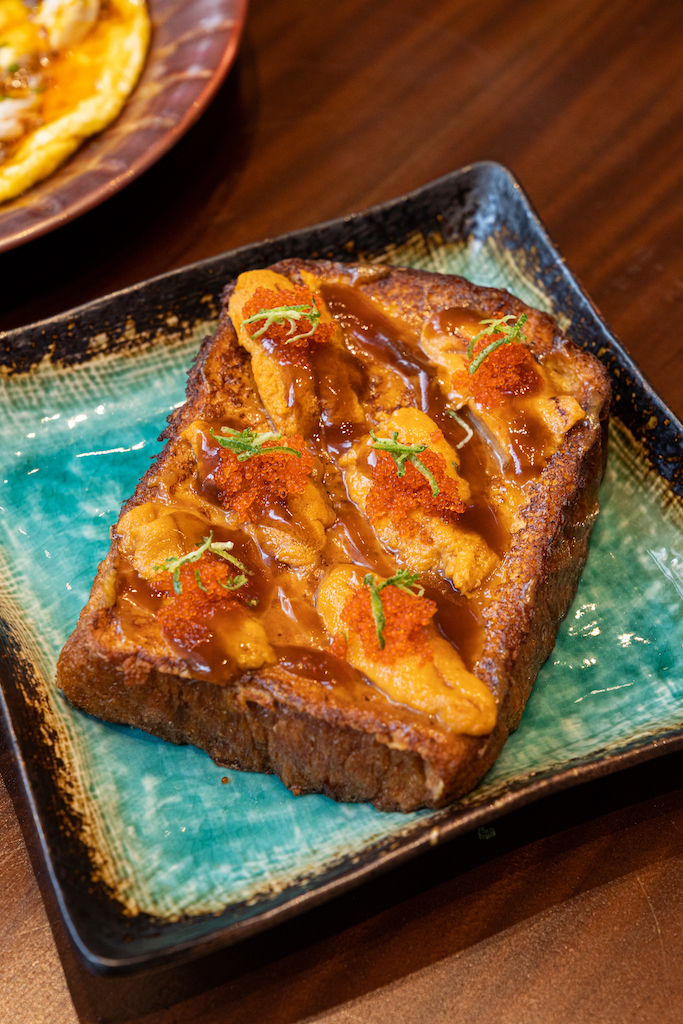 French toast—well, not just any regular French toast, Key Coffee makes theirs dipped in sweet-savory miso-milk—slathered with tobiko mayo and citrus-shoyu glaze then topped with air-flown Japanese uni. This should not be a logical sentence. Tasting it is realizing grammar is but codified style conventions.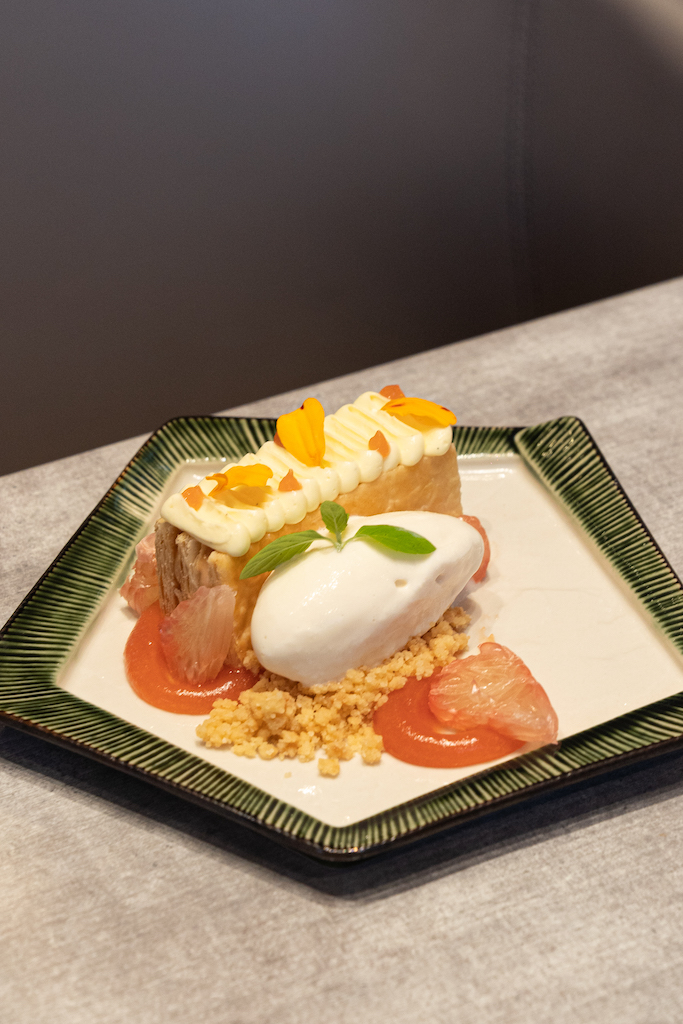 If I had any regrets, it would be that I didn't save room for dessert. If only I were a little less full from all the bread, I would have appreciated Chef Leky (Versoza)'s delicate and playful (there's some upturning involved) guava and pomelo mille feuille more. Made with Davao pomelo, I surmise, it's meant as a palate cleanser.
That and not having put Key Coffee's Toto Washlet to use.
While I cannot assure you that you will have the same pleasure from the dishes I may or may not have just overhyped, it is assuring to think that 10 out of 10 times you and I, both non-Japanese, will be amazed by this sanitary invention with regrettably too many confusing settings to choose from.
Key Coffee is located on the ground floor of Mitsukoshi Mall, 8th Ave. cor. 36 St., Bonifacio Global City, Taguig. Open Tuesdays to Sundays from 10 a.m. to 10 p.m. You may reserve seats for lunch (11 a.m. to 1 p.m.) and dinner (6 p.m. to 8 p.m., 8:30 p.m. to 10 p.m.) through 09293747890.