Artist Cheryl Hironaka's nomadic lifestyle doesn't stop her from creating
Her latest exhibit La Maison Coquette is inspired by her life in Vietnam and now in a village in France
Dec 28, 2017
Artist Cheryl Hironaka is mostly known for her furniture that seem to have come out of someone else's reverie—playful and spirited, but practical and durable. However, her latest exhibit La Maison Coquette features only a handful of functional objects for homes—outnumbered by the paintings she displays.
We caught up with Hironaka about her life in a village nestled between Paris and Versailles in France called Marnes-la-Coquette, obviously an inspiration, and about her latest show in ArtistSpace, Ayala Museum, which opened on Dec. 14.
What have you been up to?
I've recently gotten back to riding horses. I've also been actively practicing yoga and pilates. Most of the time, I try to be a good mother to my two sons, one of who is a senior and stressed about college applications, so I try to support him in that. I've also been trying to finish illustrating a children's book.
Can you tell us about the exhibit?
The inspiration for my exhibit and all my past ones is my furniture design ideas. Since living abroad and living a nomadic life, I can't continue to design and produce furniture, so I end up painting my designs just to get my fix. I somehow feel like I've produced my furniture designs when I paint them and feature them in the interior or living spaces. To be able to have an idea and finally have it in tangible form is a very rewarding process. Painting somehow helps me fulfill this need.
I always try to bring life into my work by adding a pet—this time, my Swiss shepherd Brady. I also like to add elements that are meaningful to my life at any given moment. I use bags (one of the things I love), horses, birdcages (from when I used to live in Vietnam), stars, flowers, birds, insects, lizards, wine, etc.
I love antiques. I love to scavenge flea markets in Paris (this has become a weekend pastime) for antique frames and almost everything else. I like unique things in this day of mass-produced, machine-made products. Things with a past have more character and soul. So I buy these frames and paint in them. A completely different process from maybe all artists who paint first and figure out the frames later.
How would you describe your style?
My style is definitely naive with a bit of surrealism.
We heard that almost all of your works got sold out three days after the exhibit opened. How have audiences responded to your art?
I am very happy with how many people went out of their way to congratulate me and tell me how happy they are to be able to see my exhibit. These are just passersby that walk in and are glad to meet me. They all say that they felt good when they saw my paintings. They feel refreshed and happy. As an artist, this means everything. It is my goal to make my audience feel good and uplifted when they view my art.
What's your favorite piece in this exhibit?
I think all of my paintings with horses in them are my favorite. It brings a very surreal, dreamlike vibe to my work. After all, we never see horses inside homes. I get bored with anything that is real, that is what we see in our everyday lives, so why paint what is real? I prefer something extraordinary, impossible, and completely imaginary. It's more magical and exciting.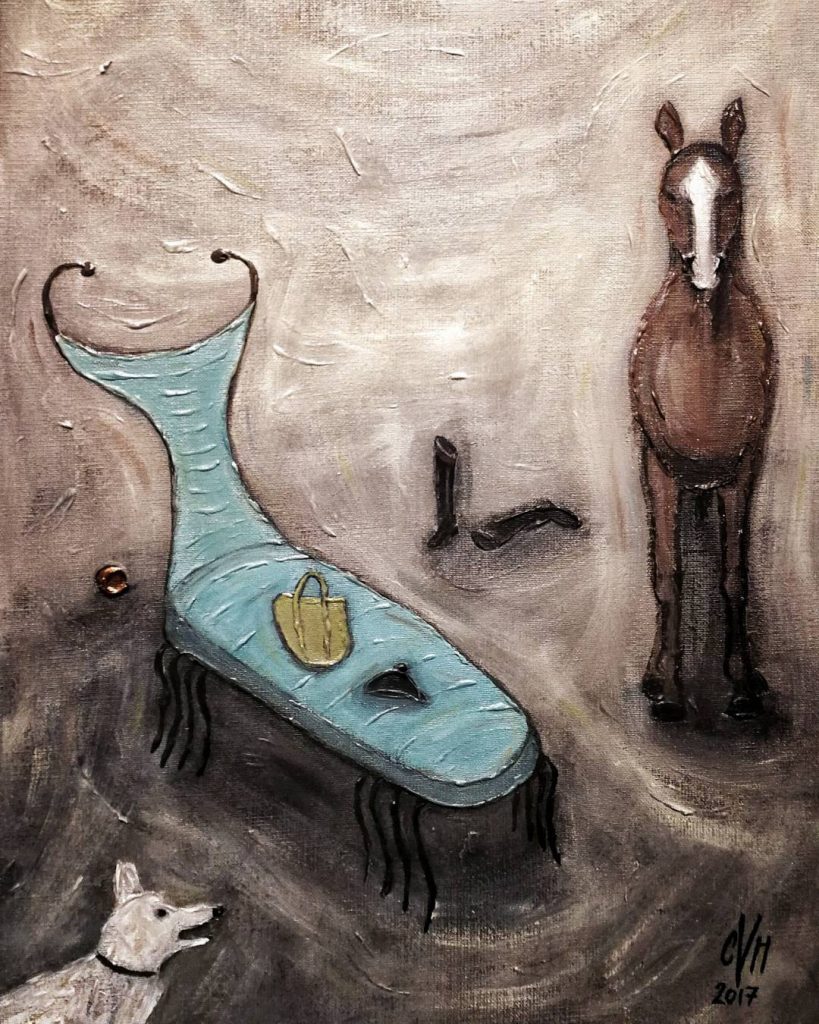 What can we expect from you in the future?
I really wish to publish a children's book.
I also want to be able to keep designing and producing furniture, even if not mass produced, but just one-of-a-kind pieces that are like functional sculptures. I think the furniture market is too rigid—everything looks the same, square and masculine. Most furniture designers are male, so it's not surprising. I wish to bring more femininity and unusual designs for my next exhibition.
La Maison Coquette is on view until Dec. 28 at ArtistSpace, Ayala Museum, Makati Ave. cor. Dela Rosa St., Makati City.
Read more:
Local artists to follow on IG for a feel-good feed
Artist Jinggoy Buensuceso's black house takes cues from Singapore Botanic Gardens
Brand-artist collaboration is the win-win answer to more creative products
TAGS: artistspace arts Ayala Museum be cheryl hironaka furniture nolisoliph painting