Crispy Pata is Rod Ongpauco's proud—if not accidental—invention.
Though he was convinced not to attend the shoot (the first in a few years), Rod stands in the living room clad in a suit, and someone from our team whispers to us, "I just really want to shake his hand and say thank you [for Crispy Pata]."
Long before it became a staple, a guilty pleasure, and the archetypal centerpiece of any Filipino fête, matriarch of the clan and Barrio Fiesta founder Chit Ongpauco told her son Rod to stop selling Crispy Pata, in turn frustrating a local crowd with a newfound mania for the deep-fried pork. Rod then set out on his own, with sacks of pride making up for the lack of cash, and elevated the Crispy Pata from a cult favorite to a household staple.
"The main thing I consider in building a restaurant," shares Rod, "is coming up with something first and different." It was in Chit's kitchen that Rod's influence took hold. "Mama Chit [told us to] stop treating friends [to the restaurant], so I got leftover lechon, seasoned it with patis and betsin, and deep fried it." While we've all since pigged out on the crispy paa ng lechon, back then it was laughable, almost nonsensical, to purchase a paper bag full of it. To Rod, though, "it was a kind of unexplained feeling when God gives you a gift." He sold it for three pesos a piece and soon enough, Barrio Fiesta became known for serving the notorious Crispy Pata.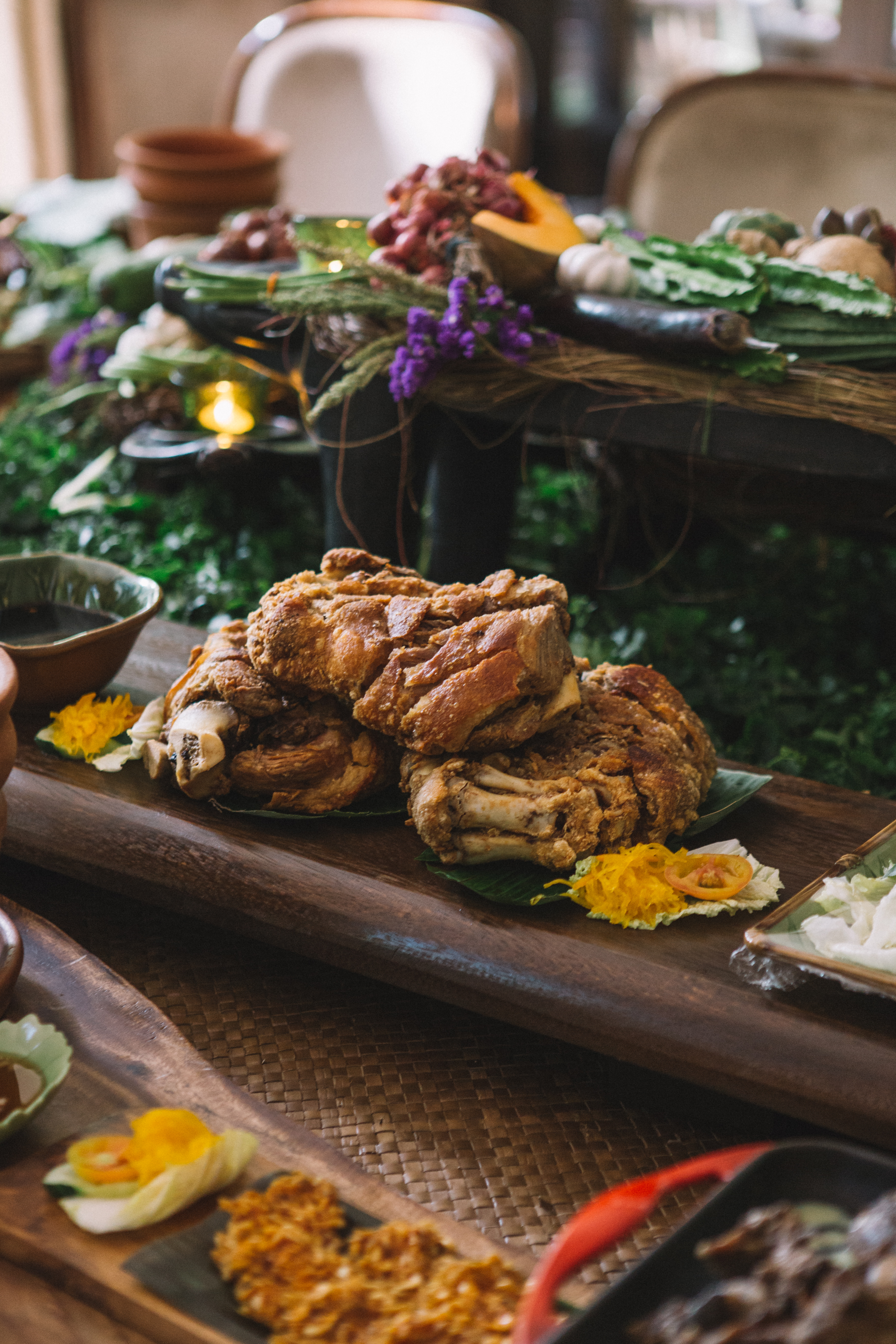 Mama Chit's eventual prodding for him to pay due expenses for the income he was earning resulted to a brawl that lead him to stop selling in the restaurant and instead open up his own. A friend who owned a funeral parlor lent him coffin makers to construct a second Barrio Fiesta. is was a time when branching out was practically alien to the public. "It was called Barrio Fiesta Balot-Balot House. . . It was discouraging at first; customers were trying to buy balut or penoy at the restaurant." Soon enough, though, movie producers and celebrities were taking out Crispy Pata by the palayok.
"I know about the food scene in 1965 only from the older generation," shares food writer Clinton Palanca. "But what everyone seems to agree on is that there weren't many restaurants back then—people mostly ate at home—and not many were Filipino restaurants. So to go out to eat Filipino food was a bit odd, but you'd do so if you could get something that you couldn't readily cook at home. So Crispy Pata was a perfect centerpiece dish."
Over years of turning far-fetched concepts into unparalleled hits, Rod has established a colony of restaurants and done a host of firsts for local dining: the first lechon manok at Bakahan at Manukan, the first Pinoy food servings on banana leaves, the first "Ihaw-Ihaw," the first Singing Cooks and Waiters that saw the staff singing and dancing to the pompous tunes of the '80s, the era when his restaurants were not only novelties but tours de force.
Back at the shoot, Rod nitpicks one of the dishes that his daughter Happy prepared. "Ano ba ito? You put bagoong in the egg." "I just got the creativity from you, Dad," she retorts.
Taking her cue from her father, chef Happy Ongpauco-Tiu made her mark in an industry that was once shaped by Rod and Chit but now nearly belongs to a generation over whom Barrio Fiesta wields a waning influence. Arguably, the family restaurant stands as a sentimental structure that recalls how Filipinos used to dine, before the fads and the fusions took the stage.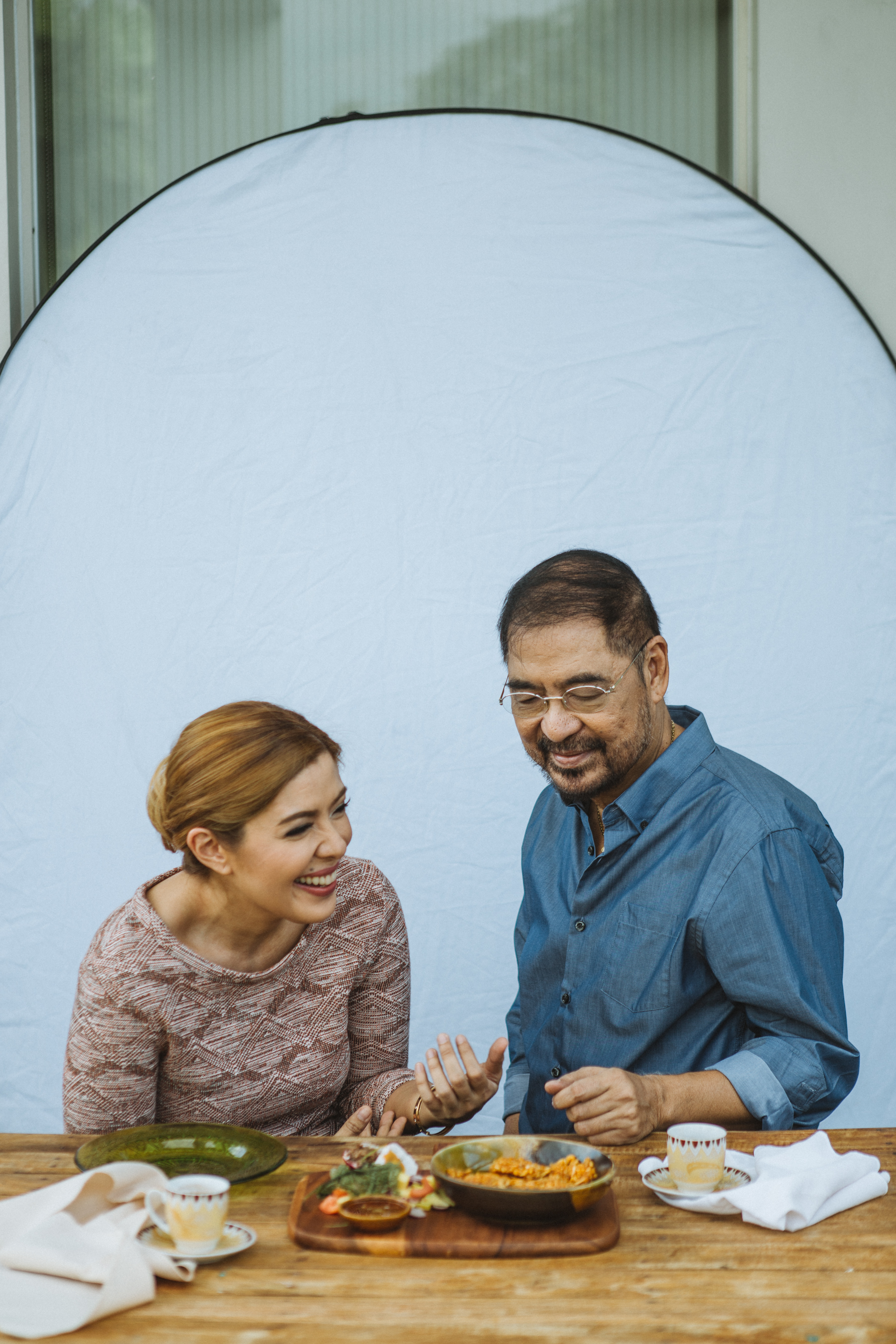 It's natural to presume that the craft is in the Ongpaucos' blood, yet upon closer inspection, we'd see that it's the culture passed through generations that has really made the chef. "In the summers, [my sisters and I] were required to work. I was seven, selling outside all the kakanins, billing out customers, running around. For us, it was play, but for [my dad], it was really training." She had a papaya farm in Antipolo which would supply fruits to the family restaurants. "He didn't give us allowance. Our money came from that." A decade later, Rod's Singing Cooks and Waiters was theirs to helm.
"[But] I'm sorry to say that I fired them, one at a time," recalls Rod, which Happy rebuts with this little detail in good humor: "Actually, he fired my sisters! I don't know why he's saying he fired me!" After formal culinary training, Happy now has several restaurants to her name. Her specialties include French, Italian, Spanish, Thai, Vietnamese, and, naturally, Filipino.
While Rod once thrived from coming up with firsts, the industry has since grown too crammed and cutthroat for almost anything to be called original. As Palanca puts it, Happy Ongpauco-Tiu is "playing in a crowded field," where food trends are fiercely documented like daily news, and where Barrio Fiesta is a sentimental shrine upstaged by its modern counterparts. "We still get out loyal clients," Happy says. "The people who grew up with Barrio Fiesta—but they're all growing old."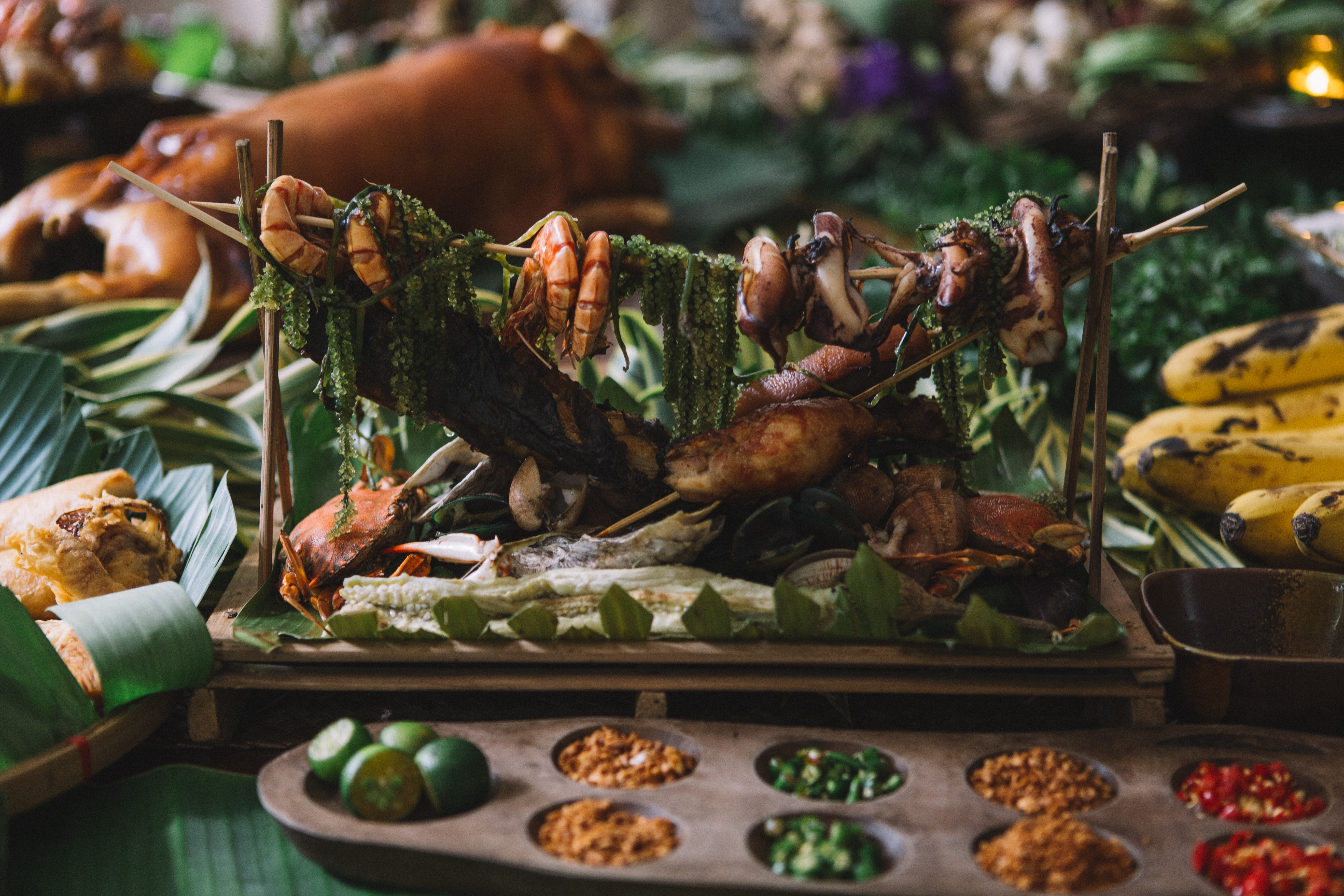 "I think the nativism of Barrio Fiesta became a bit passé in the '90s, which were a turning point in eating out," says Palanca. "Airfares had gotten more reasonable so more people traveled. . . The Japanese, Italian, and Thai restaurants really boomed during that time. . . There were already the beginnings of a modern Filipino food scene."
Like any industry, it's a shifting landscape. It's no longer 1965 where a stroke of genius is at once rendered revolutionary. Notwithstanding the fading legacy of Barrio Fiesta, Rod and Happy keep a steady forward march. Apart from opening a second brand of Tsokolateria in Tagaytay, Happy relates plans of launching a healthy baon concept called "Mom Made" this year. There's also the bespoke catering business that she started last December 2015. She calls it Private Dining—borne of "the guilt of hoarding things," she says—where she creates imaginative tablescapes in her client's homes and uses her private collection of plates and cutlery to serve dishes from international cuisines.
Outside Metro Manila, Rod furthers the empire he started half a century ago. Isdaan, a floating restaurant complex with branches in Tarlac and Laguna, is now seeing a third, more colossal incarnation. Isdaan Nueva Ecija will similarly see jugglers, singing waiters, and well-meaning visitors shouting "Tacsiyapo!" as they hurl their 20-peso plates against a freedom wall. Rod's concepts are notable as much for their culinary achievements as their settings akin to a carnival.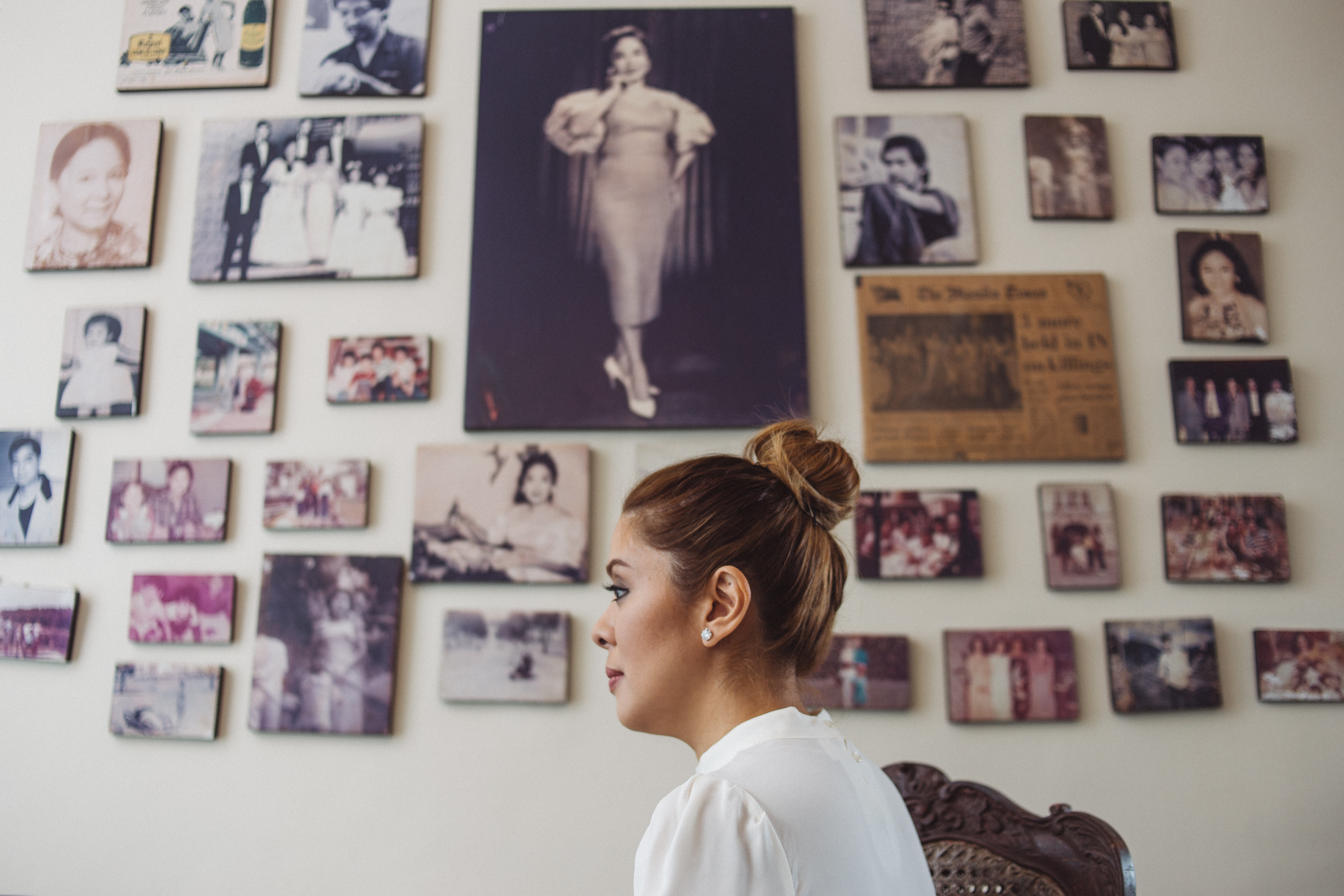 Recollections of the heritage that shaped the Ongpaucos and Filipino dining find residence in Happy's restaurant, Pamana. There, hundreds of old photographs line the walls like relics alluding to the longstanding legacy of the clan. "I just wanted to showcase what the heritage of my family is," says Happy. "Here, I have a small museum of my lolos and my lolas and everybody." Today, there might just be a new piece of memorabilia to be hung. Happy's siblings are paying a visit after the shoot, and Crispy Pata is one of the dishes on Happy's elaborate tablescape. There isn't exactly what you'd call a historical moment, but something simpler yet equally out of the ordinary is taking place. "It's really rare that my dad [allows] his picture to be taken," Happy says. Hence, a family pictorial is in order—to spawn another addition to three lifetimes' worth of lasting portraits.
This story was originally published in Southern Living, February 2016.
Writer: PRISTINE L. DE LEON
PHOTOGRAPHY ARTU NEPOMUCENO