In Baguio, there is an enchanting structure adorned with rainbow mosaic staircases, paintings, and various recycled miscellany. This assemblage of curios lends the space an otherworldly vibe. This is Kidlat Tahimik and his family's Ili-likha Artist Village. What seems at first glance to be a mere amalgam of artworks and raw materials turns out to be a beautiful, curious, distinct gem in the busy streets of Baguio city proper.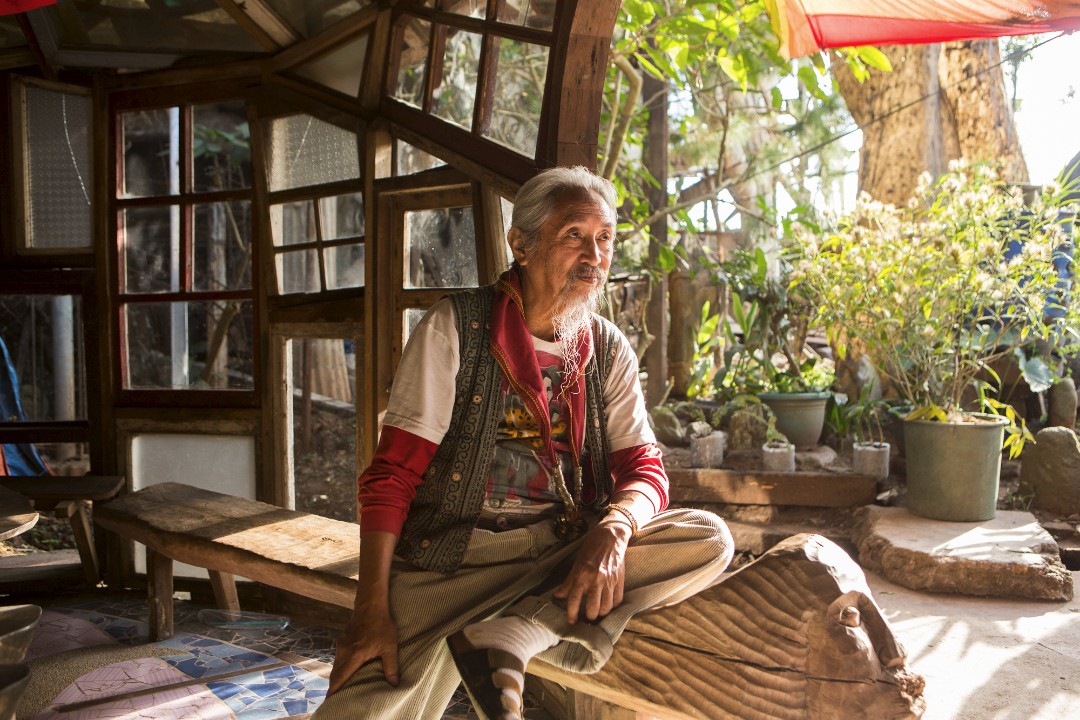 It took many years to finish Ili-likha, but it took Tahimik even more time to finish his latest film Balikbayan #1 (Memories of Overdevelopment Redux III). He started the film in 1979, but it was finished—or at least be in a state appropriate for release—35 years later. "I still haven't completely said goodbye to the film. I'm still tweaking it, although I don't think the story's going to change much," he wrote in an article for Nang, a film magazine, in 2017.
The extensive process is not without its fruits. The film about Enrique de Malacca, Magellan's slave and translator, whom Tahimik surmises to be the first person to travel the world, took him to film festival circuits in Tokyo and Berlin in 2015; the latter was where he received the Caligari Film Prize.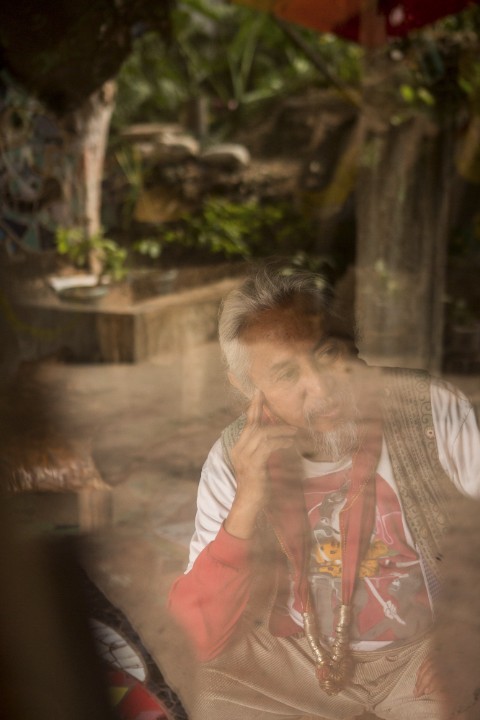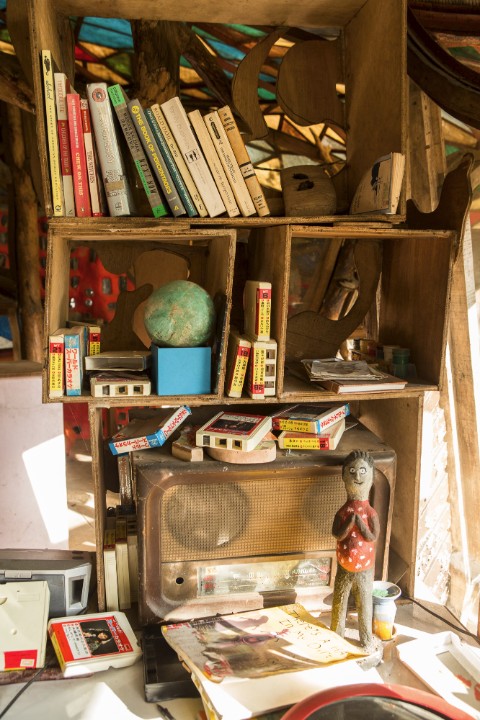 [blockquote] "We all have our own way of framing the world," he remarks. "For the lack of a better term, I call it my dwende. And no two people have the same dwende." [/blockquote]
Three years later, elements from Balikbayan #1 still resonate in his work. For this year's Art Fair Philippines, Tahimik looks within his roots and presents his works as a sculptor—something he learned through his films. Here, he exhibits the Ifugao goddess of the wind called Inhabian in contrast with a depiction of Marilyn Monroe's iconic pose. The installation also features the work of his son, visual artist Kidlat de Guia, which references de Malacca's voyage. The installation examines the diverse origins of Filipino culture as well as the remaining superiority of colonial imagination.
More than these ideas about culture, the origin of Tahimik's traditional yet experimental body of work is his dwende. "We all have our own way of framing the world," he remarks. "For the lack of a better term, I call it my dwende. And no two people have the same dwende."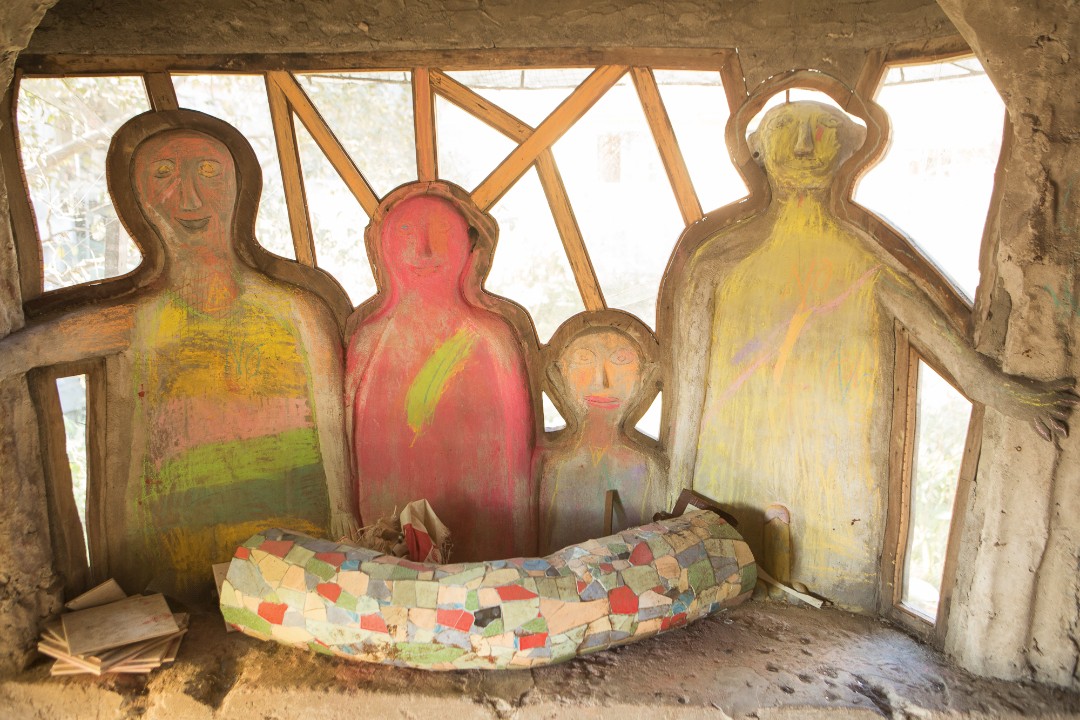 He explains that our dwendes are informed by our upbringing and culture. Tahimik, who was born and baptized as Eric de Guia, took up speech and drama at the University of the Philippines-Diliman with fellow future filmmakers Behn Cervantes and Lino Brocka. After being elected president of the university student council during his fourth year, he went on to get his MBA at the Wharton School of Business. But six months into his economist job in Paris, his artistic sensibilities got the best of him. It took him to a farm in Norway one summer where he "[flipped] hay half of the day, and [wrote] a play the other half." He eventually garnered the attention of Werner Herzog, who helped produce his first film Mababangong Bangungot (Perfumed Nightmare), which earned accolades from Susan Sontag and Francis Ford Coppola.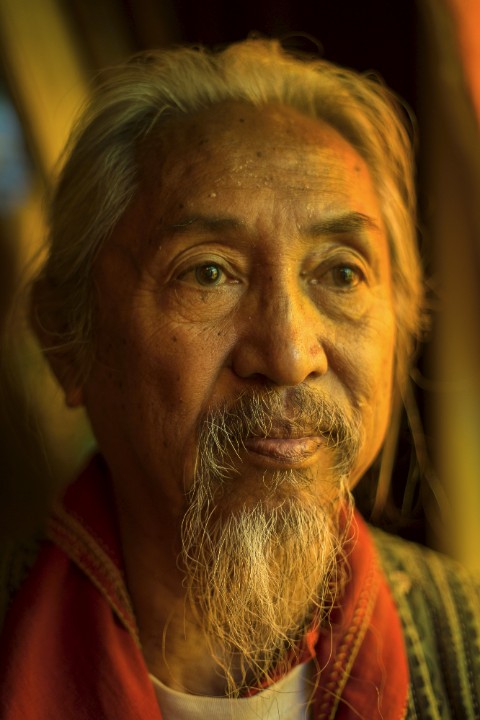 Baguio, where Tahimik was born and currently resides in, remains an influence, one way or another, all as part of his own dwende. It stands as an almost-megacity flanked by what he calls a cosmopolitan outlook on one side, and an indigenous mindset on the other. Tahimik's films, beginning with his first, critique this mélange of divisions pervading the city, and the Philippines as a whole—the rich and the poor, Western values and colonial values—through lens that are screened with humor, daily lives, and an uncanny sense of honest eyes.
This story originally appeared in Northern Living, March 2018.
Read more:
Lav Diaz on why he makes long films set in the past
How Brilliante Mendoza is saving Philippine cinema
What it means to be a curator, according to Joselina Cruz
Writer: LEX CELERA
PHOTOGRAPHY GERIC CRUZ