Tucked away in a quiet corner of Ignacia Place, there sits a restaurant with a dark, industrial interior—a refreshing contrast from the typical bright, kitschy designs that frequent the North. But don't let the austere impression intimidate you; the place is actually quite cozy, and the food, warm and comforting.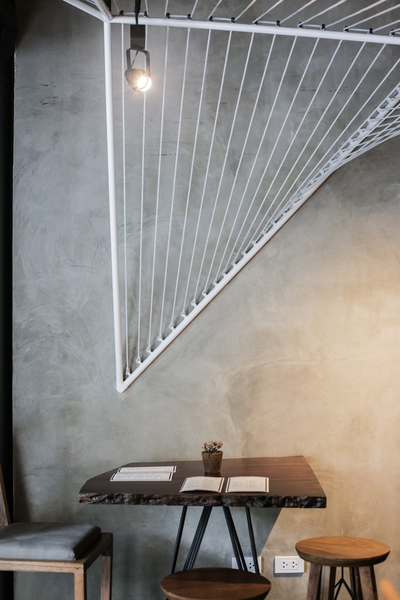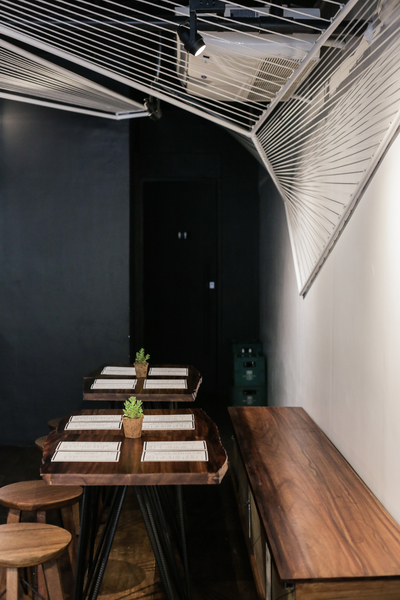 The name 'Half Saints' isn't just arbitrary word play; one of the restaurant's main values is promoting sustainability by sourcing their ingredients responsibly whenever possible. This means supporting local startups and farmers, even if it means paying a premium. A humble act of service to our countrymen, offset by the decadence of their food. Just try ordering some of the crowd favorites, and you'll understand why they call themselves half saints.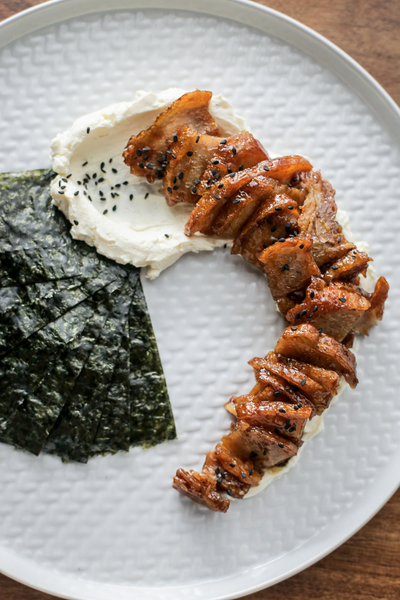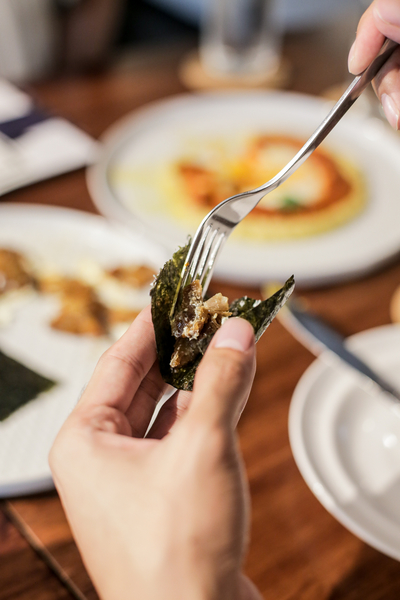 For starters, the Chicharron Teriyaki: a plate of crisp strips of pork glazed with teriyaki sauce and cooked in the style of Camiling bagnet (an ode to the hometown of owner's mother), served with a hefty dollop of whipped cream cheese, and sheets of dried Japanese seaweed. The Tarlac-meets-Tokyo dish is meant to be eaten like a DIY taco: smear a generous spoonful of cheese on the nori, top with a slice of pork, and devour it in a single bite.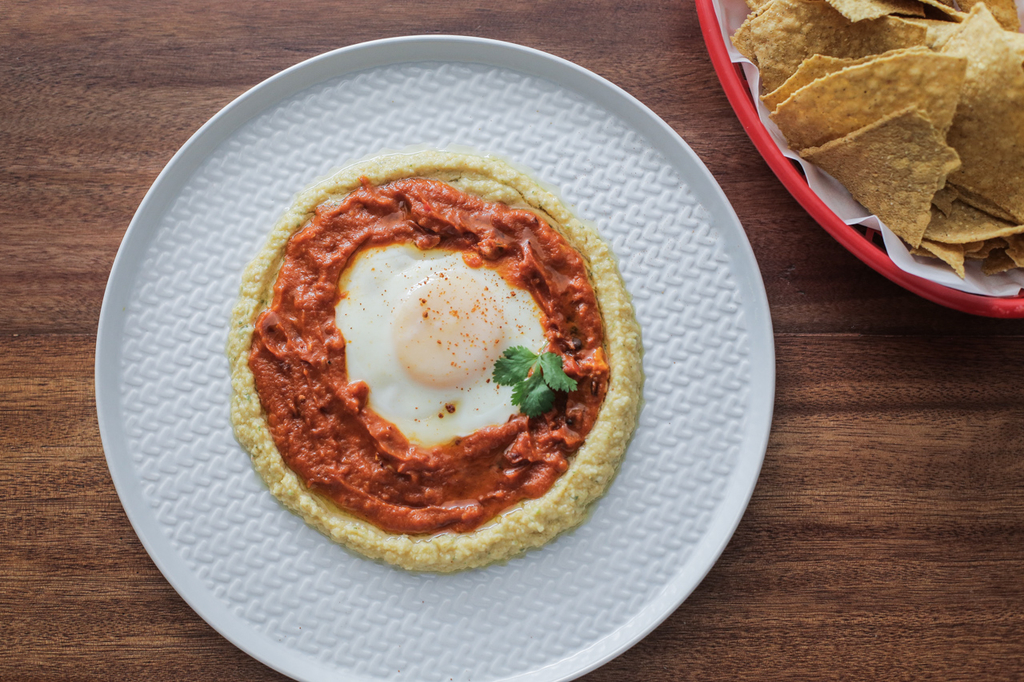 Fans of Middle Eastern cuisine will want to try the Humshuka: a why-didn't-I-think-of-that combination of hummus and shakshouka (also known as eggs in hell). Served with a bowl of nacho chips, this is your weekend comfort food taken up a notch.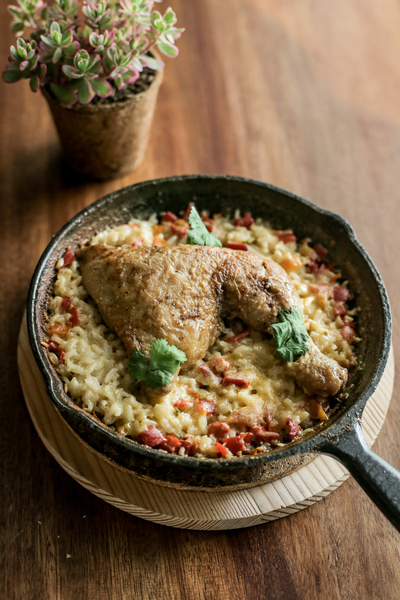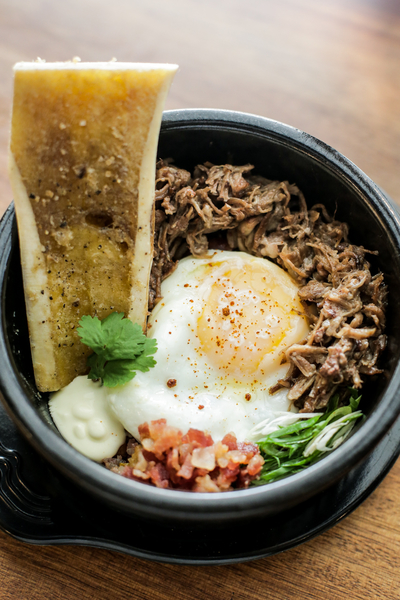 For a taste of Latin American flavors, the Arroz Con Pollo might satisfy your cravings: chicken cooked in an aromatic sofrito base, combined with rice braised in coconut milk. Alternatively, you can try the Gallo Pinto x RBM: shredded beef, bits of bacon, and a fried egg on top of a bed of dirty rice. Did we mention the beautiful chunk of bone marrow on the side?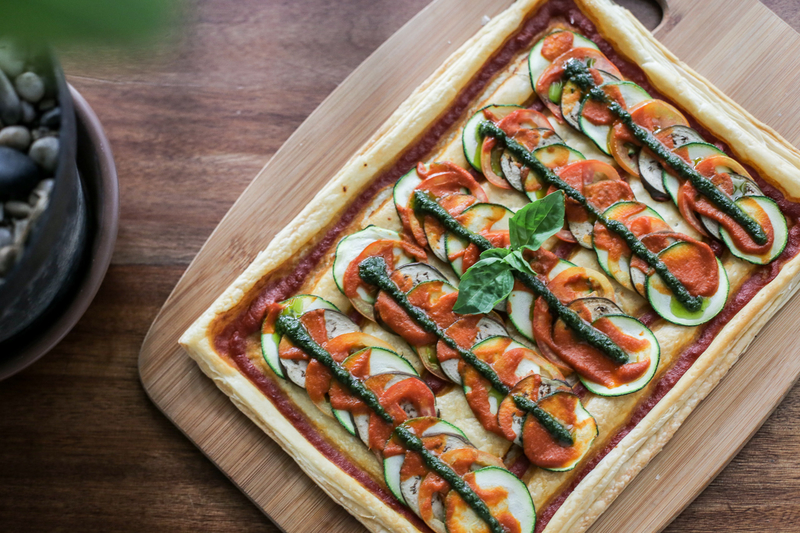 If you're looking for an order to share, pizzas are always a good choice. Just a note, Half Saints doesn't make your typical pizza; instead of a pie dough, they use a puff pastry. The buttery crust is made somewhat 'healthier' with some vegetarian options. Be warned: each slice may feel light in your mouth but it's heavy on the stomach.
The owners may not be a fan of sugary sweets, but that doesn't make their desserts aren't any less decadent.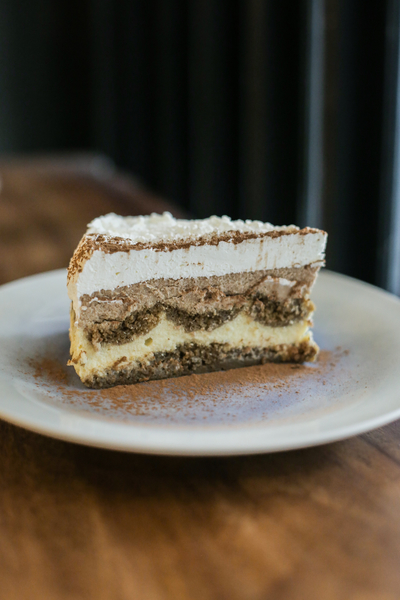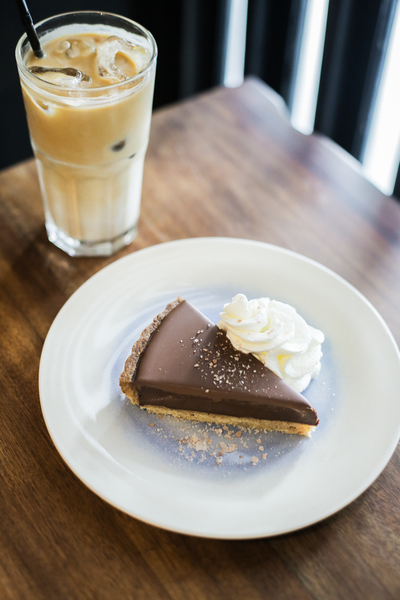 A playful twist on the Italian recipe, the Tiramisu cheesecake is two desserts in one; check out the distinct layers of espresso-soaked ladyfingers, chocolate, and old-fashioned cheesecake.  If you're in the mood for something a little more sophisticated, try the 64% dark chocolate tart. It's sprinkled with Himalayan pink salt, which brings out the flavors of the locally-sourced Davao chocolate. Both desserts pair nicely with a cup of coffee. And you'll be happy to know that their coffee is ethically sourced.
Half Saints is coming up with a couple of new items for their menu, so be sure to watch out for that. (We can't wait for the parmesan ensaymada.)
Read more:
Eat (and drink) like the Cubans do at this BGC cantina
The best HK roast goose might be in this Petron gas station
What happens when a Spanish resto teams up with a craft brewery?
Writer: JESSICA ALBERTO
PHOTOGRAPHY DANICA CONDEZ