Do the police even know what "tambay" really means?
Because it looks like just standing by the street is tantamount to arrest now
Jun 22, 2018
Thousands of people have already been arrested and detained at prisons on the grounds of being a tambay, or idling on the street, since President Duterte's verbal order last week. Police have been going around cities, arresting bystanders and taking them to the precincts, only to be put behind bars.
This directive was taken from a speech by Duterte: "'Yung kalsada, 'yung highways are—we built it for the law-abiding citizens. Ang mga kriminal dapat diyan, ang mga durugista, they are not supposed to be there. So my directive is 'pag mag-istambay-istambay diyan sa, sabihin niyo, 'Umuwi kayo. Kay 'pag hindi kayo umuwi ihatid ko kayo doon sa opisina ni ano—Pasig."
Philippine National Police chief Oscar Albayalde said that the police only arrest "violators of ordinances, such as drinking, smoking or urinating in public places; illegal peddling; littering; breaching peace and order; and concealing deadly weapons," Inquirer reports.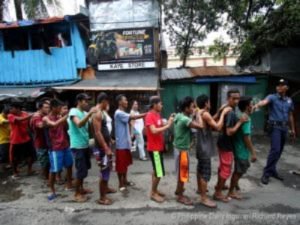 After a week though, more than 7,000 people have already been arrested. Are all these people really guilty of violating local ordinances?
According to presidential spokesperson Harry Roque, "many them may have been called out by the police. Those arrested were not just arrested because they were idling around but because they were idling while committing a crime." (Idling while committing a crime? Thousands just idling around in the middle of committing crimes, without the thought of making a run for it to, you know, escape the cops. Amazing.)
A Facebook post by a certain Ttam Nanaramid however, shows otherwise. In the post, Nanaramid narrates his experience being "invited" by police to be interrogated at a police station in Guadalupe. Nanaramid and his companions were all properly dressed and were simply standing outside their friend's home, waiting for the latter to come out and join them on a night out. And yet when the police brought them to the station, they were put behind bars without any explanation.
This is a blatant violation of human rights. Arrests may not be made without a warrant of arrest, and the only exceptions, as stated in the Revised Rules on Criminal Procedure (Rule 113, Sec. 5), are arrests made by a peace officer or a private person and only in the following instances:
When, in his presence, the person to be arrested has committed, is actually committing, or is attempting to commit an offense;
When an offense has just been committed and he has probably cause to believe based on personal knowledge of facts of circumstances that the person to be arrested has committed it; and
When the person to be arrested is a prisoner who was escaped from a penal establishment or lace where he is serving final judgment or is temporarily confined while his case is pending, or has escaped while being transferred from one confinement to another.
Moreover, this begs the question: What exactly is a tambay?
By pure stereotype, we can say tambays are people who sit around drinking by the street all day, shirtless. But with Nanaramid's experience, it looks like anyone standing idly on the street can be a tambay.
If the police plan to take Duterte's directive literally (which technically they shouldn't, because it's not even a law put on paper), they better be sharper on their judgment of people. Indiscriminately arresting citizens and putting them in jail isn't a far cry from both the controversial, terrible drug war, and the atrocious kidnappings during martial law—and god knows we all want nothing like that happening ever again.
Header image courtesy of Inquirer.net.
Read more:
What to do when confronted by the police during a rally
This Instagram account documents Duterte's drug war
How to properly report a missing person
Why Kian's death is a breaking point for Duterte's drug war
Voting for Duterte was a mistake
TAGS: anti-tambay Duterte manila Philippine National Police philippines police president duterte tambay