'100 Tula Para Kay Stella' director returns to Pista ng Pelikulang Pilipino with 2 films
Plus six other competing full-length movies in the film fest
Jul 12, 2018
For cinephiles, August is the most wonderful time of the year. After Cinemalaya on Aug. 3 to 12 and Eigasai that ends on Aug. 26, Pista ng Pelikulang Pilipino (PPP) follows on the 15th until the 21st.
Organized by the Film Development Council of the Philippines (FDCP), PPP is a week-long celebration of Filipino films where all theaters exclusively screen selected local movies. It puts the spotlight on eight films that compete with each other.
And in its second year, this film competition that gathers production teams—amateur or experienced—brings back notable directors and writers in the pool. One of them is Jason Paul Laxamana, director of last year entry 100 Tula Para Kay Stella, which had a fair share of the public's attention.
This year, Laxamana brings two of his films on the table, The Day after Valentine's, which stars Bela Padilla and JC Santos, protagonists of his previous film Stella, and Bakwit Boys.
Learn more about the eight competing films this year here:
The Day After Valentine's

Dir. Jason Paul Laxamana
This film follows the story of Kai (JC Santos), a troubled man with lots of problems, and his "Ms. Repairman" Lani (Bela Padilla), a confident and collected woman who seems to have life figured out.
Bakwit Boys
Dir. Jason Paul Laxamana
"Bakwit Boys" comprise of four brothers (Ryle Paolo Santiago, Nikko Natividad, Vance Larena, and Mackie Empuerto) who get a shot at their dreams when a rich city girl discovers their musical talent. Along the road to success, their unity as a family is put to test.
Ang Babaeng Allergic sa Wifi
Dir. Jun Robles Lana
Norma (Sue Ramirez) used to be online all the time until she was suddenly diagnosed with Electromagnetic Hypersensitivity, a disease that makes her literally allergic to Wifi and signals. She's forced to move to her grandmother's house in the province, where there's no signal, putting her relationship with her boyfriend Leo (Jerome Ponce) to test.
We Will Not Die Tonight
Dir. Richard Somes
Kray (Erich Gonzales) is a stuntwoman and all around racketeer who doesn't take a pause in her career and in life, aspiring to hit the jackpot someday. But a mismanaged deal shakes down her principles and skillset, forcing her to do anything just to literally survive.
Unli Life
Dir. Miko Livelo
Benedict (Vhong Navarro) is a celebrity podcast host who got dumped by his girlfriend Victoria (Wynwyn Marquez) the night he plans to propose. Heartbroken, he walked into a mysterious bar with a mysterious drink that could make him go back in time to correct his present.
Signal Rock
Dir. Chito Roño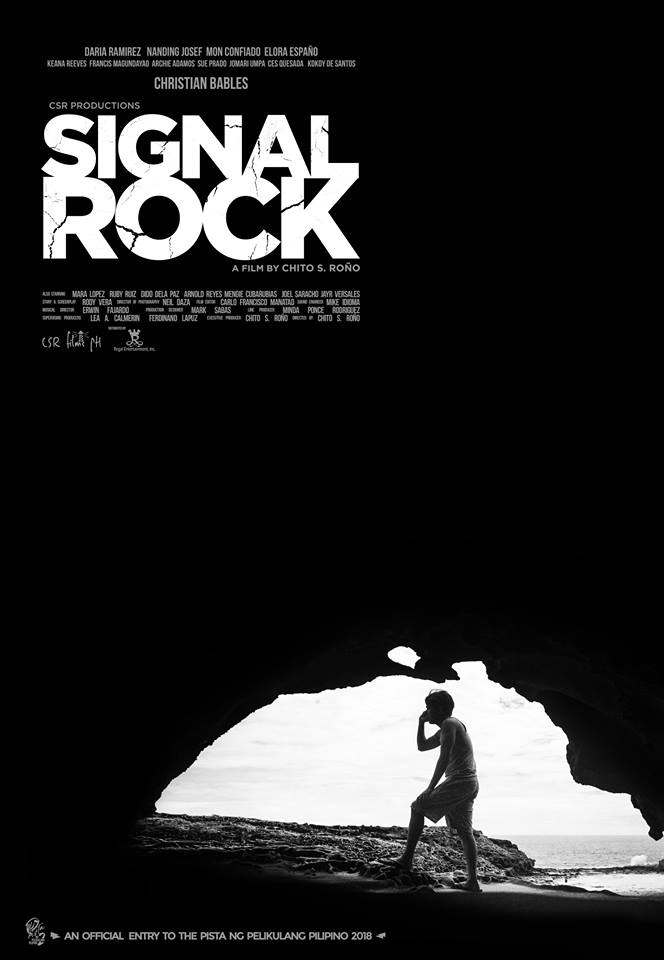 The story centers on Intoy (Christian Bables), a no-hoper in a small town, who fakes legal documents and sets up false endorsements to help his sister in Finland win a child custody battle. In the process, he unravels town secrets about young women seeking greener pastures.
Madilim Ang Gabi
Dir. Adolf Borinaga Alix, Jr.
President Rodrigo Duterte intensifies his war on drugs. Sara (Gina Alajar) and Lando (Phillip Salvador), trying to leave behind their criminal past, are forced to revisit past acquaintances to find their missing son Alan (Felix Roco).
Pinay Beauty
Dir. Jay Abello
A comedy-drama film starring Chai Fonacier, Maxine Medina, Edgar Allan Guzman, Janus del Prado, Nico Antonio, Hannah Ledesma, and Mariko Ledesma.
Get more stories like this by subscribing to our weekly newsletter here.
Featured image courtesy of Bela Padilla on Facebook
Read more:
LOOK: Films that will compete in this year's Cinemalaya
Lav Diaz on why he makes long films set in the past
Micro-theater Cinema '76 opens its new branch in QC
TAGS: arts film development council of the philippines local films nolisoliph Pista ng Pelikulang Pilipino