A 22-year-old paper engineer from Calamba, Laguna received Honorable Mention for the 2018 Emerging Paper Engineer Prize by The Movable Book Society earlier this month.
"Popfolio" is Amy Nayve's interactive portfolio with "flaps and pull tabs, featuring the best of (her) college projects."
Nayve just graduated from De La Salle College of Saint Benilde last March with a BS Industrial Design degree. Between then and now, she's been a freelance designer.
Just like the pop-up books she engineers, "finding out about the competition for the Emerging Paper Engineers was synchronicity working for me," says Nayve. Scrolling through Facebook, she learned about The Movable Book Society and that they give awards for pop-up book designers and enthusiasts at their biennial conference.
The Movable Book Society is a 25-year-old nonprofit organization based in Utah for collectors, artists, and producers of pop-up books.
"It was just the right timing that one of the award categories was open to undergraduate and graduate students [worldwide]. I decided to enter two of my works in that category and Popfolio got the Honorable Mention," she tells Nolisoli.ph.
The Emerging Paper Engineer Prize is given to undergraduate or graduate students worldwide whose projects must include pop-up or movable structures created during a course of college study.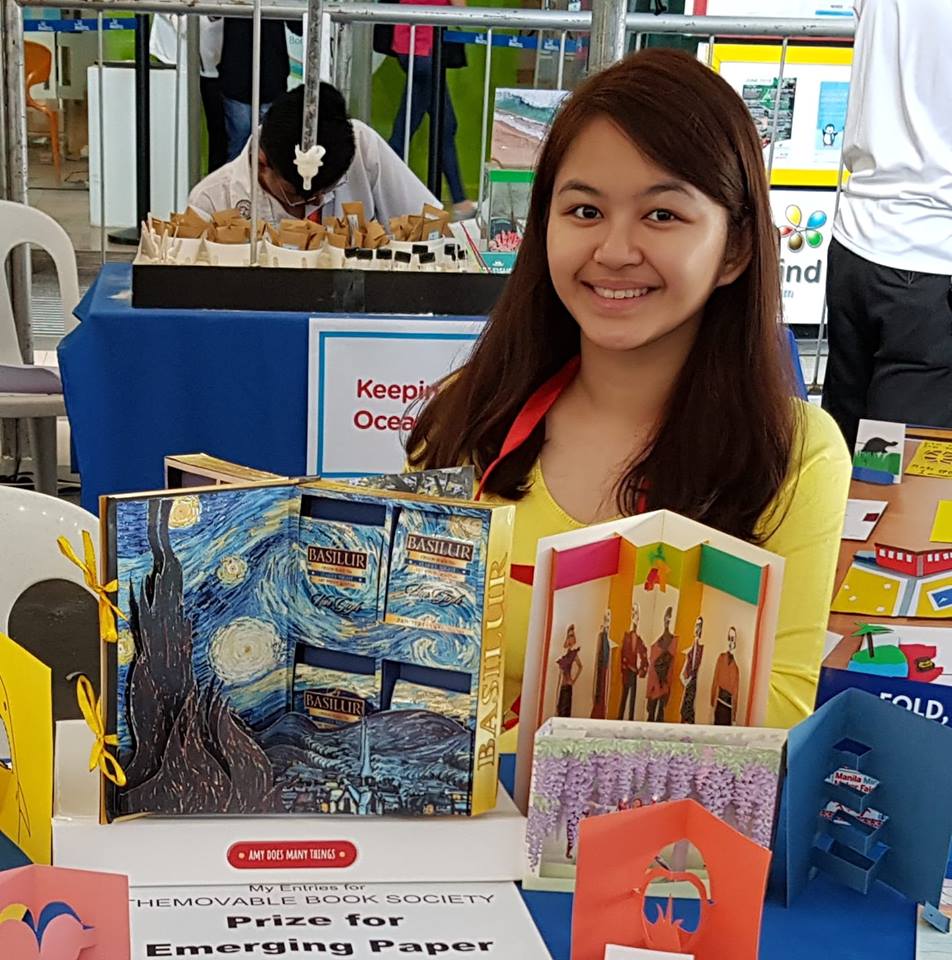 What's a paper engineer?
A paper engineer is someone who designs pop-up books and other movable paper structures. It's different from paper artists in that there are usually dynamic moving elements in our work which require engineering. Most of the time the job title Paper Engineer refers to a pop-up designer.
How does one become a paper engineer?
Anyone can become a paper engineer through practice and experimentation. It also helps if you can learn from a master. Some of my inspirations include Matthew Reinhart, Robert Sabuda, Bruce Foster, Andy Mansfield, and Colette Fu. I also collect pop-up books and cards that inspire me. I learned first by observation and imitation of existing designs. Eventually, I understood the mechanisms that make the pop-ups work and I was able to create my own designs. I learned many different techniques from my own experimentation and from simple tutorial videos on YouTube, and now I can combine those techniques in an innovative way to make my work truly my own.
I'm still a long way from becoming a master paper engineer, but every day, I put in a little bit of my 10,000 hours to bring me closer to mastery. As with any skill, practice brings progress. It's about pushing yourself to the limit, and then eventually realizing that the limit does not exist.
When did your interest for pop-ups start?
My love for pop-up books started in my early childhood. I was blessed to have supportive grandparents who showered me with books, toys, and art materials. They gave me my first pop-up books, many of which are still with me today.
My mom also encouraged me to be creative and we did crafting together. I remember making simple pop-up cards for her on Valentine's day. My mom also helped me make my very first pop-up book, which was a carousel pop-up dollhouse that I made for a school project. We created it by imitating the mechanisms in a pop-up book given to me by my grandma. Back then, I wasn't thinking of it as a career. My tiny 9-year old self just didn't want to carry a heavy wooden dollhouse to school.
I made more pop-up books on my own when I reached high school. This time, I intentionally inserted my craft whenever I could. For Filipino class, I made a pop-up book of Ibong Adarna. For science class, we were instructed to make a scrapbook of what we learned every quarter. I chose to make two pop-up books about Taxonomy. For an inter-year contest in my school about countries around the world, I designed a giant pop-up of St. Petersburg, Russia to be used as a backdrop for my section's skit. I also won a national scrapbooking contest by Expressions bookstore by adding pop-up elements to my entry.
Can you tell us more about Popfolio?
My Popfolio is actually my college portfolio of all my Industrial Design works. I decided to present my portfolio to my clients in a pop-up way because I think the 3D interactive medium can better show the client how my designs look and work in real life. The mechanisms in the pop-ups were designed to emulate how the real-life object works. That's why I engineered the moving clocks, rocking chair, scrollable apps, and even the pop-up book within the pop-up book.
It took me the entire trimester to conceptualize, design, layout, print, cut, and assemble the book. And this was all done manually. I'm thankful to have had help from my close friends with cutting and gluing of the moving pieces. The results were worth it!
What have you been up to lately?
Right now, I'm putting my brand Pumapapel Crafts out there. I am offering my services for custom pop-up cards and books, as well as other paper art commissions. Personally, I'm working on various pop-up designs centering on things that inspire me. Recently I finished work on a Filipino Street Food Vendor Collection—three pop up cards featuring a taho vendor, a fishball vendor, and a sorbetero. Now, I'm completing the Carnival Collection—white pop-up cards using the intricate paper cutting method featuring a moving Ferris wheel, a carousel, and a roller coaster, which is still in the works. Sometimes when I don't feel like doing pop-ups, I like to do paper tole, paper quilling, or the good old-fashioned origami.
When I'm not in my studio, I conduct Pumapapel Crafts workshops for kids and adults alike. This year, I've facilitated at Beacon Academy, the Mind Museum, and SM City Manila with more on the way! I love talking about my craft and teaching it to others. I do believe that kids will benefit from being exposed to arts and crafts activities such as making pop-ups, just like I did when I was young. Paper engineering is unique in that it engages both the left brain and the right brain, because of the intersection between art and science that goes into the design. It also happens to be an art form that exists in 2D and 3D at the same time. It amazes me and inspires me that you can have a small flat card open into a three-dimensional sculpture.
I'm also exploring the possibility of creating Filipino pop-up books. Hopefully, I will find a publisher, cause I would love to create pop-up versions of classic stories like Ibong Adarna, Noli me Tangere, Florante at Laura, Jose Rizal's short stories, and Filipino mythology, among others.
Aside from creating pop-up books, what other hobbies are you into?
I'm actually invested in many creative outlets, not just paper engineering. I have a long list of hobbies including singing, video making, song translating or salinawit, voice acting, theater, miniature art, writing, and entrepreneurship—nearly any activity where I can be creative inspires me! Right now, I'm focusing on my career as a paper engineer.
My pop-up brand, Pumapapel Crafts, is my number one priority now. I am fully committed to being a professional paper engineer. I'm going to be conducting workshops at various venues like schools, churches, or cafes.
Keep updated with Nayve's art and new about her workshops and products for sale on her Facebook page and Instagram.
Featured image courtesy of Amy Nayve
Read more:
This online bookstore is filling the gap in the Filipiniana market
This will give you a reason to take proper care of your books
The Craft Central now has a cafe in Vertis North
Writer: YAZHMIN MALAJITO