WATCH: China sends menacing message to Filipino soldiers, sends polite warning to Americans
China "calibrates" warnings to American and Filipino soldiers flying over disputed airspace
Aug 14, 2018
Safe to say it was a Chinese soldier who, in a loud and insolent tone, ordered a "Philippine military aircraft" to "leave immediately… or you will bear responsibility for all the consequences" of flying over what he insisted was Chinese territory.
The screaming male voice was captured by radio equipment of a US reconnaissance plane flying over Zamora (international name: Subi) Reef in the West Philippine Sea.
Zamora is among the six Philippine reefs within the country's 370-kilometer Exclusive Economic Zone that now host various military facilities constructed by China's People's Liberation Army.
Before the hysterics addressed to the Filipino pilots, the US plane received a similar message, reminding it that "China has sovereignty over the Nansha islands, Subi Reef and its adjacent waters" whose supposed airspace the Americans flew over.
"Leave immediately and keep far off to avoid misunderstanding," the voice from the Chinese radio signal added.
The exchanges were aired in a report by the BBC. Correspondent Rupert Wingfield-Hayes noted the difference in tone when the US Navy and the Philippine military were addressed.
Wingfield-Hayes said the Chinese gave the Americans a "polite warning," while the Filipinos conducting a routine flight over their own territory received a "menacing" message.
The incident that happened Friday would have gone unnoticed (It was Day One of the deluge that swamped Marikina City) if not for concerned parties who picked up the separate reports aired by the BBC and CNN.
While the BBC highlighted the radio messages, CNN correspondent Ivan Watson raised an alarm over how massive the sizes of Chinese military installations within our territory have become.
Both reports mentioned that as the US Navy plane circled the area, it received about "five or six" such warnings to leave immediately.
The US aircraft responded the same way each time.  It asserted that American soldiers "are carrying out a legitimate flight in international airspace."
The US pilot identified as Lt. Matt Johnson noted that the warnings were a "routine occurrence" and added that the Chinese warnings "really (have) no effect on any operation or anything we do."
The Americans on board also maintained that "the US will not sit by and allow Beijing to take over the South China Sea."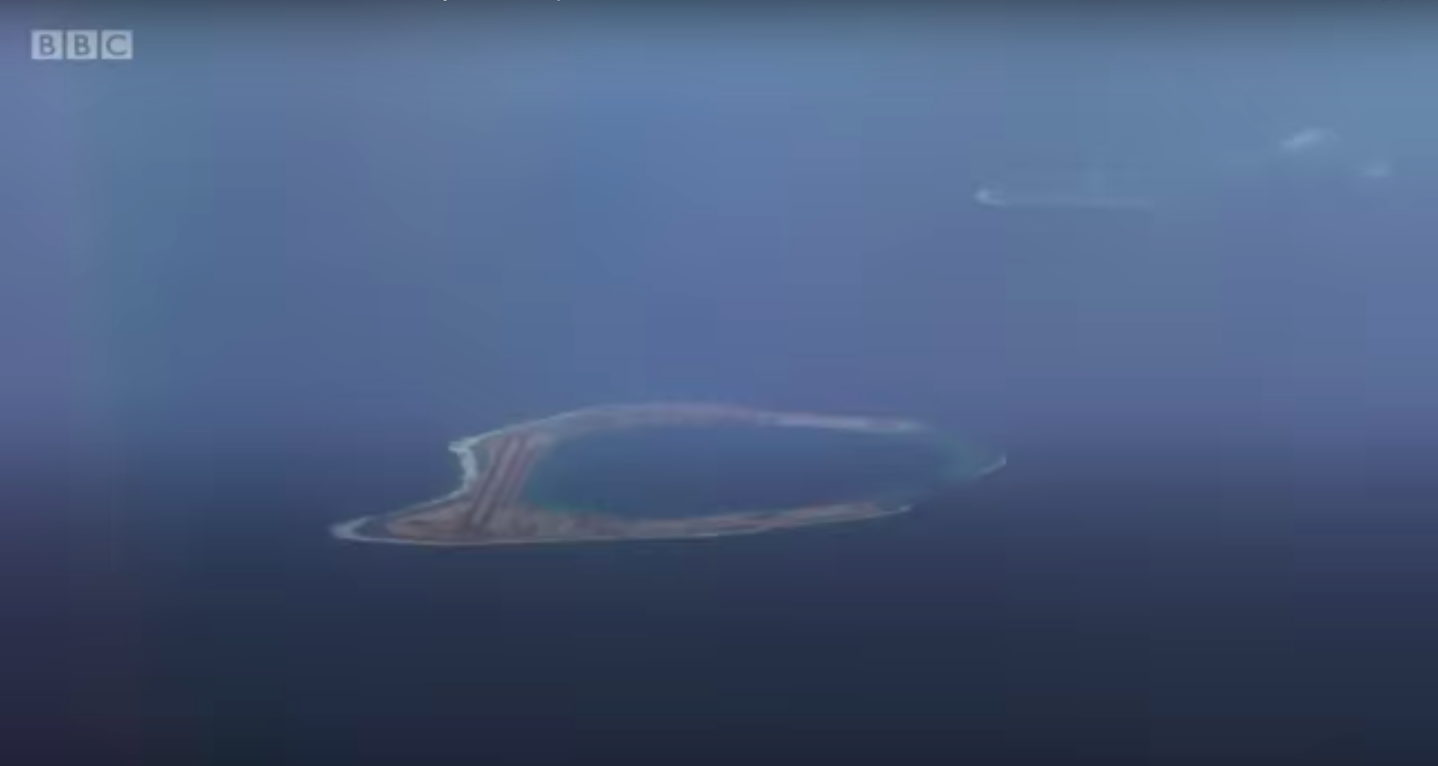 We understand that at present, our leaders' attention remains focused on more "urgent" issues, such as federalism, Charter change and the drug war.
But the reports aired by BBC and CNN are red flags displaying China's infuriating condescension that sadly, appears inspired or fanned by national leaders themselves who have shown nothing but Confucian subservience to her.
That it took foreign soldiers to notice the difference in the tone of voice as the Chinese communicated with American and Filipino pilots already says a lot.
Some observers said it was as if the Chinese "calibrated" their tone according to the receiver's military power. Americans get politeness, Filipinos get menace.
If true, does the Chinese military communicate the same way to pilots of other countries/claimants of some or all islands in the West Philippine Sea like Vietnam, Brunei and Malaysia?
Supreme Court Senior Associate Justice Antonio Carpio has repeatedly said the country's victory in the Permanent Court of Arbitration in The Hague indicates that China's claim over islands it now occupies in our territory is "invalid."
This means not only should Filipino military pilots be able to monitor our territory without being harassed, China also has no business constructing more installations in our islands including Zamora, Kagitingan (Fiery Cross), Calderon (Cuarteron), Burgos (Gaven), Mabini (Johnson South) and McKennan (Hughes) Reefs.
China's insistence that she owns our territory has no basis.  We are comforted by the fact that other countries with similar firepower are not taking her audacity sitting down.
CNN's Watson's agitated voice talked of how China has been "essentially building islands on a massive scale and what we saw was just an incredible amount of infrastructure and development in the three years since CNN last boarded one of these planes and (flew) through that area."
The correspondent talked of "radar towers and air strips and four- to five-storey high concrete buildings, a remarkable amount of infrastructure and that's just one of four different man-made islands that we saw."
It seems foreigners appear more concerned about the incursions than Filipino officials who swear before the flag, with their right hands over their chests, to protect our territory during Monday mornings.
It is also unfortunate that Philippine officials led by Foreign Secretary Alan Peter Cayetano refuse to flex their diplomatic muscles and until now have failed to register any effective and visible objection to China's continuing invasion of our territory. Even Defense Secretary Delfin Lorenzana can do better.
One way to explain: Shortly after the Philippine legal team (where Justice Carpio was a member) won in the arbitration case, newly-sworn President Duterte immediately set the decision aside and extended a warm hug to Chinese President Xi Jinping in exchange for so-called economic opportunities and friendly ties.
Look where this friendship brought us, Mr. President.
Header image courtesy of Inquirer
Get more stories like this by subscribing to our weekly newsletter here.
Read more:
China's making a citizen-ranking system and it's scary
Eat your way through Chinatown for P500 or less
Hawker Chan brings their Michelin star chicken rice and noodles to Manila
TAGS: china philippine territory south china sea West Philippine Sea