Eat your way through Chinatown for P500 or less
Go home with a bag full of treats and a tummy full of food
Feb 12, 2018
A new lunar year is upon us again and that means two things. First, it's another chance for us to call upon the powers that be (or the power of our ancestors, perhaps?) for another shot of good luck for the new year. (Let's just say January was a trial period, for those of us who found ourselves slipping back into old habits.) Second, it means it's that time of the year to catch dragon and lion dances, stuff ourselves with good dumplings, get (or give) lots of ampao, and of course, enjoy the star of the season—tikoy.
And what better way to get ready for all that than by visiting the most iconic Chinese settlement in Manila—the Chinatown in Binondo?
I, with the help of two good friends, explored the lively little town and went home with our tummies full, eco bags heavy with Chinese New Year treats, and having spent only roughly P500 each. Here's how you can do it yourself.
First stop: Cafe Mezzanine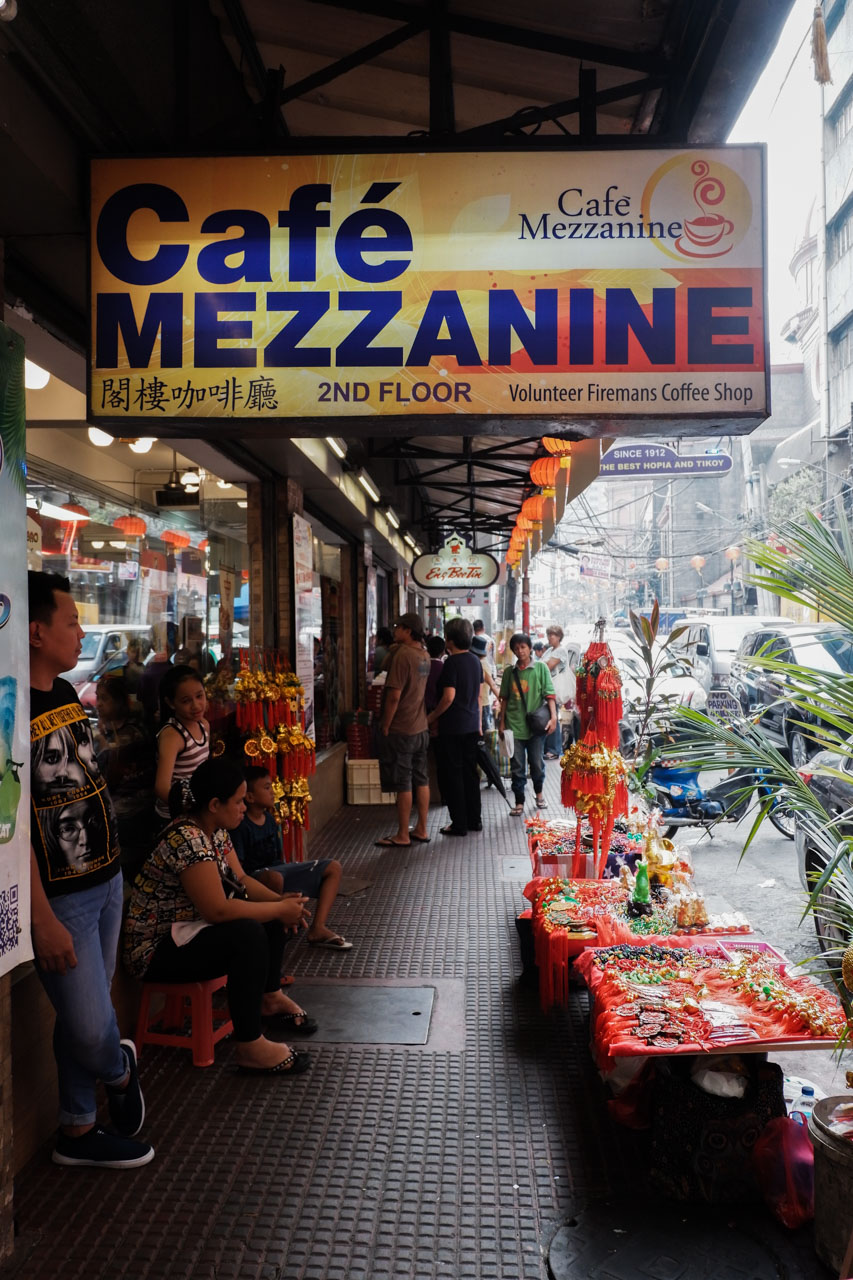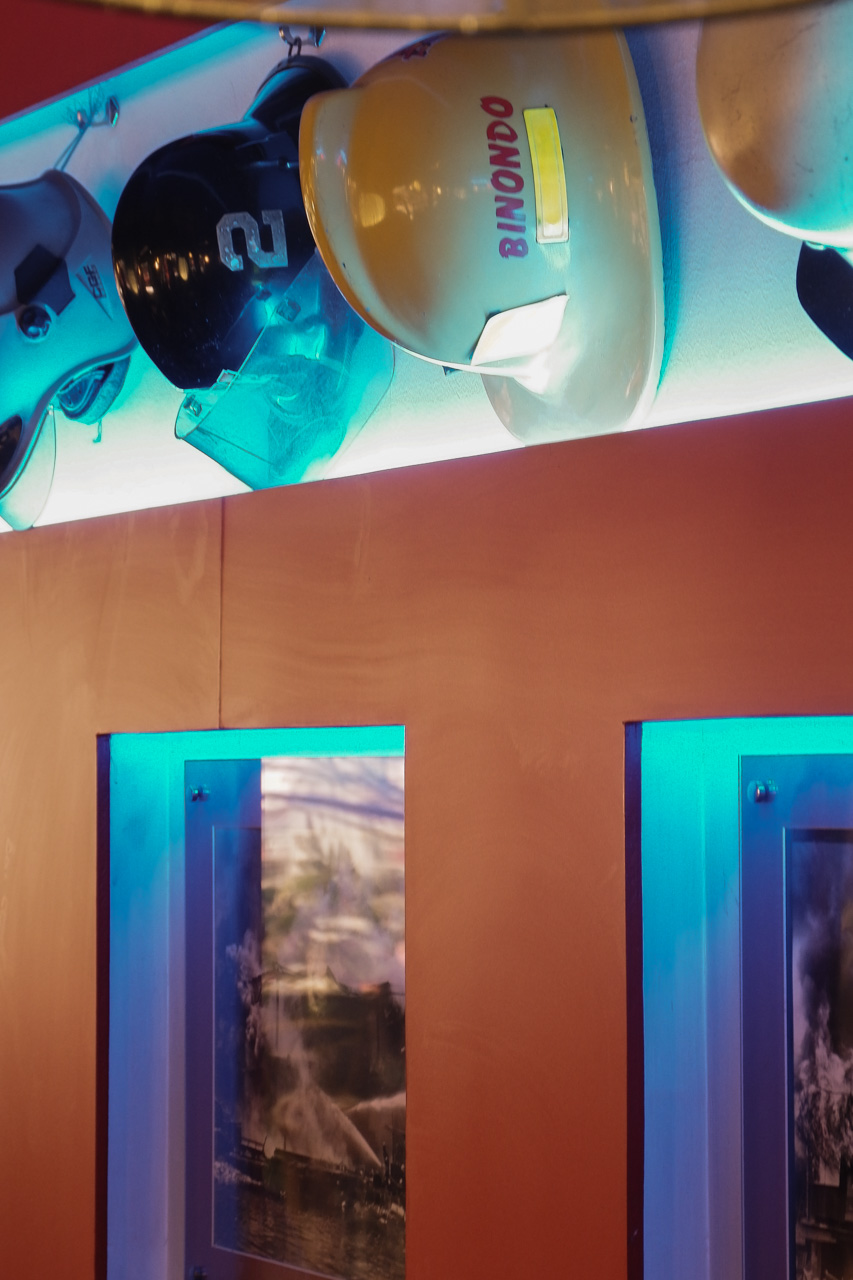 Make Binondo Church your reference point. Facing the church, take the right side entrance to Chinatown. Walk along the festive street of Ongpin, and you surely won't miss it: the ube-colored fire truck, the Chinese school, and the iconic Eng Bee Tin swarming with people.
On the second floor sits Cafe Mezzanine. It serves mostly the same food as the Eng Bee Tin/Chuan Kee Chinese Fast Food downstairs, but has a moodier vibe. Lighting is dimmer, and the walls are lined with firemen's helmets and newspaper cutouts about fires responded to by the local fire brigade.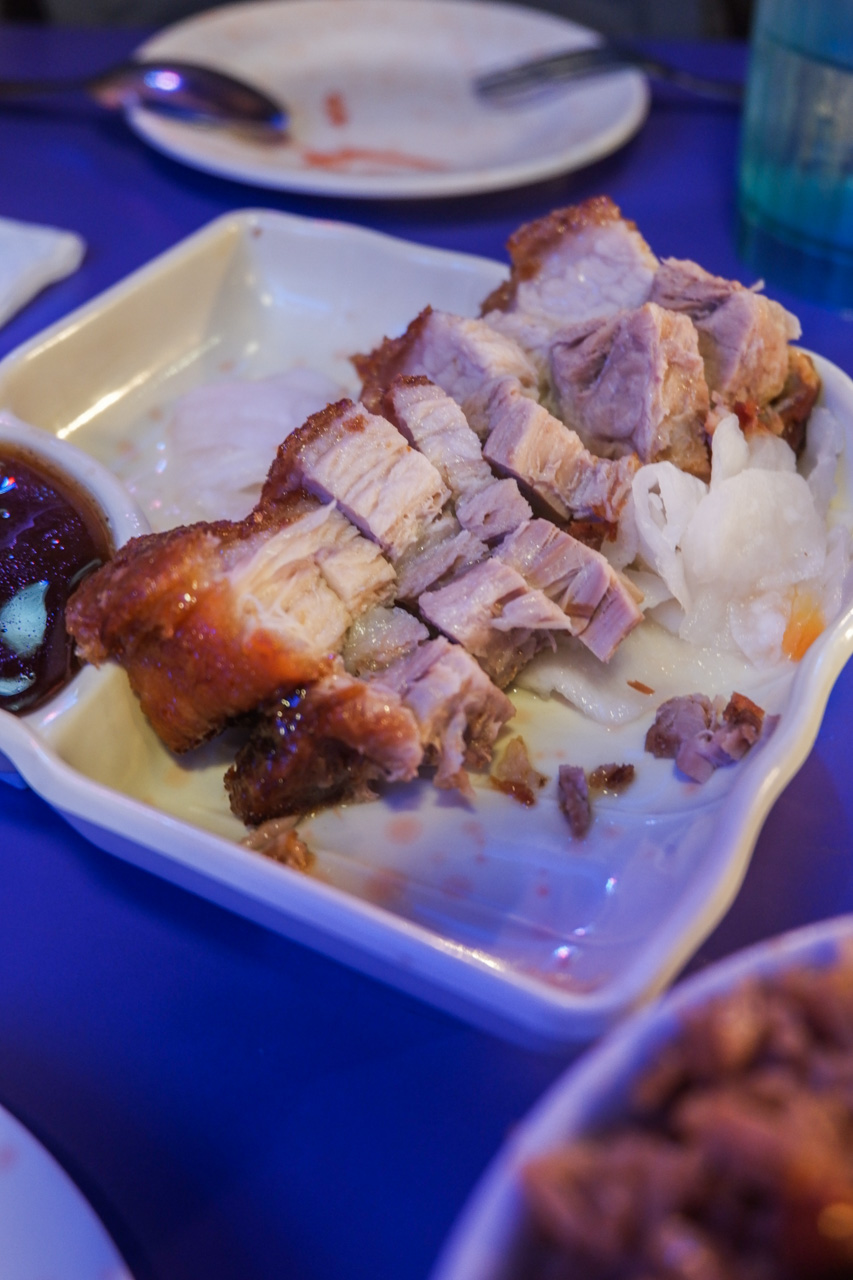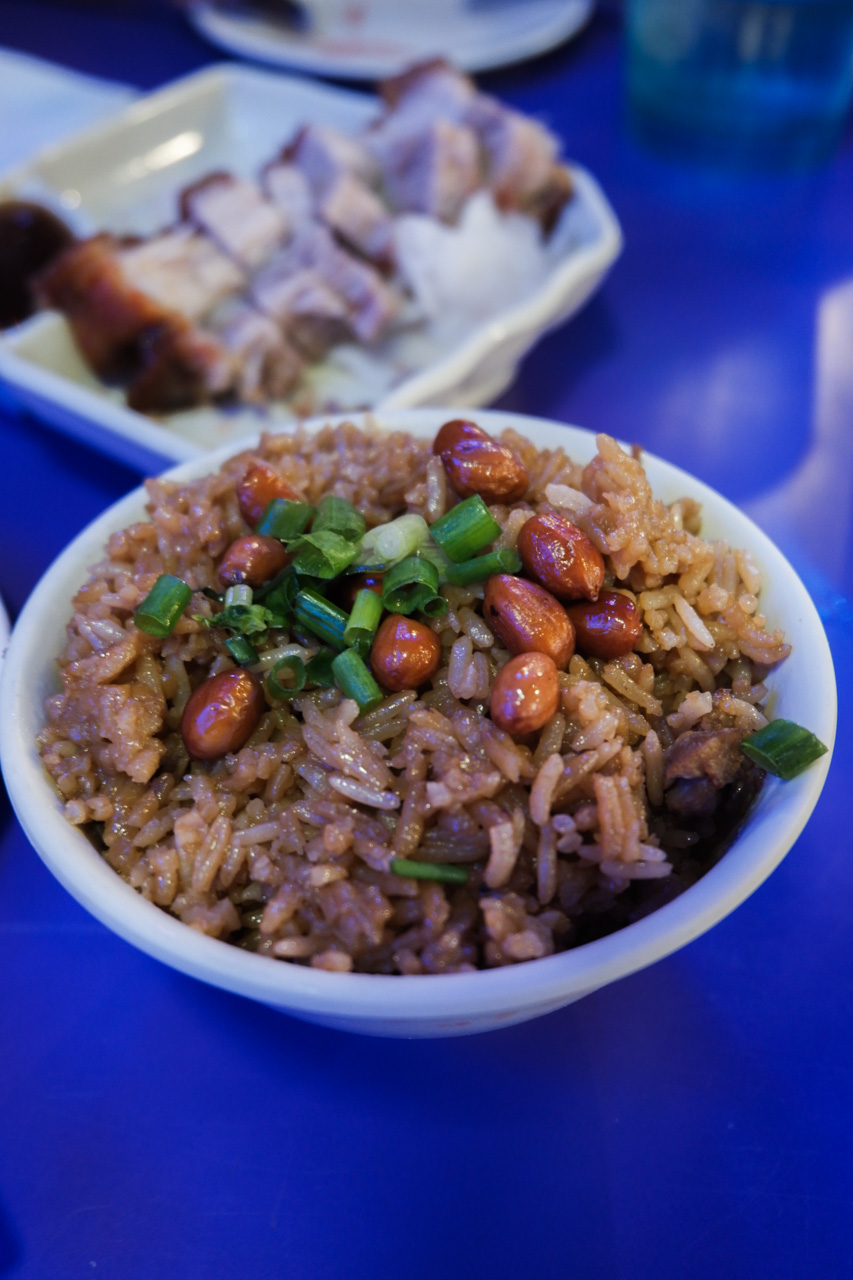 We opted for the kiampong (P65), which some sources say is Hokkien Chinese rice casserole, while others say it's Filipino-Chinese flavored rice. Yet others also call it Chinese Paella. Whatever you decide to call it, kiampong is a flavorful, somewhat sticky rice with meat bits and topped with peanuts and green onions. We paired it with some lechon kawali—admittedly not Chinese at all, but it was good, nonetheless. The meat was tender and the skin crispy. It could well be eaten on its own, but we find it has more depth when eaten with the sweet sauce and the tangy pickled radishes served along with it.
For dessert, we weren't able to resist the halo-halo (P130) being that it was a hot afternoon. Very little is special about the Cafe Mezzanine halo-halo except for the fact that they added a dollop of whipped cream on top, making the resulting ice-milk-ice cream mixture at the end a lot creamier.
Cafe Mezzanine. 650 Ongpin St., Binondo, Manila
Shop your heart out: Bee Tin Grocery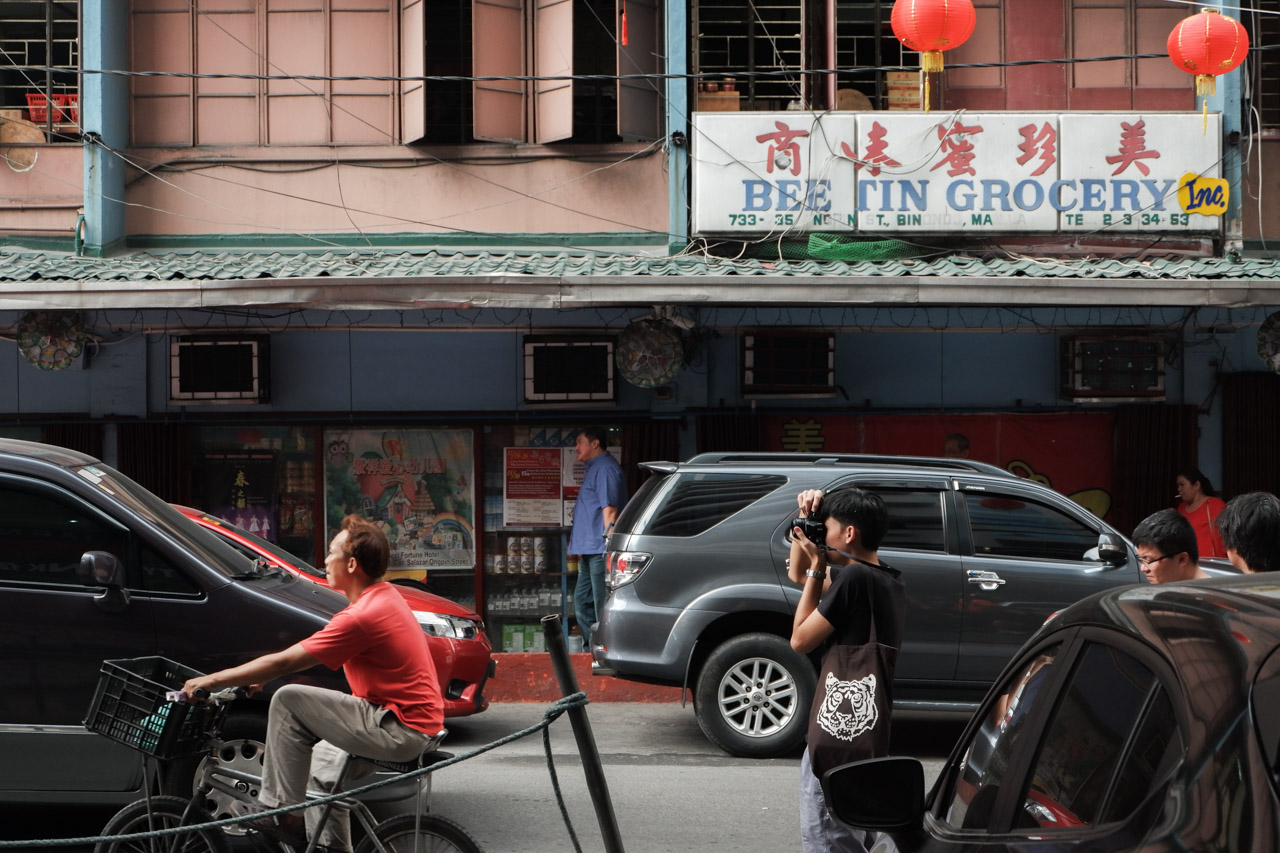 Continue along Ongpin St. and you'll see this grocery. With no bright signages, it looks very dated, but it's also packed with people—equally packed with all sorts of treats and ingredients from China, Taiwan, and other countries. You can buy some frozen dumplings and meats, or stock up on sauces to pair with your food. Alternatively, just go to grab some snacks—they have candies, pickled and dried fruits, chocolates, gummy candies—you name it. I opted to get a couple packs of haw flakes (sweet, round candy flakes made of Chinese hawthorn; P20 per pack) for nostalgia's sake.
You can also buy incense and candles here, as well as interesting gift ideas like longevity noodles in special red boxes bearing well wishes ("Best Wishes" and "Happy Birthday" for example).
Bee Tin Grocery. 733-735 Ongpin St., Binondo, Manila
For the vegetarians: Quan Yin Chay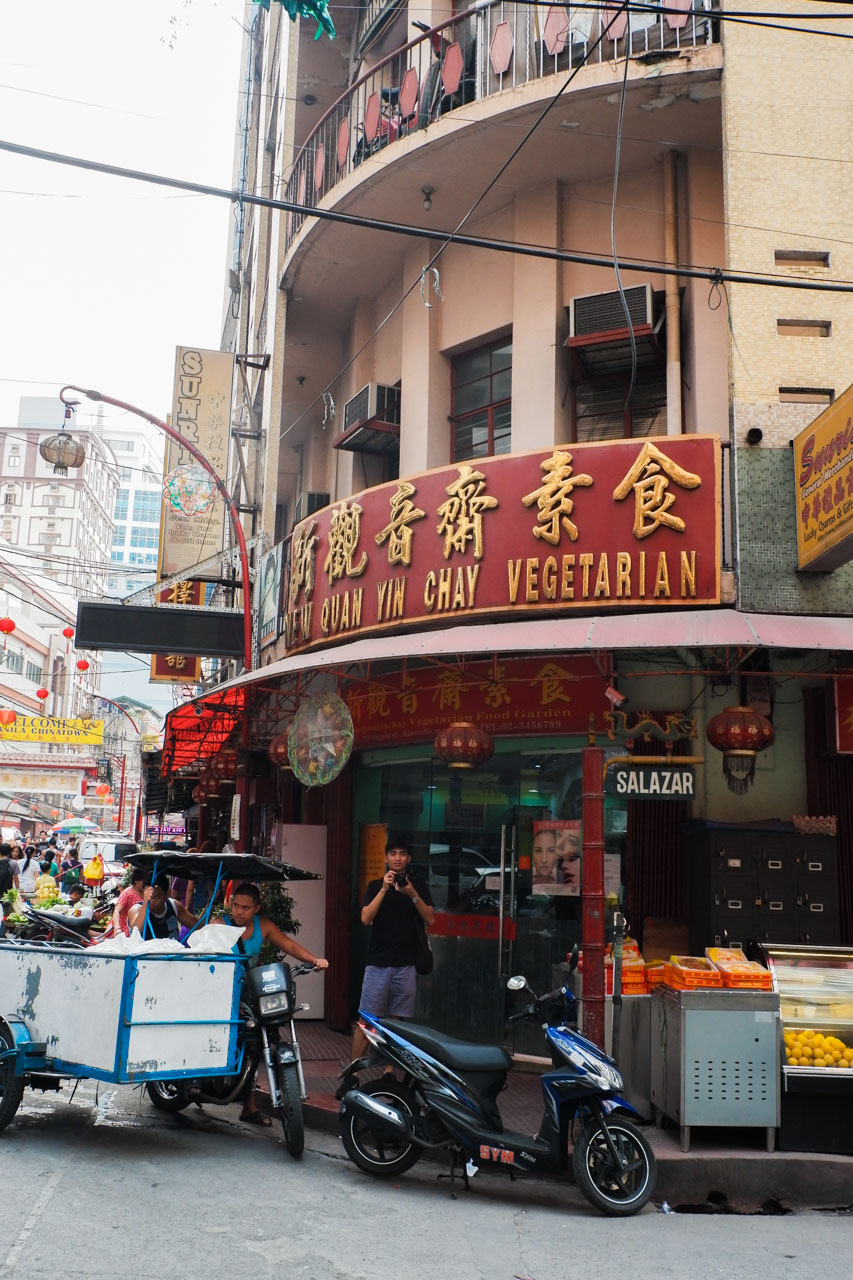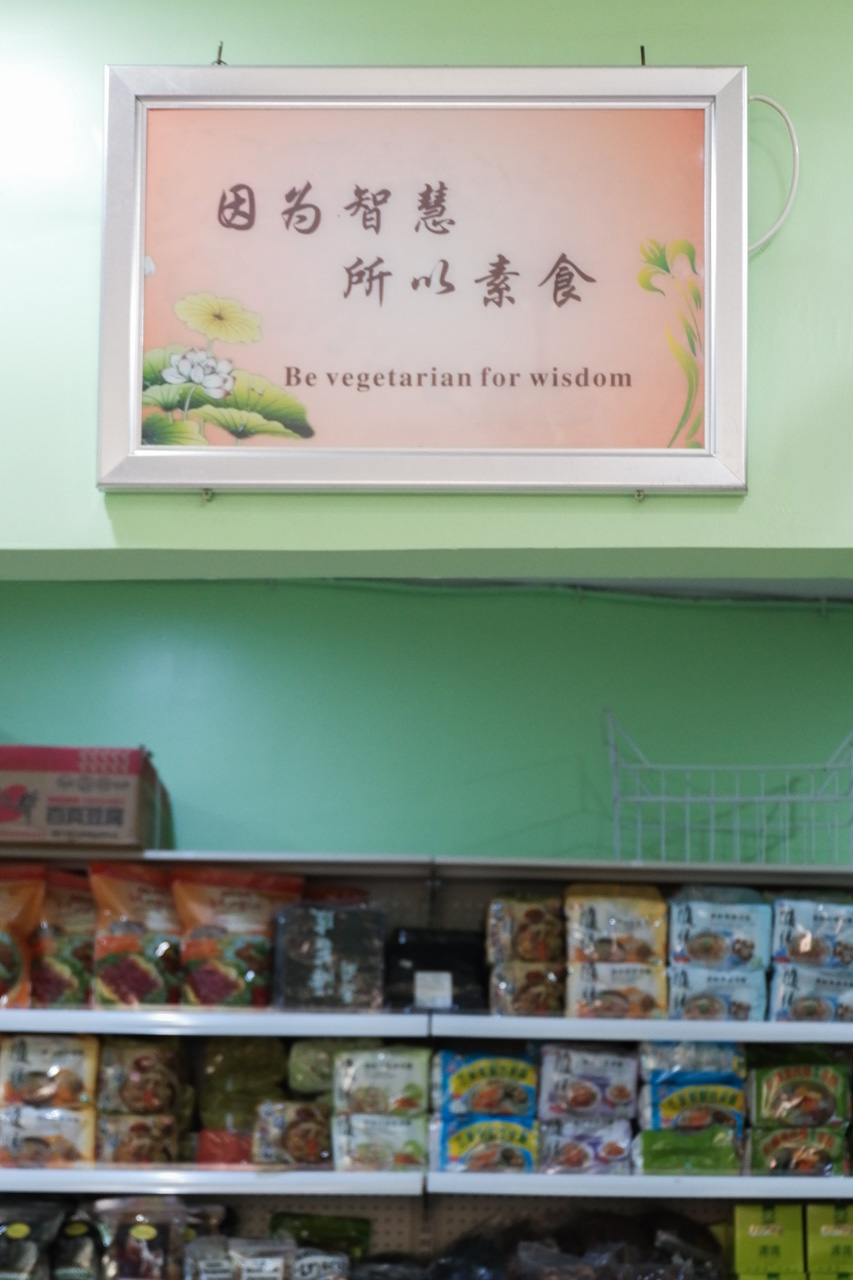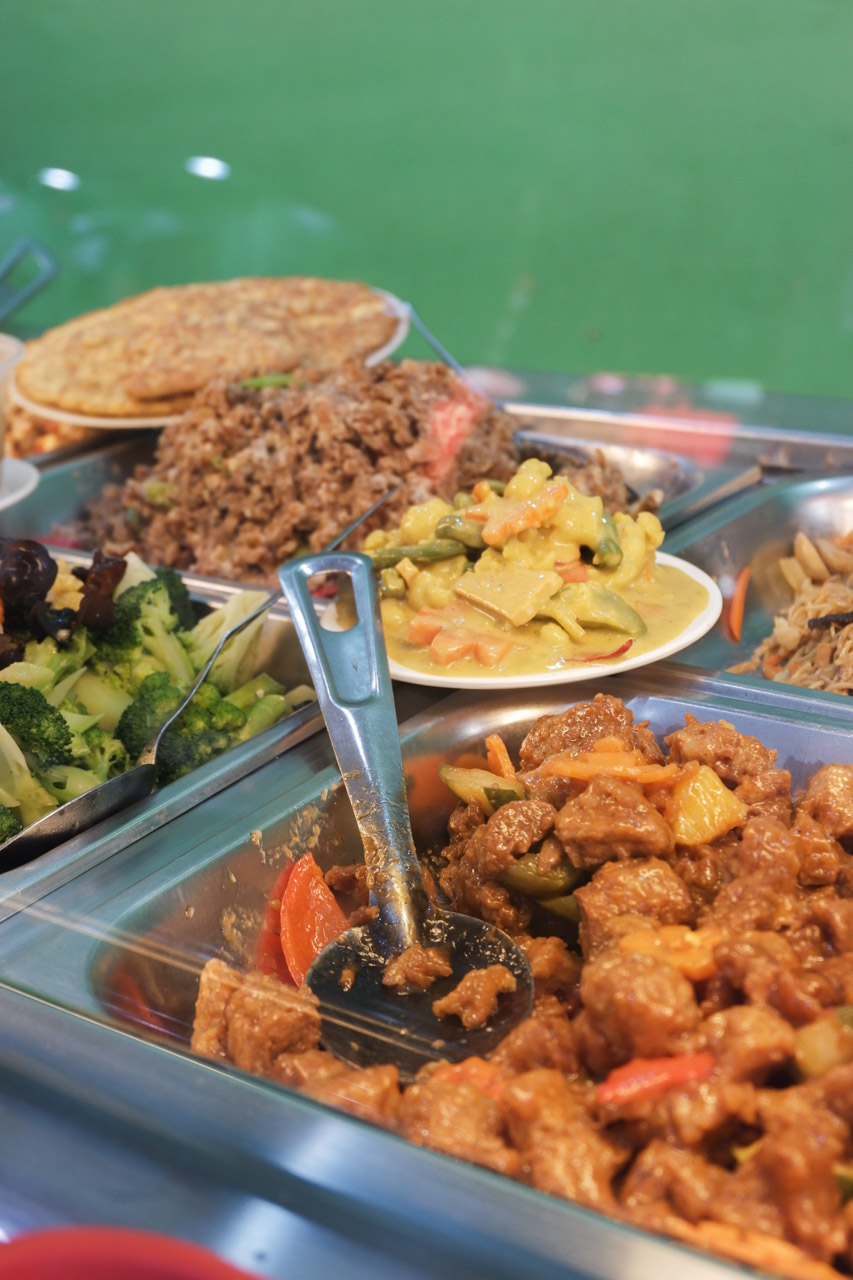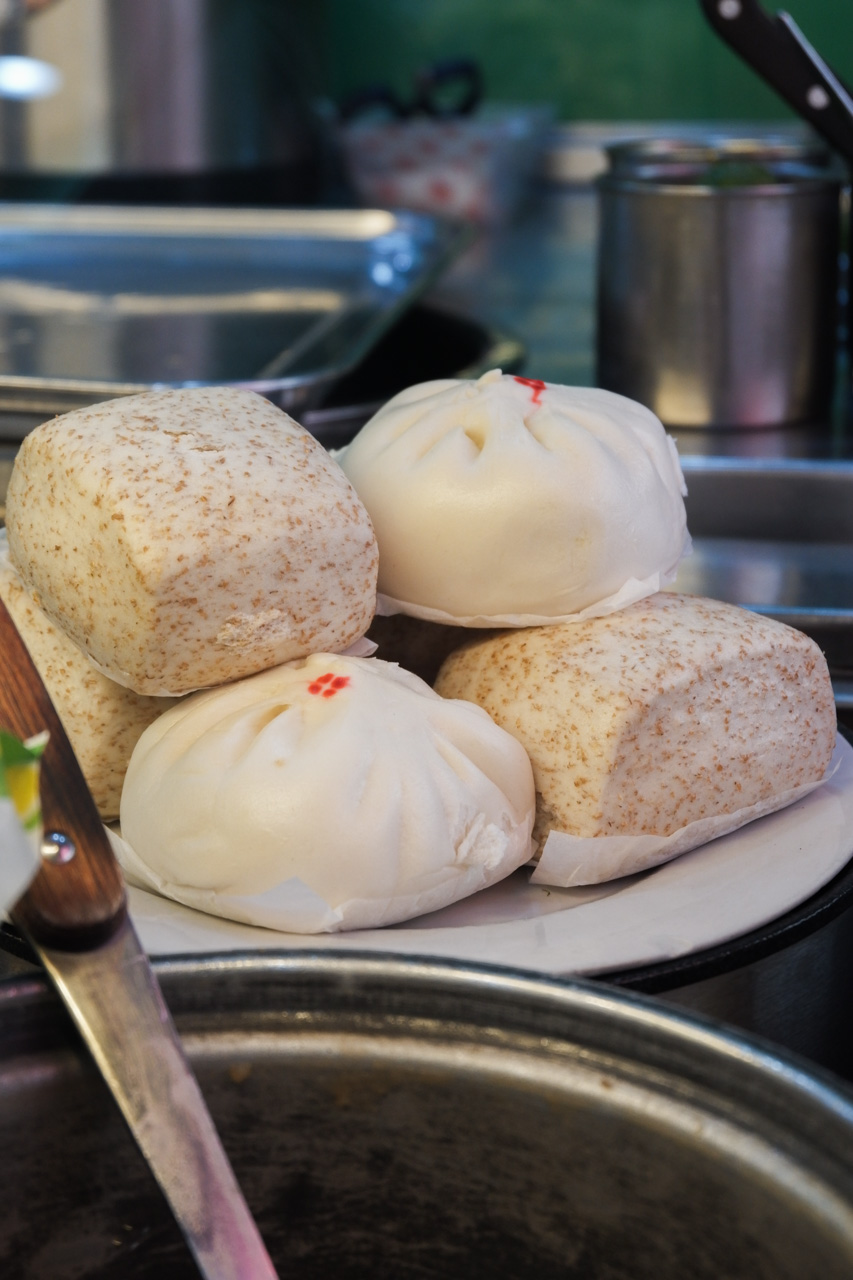 If you've sworn off meat, don't fret. You can still enjoy a Chinatown food crawl. Head over to Quan Yin Chay at the corner of Ongpin and Salazar Sts. for a selection of Chinese-style vegetarian-apt cuisine. To get the most bang for your buck, go for the combo plate (P120). You can choose three mains to go with a heaping cup of rice. All made with soy or veggie meat.
For our plate, we got the sweet and sour "pork," sisig, and "beef" stew. All I can say is, what these dishes lack in texture, they make up for in flavor. The sauces were all very flavorful, although as a meat eater, I did miss having a variety of textures in each bite. (Pro tip: eat the sisig with soy sauce, especially if you're not fond of the Kewpie/Japanese mayo taste.)
Quan Yin Chay Vegetarian. 739 Ongpin St., Binondo, Manila
Dessert, round 2: Salazar Bakery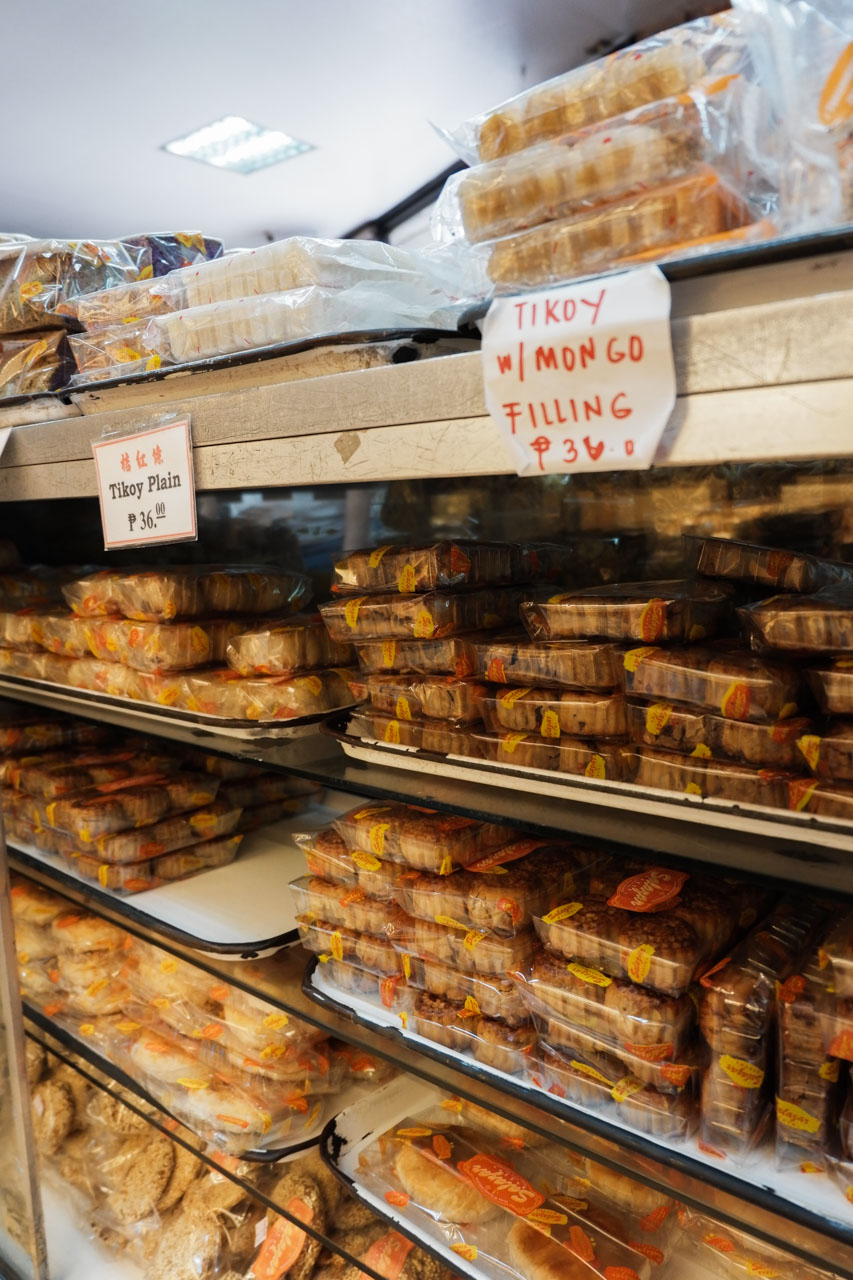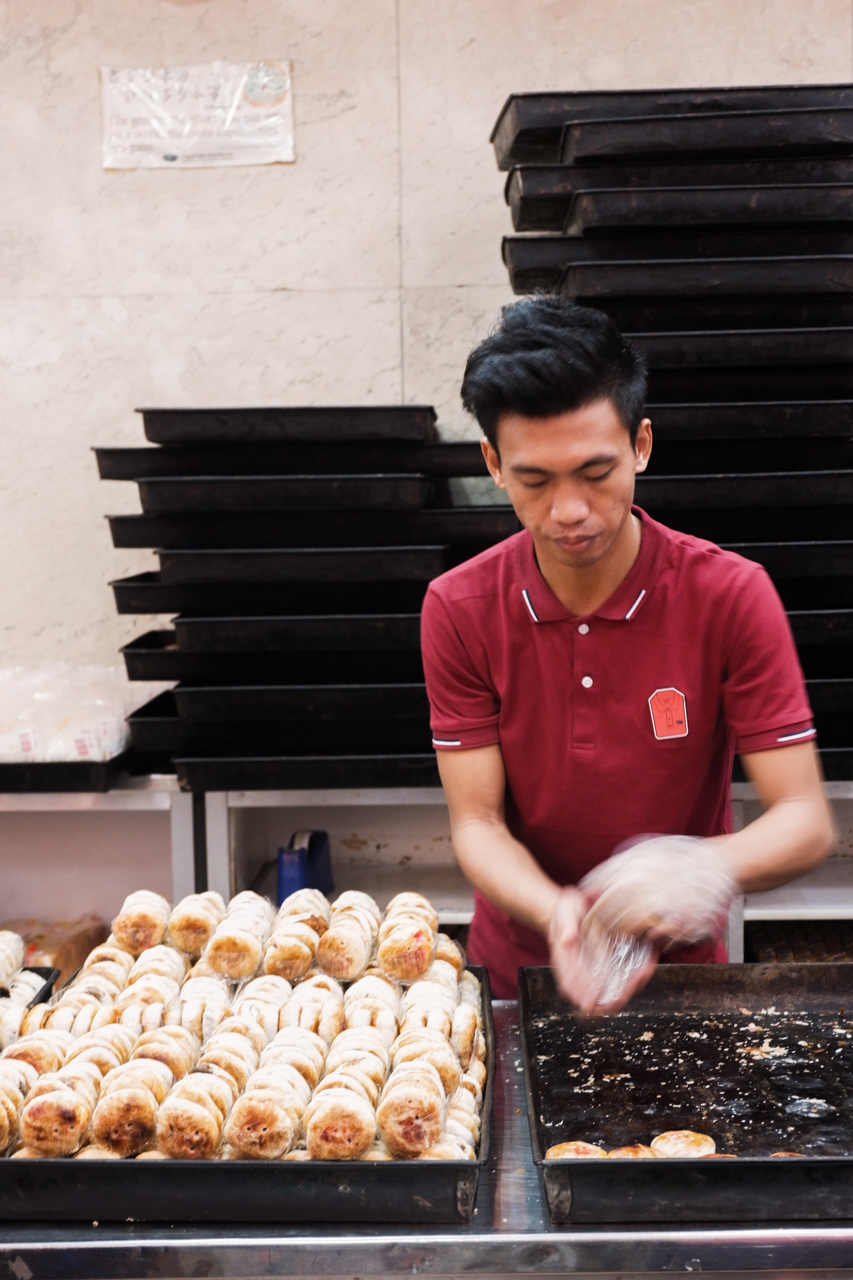 Another cult favorite for Chinese baked treats, Salazar Bakery has everything from Western-style cakes to more traditional treats like buchi, mooncakes, and hopia. (Although hopia is actually a Pinoy invention…) Beware the long lines here, too.
Salazar Bakery. 783 Ongpin St., Binondo, Manila
Worth the wait: Dong Bei Dumplings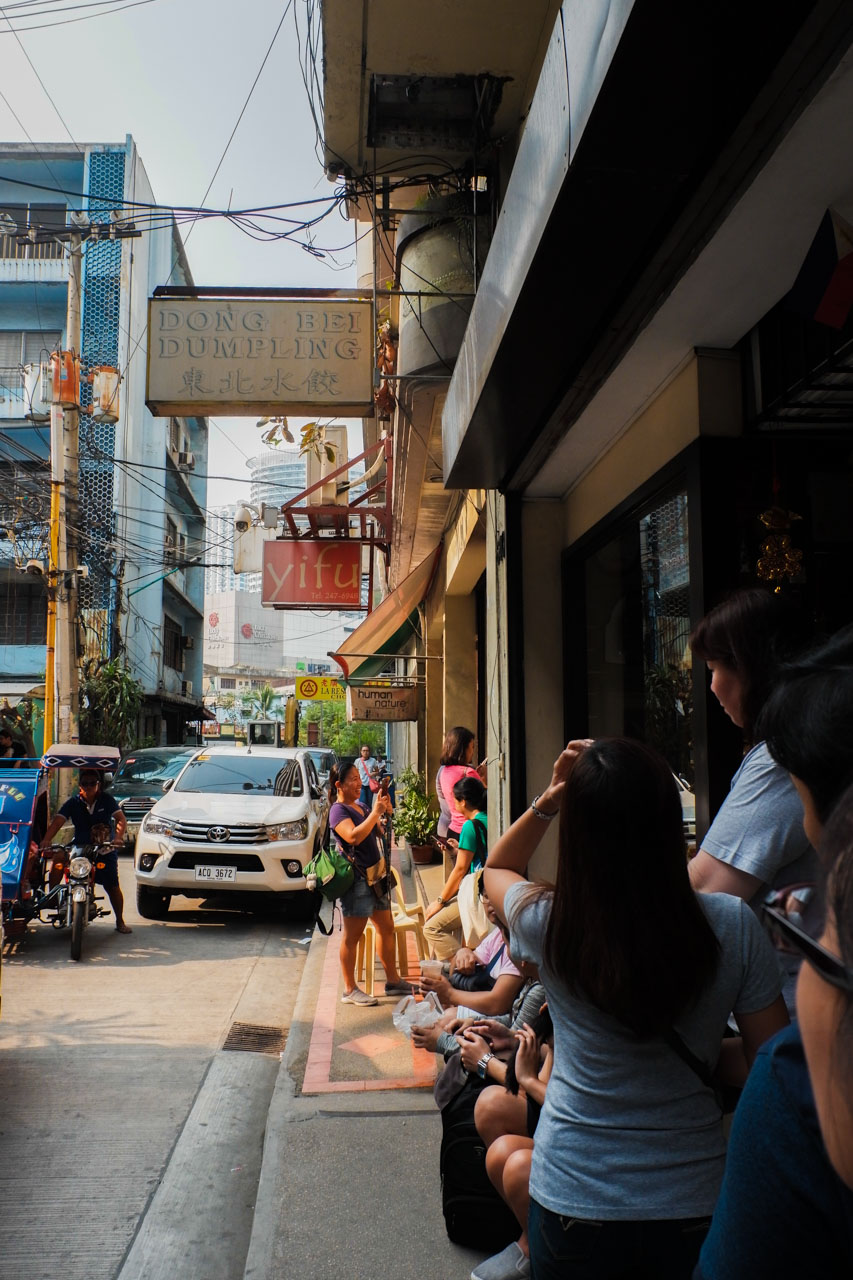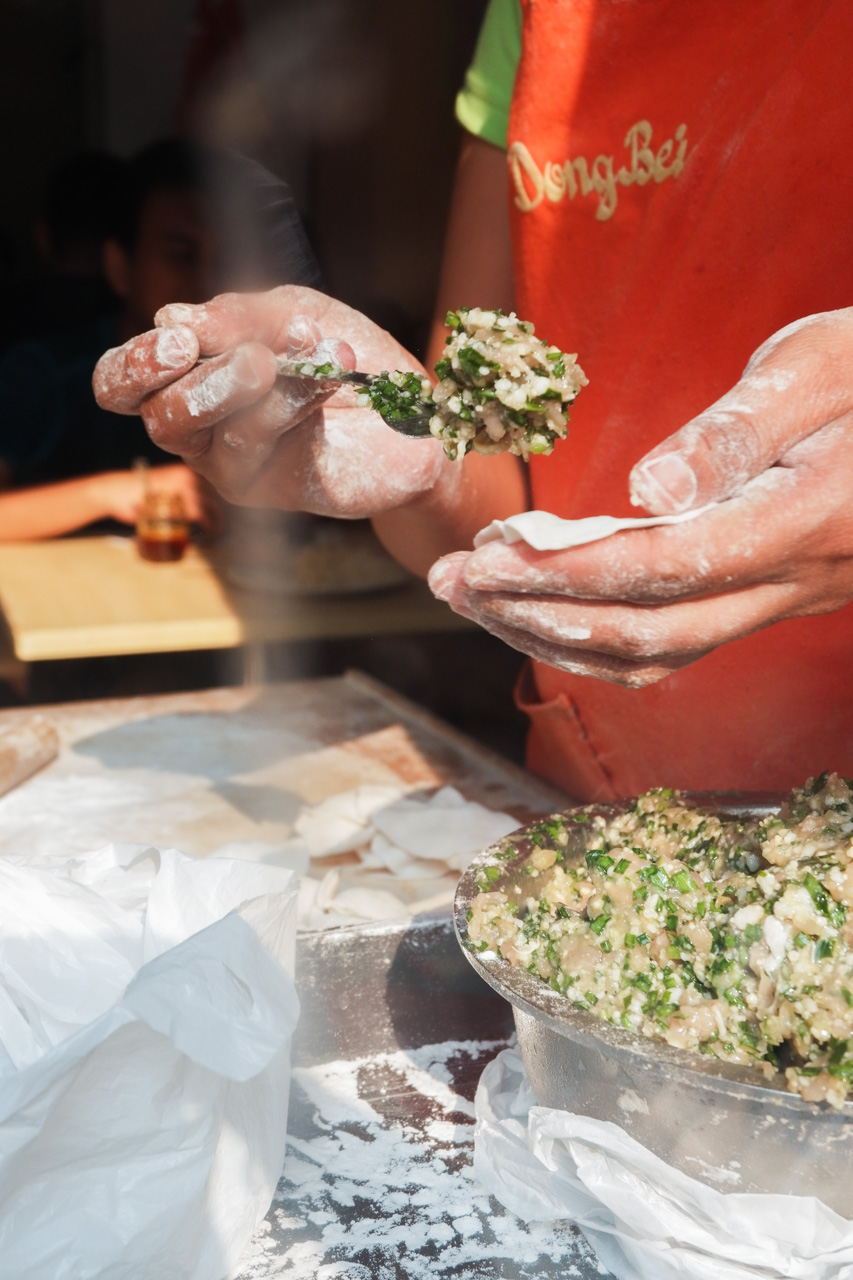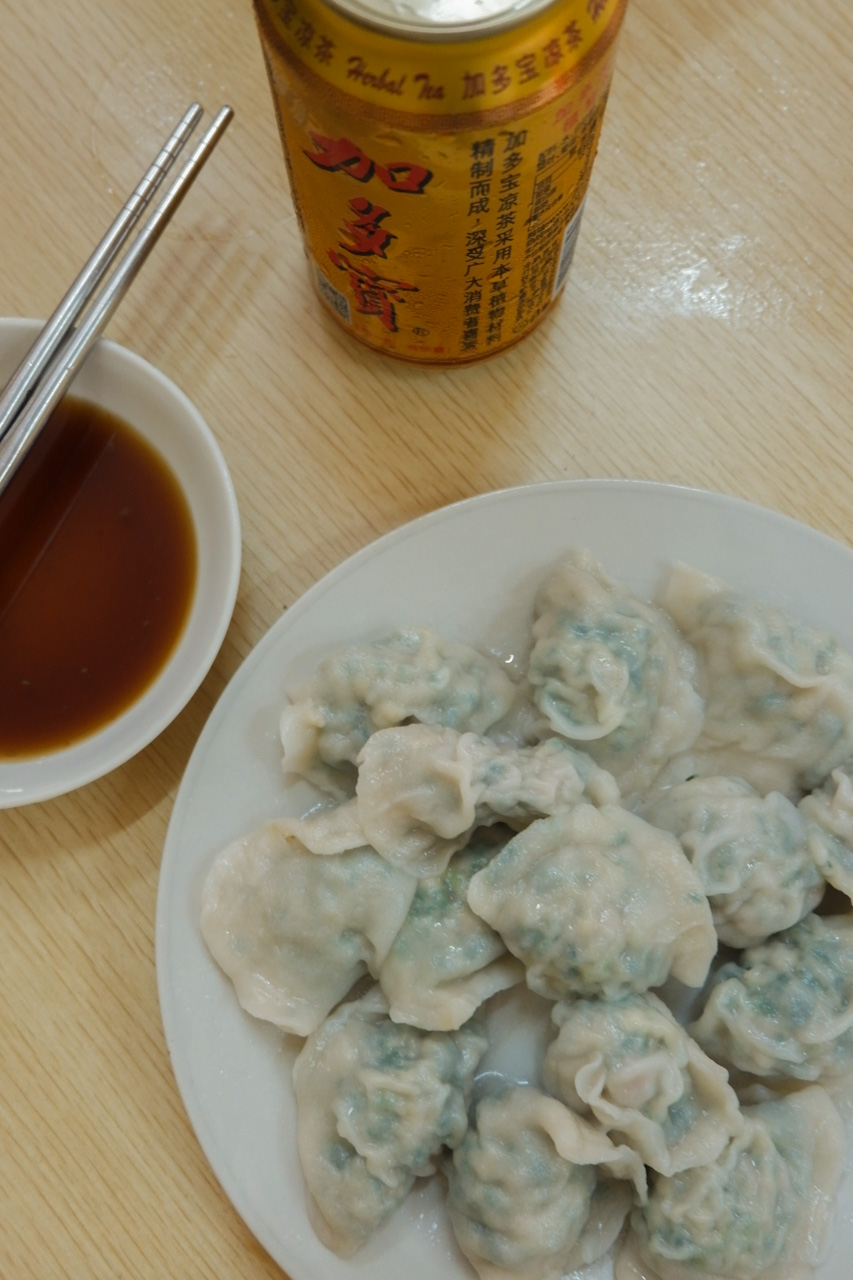 They're famous for their kuchay dumplings, which are made fresh in store—you can even watch them make it while you wait to get seated. Dong Bei is a pretty small hole in the wall away from the hustle and bustle of Ongpin St., but it does get a pretty long queue. By small, I mean only five tables (or a seating capacity of around 20-25 people). Pretty worth it though.
An order of kuchay dumplings costs P180 for 14 pieces. Order a cold can of JDB herbal tea to drink while you're at it.
P.S. Their vinegar with chili oil? Bomb. It was so good we drank the sauce after finishing all our dumplings. Sorry, but no regrets.
Dong Bei Dumplings. 642 Yuchengco St., Binondo, Manila
Get some words of wisdom: Holland Hopia & Bakery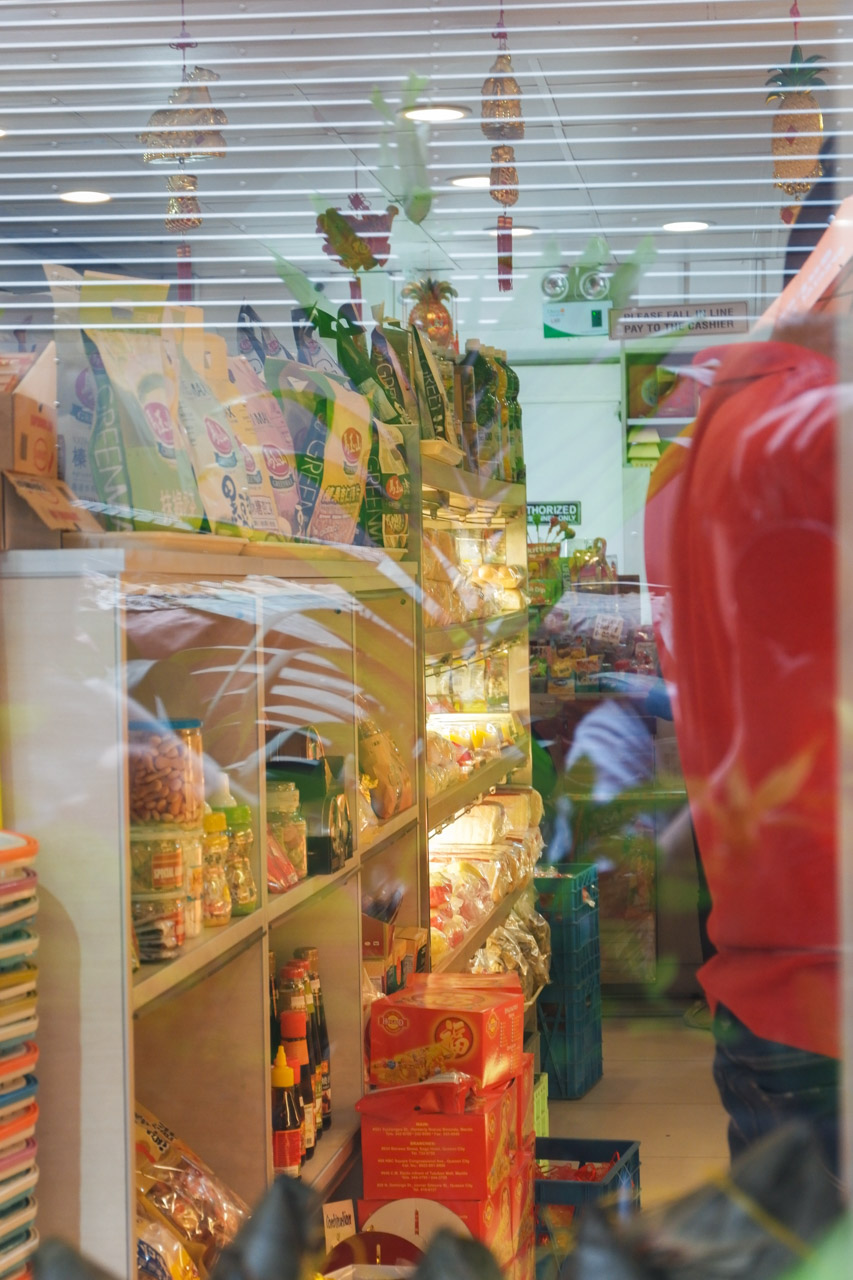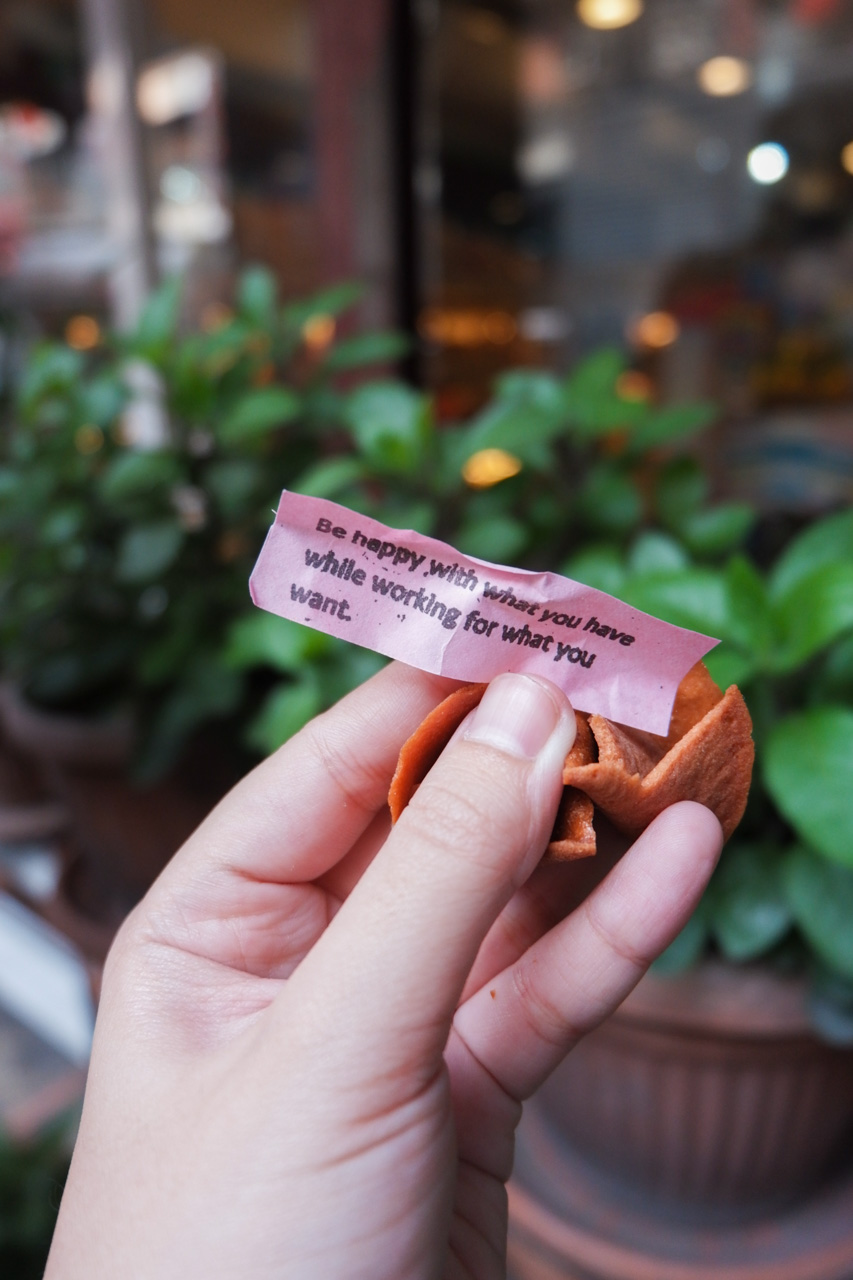 Holland is most popular for their hopia (P50), but if there's another thing you should stop by their quaint store for, it's their fortune cookies. Only six pesos a piece, their fortune cookies are a crunchy, sweet, and fun little treat to munch on and ponder about while resting after all that walking around Ongpin.
Holland Hopia & Bakery. 551 Yuchengco St., Binondo, Manila
One for the road: Ying Ying Tea House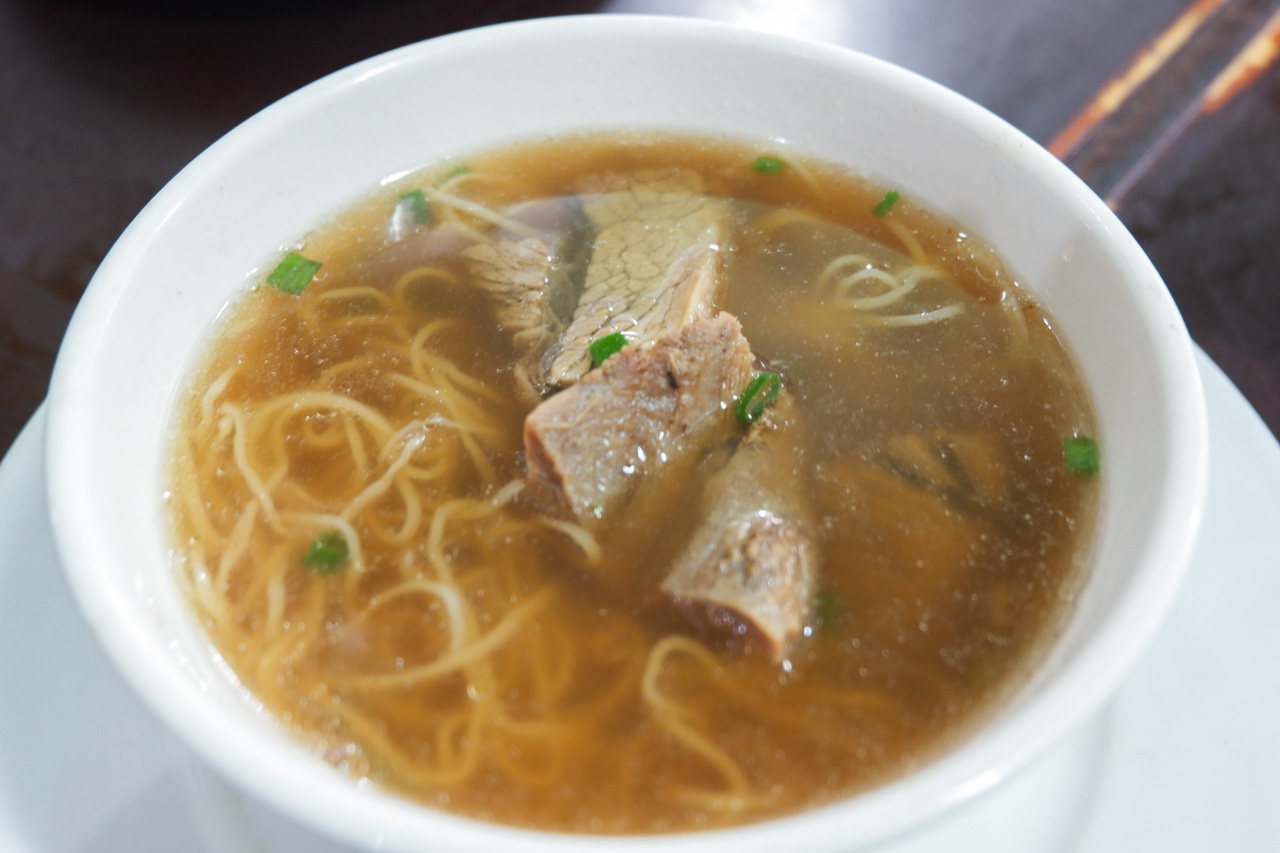 This one's a favorite in many of my circles—from my family to my officemates—for good reason. Good food for a good price. It can't get any better than that. Normally I'd have the usual family spread at Ying Ying—fried rice, a fish dish, some vegetables, maybe a hot prawn salad, some dimsum—but you can also opt for just one dish like we did. A hearty bowl of beef brisket mami (P110) is a comforting end to a busy day. Pair with the house jasmine tea.
Ying Ying Tea House. 234 Dasmariñas St., Binondo, Manila
Pasalubong central: Eng Bee Tin
Chinese food giant Eng Bee Tin just opened a new building near their Ongpin branch. This one's fully airconditioned, and like the deli with a restaurant on the second floor (Cafe Mezzanine), this new building has one, too. If you want to cool down before embarking on your journey back home, browse through the selection of hopia, tikoy, mooncakes, and other treats at this new branch. (Premium white tikoy, P200)
Eng Bee Tin. 687 Ongpin St., Binondo, Manila
On the street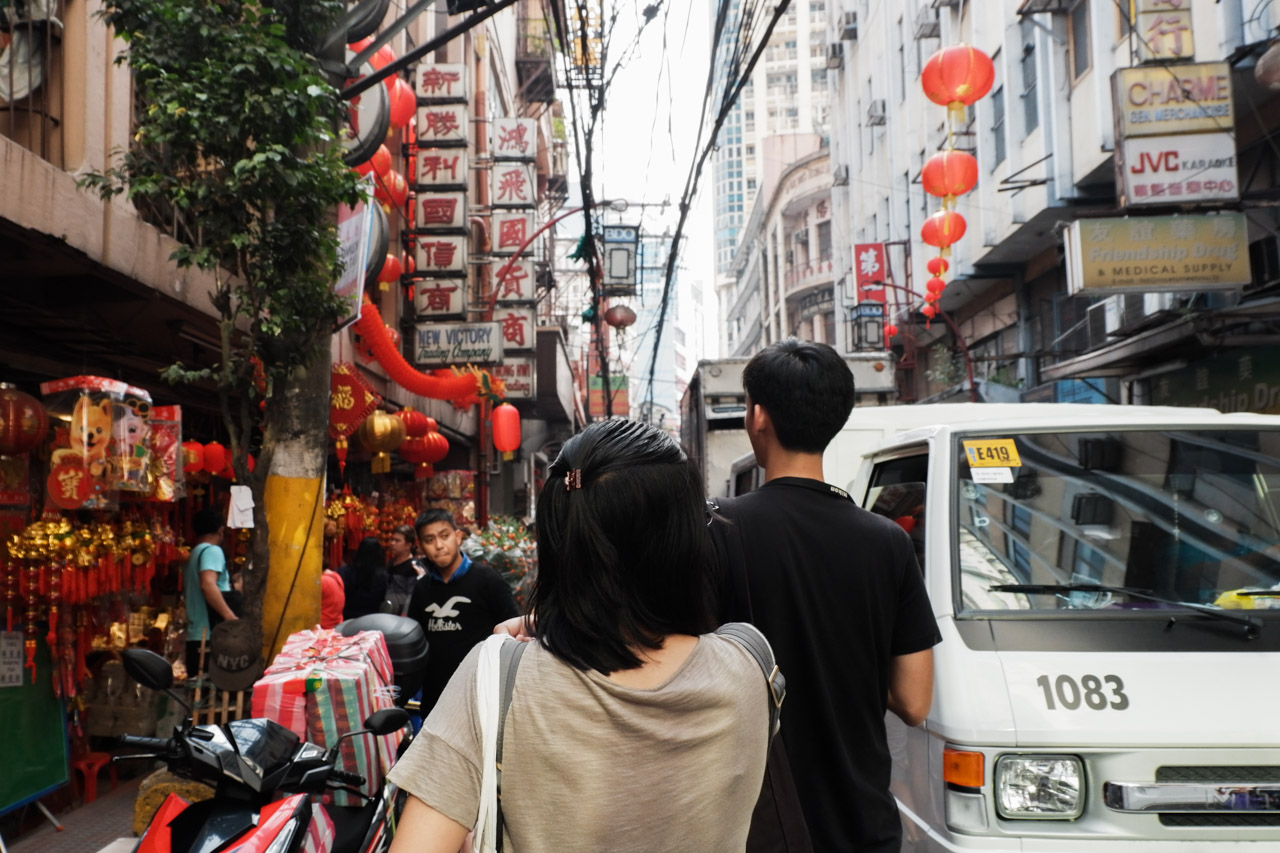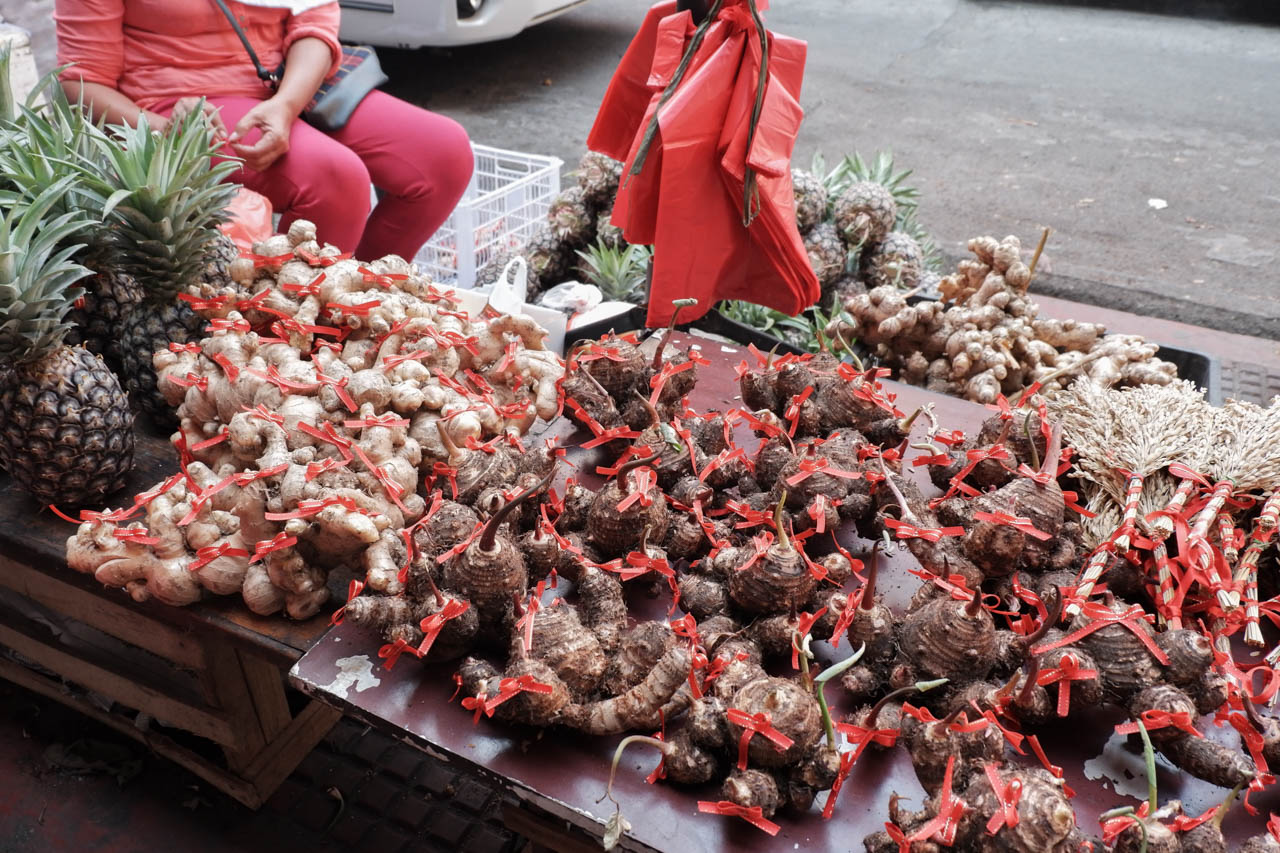 If you want to give away tikoy as presents, you can check out the stores along Ongpin. Some sell small boxes for P35 each (P100 for three boxes). For more luck, buy some decorations: small pineapples surrounded by round citrus fruits for good luck and wealth, odd-shaped branched taro crops for the flourishing of family and business, lucky charms like amulets, bracelets, rings, and other accessories with precious stones or crystals to protect from bad omens.
Read more:
Feng shui colors that bring more positive energy into your home
This Chinese chef can make hand-pulled noodles in two minutes
Eat Chinese dumplings for good fortune this Chinese New Year
You'll only need P1,400 to try everything on Famry's menu
Where to get good, authentic, and cheap dimsum that isn't Master Siomai
TAGS: binondo chinatown Chinese New Year city guide food trip manila manila city guide nolisoliph what to do in chinatown where to eat in binondo