In the almost outskirts of Poblacion, beyond the cramped crowds and establishments, and into the still residential-looking side of town, mixologist and go-to forager Kalel Demetrio setup his little playground or "laboratory" as he calls it and named it Agimat.
A foraging bar and kitchen, it sits on the second floor of what seems to be a traditional two-storey bahay na bato right in the corner of Alfonso and Fermina streets. Agimat, a curious choice of name for a bar, certainly is the first of its kind in Manila as it serves an all-Filipino selection of cocktails and tapas. As you enter its doors, expect to venture into the dark, folk side. Faux branches spring out the walls with anting-anting hanging loosely, occult-inspired art drawn on the walls, and foliage peppered around the space. But do sit at the bar if you must, it is where the magic happens anyway.
The spell-binding bar
If you find yourself sitting at the bar, you get front row seats to the theatrics that goes behind every drink. Setting the mood is an old, fallen down Balete tree trunk living a second life in the middle of shelves filled but label-less bottles that would instantly pique your interest. No usual branded bottles are on display. "We want our customers to start asking questions and spark a discussion on Filipino ingredients," says Demetrio. Liquids in all hues of brown and silver are products of his experiments.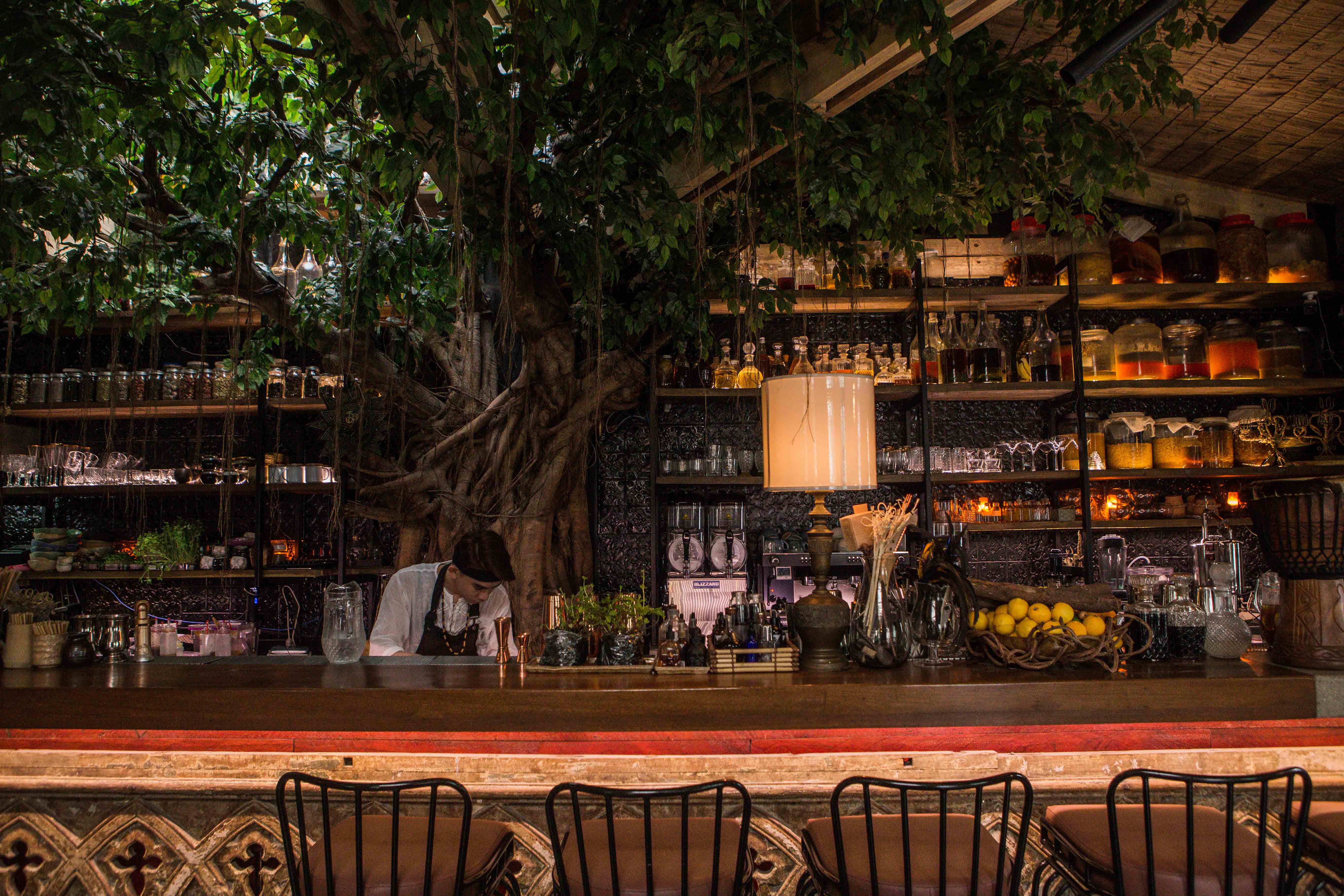 "Everything is made from scratch here," he attests. Every spirit, liquor, and even syrup used originated from Philippine soil. As of date, Agimat offers 10 artisanal cocktails all inspired by natural elements: Apoy, Tubig, Lupa, Hangin, and Buhay.
The first and most iconic concoction is the Ritual ng Agimat under the Apoy category. This fiery drink uses the southern Tagalog staple, lambanog mixed with gin and calamansi liquor. The wait for the drink is a tad longer than the others as the entire crew prepares to take part in a ritual performed with ethnic masks on, drums, and chants upon serving your drink.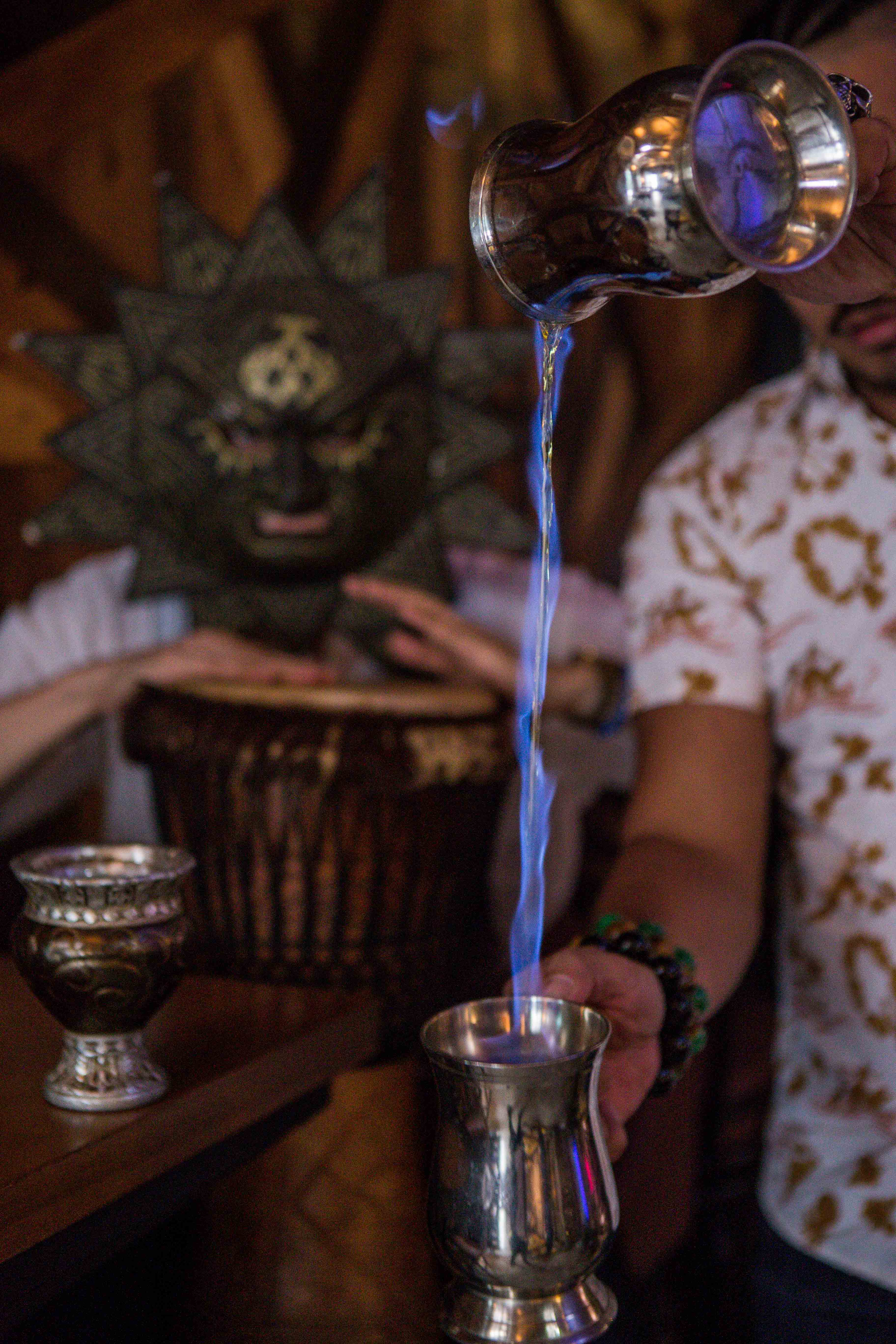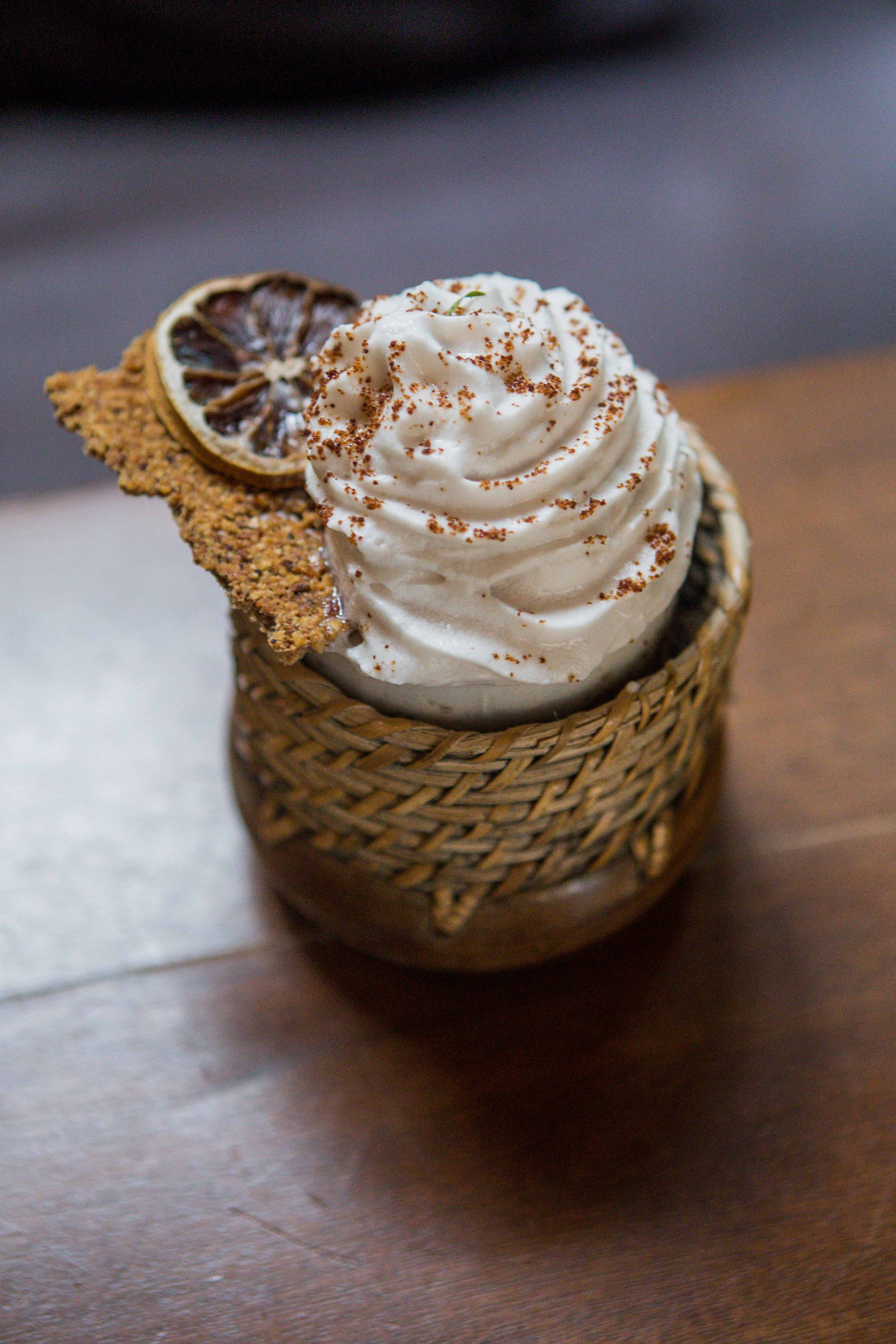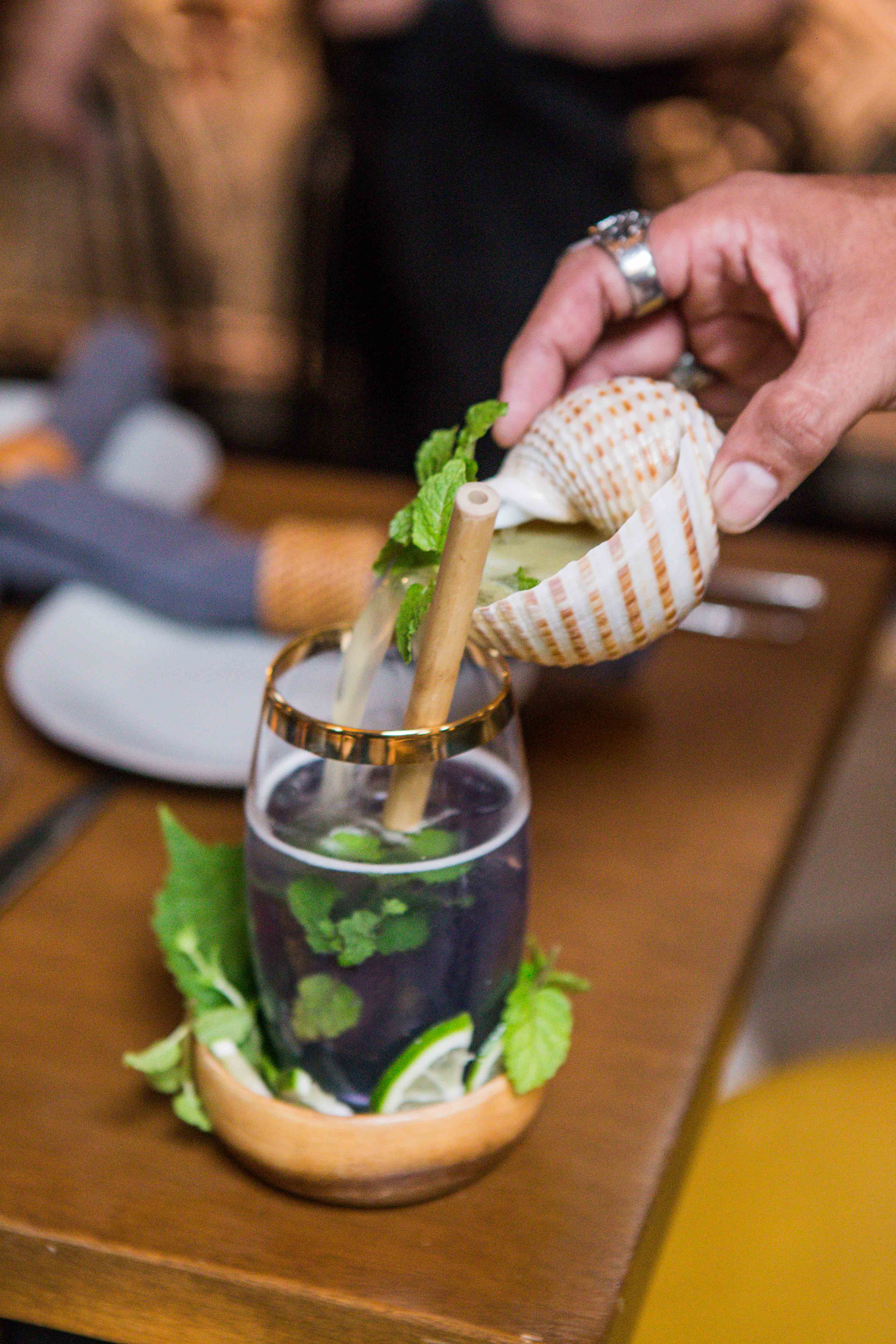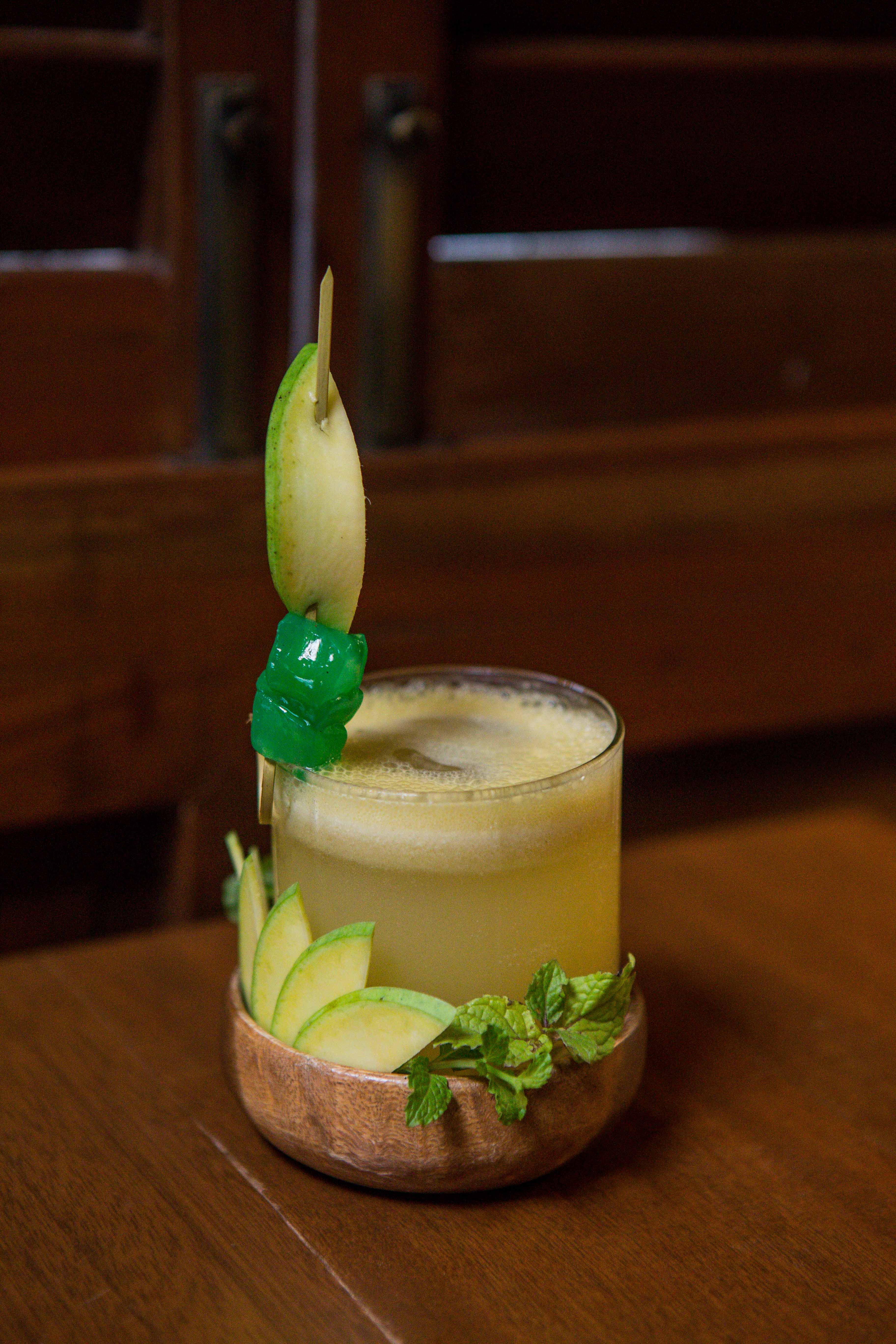 It might get a bit confusing seeing all the unfamiliar ingredients in every drink. But some techniques were actually adapted from creating the classics. Agimat ng Sawi under the Buhay category is the closest you can get to a whiskey sour. Demetrio used sampinit (local berry) lambanog liquor, bourbon, seven-year rum, earl grey liquor, guava mint shrub, angostura bitters, local lemon, and egg white. Another interesting tipple is Kontra Lamang Lupa, wherein root crops such as kamote and ube was used to add flavor to the foamy, almost milkshake-like, rum-based drink.
Kitchen of the gods
"We don't do Filipino cuisine," clarifies Nino Laus, resident chef and part-owner of Agimat. In the realm of Laus, inside the hot kitchen, countless of experiments using the most modern cooking techniques were done to put together every dish that's not necessarily Filipino but definitely showcases proudly Filipino ingredients.
For this season, most of their ingredients are sourced from the mountains and seascapes of Batangas. Before opening, Demetrio took the Agimat team on a week-long foraging trip around the province.
Paunang Hain (appetizer) dominate the food menu with 10 choices. On the other hand, there are four dishes available each for Pangunahing Hain (main course) and Panghimagas (dessert).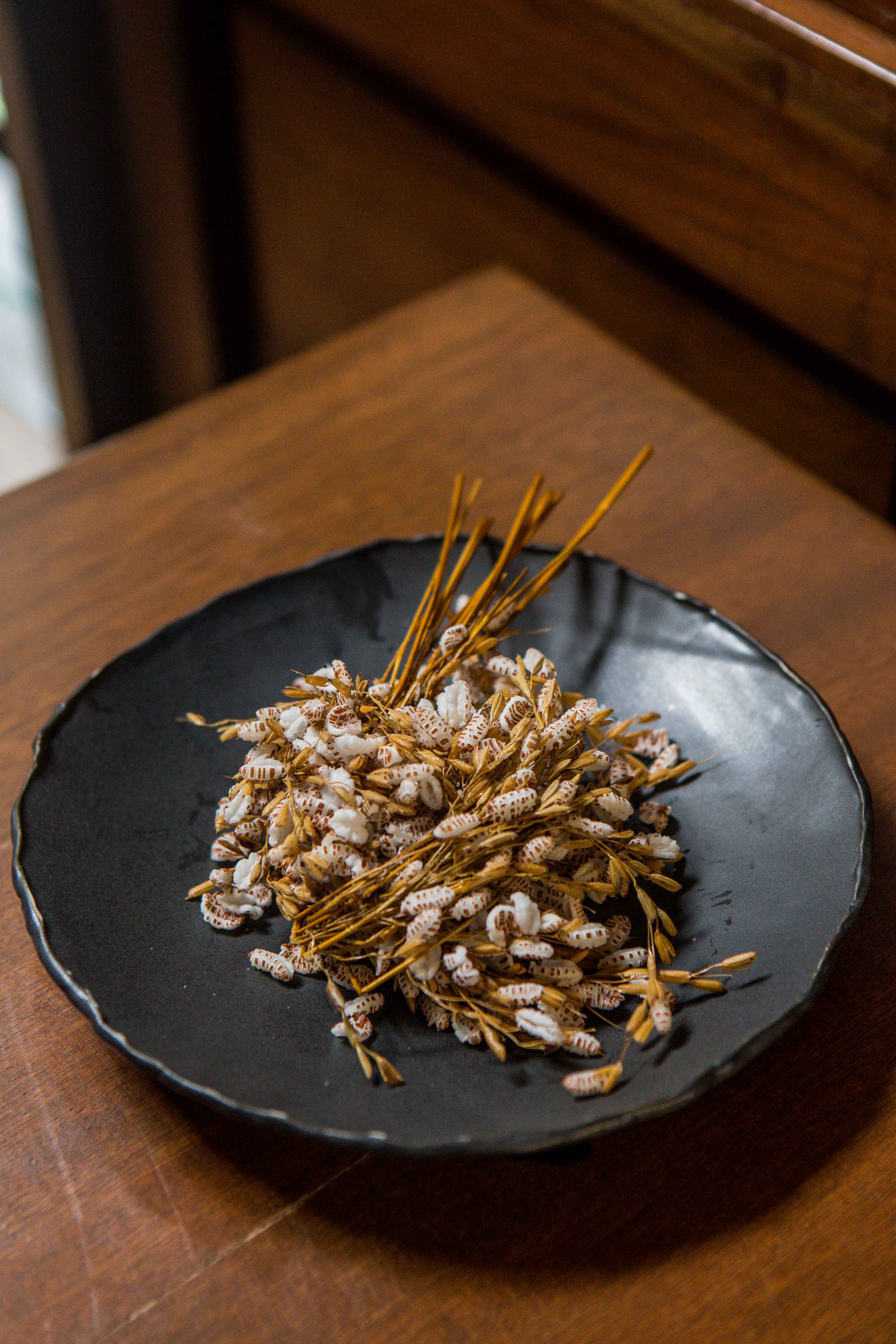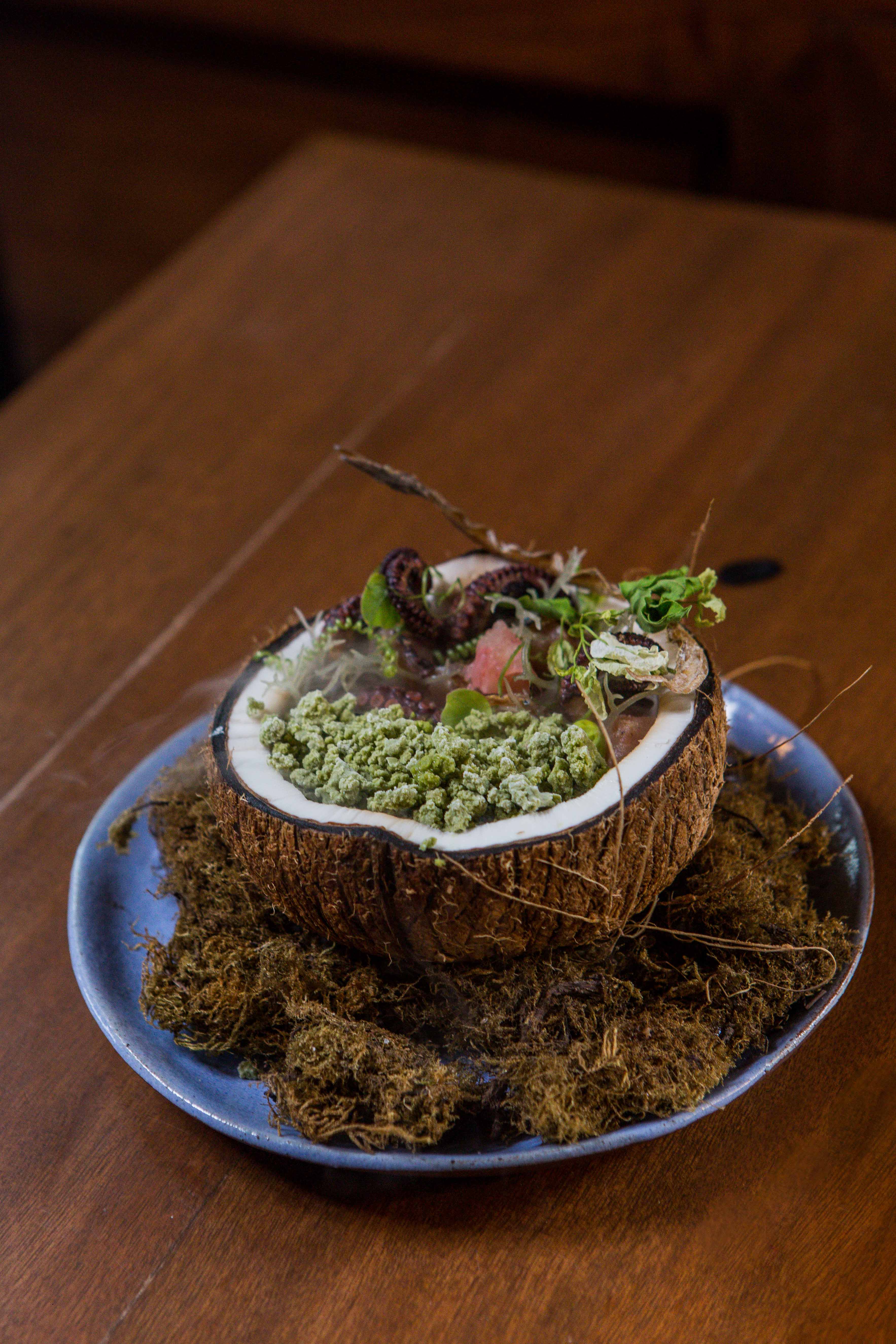 Representing the coast of Batangas is Lumot at Malasugi, an appetizer quite familiar because of flavors reminiscent of our kinilaw but far more complicated. It is composed of octopus tentacles, blue marlin smoked using pedped (an Ibaloi cooking technique), a deep-fried malasugi (swordfish) for that extra crunch and umami flavor, and calamansi nyebe, which serves as its sauce. The calamansi nyebe is a creative mix of siling duwag, tinapa broth, coconut milk, and calamansi cooked in liquid nitrogen.
Alimasag aka every crab lover's dream is one of the dishes in the selection. The blue swimmer crab meat is sautéed in Zamboanga's heart attack-inducing sauce, the Alavar sauce, with a generous siding of aligue, and dalandan foam to cut through all the rich, savory taste. This is also accompanied by hummus made from patani.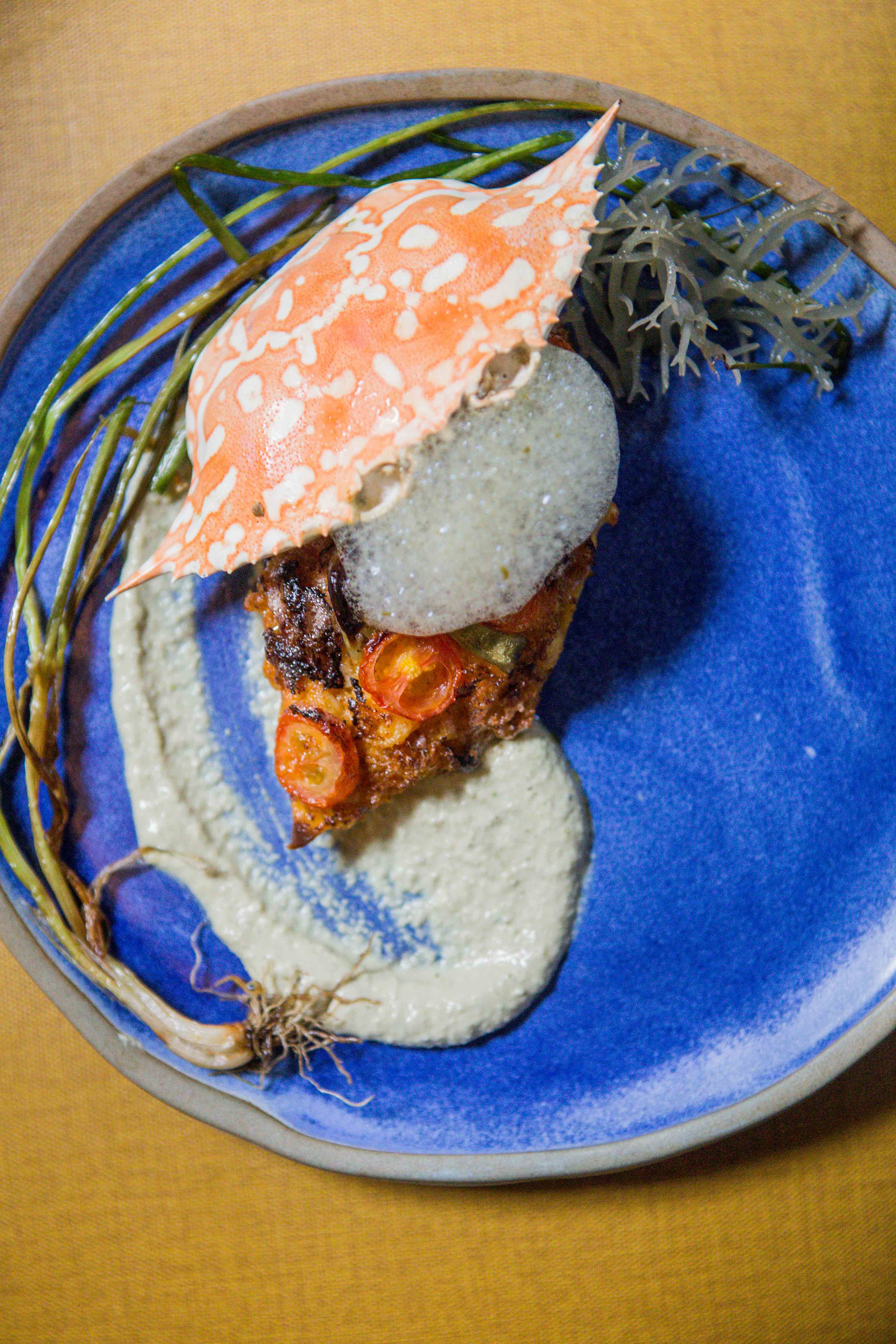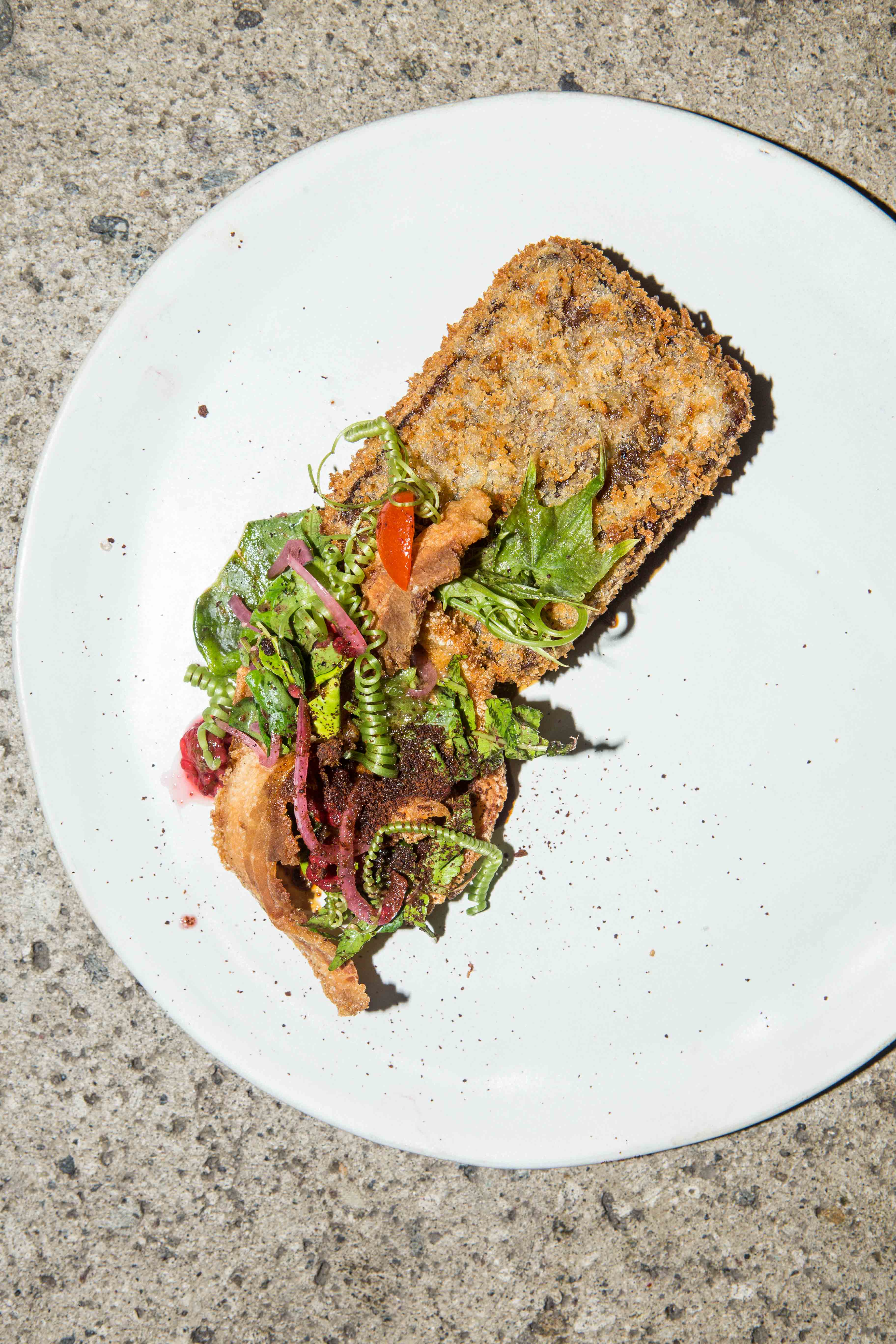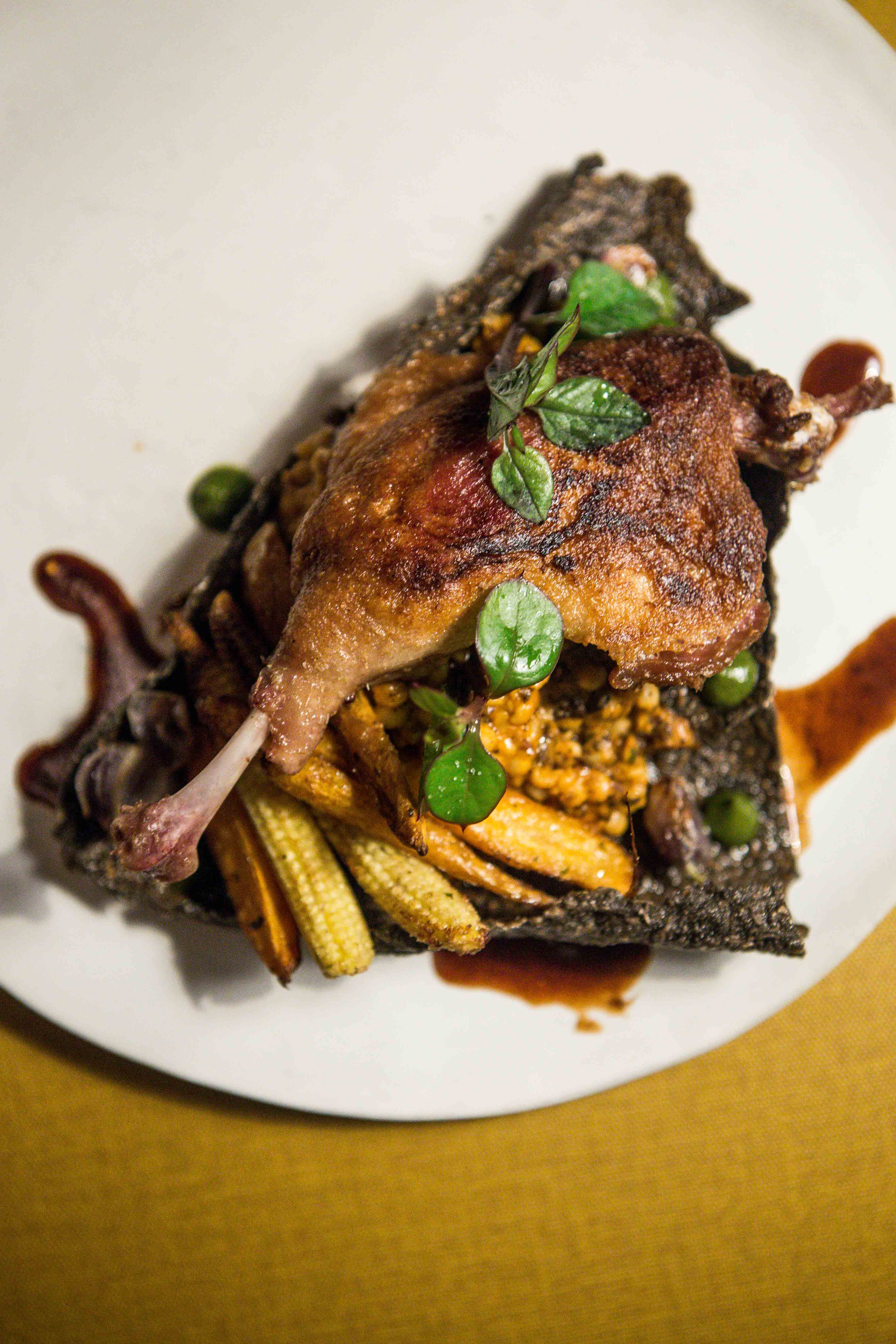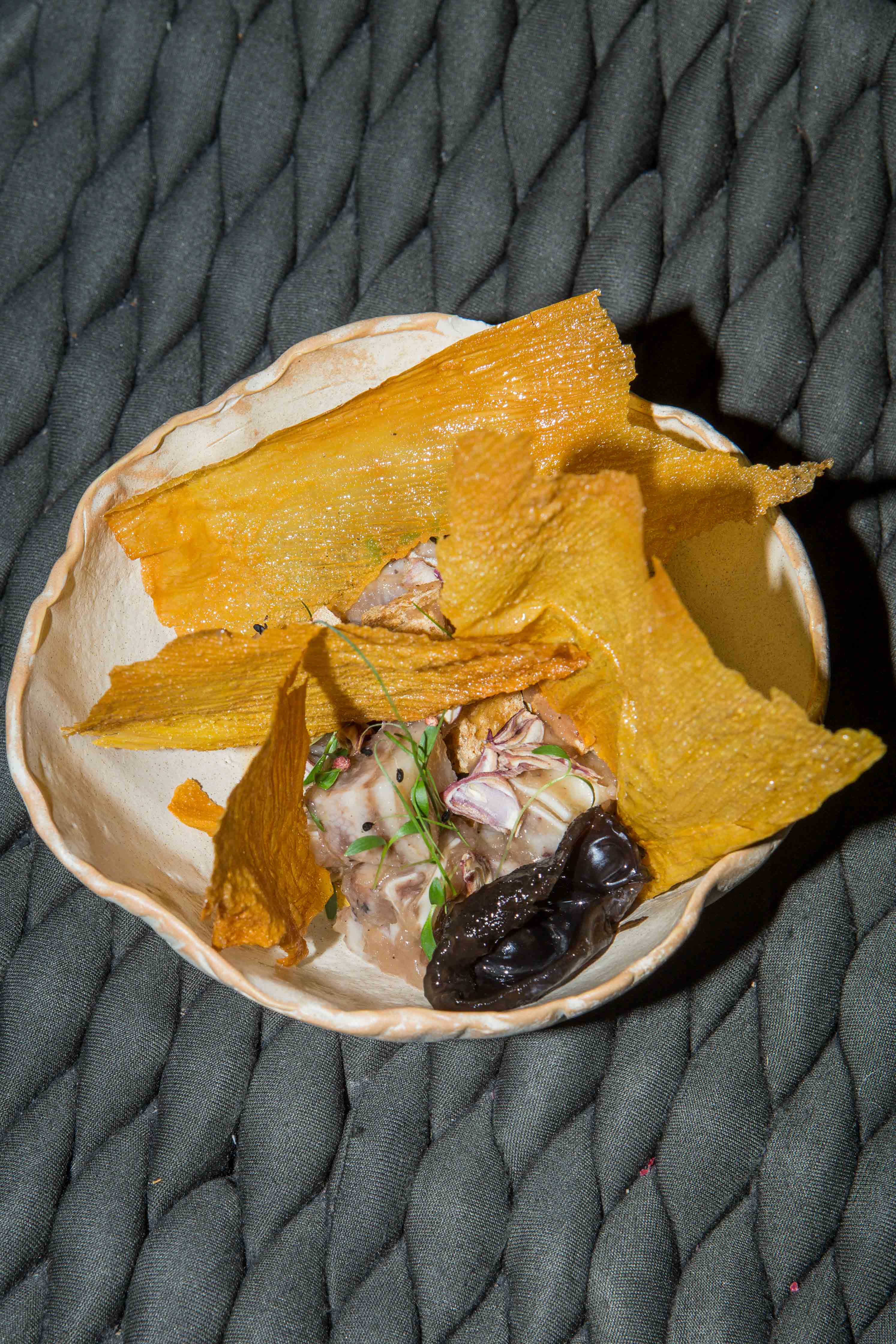 For the main course, the Duck, or Laus' take on the duck confit, is made using the technique to cook pianggang, a Mindanaoan dish. For dessert, Saba, is his homage to the humble plantain fruit. This caramelized banana is sous-vide for over 24 hours, making the whole banana, including the peeling, edible.
Zeroing In
The Agimat Foraging Bar and Kitchen practices zero waste. As the problem of food waste globally balloons every day, Demetrio and Laus ensure that every produce is used to its full extent. The two exchanges excess parts such as trimmings, shavings, and the like to be used in either food or drinks regularly.
On Agimat's grand launch, they will also introduce their five-course tasting menu, which highlights one ingredient across the drinks and dishes. "We've almost abused the fruit, including the tree, to create the entire menu," says Laus. They have chosen the jackfruit, utilizing everything from the sap to its seeds, leaving almost nothing behind. "It's definitely a challenge to include jackfruit in everything without it having similar taste," adds Demetrio. But they did it and we can't wait to try it.
Next month, the team would be embarking on a voyage to Ilocos to forage for new ingredients. Agimat aims to change their menu every three months putting the spotlight on one province every time.
Get more stories like this by subscribing to our weekly newsletter here.
Read more:
Estée gives a French chic twist to boozy nights in Poblacion
This Poblacion pregame spot lets you make all the noise you want