Read more related stories
Imagine waking up right before sunrise. Light starts to peek into your wide windows. The cool dawn breeze rustles the leaves of lush trees outside. Then, birds start to chirp and wake up, too. "It's going to be a good day," you tell yourself. You don't rush. You stretch. Sit down on the edge of your bed and watch the sunrise.
Seems like a reverie, a luxury, to simply enjoy and relish moments without worry. This is how fashion designer and all-around creative Patis Tesoro starts her day in her home in the province of Laguna. "Oh, I have a routine," she says. "I draw from 5 till 8 o'clock in the morning. Then after I draw, I would have my breakfast. I'm usually out here by 9 or 10 o'clock," Tesoro narrates while fixing some paperwork at her atelier.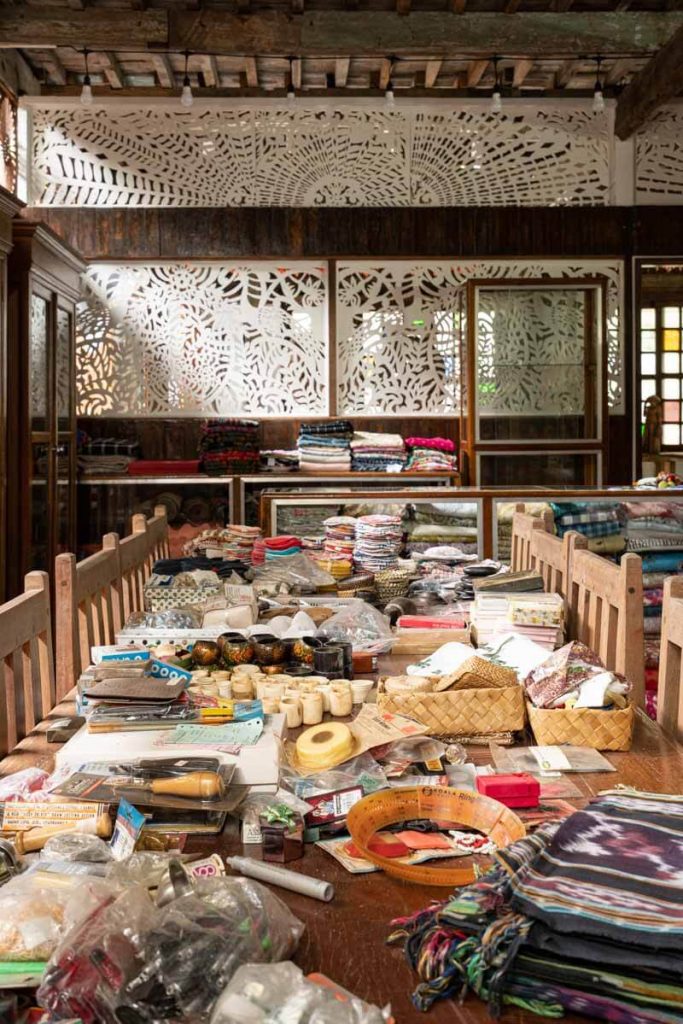 Tesoro transferred her dress shop from San Juan to her three-hectare weekend home in Laguna after her husband died almost three years ago. "I don't want Manila anymore. I refuse!" she says.
In Laguna, she would get up, let her creative juices flow, eat slowly, while doing what she loves most: horticulture. "If I could do my life all over again, I would probably be a horticulturist," she says. "Dresses and plants? They're the same. You're making beautiful things with plants. Of course, you've got to learn more because they're living things. But it's also about beauty. Beauty is good air and the way you think. And people have a hard time understanding that."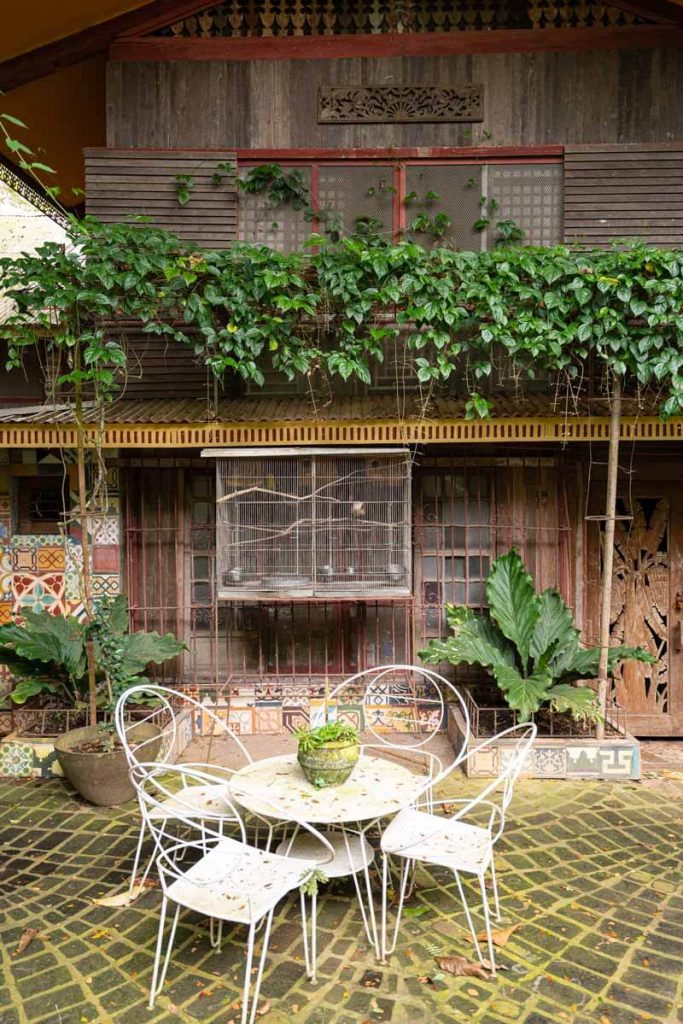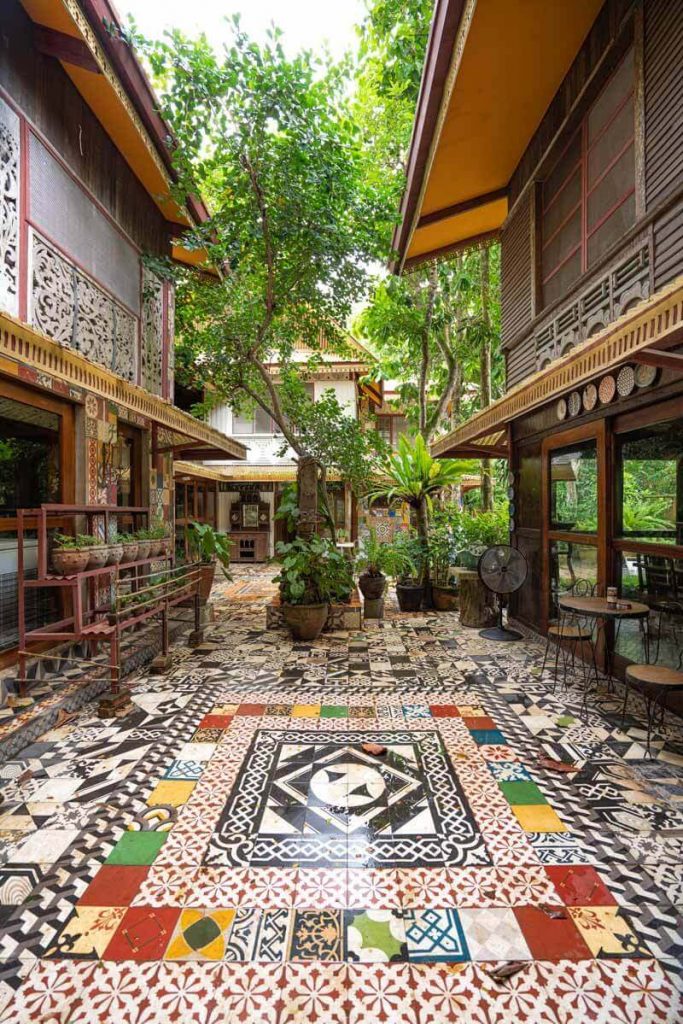 Back to basics
Tesoro spends a part of her morning walking around her gardens, which are sustained by vermiculture.
Moving back to the provincial setting was natural to Tesoro. She grew up in Iloilo in the '50s. It wasn't until she was six years old that they owned a television set. So, growing up meant being exposed to all kinds of housework, including gardening. After decades of living in the city, it was about time to return to her roots.
"You have to learn how to deal with nature; deal with simpler eating. And I'm not talking about fast food eating but cooking at home," Tesoro shares. She also urges us to start growing our own produce—the first and most important step of which is to check our soil. "It's all in the soil. If your soil is poor, it is not going to happen," she emphasizes animatedly.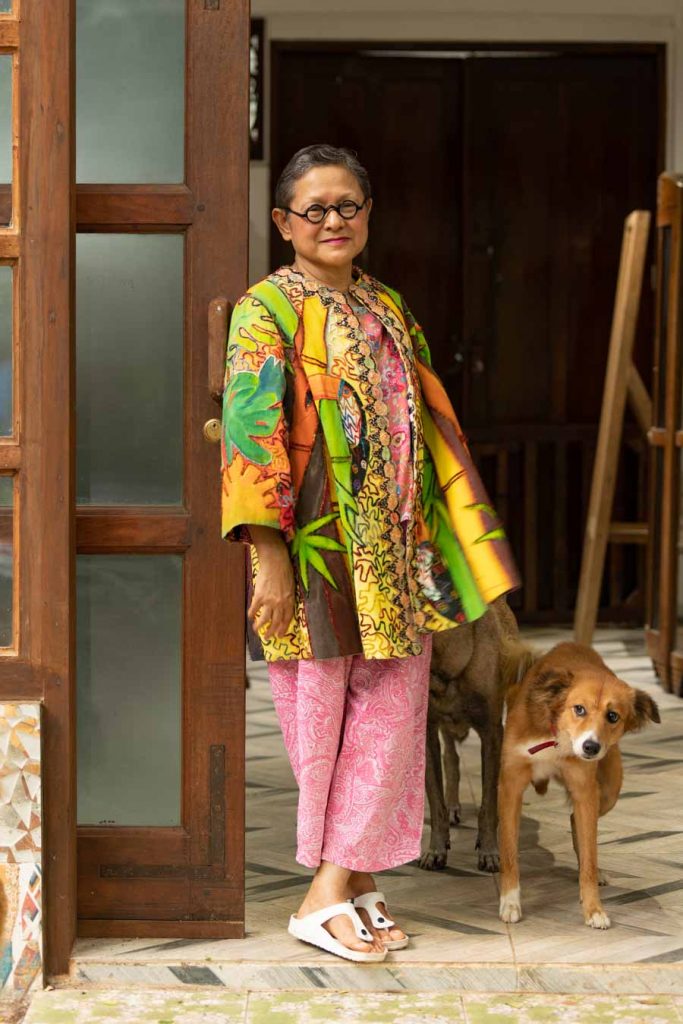 "Dresses and plants? They're the same. You're making beautiful things with plants. Of course, you've got to learn more because they're living things. But it's also about beauty. Beauty is good air and the way you think. And people have a hard time understanding that."
Before constructing the house, it was imperative to start planting first. "If you want to enjoy what you've planted, you have to start early," Tesoro says. As we walk around the property, she would point at tall trees and boast that she planted those decades ago. As with plants, her plan on what to do with the space came about slowly, especially because she spent most of her time in the city. "I used to get angry easily. Now, I don't. I garden."
In design
It all started 40 years ago when the couple decided to buy this patch of land in the sleepy town of San Pablo,
Laguna. They only had a nipa hut back then. "It was hard to maintain, and you get a lot of tuko and all kinds of animals falling on your head," Tesoro narrates.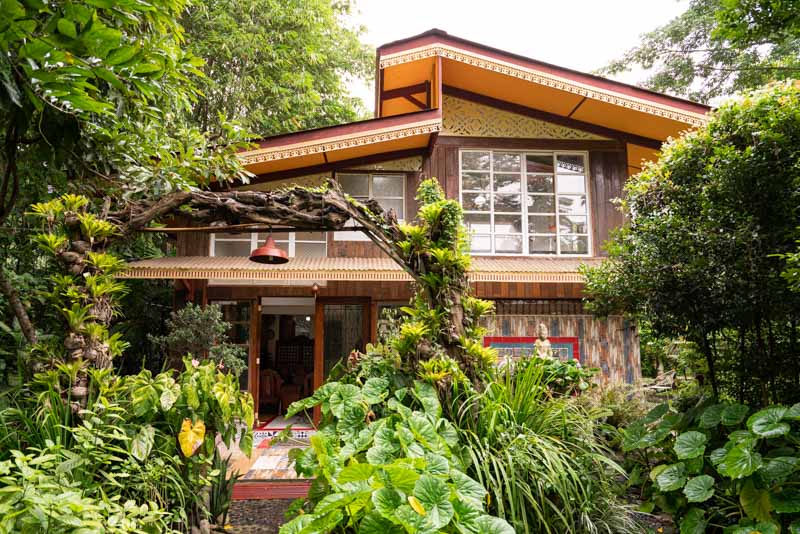 Today, the property has three important structures: her private home, the old café and extension (composed of her office, dress shop, and mini gallery), and At's Place, a two-story house formerly owned by photographer At Maculangan, which Tesoro renovated to reflect her love for Filipino design.
Her current house is the reconstructed version of their old home. If there's one thing that is truly Patis Tesoro's signature, it is her homage to Filipino design. "Filipino houses, even the nipa house, all began with ventilation. It is important in the tropics because if you don't have ventilation, you'll swelter inside," she says. This is why all the rooms inside the property have high ceilings and ventanillas, carved-out wood panels that connect the
walls to the ceiling while letting ample breeze in. Apart from being beautiful because of
the different lace-like patterns that could be created, the burda or ventanillas are essential to ensure good airflow within a space.
Tesoro is definitely unafraid of color. Patterns and color abound in every nook and cranny. Even ceilings and steps are handpainted. Her trusty all-around staff Raymond Cruz, nicknamed Madonna by Tesoro, turns the designer's ideas into beautiful frescos of indigenous plants and flowers.
A few years back, Tesoro opened Patis Tito to the public, a restaurant which showcased her different recipes amassed from travels. It is currently under renovation and will be open to the public hopefully early next year.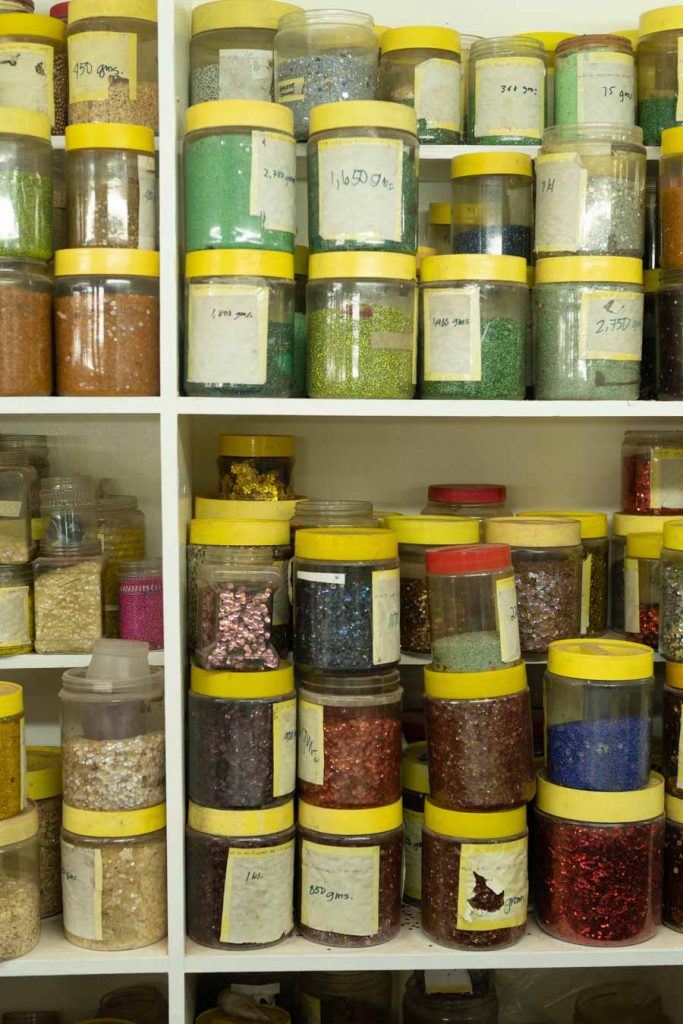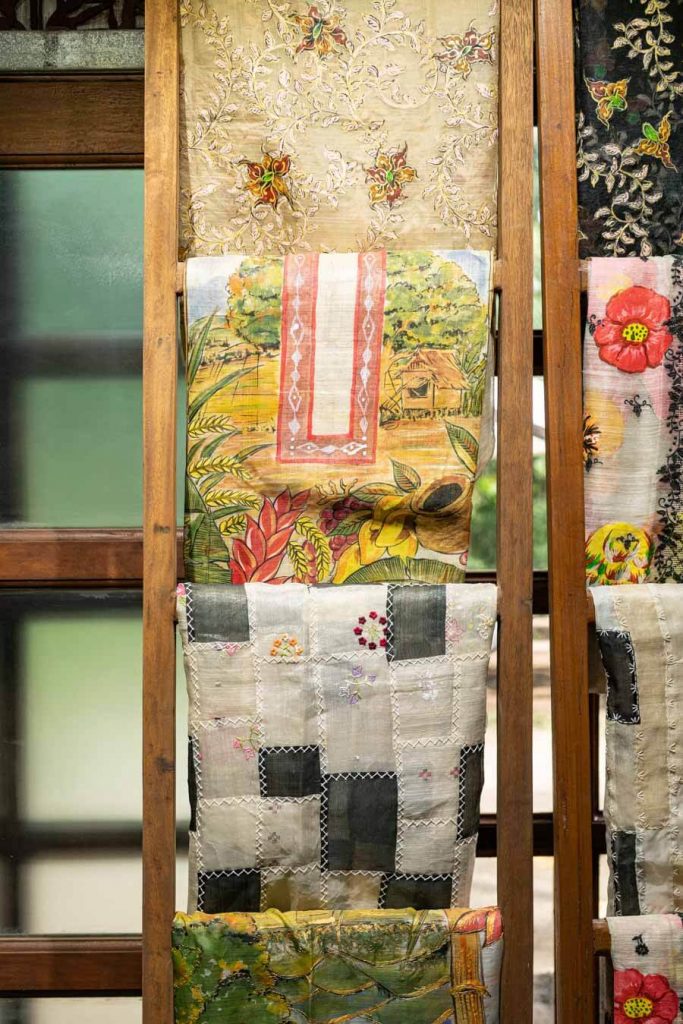 "So, this is typically Filipino. We expand when we have the opportunity and the money and the resource," says Tesoro. She decided to construct an extension of the café upon transferring for good in Laguna. It houses her costura or atelier, office, gallery, and a receiving area where customers can dine. In the small gallery, a few wooden sculptures are displayed.
"These are made by a tricycle driver who is also a good sculptor," she boasts. Said sculptor uses old hardwood or retaso wood from the construction.
Almost every structure is upcycled—from beams to doors and even handles—using hardwood from old houses. Even some good condition ventanillas are used, then the rest are replicas to fill in the gaps. Tesoro never stops creating. She makes use of everything that could be salvaged.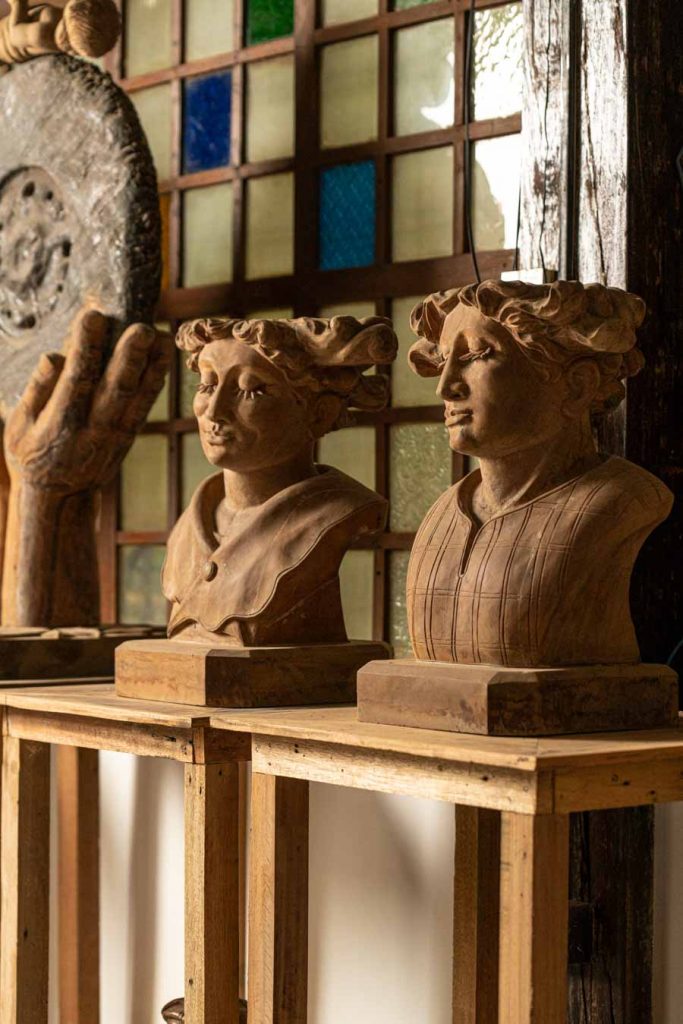 Opening doors
"When people enter, I like them to feel that this is a great way to live," says Tesoro. So, she opened her doors to the public, but only for reservation. At's Place is her little bed and breakfast that transports you to simpler, quieter times.
Through word of mouth, Tesoro has been hosting guests for P5,000 per person with free home-cooked breakfast. They could also bring and cook their own food; however, should guests prefer not to, Tesoro is also offering set menus.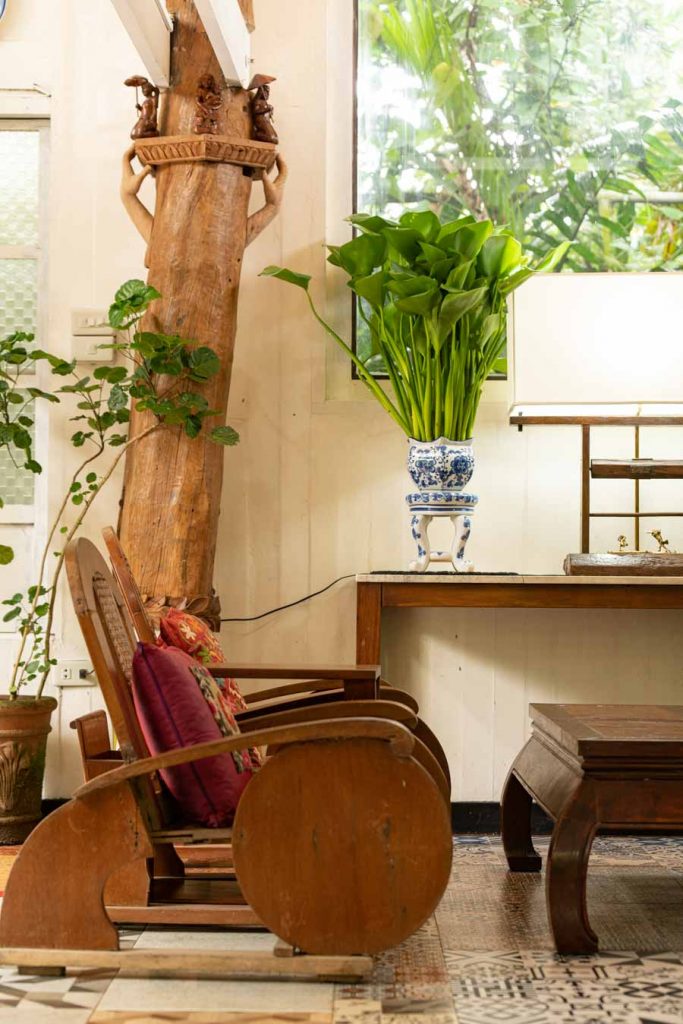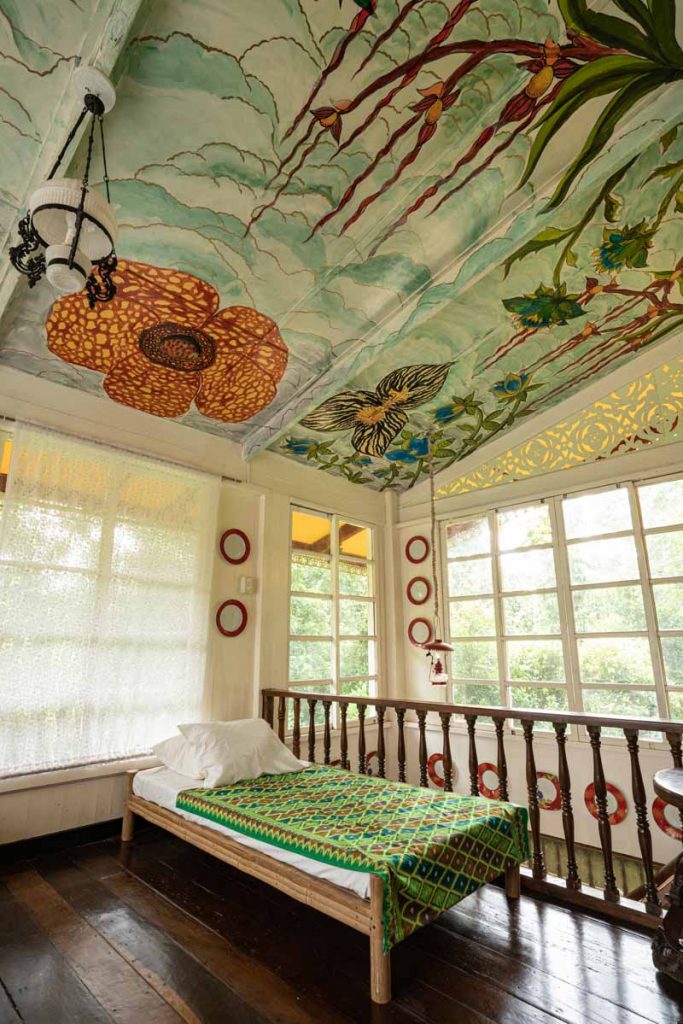 True to her mission of sharing the quiet lifestyle, the second floor of the extension area
is also being developed to become rooms for rent as well. This constant process of creation is what keeps Tesoro going. "What I do, it's simple. It's not difficult if you put your mind into it. If your mind is very 'magulo,' not quiet, then you'll never get it," she says. In her own version of oasis is where she found clarity. She claims that it also made her more creative. "That's the reason why I haven't completely opened yet: a) I am still doing b) I'm still finding my way on how I'm going to present it."
This story originally appeared in the Southern Living Wrap Up Issue.
Get more stories like this by subscribing to our weekly newsletter here.
Read more:
This minimalist home runs on solar power and rain harvesting
Architect Carlo Calma on the dynamism of architecture
Artist Luis Lopa on 'sampling' and painting beyond the canvas
In the almost outskirts of Poblacion, beyond the cramped crowds and establishments, and into the still residential-looking side of town, mixologist and go-to forager Kalel Demetrio setup his little playground or "laboratory" as he calls it and named it Agimat.
A foraging bar and kitchen, it sits on the second floor of what seems to be a traditional two-storey bahay na bato right in the corner of Alfonso and Fermina streets. Agimat, a curious choice of name for a bar, certainly is the first of its kind in Manila as it serves an all-Filipino selection of cocktails and tapas. As you enter its doors, expect to venture into the dark, folk side. Faux branches spring out the walls with anting-anting hanging loosely, occult-inspired art drawn on the walls, and foliage peppered around the space. But do sit at the bar if you must, it is where the magic happens anyway.
The spell-binding bar
If you find yourself sitting at the bar, you get front row seats to the theatrics that goes behind every drink. Setting the mood is an old, fallen down Balete tree trunk living a second life in the middle of shelves filled but label-less bottles that would instantly pique your interest. No usual branded bottles are on display. "We want our customers to start asking questions and spark a discussion on Filipino ingredients," says Demetrio. Liquids in all hues of brown and silver are products of his experiments.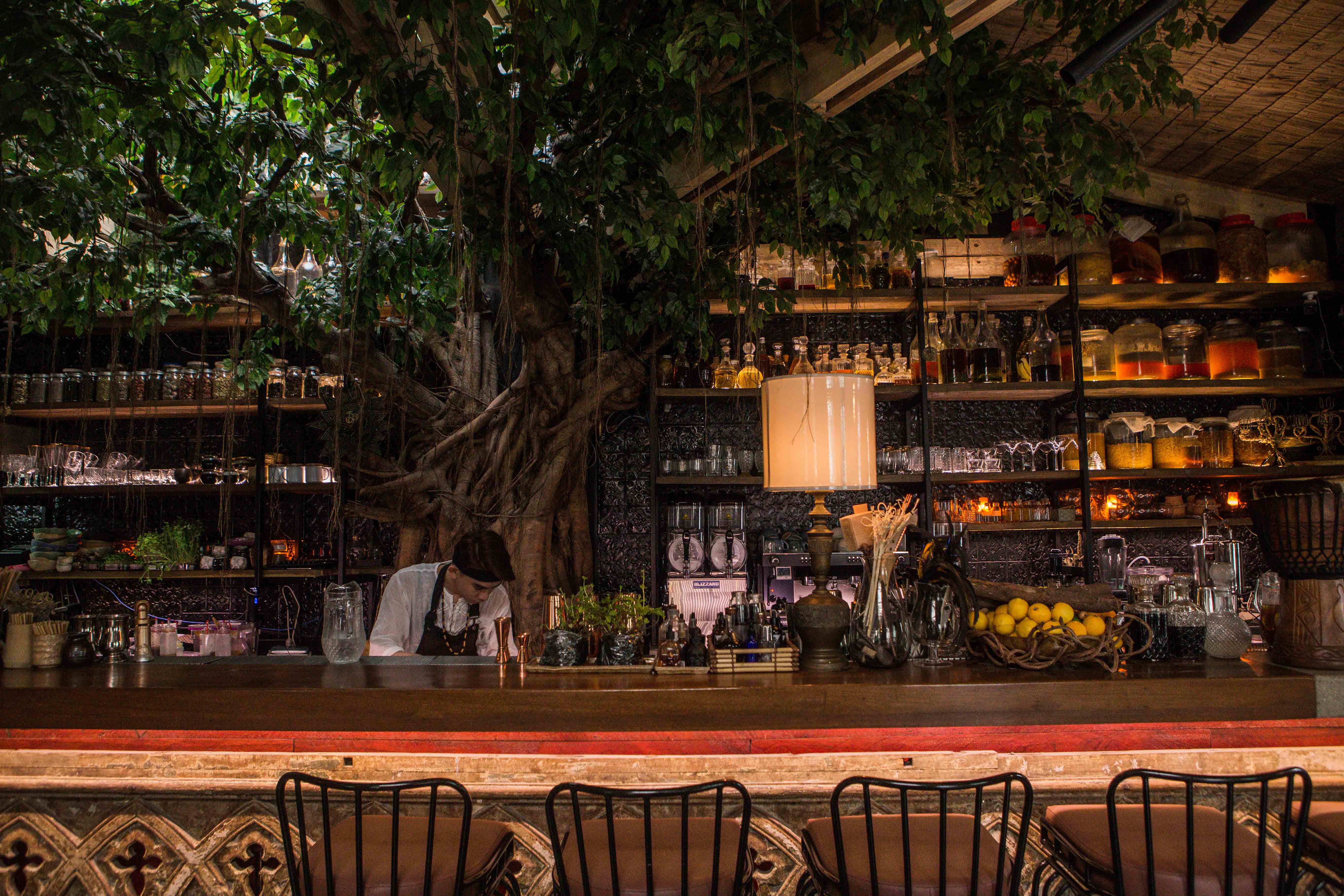 "Everything is made from scratch here," he attests. Every spirit, liquor, and even syrup used originated from Philippine soil. As of date, Agimat offers 10 artisanal cocktails all inspired by natural elements: Apoy, Tubig, Lupa, Hangin, and Buhay.
The first and most iconic concoction is the Ritual ng Agimat under the Apoy category. This fiery drink uses the southern Tagalog staple, lambanog mixed with gin and calamansi liquor. The wait for the drink is a tad longer than the others as the entire crew prepares to take part in a ritual performed with ethnic masks on, drums, and chants upon serving your drink.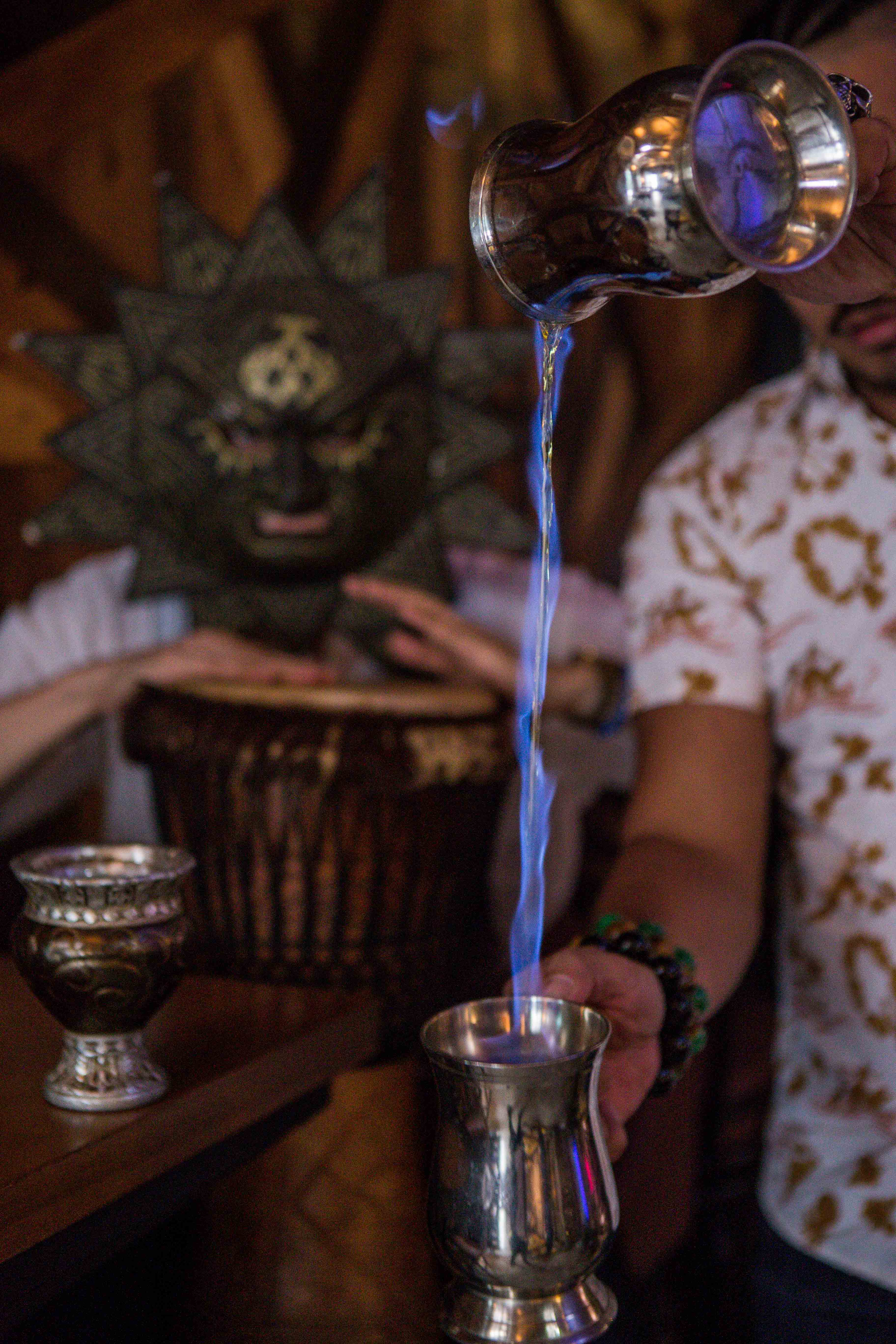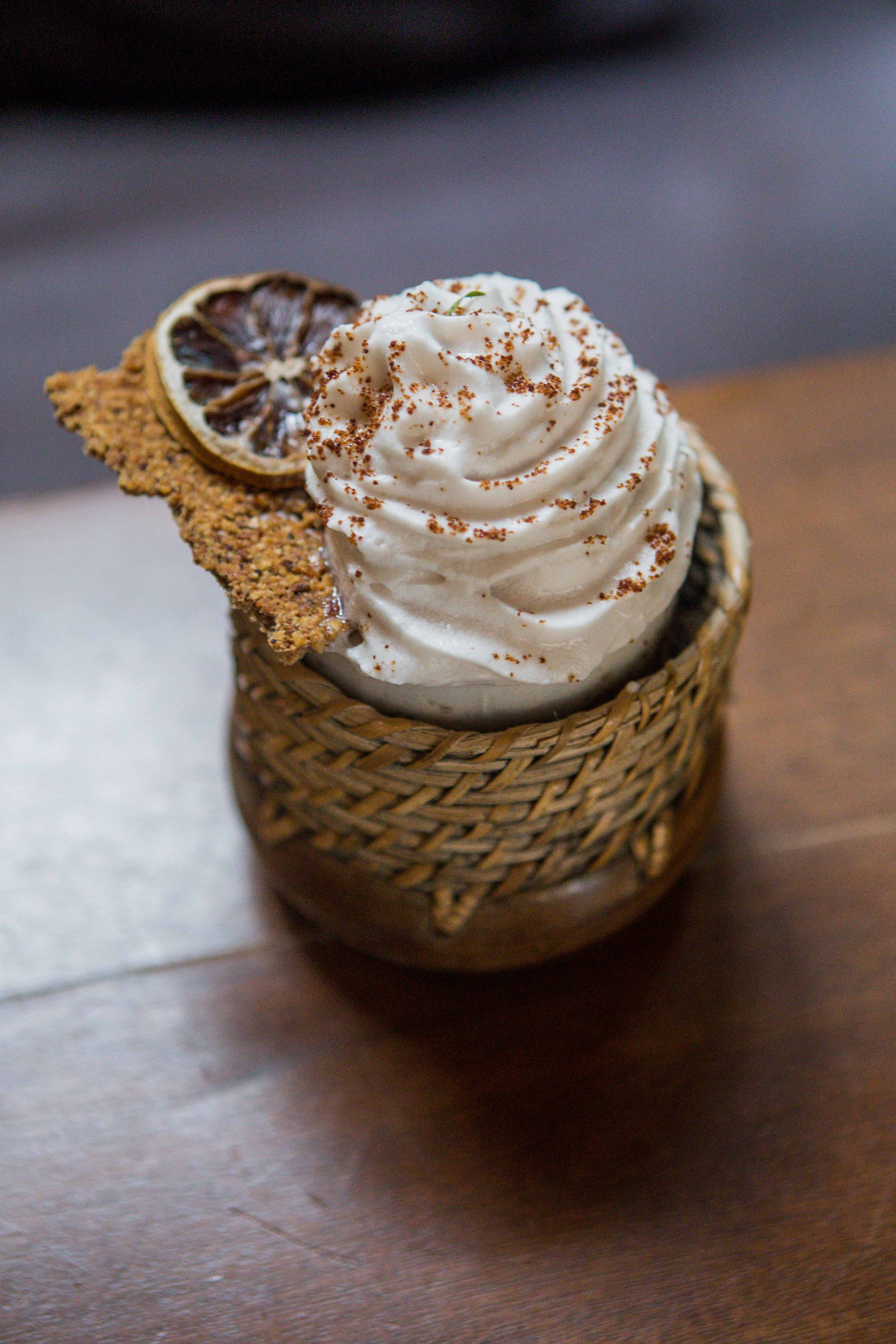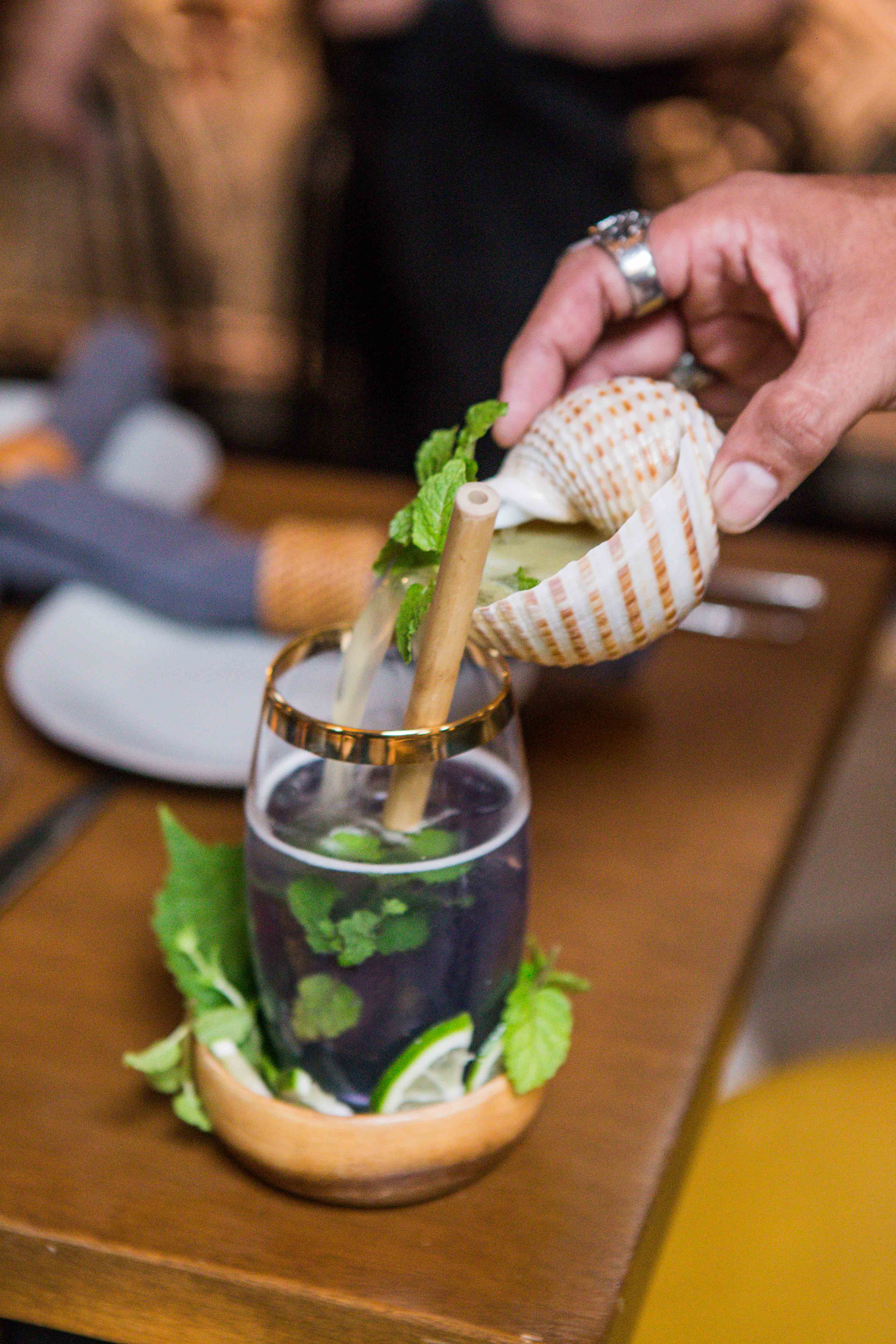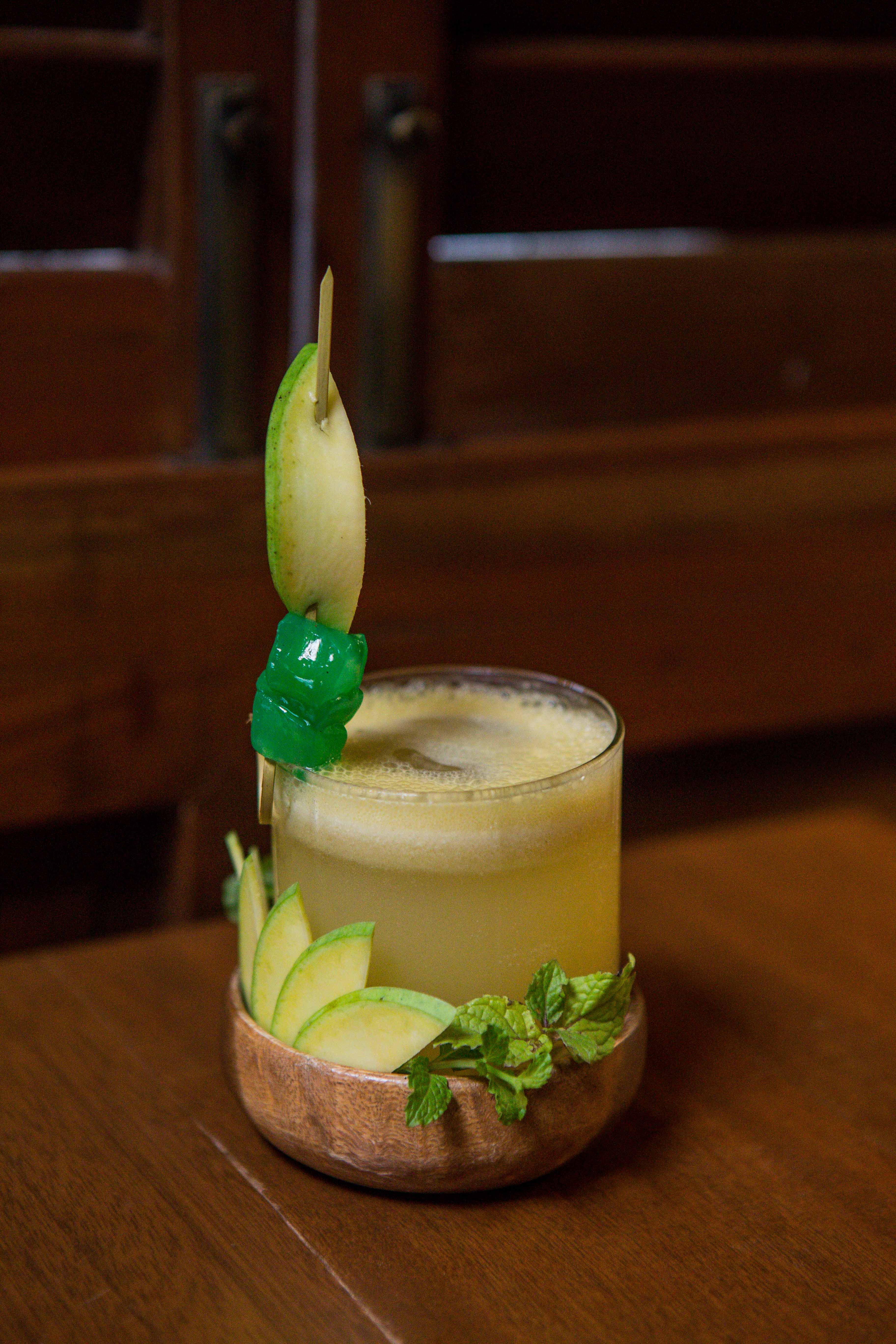 It might get a bit confusing seeing all the unfamiliar ingredients in every drink. But some techniques were actually adapted from creating the classics. Agimat ng Sawi under the Buhay category is the closest you can get to a whiskey sour. Demetrio used sampinit (local berry) lambanog liquor, bourbon, seven-year rum, earl grey liquor, guava mint shrub, angostura bitters, local lemon, and egg white. Another interesting tipple is Kontra Lamang Lupa, wherein root crops such as kamote and ube was used to add flavor to the foamy, almost milkshake-like, rum-based drink.
Kitchen of the gods
"We don't do Filipino cuisine," clarifies Nino Laus, resident chef and part-owner of Agimat. In the realm of Laus, inside the hot kitchen, countless of experiments using the most modern cooking techniques were done to put together every dish that's not necessarily Filipino but definitely showcases proudly Filipino ingredients.
For this season, most of their ingredients are sourced from the mountains and seascapes of Batangas. Before opening, Demetrio took the Agimat team on a week-long foraging trip around the province.
Paunang Hain (appetizer) dominate the food menu with 10 choices. On the other hand, there are four dishes available each for Pangunahing Hain (main course) and Panghimagas (dessert).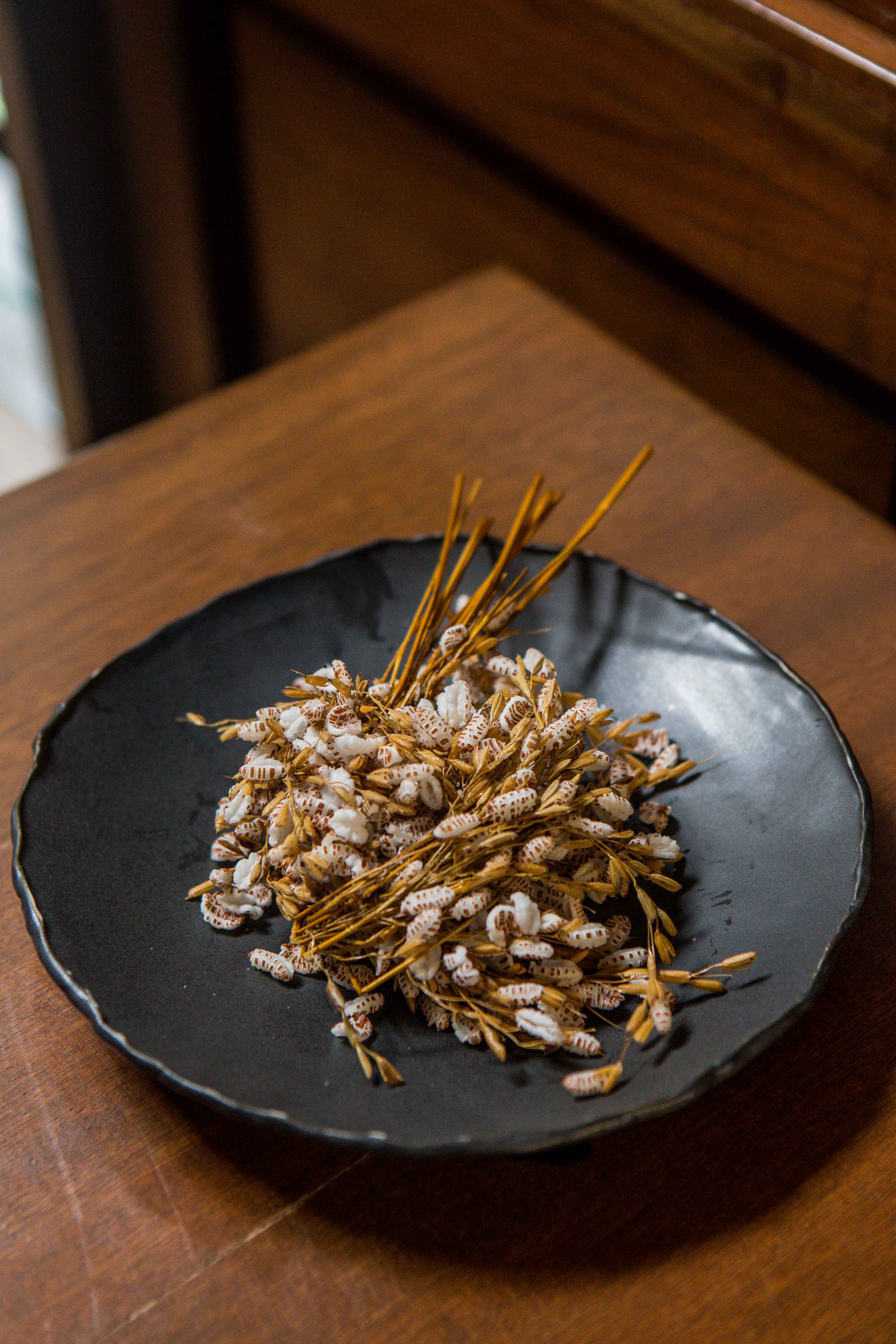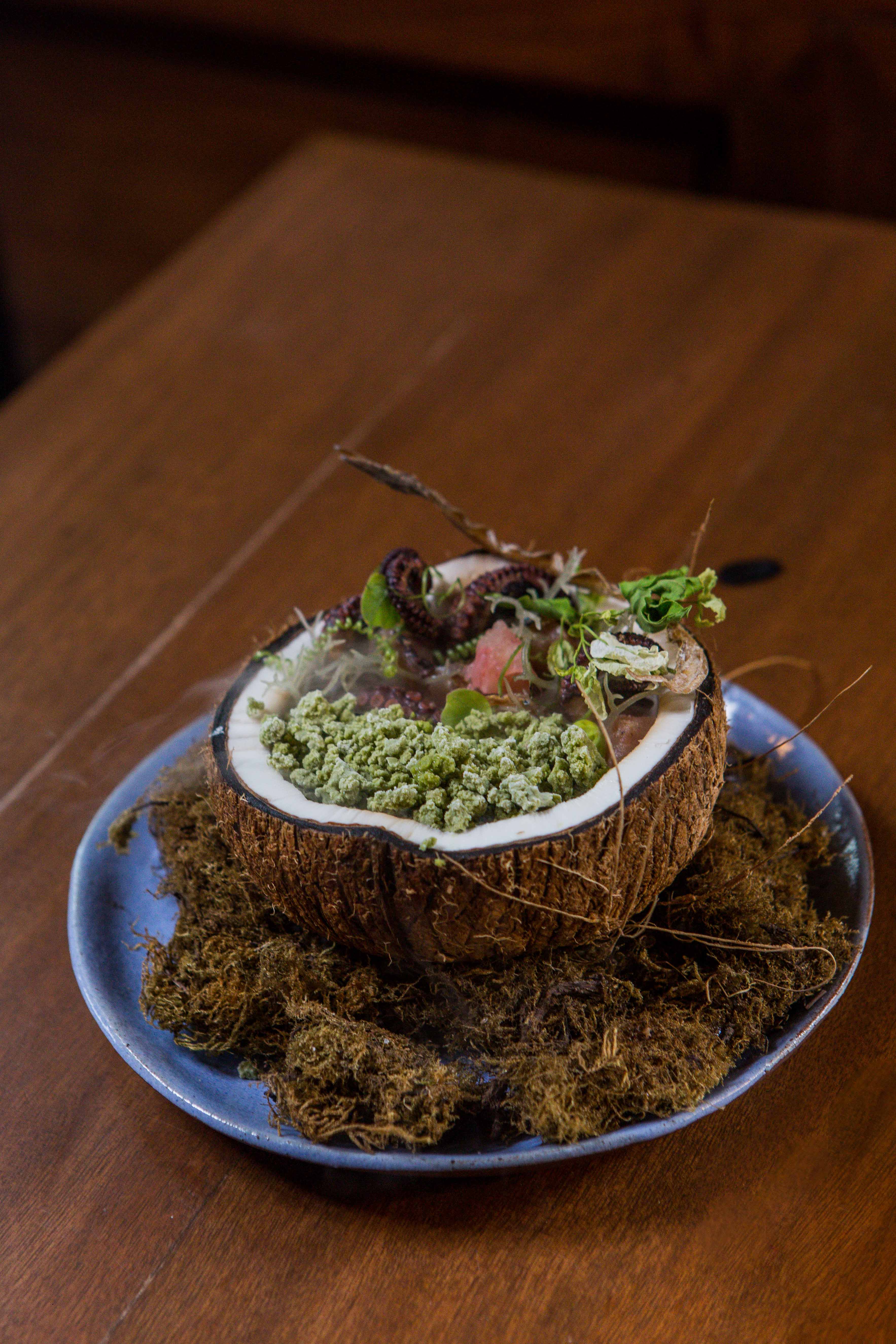 Representing the coast of Batangas is Lumot at Malasugi, an appetizer quite familiar because of flavors reminiscent of our kinilaw but far more complicated. It is composed of octopus tentacles, blue marlin smoked using pedped (an Ibaloi cooking technique), a deep-fried malasugi (swordfish) for that extra crunch and umami flavor, and calamansi nyebe, which serves as its sauce. The calamansi nyebe is a creative mix of siling duwag, tinapa broth, coconut milk, and calamansi cooked in liquid nitrogen.
Alimasag aka every crab lover's dream is one of the dishes in the selection. The blue swimmer crab meat is sautéed in Zamboanga's heart attack-inducing sauce, the Alavar sauce, with a generous siding of aligue, and dalandan foam to cut through all the rich, savory taste. This is also accompanied by hummus made from patani.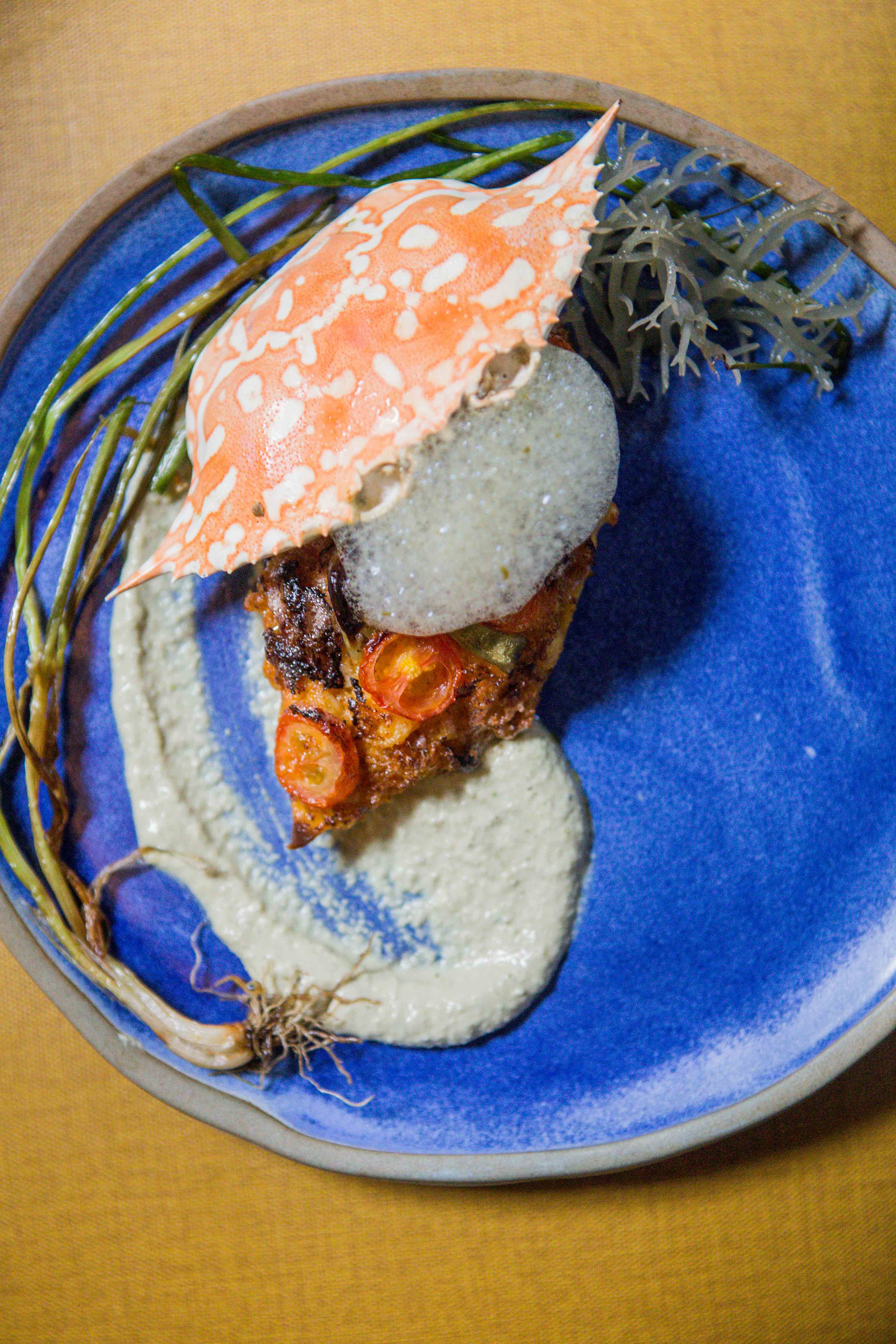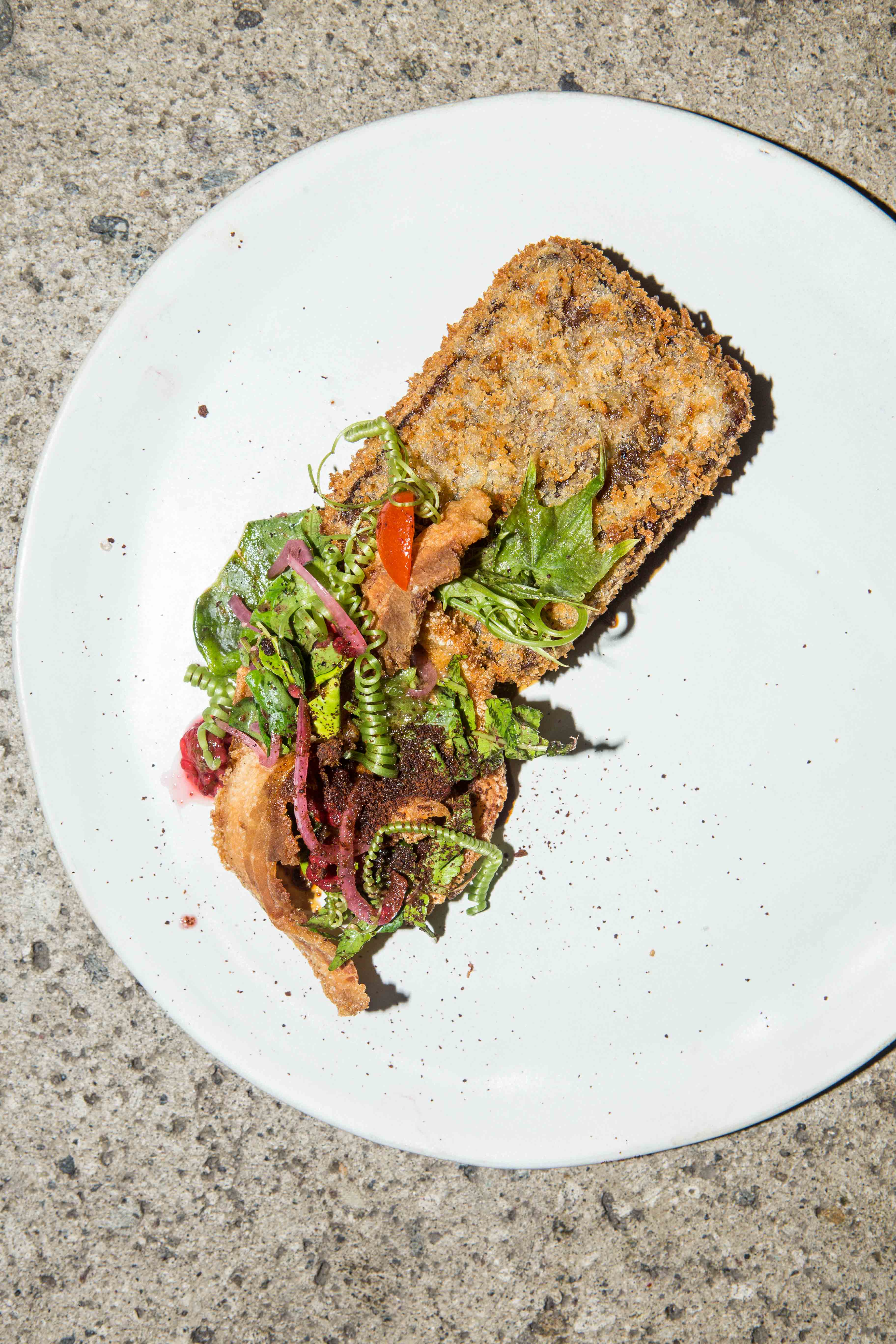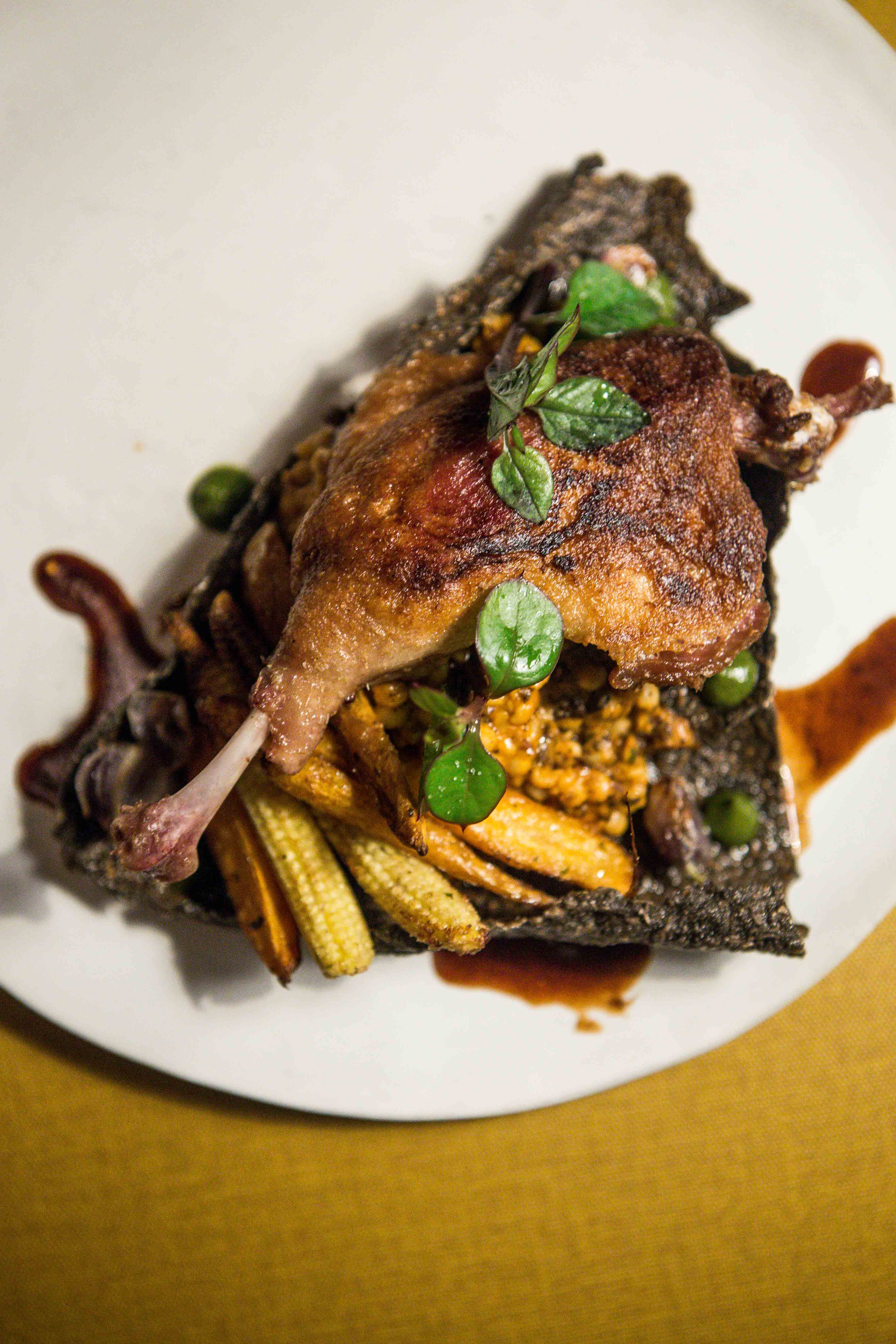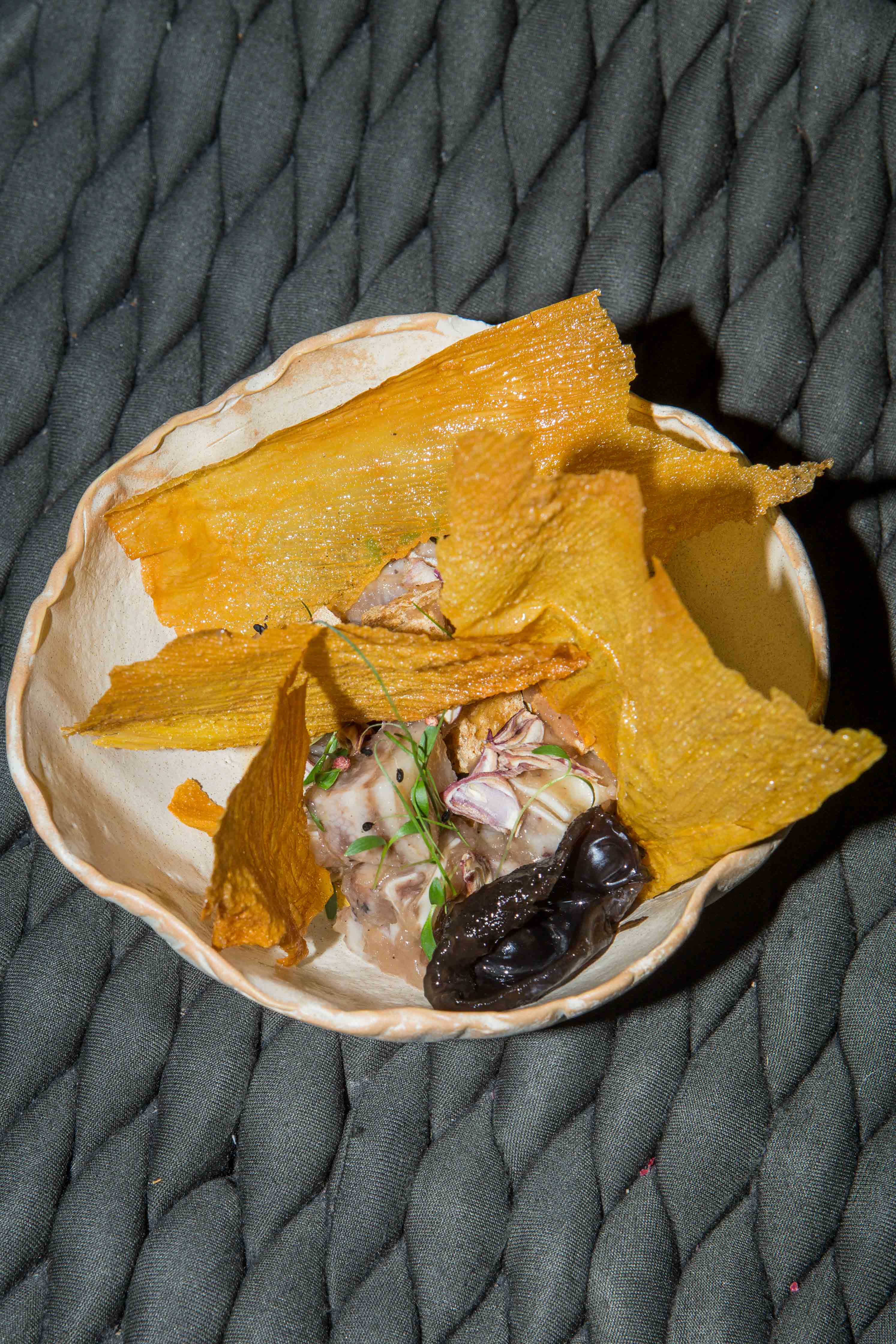 For the main course, the Duck, or Laus' take on the duck confit, is made using the technique to cook pianggang, a Mindanaoan dish. For dessert, Saba, is his homage to the humble plantain fruit. This caramelized banana is sous-vide for over 24 hours, making the whole banana, including the peeling, edible.
Zeroing In
The Agimat Foraging Bar and Kitchen practices zero waste. As the problem of food waste globally balloons every day, Demetrio and Laus ensure that every produce is used to its full extent. The two exchanges excess parts such as trimmings, shavings, and the like to be used in either food or drinks regularly.
On Agimat's grand launch, they will also introduce their five-course tasting menu, which highlights one ingredient across the drinks and dishes. "We've almost abused the fruit, including the tree, to create the entire menu," says Laus. They have chosen the jackfruit, utilizing everything from the sap to its seeds, leaving almost nothing behind. "It's definitely a challenge to include jackfruit in everything without it having similar taste," adds Demetrio. But they did it and we can't wait to try it.
Next month, the team would be embarking on a voyage to Ilocos to forage for new ingredients. Agimat aims to change their menu every three months putting the spotlight on one province every time.
Get more stories like this by subscribing to our weekly newsletter here.
Read more:
Estée gives a French chic twist to boozy nights in Poblacion
This Poblacion pregame spot lets you make all the noise you want
5 new Poblacion spots to try for your next night out
It is a typical chaotic day in Manila: cars rushing and weaving through the roads, pedicab drivers' counterflow adding insult to traffic problems, a layer of smog enveloping the heart of the capital.
Driving through the suffocating, concrete streets of Manila, we find a quiet oasis in the heart of Malate. An unassuming but generous cut of property filled with lush flora and diverse fauna, sandwiched between towering condominiums, post-war office buildings, and a Taoist temple.
As we enter the residence, we are instantly greeted by at least two snakes inside aquariums. Near the front door is a huge cage with a mature albino snake that takes four people to carry. "Are we still in Manila?" I wonder, when in fact, we have just turned into one of the side streets from Taft Avenue. Inside, a black German Shepherd puppy welcomes us. Trailing him is a beagle and a poofy Pomeranian. Out on the lawn, an iguana freely roams. There are 47 dogs and numerous reptiles, from snakes to turtles; I don't bother to count.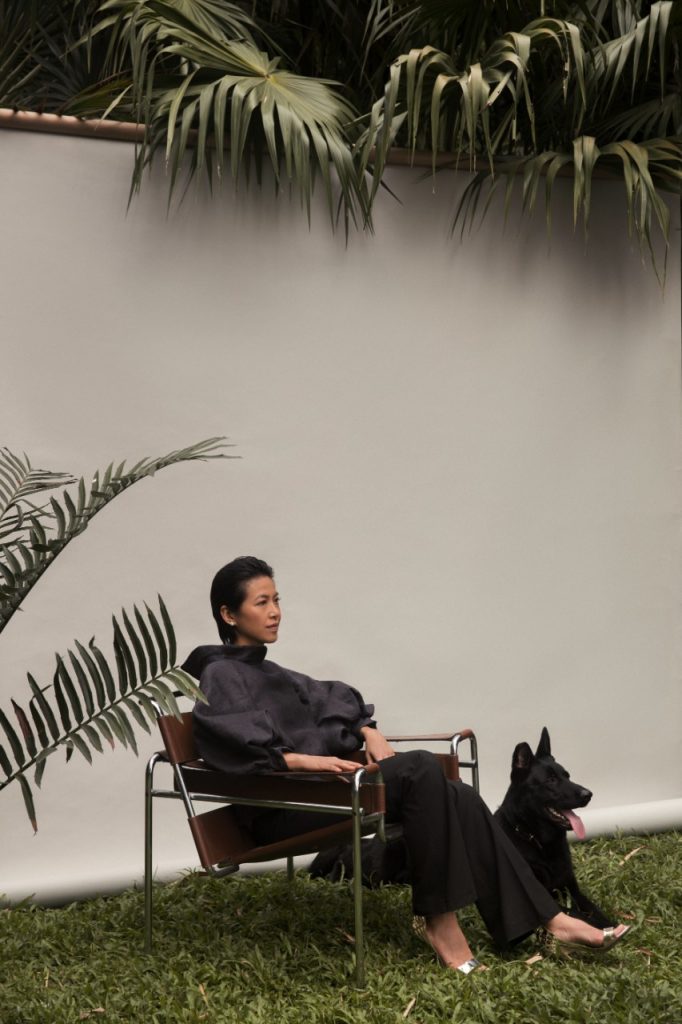 This is the home of the Atienzas. And this is their sanctuary. Enter Felicia Atienza, all smiles after dropping her three kids off at school. "I always loved animals growing up, too," says Felicia. "I even owned a chicken before," she animatedly adds.
Furthermore, she made a name for herself even before meeting husband Kim Atienza. She is a former fearless finance extraordinaire with a degree from Wharton under her belt, founder of the Chinese International School, board member of Rappler, and president of the Philippine Eagle Foundation.
Inner Circle
With her various affiliations and the different interests of every family member at home, she says that keeping up with everyone can be a tad challenging. Her day starts quite early—she wakes up at 4:30 in the morning. "Kim and I have a long breakfast together, right before the kids wake up," Felicia says. "It's our bonding time." She then gets ready for work and leaves with the kids at around 6:30 a.m. for school, where she also works.
"People will only be mobilized into action if there is an emotional attachment. There has to be a heartbreak."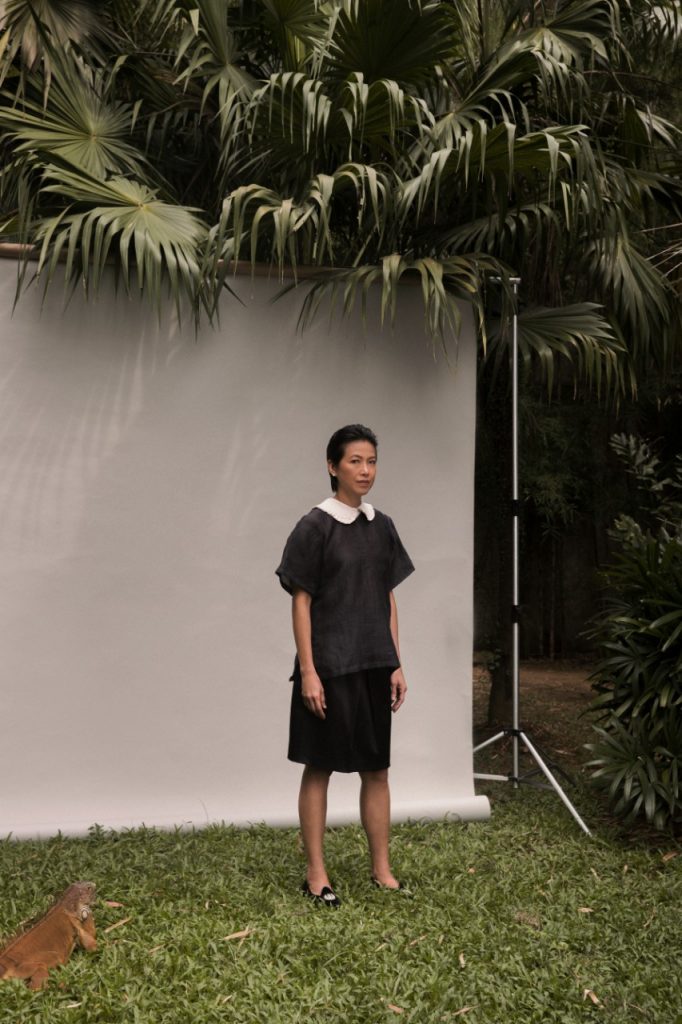 The Chinese International School Manila located in McKinley Hill, Taguig, is the first of its kind in Metro Manila and also her very own brainchild. "When Jose (her firstborn) turned two, I thought to myself that I want to send him to an international school, but an international school that taught him Mandarin from the nursery level," says Felicia. "I was surprised that no such school existed in the Philippines."
So Felicia took it into her own hands and started researching and planning different educational systems. After visiting many schools all over the world, including Mandarin immersion schools, she finally opened the doors of her school in August 2007.
Despite everyone's busy schedules, the family continues to find common time together. On weekdays, dinners at home are a must. Even if traffic makes getting from Taguig to Manila difficult, she uses the time in transit to get unfinished work done and still arrive home in time for dinner. They share updates about what went on during their days and have discussions about politics and social issues. "Dinners are usually long and drawn out," Felicia says.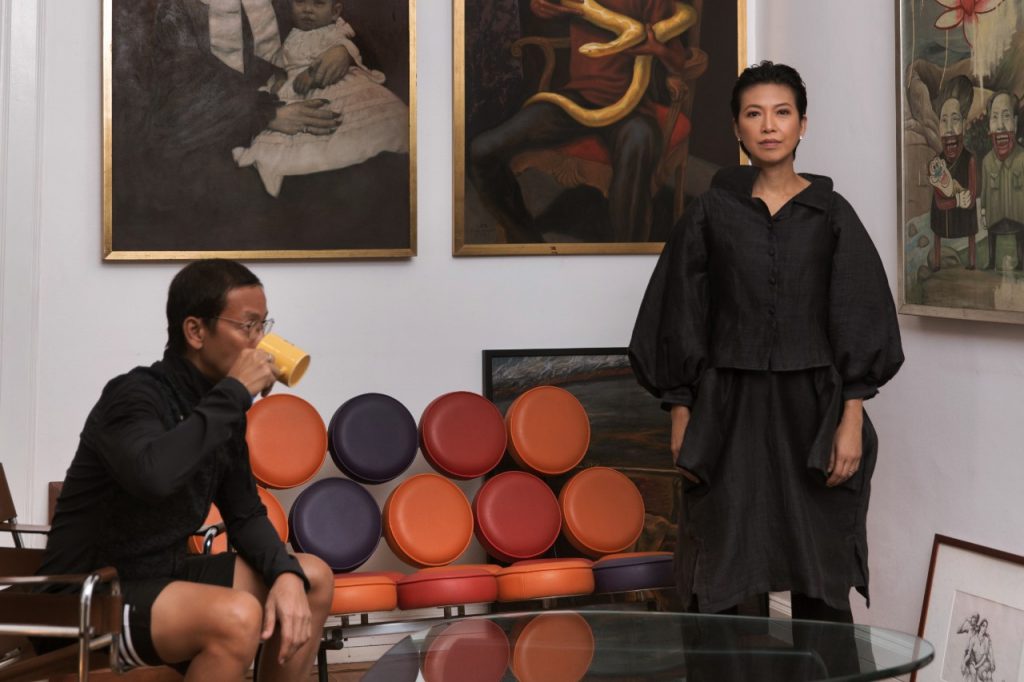 But one unique bonding event for Felicia and her children is her promised once-in-a-lifetime solo trip with each one of them upon entering their teenage years. The first of the three cubs, Jose, chose an expedition to the Arctic. The second, Eliana, went to a safari camp in Botswana. The youngest, Emmanuelle, opted to go deep in the jungles of the Amazon, which they'll be going to as mother-daughter this coming summer.
Call of the wild
To say that the Atienzas are active and adventurous is an understatement. Being an explorer and a curious traveler is embedded in their genes. Felicia says that among the many adventures they've had as a family, it's her memories of Africa that stand out.
"There's something about Africa," she recounts. "It was already my third time last year and it still continues to amaze me." Prior to the trip with her daughter to Tanzania and Botswana last year, she had already gone to Africa twice with Kim—first to Botswana and then to South Africa.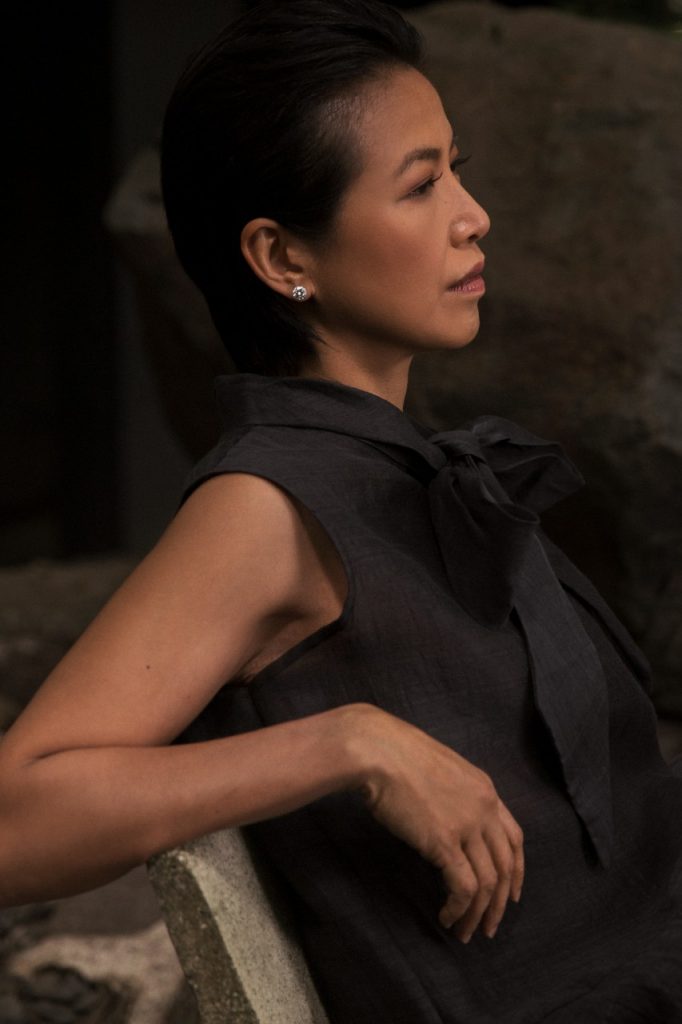 The vast terrain, free-roaming animals, and unpredictable wilderness make Africa magical to her. "When you're in Africa, you would realize that nothing else matters. It's really survival." But the one thing that caught Felicia's attention is how Botswana was able to meld together the concept of conservation enterprise. She continues to share that, apart from gold, the country's biggest revenue generator, tourism is becoming a sustainable economic workhorse for Botswana.
"What they do is they carve out their entire country into reserves," Felicia explains. is gives camp operators opportunities to bid for that concession, where the profits will then be shared with the government and the indigenous people. "If you talk to the people in Botswana, they really know their culture and their animals," she adds. The indigenous people are then relocated to a specific area and these camps hire and train them to become camping guides. The safari camps also adhere to very stringent environmental parameters. To make this work, Felicia emphasizes, "When you are trying to conserve a species or the habitat, it also involves buy-in from the culture around you. At the same time, you also have to ensure that your efforts are sustainable."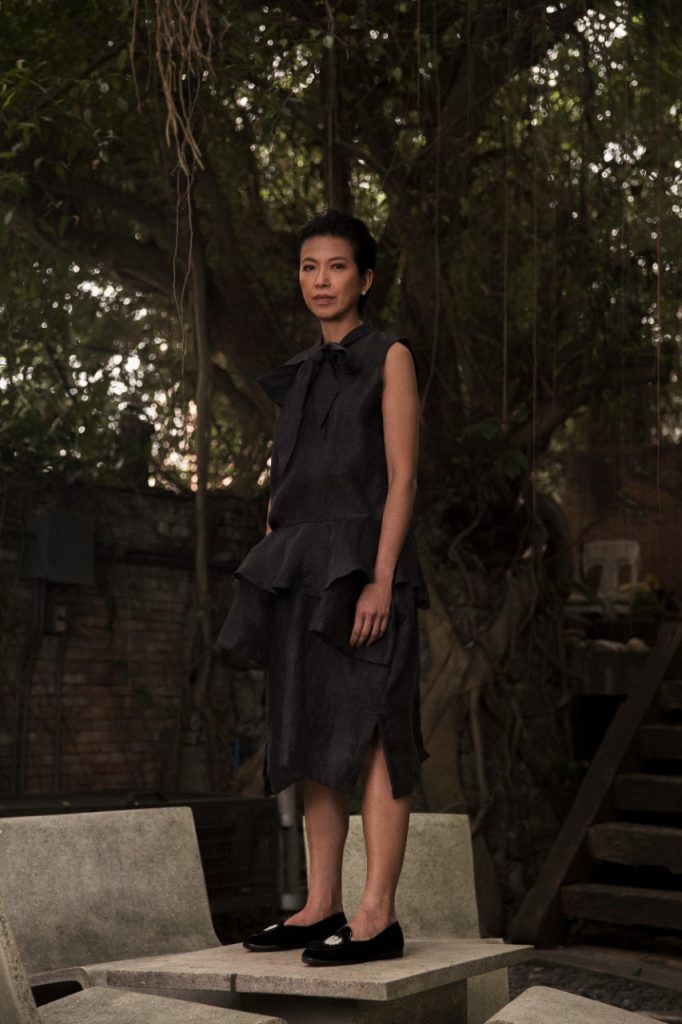 "No one is asking you to live out in the forest with no electricity. Just minimize your impact."
At home, as the president of the Philippine Eagle Foundation, Felicia is trying to find ways to raise awareness about the plight of our national bird. With only around 400 Philippine eagles left, 90 percent of them in Mindanao, it is already considered a critically endangered species.
With her exposure to different conservation efforts around the globe, Felicia attempts to roll out the enterprise aspect of conservation in the foundation. "One of our big initiatives this year is that we are getting women involved where the nests are located," she explains. In 2013, they collaborated with Hong Kong-based group called Conservation Sew Mates, wherein they started teaching women from local communities—the first one being the Manuvu Tinonanon partners from Tumanding—how to sew plush toys of endangered species to support conservation awareness. In 2017, they expanded the project with indigenous community partners.
With farming being their families' only source of income, some residents near nesting sites opt to hunt for the endangered eagle for food or money. As they live deep in the jungle, very few options are available to locals—husbands are farmers, and the wives are full-time housewives. e simple project of sewing plush toys has given its partner community members a sense of empowerment, with all proceeds going back to the women, and an enlivened sense of awareness on the different endangered species surviving in their locality. The collaboration project is already in three communities, and Felicia is looking at cascading the program to three more.
Little things, big impact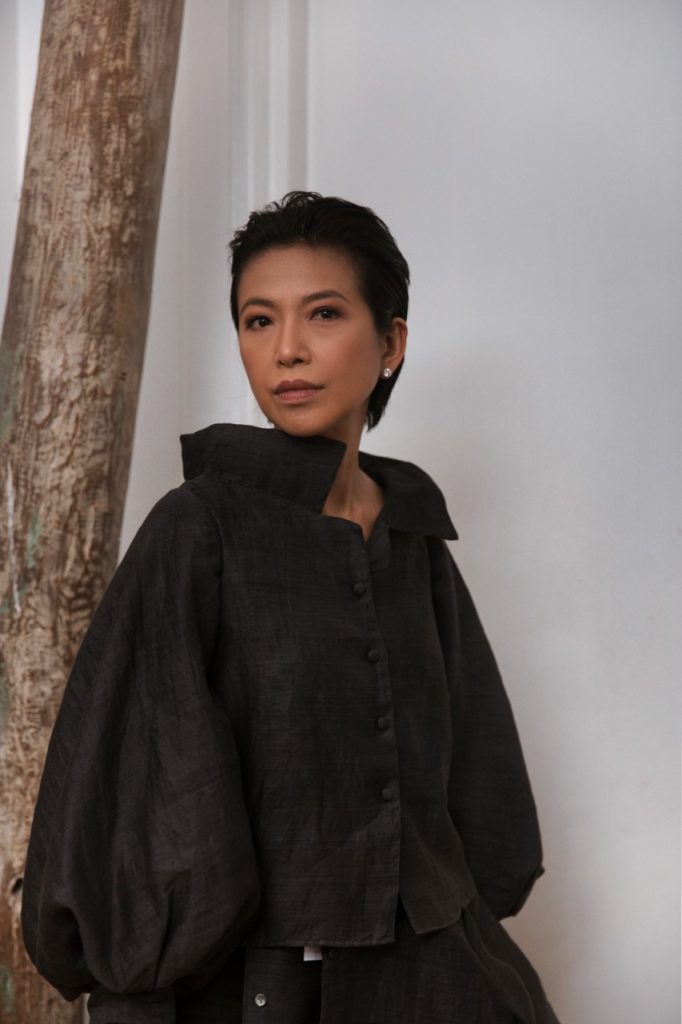 "It's very hard for the youth to feel an emotional attachment to the eagle because they've never seen one," Felicia says. "Education is really an important component for people to care more about the environment. People will only be mobilized into action if there is an emotional attachment. There has to be a heartbreak. To the point that you feel so moved and heartbroken that you have to act on it."
The call for ecological preservation, environmental education, and climate change adaptation and mitigation has been making headlines in the past decade. The looming threat of an ecological collapse detrimental to human existence has been at the forefront of global issues. But what can a regular human being do to help stop this crisis? "I always believe that little steps can make a difference cumulatively," she answers.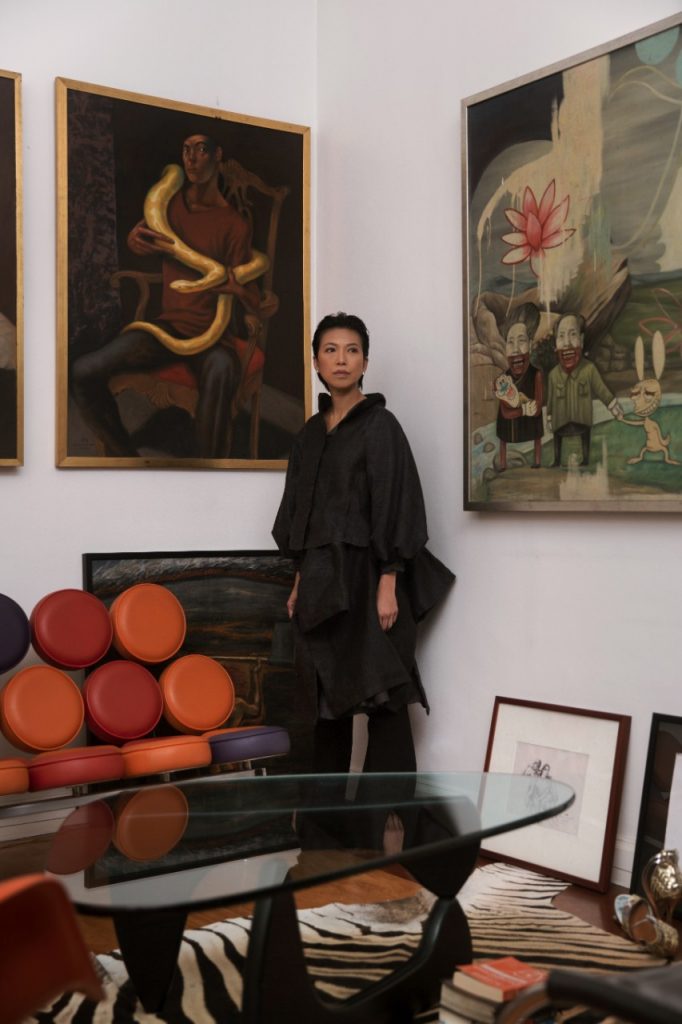 At the Chinese International School Manila, environmental science is integrated in the curriculum. Grade six students and up are taught about global issues, where environmental advocacy is part of the lectures. Surprisingly, it's the lower- level students who participate more enthusiastically in the school's eco-friendly drives, such as recycling or Tetra-Pak collection drives. "When they reach grade six and older, they tend to be more jaded," Felicia says. But it doesn't stop her from promoting her love for the environment. "We still try to influence and encourage others and see how we can work collectively, that it's not supposed to be a lone effort. A lone effort is great, but collectively, we can make a bigger impact."
So long as the interest to save Mother Earth is growing, no action is too little, and no action will be left unnoticed. Everyone can be an environmentalist, according to Felicia. "You're an environmentalist if you believe in and work towards and adhere to safeguard the environment for future generations. You do your part," she says.
How long do you stay outdoors?
Civilization transformed the nomadic life to a more sedentary one, decreasing the time we spend outside. We sit and stare at our computers and work on our desks for at least eight hours a day. On weekends, we're often preoccupied with tons of chores at home that had piled up throughout the week. Our time outdoors is mostly limited to our commute from one destination to another. For those living in urbanized cities, patches of greenery have become rare luxuries as wide open spaces are becoming smaller and smaller.
A few minutes spent in nature, stripped of any technological connection, is said to not only lower stress levels but also increase cognitive abilities. Cognitive psychologist David Strayer conducted a four-day experiment at the University of Utah to test his hypothesis that exposure to nature helps the brain's prefrontal cortex—the part of our brain responsible for problem-solving, processing complex thoughts, and emotions—to rest. According to his journal Creativity in the Wild, four days of immersion in nature and the corresponding disconnection from multimedia and technology increase performance on creative and problem-solving tasks by a full 50 percent, as demonstrated among a test group of hikers.
With the constant updates on our caches of apps and the frequent buzzing of our devices due to notifications, our attention has become even more divided. And with this comes the inevitable fatigue. The Attention Restoration Theory, a study proposed by Rachel and Stephen Kaplan, suggests that being in nature helps regain our brain's default cognitive power, as the brain is naturally stimulated to relax with the sight of nature. "Attention to these patterns is effortless, and they leave ample opportunity for thinking about other things," Stephen stated in one of his journals.
The Japanese' secret to long life and mental wellness is said to be their close affinity with nature. In 1982, the Japanese Ministry of Agriculture, Forestry, and Fisheries prescribed shinrin-yoku or forest bathing after it was discovered that trees give off organic compounds that boost a person's immune system, providing everyone a natural way to fight illnesses and ailments. Further studies show that exposure to trees can increase natural killer cells in our bodies. More benefits include reduced blood pressure, reduced stress, improved mood, accelerated recovery from surgery or illness, and increased energy level.
Wanting to escape to nature is our mind and body's way of telling us that being on hyperdrive every waking minute of our lives is taking its toll on our body. So yes, book that hiking trip with friends and take time to stroll at a nearby park this weekend.
This story was originally published in Southern Living, April 2017.
Before Art Fair Philippines, there was Art in the Park. Already on their 11th year, Art in the Park has become a yearly community celebration of art held on the grounds of Jaime Velasquez Park in Salcedo Village, Makati. With a 50,000-peso cap for art pieces to be sold and free admission, one of the organizers Lisa Periquet describes Art in the Park as a treasure hunt.
"We used to have problems with people who come in too early," says Periquet. While setting up, art collectors, of old and new, are already sneaking in and reserving some pieces before they even open the gates.
This Sunday, April 2, 2017, from 10 a.m. to 10 p.m., the grounds of Jaime Velasquez will once again be transformed into an art bonanza. So, here are some tips for you to survive this year's Art in the Park.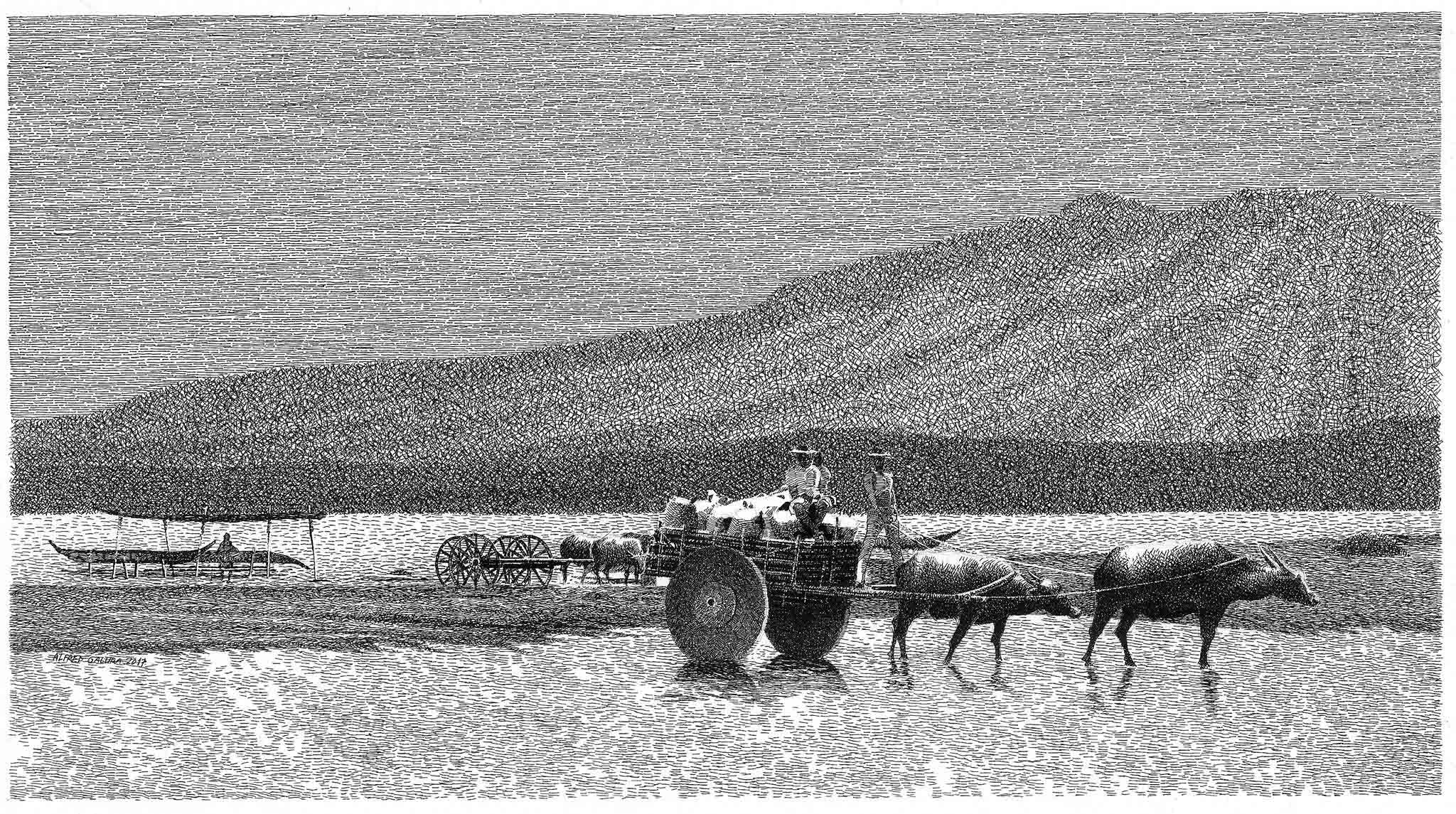 1. Do your research
There will be a a total 57 participating galleries, art collectives, independent art spaces, and student groups this year. This includes brass and copper sculptures from Ral Arrogante, restored furniture pieces from Timber Design Lab, works of clay from the Potter's Group, and more limited edition pieces from the participating art galleries.
Before going this Sunday, check out the Art in the Park site for full list. Also browse through their social media sites to know what pieces they will be selling.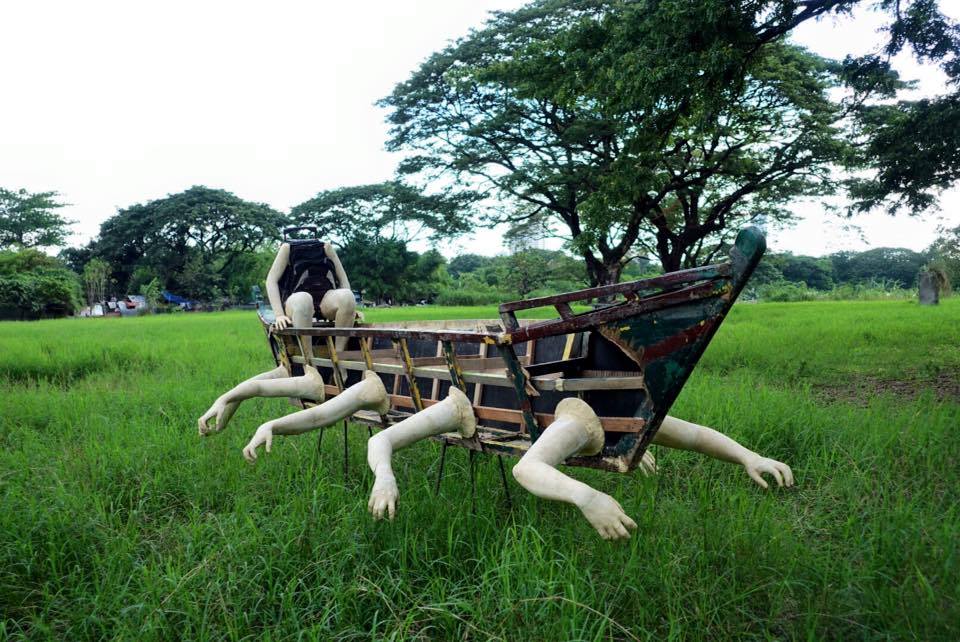 2. Be there early
If you're a serious buyer, lineup early so you can get first dibs and good deals on your preferred art pieces. Gates open at exactly 10 a.m. Be fair and don't try to sneak in and harass gallerists while setting up.
https://www.instagram.com/p/BRX_TO_jcSS/
3. Dress appropriately
There is no dress code but with the al fresco setting make sure to dress comfortably to beat the heat and bring an umbrella in case rain pours down unexpectedly.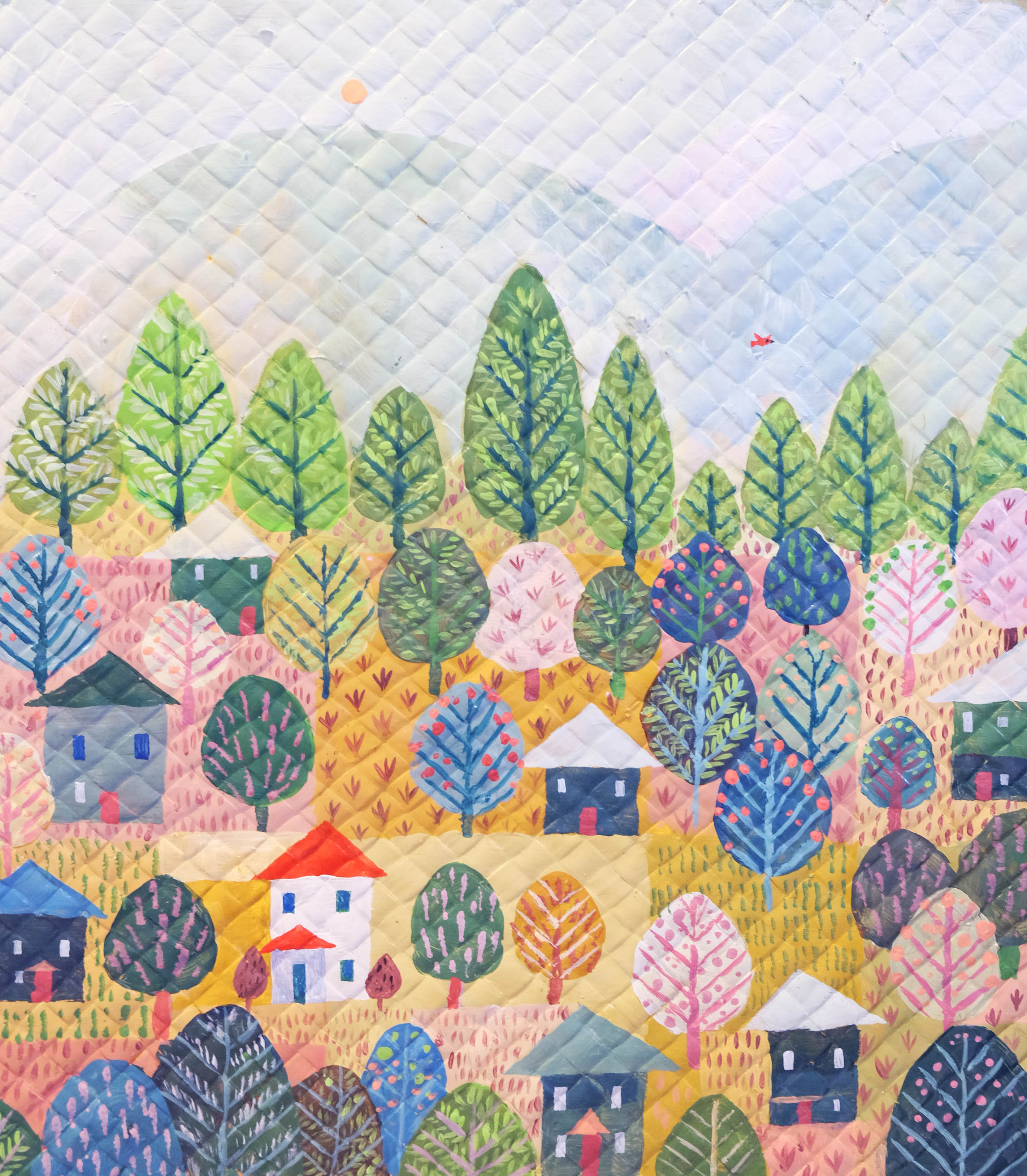 4. Buy for quality, not quantity
It might get a bit overwhelming, especially since all the pieces are quite affordable. But do keep in mind that art is still an investment. Familiarize yourself with the different kinds of art and focus on what you really want. Again, it's best to do your research first.
https://www.instagram.com/p/BRU6pwPDuCt/?taken-by=artintheparkph
5. Consider buying limited edition works
Art in the Park partnered with Secret Fresh gallery to create resin versions of Art in the Park's "mascot." Various artists have been commissioned to design unique pieces, which will be up for sale at the Museum Foundation of the Philippines booth. Prints of Mark Justiniani's work "Kumpas" are also made available at the aforementioned booth.
https://www.instagram.com/p/BDvCt8aN7ru/?taken-by=artintheparkph
6. Come back for food and music
A portion of the proceeds will go to the Museum Foundation of the Philippines, food stalls also included. So, after buying art first thing in the morning, come back by sundown and spend the rest of the day with friends and family for some good food and music.
Art in the Park has invited over 20 food concessionaires to join and the blues band Brat Pack to keep the crowd entertained through the night.
Way before the Spaniards colonized Philippine shores, there was already an extensive use and construction of boats in the Visayas and Mindanao regions. We have several names for them like baroto, bangka, balangay.
According to the National Museum there are nine existing pre-historic boats discovered in Butuan. The most ancient one is dated 320 A.D., a solid implication that the Philippines has a deep history of maritime trade and boat-building. But where is the Philippines now in terms of maritime developments and why should we care on expanding our life at sea?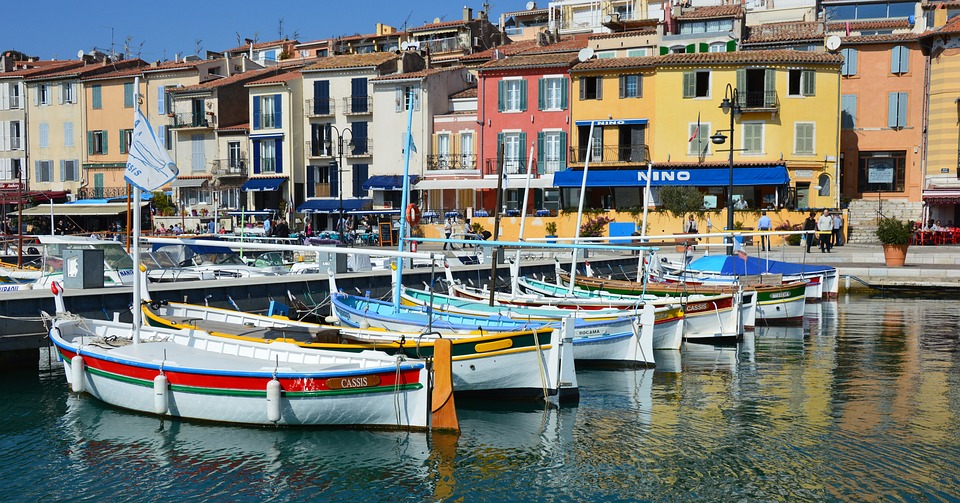 Sea the potential
"Water either separates you or connects you. In other countries, water connects them," says Christopher Madrigal, chief of the Maritime Development and Ocean Affairs Unit.
Hong Kong, Singapore, Greece, and Germany have one thing in common—port cities, that are not only picturesque but also fully functional. With the Philippines having the third longest coastline in the world, it is ironic that we only have several decent ports mainly for transport and a handful of ports for leisure.
"We don't realize water is a big part of the Philippines. And that's the potential we're not really using," says Sea Expo founder Angelo Olondriz. The current mindset is to build more land and we still fail to take advantage of what we're abundant of: water.
On its 9th year, Sea Expo paved the way to bring buzz to this overlooked industry. "During the first SEA-EX Nautical Lifestyle Show, we started the dialogue about the importance of coastline and marina development, and the potential growth it can provide to the country, if done properly," explains Olondriz. "We are happy to see that the government along with the private sector, is now taking the lead in that discussion."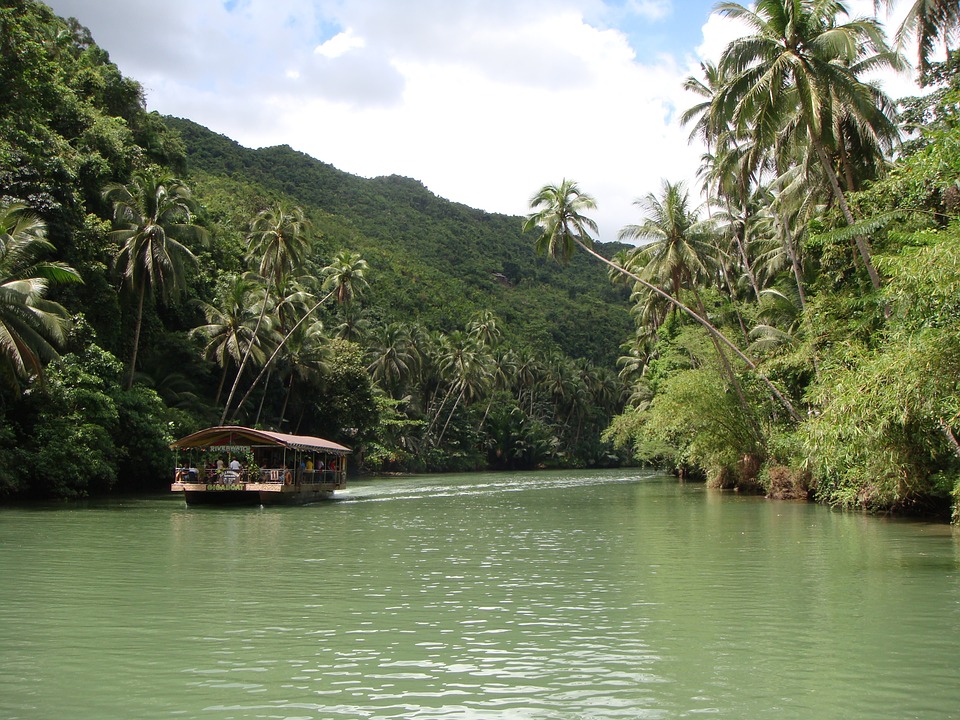 All aboard
How do we get around? How do we get from one island to another? The answer is to build more boats and improve infrastructure.
A well-developed maritime industry has the capability to change the way we travel and do business. The long term vision is to become the playground of both locals and foreigners. "We have the islands. We have the English-speaking community. We have the friendliest people," Olondriz adds. This industry will help boost tourism like no other. "Our motto is to become the Mediterranean of Asia."
There is already a steady increase of international cruise ship arrivals in Manila. But the government has to support these with policies and security. "We're actually going to have a conference sometime in May targeting LGUs to talk about how they can attract this kind of tourism with minimal budget," he laments.
Debunking misconceptions
The nautical leisure industry is said to be only for the rich. Olondriz likens it to the car industry to put it simply, "You have different segments of car for every type of consumer." There are the luxury brands such as Rolls-Royce and Ferrari to low-end brands such as Cherry. "That's the same as the maritime boating industry. We have something for everybody—from the luxury superboats to the simple kayaks."
According to Olondriz, the show is slowly getting bigger and there are more people feeling more confident to enter this industry. Case in point, the biggest and newest model of the Catamaran yachts was bought by a Filipino, making waves in the maritime industry all over the world.
9th SEA-EX Philippine Boat Show and Nautical Lifestyle Expo
Mar. 3 to 5, 2017
SMX Convention Center, MOA Grounds
"You think of simpler times when you don't have the luxury of time anymore."
José Acuzar, owner and founder of New San Jose Builders, Inc. and Las Casas de Filipinas de Acuzar, raised his three girls in the grasslands by the beach, in a modest box of a house in Balanga, Bataan. "In front of the river, where the swimming pool is, was where the house used to be," points out Jam, one of his daughters. She goes on to describe how the vast land is, where over 40 heritage houses were resituated and rebuilt; how small the river used to be before her father carved out a lake that is now central to all the heritage houses; how there were more stars visible then; and how quiet the evenings were.
Las Casas de Filipinas de Acuzar was the Acuzar patriarch's brainchild. As his architecture business thrived, José began upgrading his own house and started a collection of antiques. "He filled a house with his antiques, from old floors to old doors, then he realized, 'Why collect parts of the house when I can buy the whole house?'" Jam recounts. That's when he thought of moving old homes to one location, bayanihan-style, but instead of nipa huts being carried by men on their backs from one barrio to another, he moved Spanish colonial structures and even a traditional Maranao house across provinces and bodies of water. As he was in the business of construction and real estate, José went the more inventive, bordering-on-crazy route of dismantling an entire house, numbering each and every part, transporting them to Bataan, and then rebuilding the house for restoration.
"These houses could no longer withstand the pollution in the city. A lot of them were being abandoned. They have no use anymore and were being inhabited by illegal settlers," says Jam, who is also very much involved in her dad's passion project. With a major in Art History and Economics, she came home after finishing her studies and doing several jobs abroad to help in the family business and with Las Casas.
She has a supplementary vision of her own for Las Casas, though. Aside from creating all the materials and crafts for the restoration and recreation of some of the structures' details in-house, she's also incorporating art into the mix. "My dream was basically to provide a space for contemporary art in a heritage-inspired location," she says. Thus, the old meets the new: while contemporary art is more symbolic, heritage houses reflect the day and age they were built.
"Art preserves a message or a memory that cannot be immortalized through historical records, documentation, or archiving alone."
The first house relocated to and restored at Las Casas is the Escuela de Bellas Artes or Casa Quiapo, which housed the first U.P. School of Fine Arts and was the former mansion of Filipino intellectual and painter Rafael Enriquez y Villanueva; he would hold workshops here with his peers José Rizal, Juan Luna, and Félix Hidalgo. The house was also the inspiration behind the Bellas Artes Projects, which Jam founded in the belief that the first step in introducing contemporary art to a community is through an exhibition.
Consequently, she invited artists Alfredo Esquillo Jr., Renato Habulan, and Geraldine Javier to showcase their works inside the historic space. "The best way to communicate ideas and philosophies were always done through art or visual culture. I strongly believe that's how culture is built and how communities gather around a common interest and eventually embody the visual culture," she says fervently. "Art preserves a message or a memory that cannot be immortalized through historical records, documentation, or archiving alone. It's important that we treat it this way rather than just putting it in our private spaces." Jam has also organized a residency program for both local and international artists. Closely working with curator Diana Campbell Betancourt in polishing the program, she has invited international artists to produce work that can be exhibited in Las Casas or in her new venture in Makati, The Outpost.
"The whole point is to get people to understand that art should be viewed and experienced and talked about. It's not something you walk in and out of and then say, 'it's cool!' or simply take photos."
With the goal of disseminating art among a wider audience and cutting across different sectors of society, The Outpost at the Karrivin Alley in Makati will serve as a community center, providing the youth uninhibited access. "Even if you've studied art history, contemporary art remains a completely different language. You can't simply study it; you have to go to exhibitions and see the works for yourself."
With The Outpost's opening, Jam intends to bring the works of Bataan craftsmen to the metro, as well as contemporary art from both local and foreign artists and books from different institutions, museums, and galleries all over the world. "The whole point is to get people to understand that art should be viewed and experienced and talked about. It's not something you walk in and out of and then say, 'it's cool!' or simply take photos."
With bigger plans ahead and more opportunities related to heritage conservation and art falling onto the Acuzars' laps, both father and daughter are always in motion, hopping from meeting to meeting, controlling the quality of every aspect of the business, and thinking of ways to improve their current vision. Looking back to when she was younger, Jam reflects on how much the times have changed. "One of the most special memories I have was when we would swim in the beach at night. Back then, no one was there, except for people from local towns. We would all just float in the water, watch the stars, and feel the soft waves. Now, it's completely different; I can't even get quiet time with my dad." She admits, however, "I don't think [I'd] want anything back, but it's nice to hold on to those memories."
Even with the world now hyper-connected, forgetting the past seems too easy. More than ever, heritage and art are substantive means for remembering. "They are the easiest and mildest reminders of parts of our history—the things we shouldn't forget. Now, we are facing collective memory loss in our society; perhaps we should have done more with exposing our ideas through art and culture."
This story was originally published in Northern Living, December 2016.
What's your first ever food memory? I bet a thousand dollars it's a memory of your mother or your grandmother cooking the best adobo or some forgotten kakanin. You would always volunteer to be their extra set of hands—to stir the broth, to snap off the stem of green beans, or even just to grate some cheese. You would watch your grandmother painstakingly write recipes on a notebook or index cards. You would observe that in every occasion, it's the women in the family who dominate the kitchen.
But why are the chefs on television and in restaurants riddled by men and why is there a need to have a separate category of female chefs in the prestigious culinary awards?
Margarita Forés, Asia's Best Female Chef for 2016 answers, "Although they're only honoring female chefs now, if you talk to any of the more important male chefs all over the world, and you ask them where do they get their inspirations, they would always get their inspiration from their mother's and grandmother's cooking."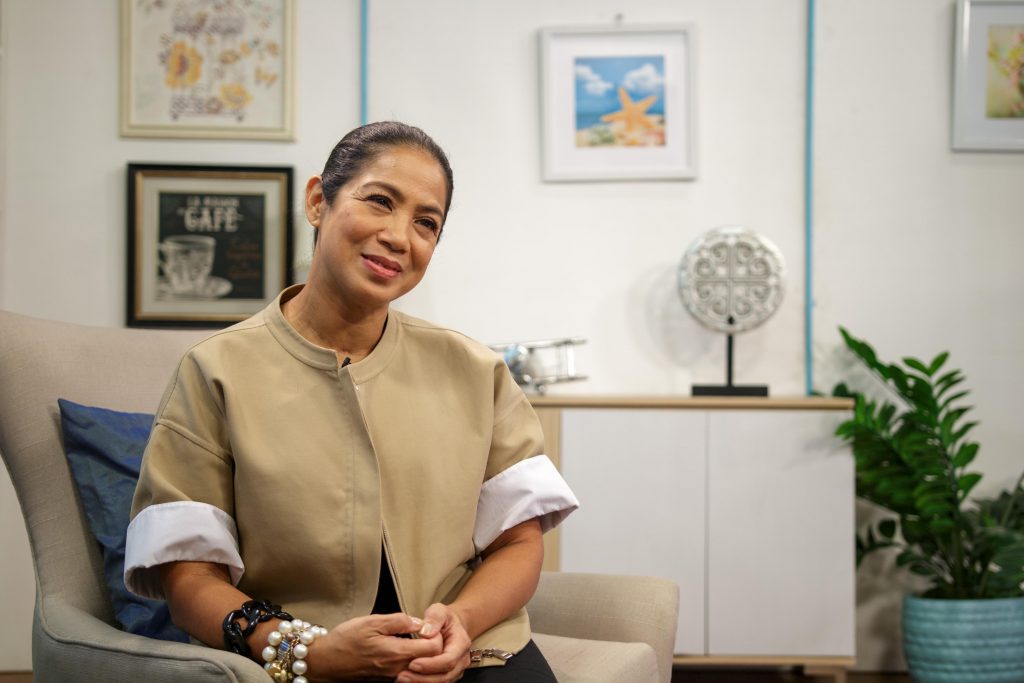 Forés may pass her crown to the next Asia's Best Female Chef tonight, her advocacy to celebrate Filipino cuisine in all forms continues. Last Saturday, her new show Harvest by Margarita Forés premiered on CNN Philippines—giving the spotlight to regional cooks and artisans (which coincidentally is also dominated by women).
Here, we list down a few reasons why women still rule in the kitchen, with or without the much-deserved recognition.
The duty to cook out of love
There is a certain affection and connection present when women create food for their family and friends. It's not all about the precise technique or equal slices. Instinct prevails when women cook. They cook their best because they want the best for their children and they try their hardest to recreate the recipes taught by the matriarchs of the family. There's a story behind each dish and every single one is born out of love.
Home cooks are the best cooks
With the rise of consciousness on where we get our food comes the increase of interest in regional cooking. And this means going deep in the homes of cooks and into their kitchens. In the first of the four-part series of Forés's new show, she learns how to gather coconut, properly prepare gata from a local, and of course, cook the most authentic laing. She is taught by none other than, a woman.
Priceless techniques and wisdom
Forés recounts meeting an old lady in one of her travels around the Philippines: "Her fingers are so knobby and full of crumpled skin because all she does is open the talangka by herself. Take whatever fat she can so she can sauté it." She even likens the taba ng talangka to caviar because of the difficulty in harvesting its fat. "One whole sack, which is about 15 kilos of talangka, is only equivalent to seven bottles," she adds.
She shares that these women don't really write down their recipes but can only transfer the knowledge by example and word of mouth. Problem is not many from the younger generations are interested in works in the kitchen. "Every other region I visit is distinctly important and uniquely different. And I think discovering that wherever I go is a really important blessing."
"If I were to choose a dish that I truly enjoy, it would be barbecue," says chef Jordy Navarra. The humble cuts of marinated pork carefully skewered on thin bamboo sticks have been part of Filipino food culture since the 1950s. With variations of chicken and the oddest animal parts, the barbecue—commonly known as BBQ—is quintessential Filipino fare, a dish known to all Filipinos, from all walks of life. "Everyone knows of barbecue, since we all grew up with a 'BBQ sa kanto,'" says Navarra.
Some may consider it the Filipino interpretation of the Middle East's kebabs or other grilled fare from our Southeast Asian neighbors. Filipino cuisine has often been described as a chopsuey of other cultures' food. However, with the many influences that our country has adapted through hundreds of years of colonization and trade, Filipino food could be best described as not only indigenous to the land, but also deeply rooted in memory. As food critic Doreen Fernandez quotes Eddy Alegre in her book Tikim, "The experience of food is ephemeral. What one puts into the mouth is the end and result of cooking that starts with the sea, the soil, animal life. In the act of cooking, we make statements about ourselves—our understanding of relationships between ingredients, our perception of taste and appropriateness. In the act of eating, we ingest the environment."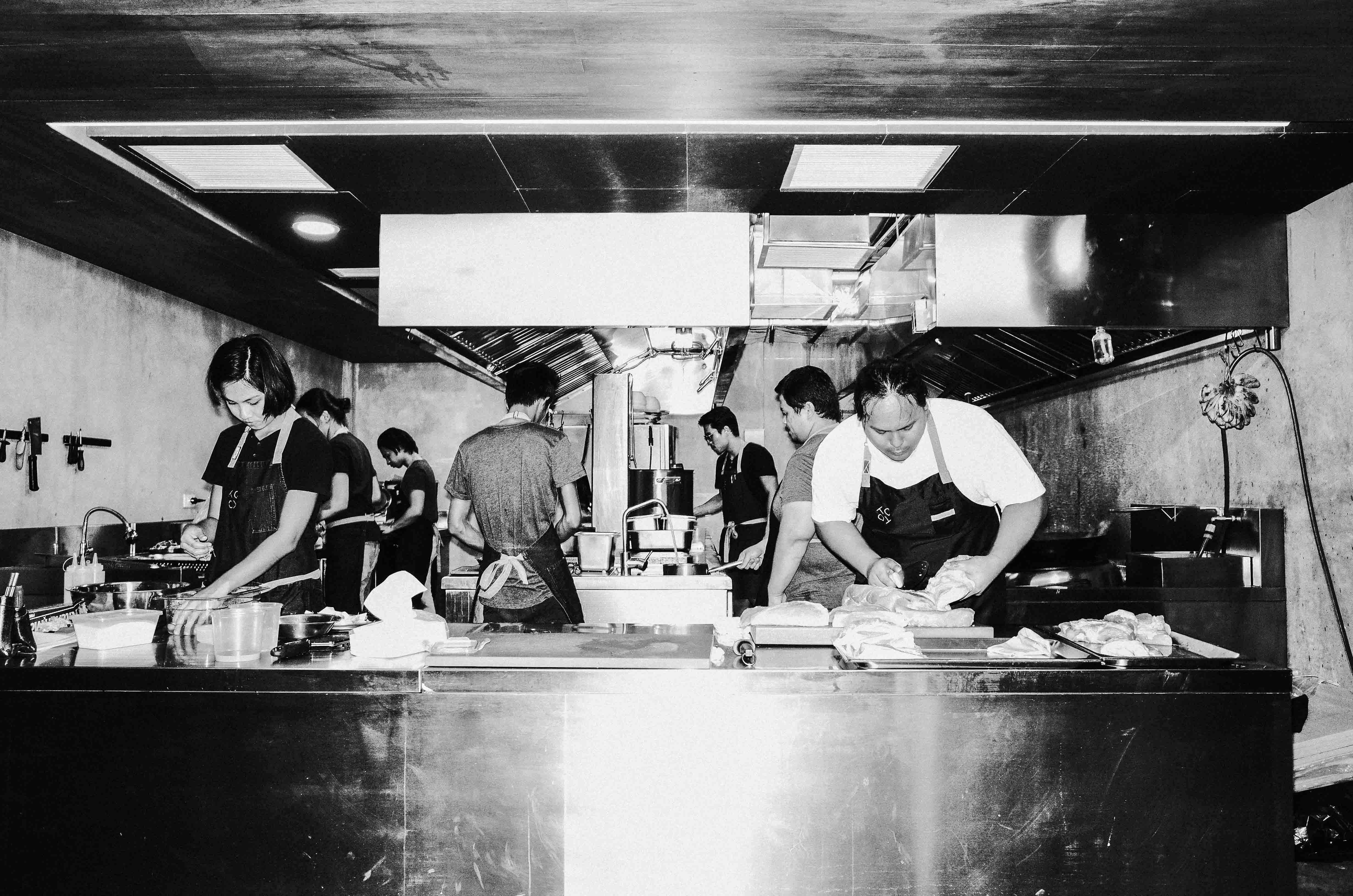 We want to layer a lot of different flavors using the same ingredients. In finding a complexity of taste with the least amount of ingredients, we come up with different permutations on how to extract flavor by not adding more.

Jordy Navarra
Navarra, upon opening Toyo Eatery, introduces a progressive Filipino dining experience to the local market, playing with familiar Filipino flavors and not simply elevating traditional cookbook recipes—inviting everyone to eat out because you want to, and not because you have to.
"I think a lot of people will not get it," says food writer Clinton Palanca, "but enough people will for it to succeed, at least initially. We'll have to wait and see." So, enter the doors of Toyo with an open mind. Break any preconceived notions that great Filipino food is only defined by recreating your grandmother's secret recipes for adobo, sinigang, and kare-kare. Tickle and challenge your senses. Enjoy rediscovering the best of Filipino ingredients, combined for culinary adventures with local flair and flavor.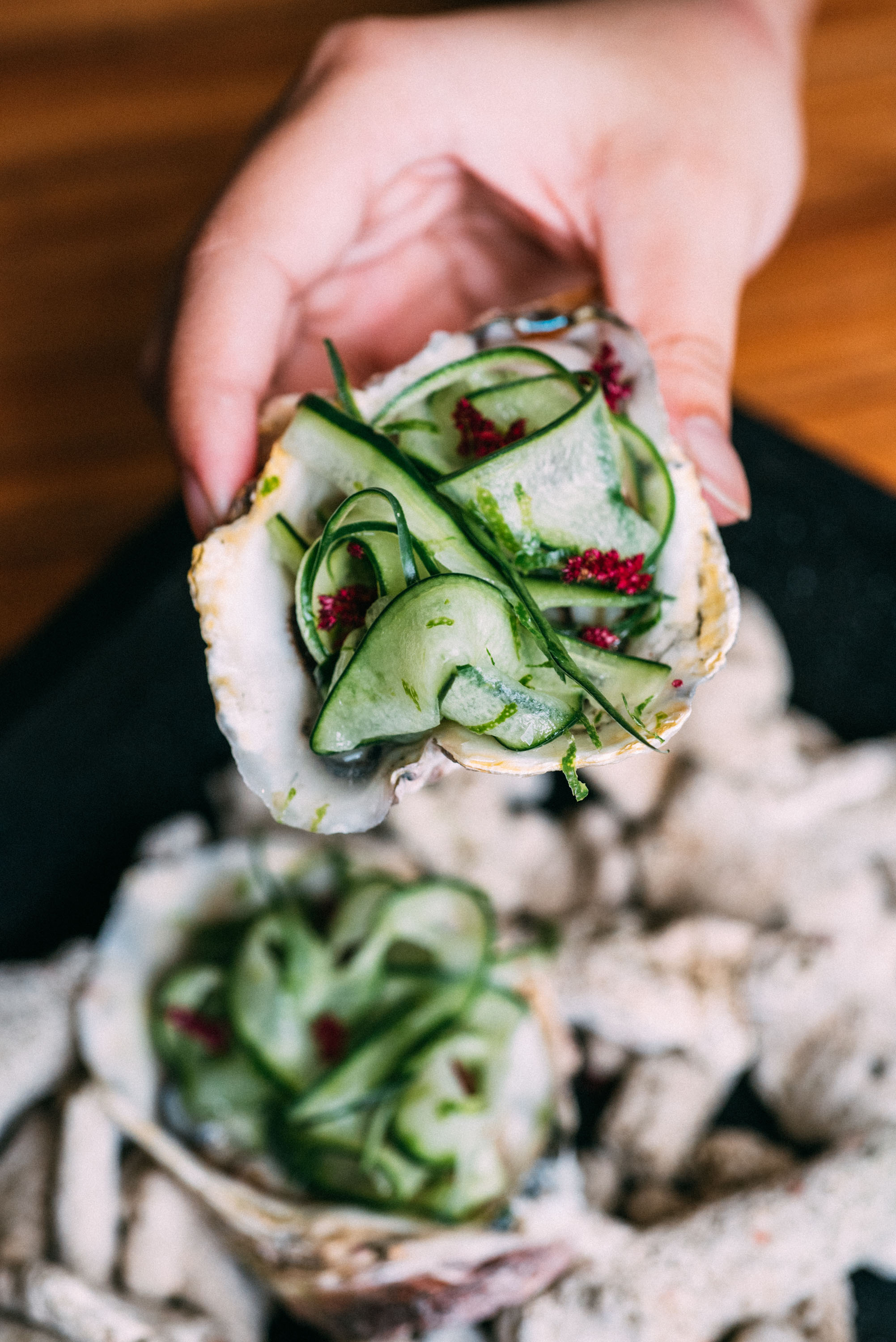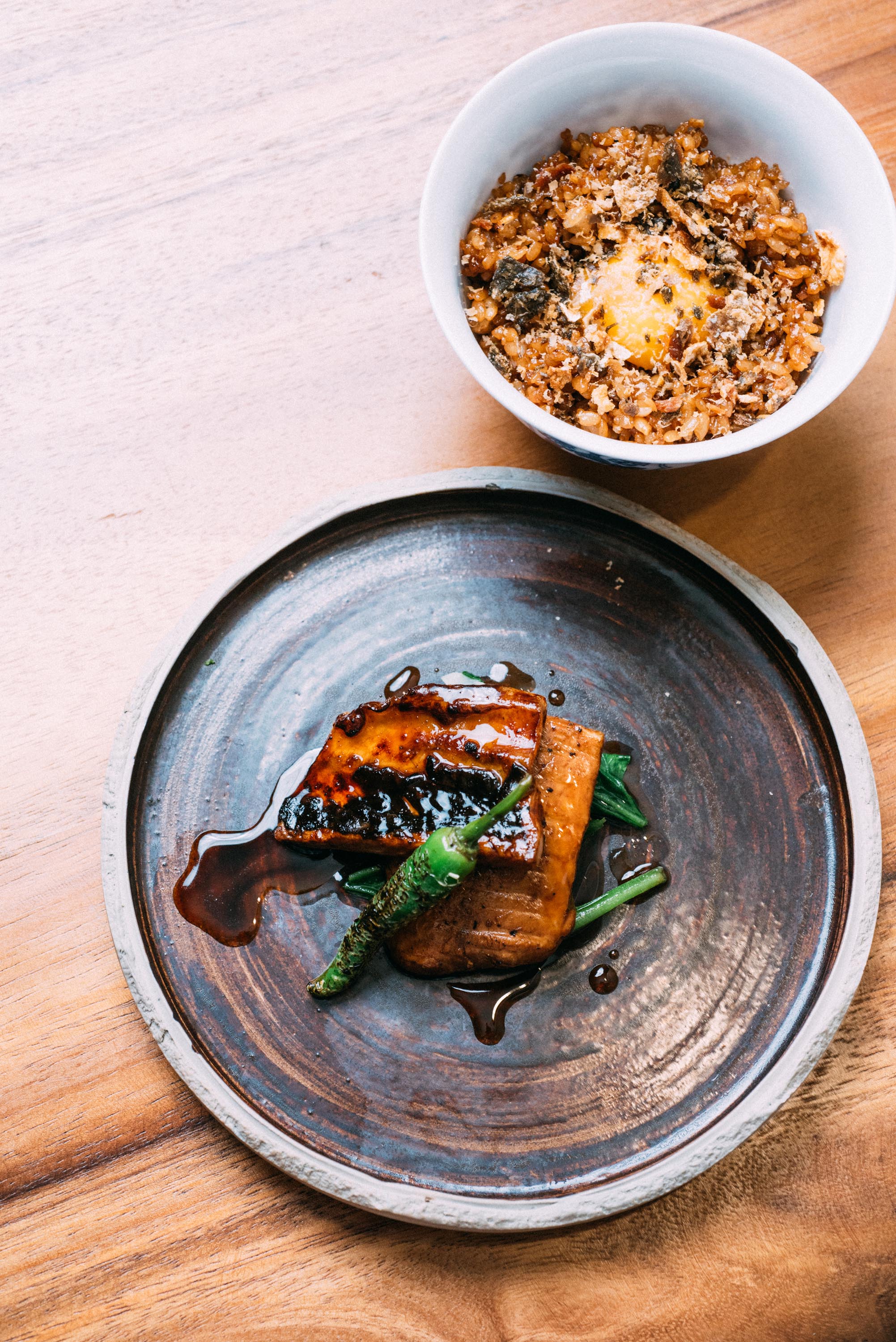 Posing the common question of why would we eat out if our mothers can cook the best adobo at home, Navarra answers, "It's not about recreating dishes. You can be Filipino in terms of how it feels, how it tastes, what you use, and how you use it."
Innovation is not simply synonymous with a complexity of technique. After gathering information from different places, ingredients, and food memories, Navarra views Filipino food from a whole other perspective and translates quintessential Filipino flavors into world-class dishes, starting with the best produce our land and sea can offer. "We want to layer a lot of different flavors using the same ingredients. In finding a complexity of taste with the least amount of ingredients, we come up with different permutations on how to extract flavor by not adding more."
The current mindset is letting Western mores dictate the standards. In effect, we always try to copy, and more often than not, pale in comparison. We fail to acknowledge the country's environment, culture, and landscape, which are key to finding our culinary identity. Navarra cites an example: "If you're looking for a very specific cheese and compare it to the cheese that you get in Europe, lugi ka talaga because I don't think our landscape was meant to produce cheese."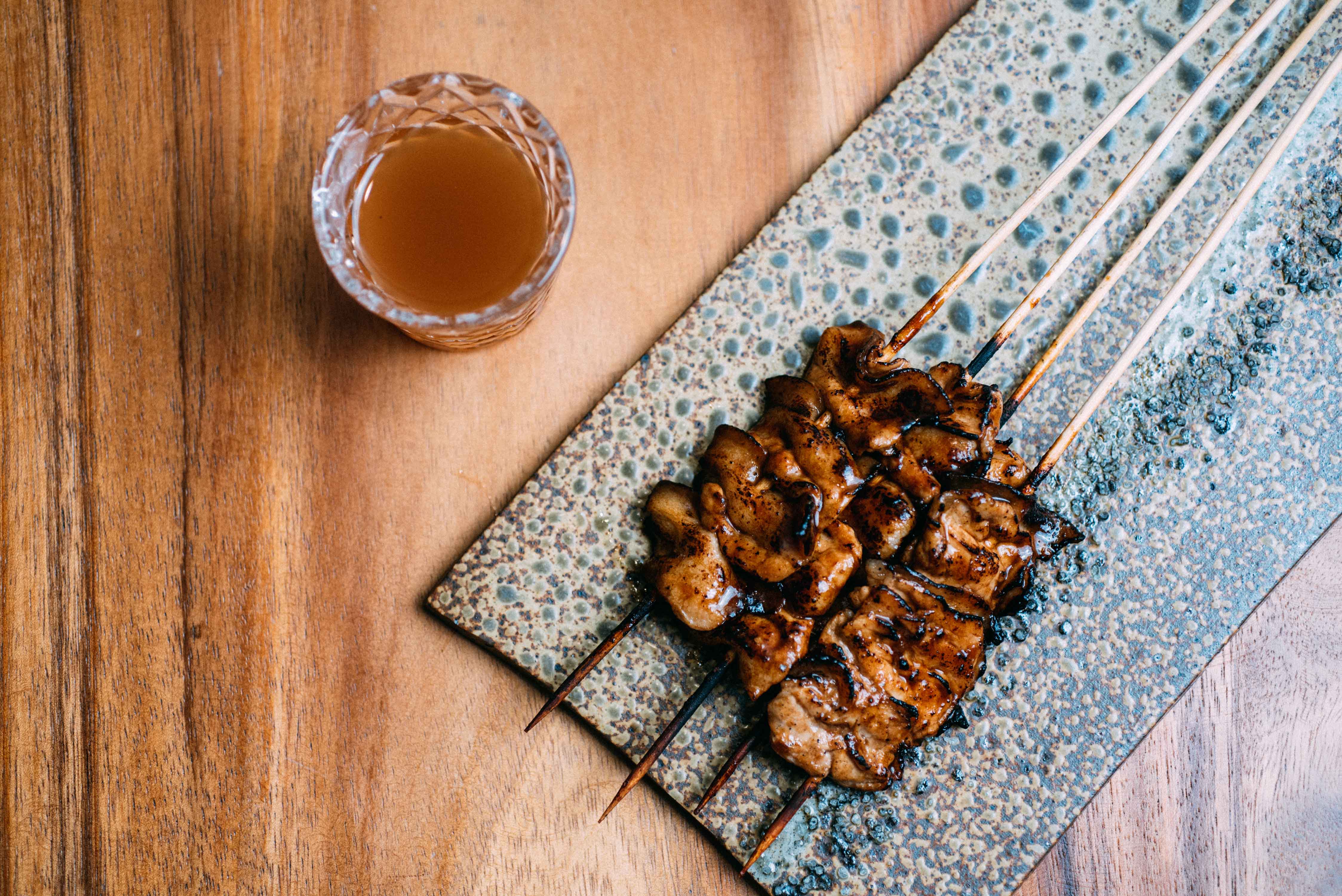 The world is in the middle of a culinary renaissance, and Filipinos are slowly gaining momentum with the right ideas. With Navarra's philosophy of continuously searching for quality, building on our strengths is the name of the game.
In Toyo Eatery, located at Karrivin Plaza on Pasong Tamo Extension, Makati, Navarra offers oysters fresh from the waters of Aklan, and larger than their European cousins. Their juicy, sweet flavors are emphasized with a thin layer of cucumber and doused with a lime and basi (local rice wine) vinaigrette. This is just one of his offerings where the ingredient is the star of the dish.
Food historian Felice Prudente confirms this viewpoint and encourages everyone to start looking at our own backyard and think of what we can use that others can't. "History repeats itself. There was a golden moment in Philippine cooking when people were experimenting to death. In the 1920s and 1930s, Filipinos were finding several ways to use and export the pili nut."
And there is more where that came from. She urges practitioners in the food industry to hit the books. "Over the centuries, people have tried to understand what in our environment is edible, and what in our environment we have been cooking. There is a lot of material on that. For instance, I've been researching on the different herbs and other vegetation that naturally give us salty, sweet, sour, and bitter tastes," she elaborates.
It's not about recreating dishes. You can be Filipino in terms of how it feels, how it tastes, what you use, and how you use it.

Jordy Navarra
Filipino innovators are on the right track: focusing on what we have. But it doesn't stop there. Navarra is pushing himself further by trying to discover new ways to expand the local flavor profile through relearning the process of making our favorite sawsawan.
It is still a work in progress. Several months ago, Navarra and his team had the crazy idea of creating their own dipping sauces, like patis, toyo, suka, and bagoong, from scratch. The array of condiments is ubiquitous in every Filipino household everywhere in the world. It is embedded in our culture, yet nobody dared ask how we could make them at home. "It's something we in the city never got, but it's traditionally something everybody's supposed to know," he explains. "How can our food taste different if we all use the same commercial brands of these sauces?"
Sawsawan adds a whole new dimension to how we eat. It offers a complex taste that serves as emphasis and accent to the already great dish or ingredient. Upon relearning these techniques, Navarra and his team branched out into fermentation and preservation. Experimenting on these new techniques requires time, patience, and accuracy.
The growing interest of the public has become the impetus for more chefs, and also bakers, to move forward and bring Filipino cuisine to the global stage. Navarra concludes, "Discovering these traditions and techniques are key to pushing forward, progressing, and innovating. We need to stay true to our identity, so we can promote it the right way."
This story was originally published in Southern Living, April 2016.