BGC's going one-way starting today
The city is enacting a one-way traffic scheme with the help of Waze
Sep 17, 2018
BGC is taking a headstart on traffic alleviation solutions by implementing a one-way traffic scheme in key streets today, Sept. 17. I'm sure many people have noticed that there have been more and more cars milling around the city, and even though the traffic in BGC is far, far from the worst one in Metro Manila (you know what city you are), it's still getting to be a problem.
Well, the BGC officials decided that the best way to deal with the growing vehicular volume is through changing the traffic circulation scheme, hence the one-way system. What's great about it is that it maximizes the "width of the street," reduces the interactions between "vehicles and pedestrians at intersections," and minimizes time wasted at intersection stops.
The new traffic scheme is as follows: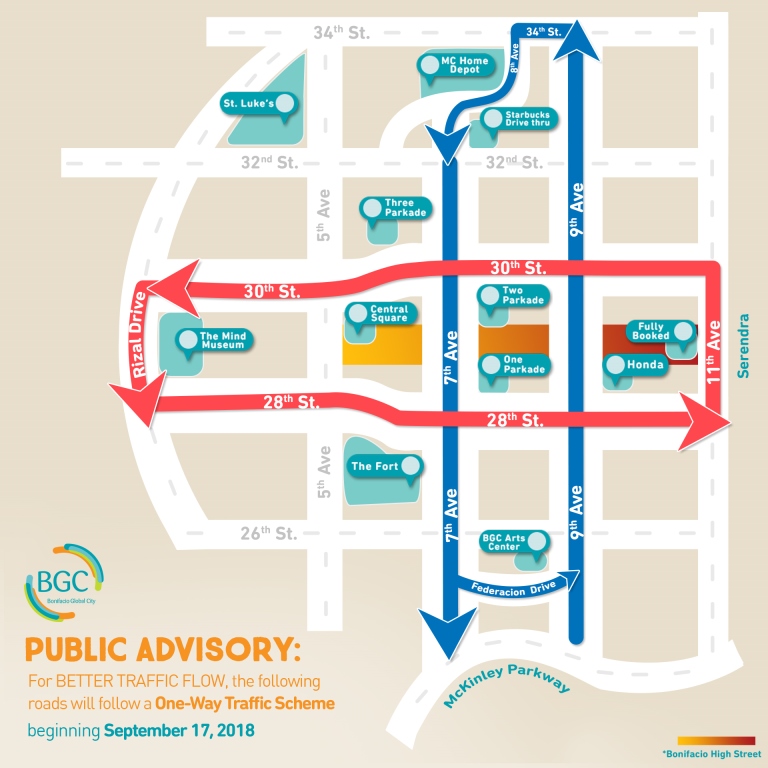 "We are hoping to make the transition to the new one-way scheme as smooth as possible. In the past few weeks, BGC has really stepped up its information drive to let motorists know of the changes being implemented," said Bonifacio Estate Services Corporation General Manager, Jun Galvez.
To help motorists get used to the new system, BGC has deployed more traffic marshalls and put up on-ground signages around the affected streets. BGC has also teamed up with the navigational app Waze to inform motorists of the traffic rerouting, which is a big help considering that many people rely on Waze to get around Metro Manila.
Apart from that, BGC officials are also making the streets easier for motorists to navigate through the BGC app downloadable on Android or iOS devices which helps people find parking spots. The city's existing wheel clamping and towing operations will also continue to take effect.
The move was initially set to start last month, but BGC officials decided to move it to this month instead, likely to make it easier for motorists to adjust to the change.
If you've got any questions, head on out to the city's Facebook page.
Now, if only other cities can also take charge to try to lessen the amount of traffic on their streets (I'm looking at you, Pasig).
Featured photo courtesy of Unsplash.
Get more stories like this by subscribing to our newsletter here.
Read more:
How much money are we losing every day because of traffic?
Why can't people follow simple traffic rules?
You can now file traffic complaints to DOTr's new Facebook page
Read more by Zofiya Acosta:
Beware, phone scams are becoming more sophisticated
The Moment Group is going plastic-free
Yes, millennials know how to spend wisely
TAGS: bgc nolisoli.ph one-way traffic scheme