Deconstructed sisig, grilled pinakbet stand out at Zubuchon x Sarsá pop-up
Pork meets chicken at Zubuchon x Sarsa pop-up, where Filipino favorites get an unexpected twist
Feb 9, 2020
"So is this the personal project you and JP told us about the last time we talked?" I asked Cam Anglo, chef JP Anglo's wife and right hand in between bites of fried lumpiang ubod. She shakes her head. Last November, we visited the couple in their apartment for a profile for F&B Report where they shared plans for more hands-on operations outside of Sarsá. But no, this is not that.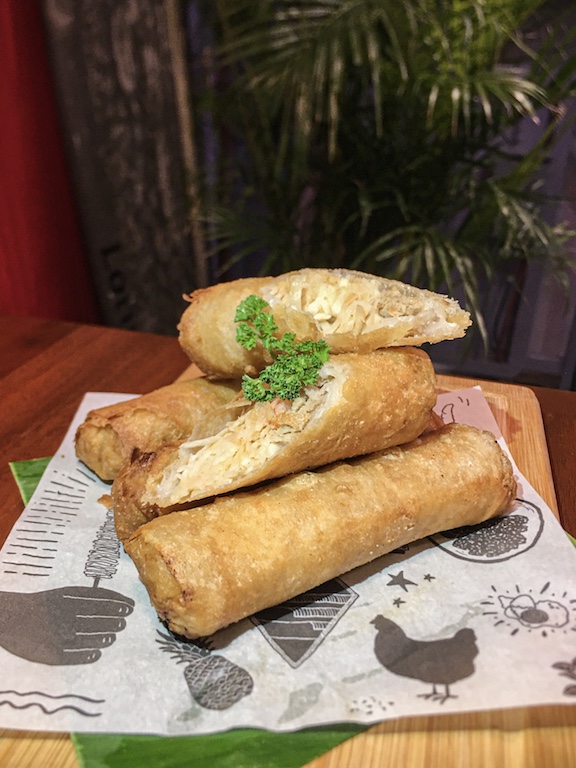 [READ: JP Anglo wants to build a new culinary culture centered on unity and generosity]
I prodded Cam then, as her husband socializes with other diners that night who are getting a first taste of the collaboration, if this has something to do with the two days they spent at Zubuchon owner Joel Binamira's house cooking ridiculous amounts of food at its open pit and marvelous kitchen. Kind of, she says. Although we both know that JP and Binamira's culinary connection goes way back.
As Cam finally reveals the reason behind the pop-up (apparently they are renovating the first Sarsá store in Legazpi Village), plates upon plates of Filipino food are being served on our table: starting with a version of the beloved barbecue marinated in mango and pandan for a tangy taste that bodes well with the spiced sinamak dip.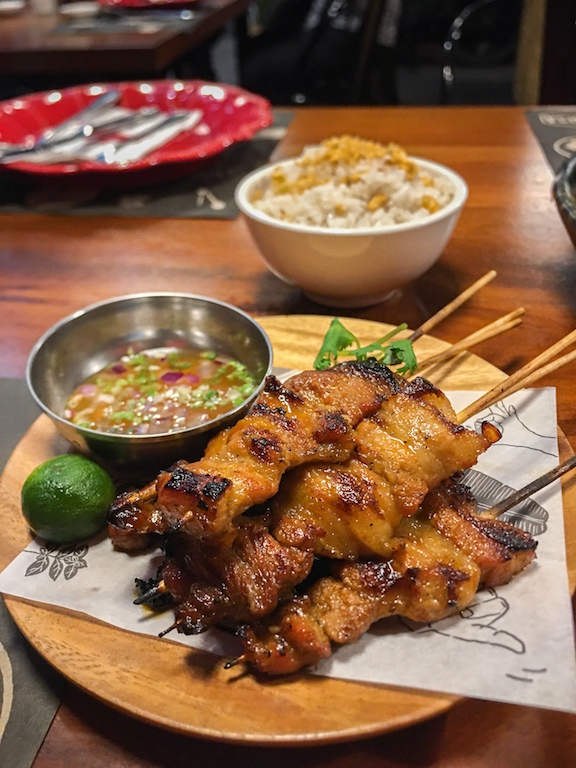 By the time, JP got to our table to explain what's really going on, in comes the sisig—no egg or mayo, faithful as possible to the Kapampangan original. He goes on to say that this pop-up will be his playground in the meantime—a month to be exact. 
And what a playground it is! Coming inside this Zubuchon branch in BGC, one doesn't really notice anything different until you survey the corners playfully decorated with plants, surfboards, curious posters depicting tropical beach scenes, and a custom Honda bike. Yes, there's a bike inside the restaurant! It's the exact one JP uses in Siargao that took him three weeks to ship to Manila.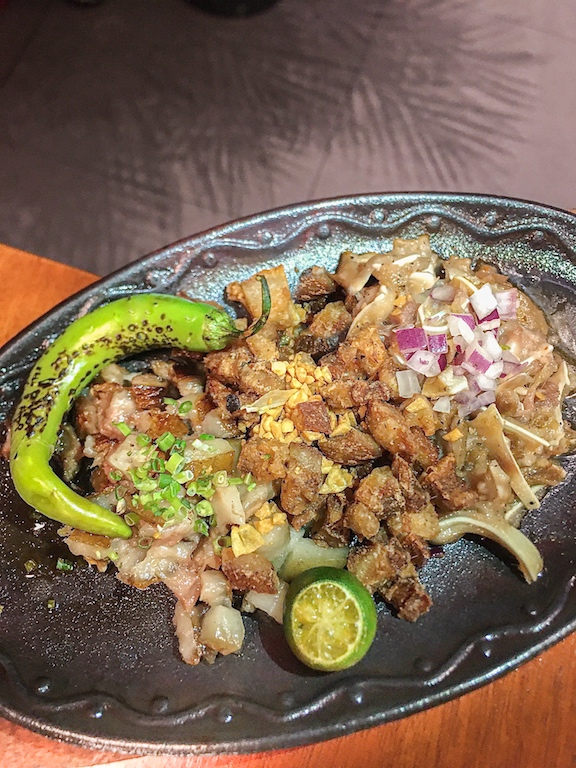 Anyway, back to the sisig. Apart from its closeness to the original, this one is pretty much a deconstruction, with all pork parts used carefully separated into three piles: chewy pork ears doused with coconut vinegar, pork mask fried to a crisp, and gelatinous grilled pork cheeks. On its side is a creamy and thick sauce, which JP later described to be brain aioli. You can eat it separately with or without the sauce or mix it all together to get a taste of all the textures and flavors all at once, as we did and, of course, with rice.
JP says the menu is a combination of the best that both Zubuchon and Sarsá have to offer and to differentiate it all they used legends: a pig symbol for Zubu and a chicken for Sarsá. Although JP admits, this confuses some people mistake that the dishes actually have pork or chicken. "We'll have to fix that."
But the dishes on the menu itself hardly needs fixing despite JP's insistence that we tell him if something needs tweaking. The palabok, a Filipino merienda staple, brims with a sauce made the traditional way by pounding shrimps resulting in a fresh sweet sauce that goes perfectly with the bouncy vermicelli noodles.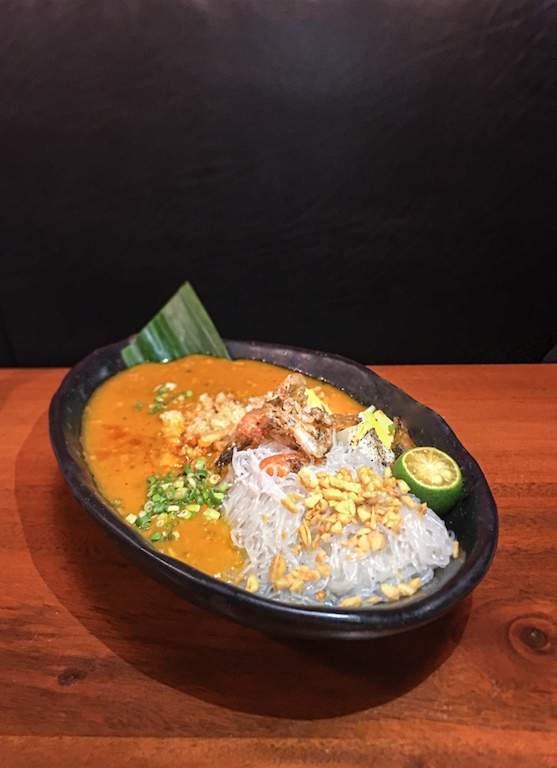 We would have called it a night, our photographer and I, as we devour the last of the lumpia and the barbecue all the while loading up on carbs care of the garlic rice and palabok. But JP insists—even if we didn't order it—that we have the grilled pinakbet.
The name itself was intriguing and goes against the usual way of cooking the vegetable dish, which is usually done just by sauteeing and simmering for a little while just to soften the squash. True to its moniker, however, it arrives with its kalabasa, sitaw and ampalaya noticeably charred. 
Topped with crisp gango or dried shrimplets, the pinakbet is overflowing with a thick sauce unlike the original thin water-based broth seasoned only with bagoong. JP then tells us it's because of the kalabasa and talangka pureé, a genius combination that's subtle enough to let the vegetables still be the center.
Anglo's mastery of Filipino cooking is unparalleled. Where others have simply used foreign techniques to "innovate," he sticks to tried and tested ways that have long been used by masters of domestic kitchens. It's hard to make familiar Filipino flavors "new"—and who would really want to tinker with something that the whole archipelago knows like the back of their hands? It takes someone as talented as JP Anglo to turn even the most simple dish on its head but still better and faithful as ever to the original recipe that we all grew to love.
Get more stories like this by subscribing to our weekly newsletter here.
Read more:
Sisig, inasal, and other Filipino dishes wow at gastronomy congress in Spain
Here's how to cook all the adobo featured in the new 'Chef's Table'-inspired DOT-Jollibee campaign
3 sinigang recipes using native alibangbang, rattan, and katmon
TAGS: bgc cam anglo filipino restaurant joel binamira jp anglo Lumpia palabok pinakbet Sarsa Sisig zubuchon