Last October, tons of rejected tomatoes were thrown in a landfill in Laguna citing oversupply on the end of farmers. This drew ire from netizens and the public, most of whom struggle to keep up with the rising prices of commodities, thanks to the TRAIN Law and the inflation rate.
Then just this week, a video of a Benguet farmer dumping unsold carrots made the rounds on Facebook. Farmers called to the Department of Agriculture (DA) for solutions to address the problem of oversupply more than just merely citing insignificant factors that they assumed to have impacted the farmer's harvest.
DA Secretary Manuel Piñol assured farmers affected by the issue that they will be compensated for their losses. But many, including zero waste advocates, think that the move still couldn't make up for tons of vegetables wasted.
That's why some advocates and owners of organic markets have taken to social media encouraging the public to buy off surplus crops directly from the farmers in Nueva Ecija and Benguet to avoid wastage. Check out their projects and events below:
Sessions Grocery
An online grocer supplying fresh produce and local products, Session Grocery is offering direct pricing from farmers for vegetables, as well as shipping to provinces like Pampanga, Pangasinan, and even Manila through bus lines. Just proceed to their website, place your order, and wait for an order confirmation. A wide variety of organic produce is available in this Baguio-based supplier, which they get directly from farms in the area. They also guarantee that the produce are sold at the farmer's price.
Session Grocery usually packs and ships orders on Saturday evenings or Sunday mornings so orders must be placed on Thursdays. They recently coordinated with Agot Balanoy of Benguet Farmers Market Cooperative to be directly connected to farmers who are still dealing with oversupply.
Vegetable Surplus Rescue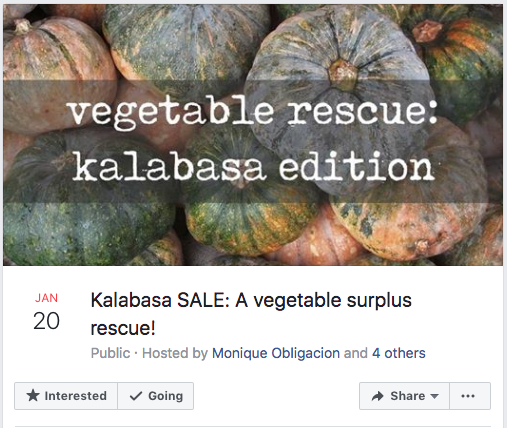 Organized by some of the members of Buhay Zero-Waste Facebook group, this event aims to salvage surplus squash supplies from Nueva Ecija farmers, who they were able to get in touch with. It is set to take place at Good Food Sundays on Jan. 20 at Mandala Park on Shaw Boulevard, Mandaluyong.
Confirm your attendance through their event page to receive updates.
Good Food Community
https://www.instagram.com/p/BsdLqeRl6uh/?utm_source=ig_web_copy_link
Aside from the upcoming Vegetable Surplus Rescue event mentioned above, the Good Food Community is also selling produce directly from farmers every Sunday at the aforementioned Mandala Park. In an Instagram post, the group urged its followers to subscribe to a community-supported agriculture and "share in the surplus."
"While in abundance, we'll offer some of these seasonal items up for sale. Just send us a private message to order 🙂 Any food makers willing to buy seasonal surplus are most welcome too!" they wrote.
Down To Earth: Real Food. Real Farmers.
Another way to help farmers reach their target is through Down To Earth, an online organic market that delivers produce directly to you from a farm in Dahilayan, Bukidnon. If you prefer to see the produce, you can check them out in weekend markets The Salcedo Market and Mara's Organic Market, where other fresh farm produce are also available.
Farmers toiled to produce those vegetables and it is only inhumane to leave them struggling to make ends meet, with no adequate help from those who are supposed to govern them. They've been like this for ages. It's about time we step up and reach out to them directly. This way we will not only be helping them, but also preventing the increase of food waste in this country.
If you happen to know any more advocates or sellers that are willing to support farmers who are dealing with oversupply, please comment below.
Header image courtesy of Cebu Daily News
Get more stories like this by subscribing to our weekly newsletter here.
Read more:
The all-organic grocer Real Food is now open in BGC
Lack of gov't help caused Benguet crop oversupply, not loss of buyers
Organic tampons and menstrual cups won't keep you safe from toxic shock syndrome, study says
Writer: CHRISTIAN SAN JOSE AND AMIERIELLE ANNE BULAN