Netizens are seen clutching their bags when around Bong Revilla
Selfies of people clutching to wallets and bags send a not-so-subtle signal about the Senate bet's pork barrel acquittal
Apr 15, 2019
Is it passive aggression? Self-expression? Or simply letting off steam?
Photos of netizens clutching their material possessions while taking selfies with senatorial candidate Bong Revilla are gaining traction on social media, something that prompted DJ Mo Twister to ask on Twitter whether the photos are now "a thing?"
One viral photo by netizen Carlos Mañosa Ng II showed him and a female companion with the candidate inside a restaurant.
The picture showed a smiling Ng keeping his dark-colored wallet close to his chest with his right hand while his left hand apparently held the phone camera.
"Wag po kayong mag-alala. Wala naman pong nawala. Mahigpit po pagkakahawak ko sa wallet ko," his comment read.
Another photo the DJ posted showed an unnamed female in a white t-shirt clutching her round native bag to her chest in an open field with Revilla in the background obliging other people's requests for selfies.
HAWAK SA BAG!!! May mag nanakaw sa likod! 😂💪🏾 pic.twitter.com/0kl2D48ibE

— Xyza (@XyzaPaola) April 7, 2019
The DJ's Twitter post on Saturday evening adds: "I'm calling on ALL people who happen to see Bong Revilla, please make this a thing…"
Netizens may not have individual selfies with Revilla but many have stories of "encounters" with the candidate who still travels around the country to campaign.
Netizen @ayunnamanSHA said Revilla was in SM Marilao recently. "(N)apakapa ako sa bulsa ko e," he said.
andito si bong revilla sa sm marilao, napakapa ako sa bulsa ko nang di oras e

— natasha negovandalism (@ayunnamanSHA) April 14, 2019
In a separate post, Twitter user @gksskg_ said the re-electionist "just passed by our street and I yelled 'magnanakaw',, grabe ang fulfilling…"
So, are people picking on Revilla specifically? We have several explanations for the phenomenon.
The story goes that during the kickoff rally in San Fernando, Pampanga of the administration's Hugpong ng Pagbabago senatorial lineup, Revilla arrived at the scene while the rally host was supposedly warning people to beware of pickpockets.
The public address system was said to blare, "Mag-ingat sa magnanakaw at mandurukot" as people gave way to Revilla on his way to the stage. The announcement's unfortunate timing may have been the trigger. And the memory stuck.
But before that, the candidate now seeking a fresh term in the Senate was acquitted by the Sandiganbayan after his accusers reportedly failed to prove "beyond reasonable doubt" that he "received, directly or indirectly the rebates, commissions and kickbacks" from P224 million in pork barrel.
His cohorts however, earned convictions and up to 40 years imprisonment.
The court's order for Revilla to return P124.5 million in "civil liability" only fanned the ire of those who were already unconvinced of his innocence.
It also did not help that right after his release from jail, there were viral photos of envelopes containing hundred-peso bills supposedly handed out by Revilla's staff during public "thanksgiving" gatherings around Cavite, his family's bailiwick.
Last February, Revilla made the news after an alleged irate tourist's water bottle narrowly missed him as he shook hands with people celebrating the Panagbenga flower festival in Baguio City.
Reports said the local government specifically asked political candidates not to shake hands or distribute campaign materials in order to preserve the event's non-political atmosphere.
Revilla and Imee Marcos, another Hugpong senatorial candidate, ignored the city officials' request.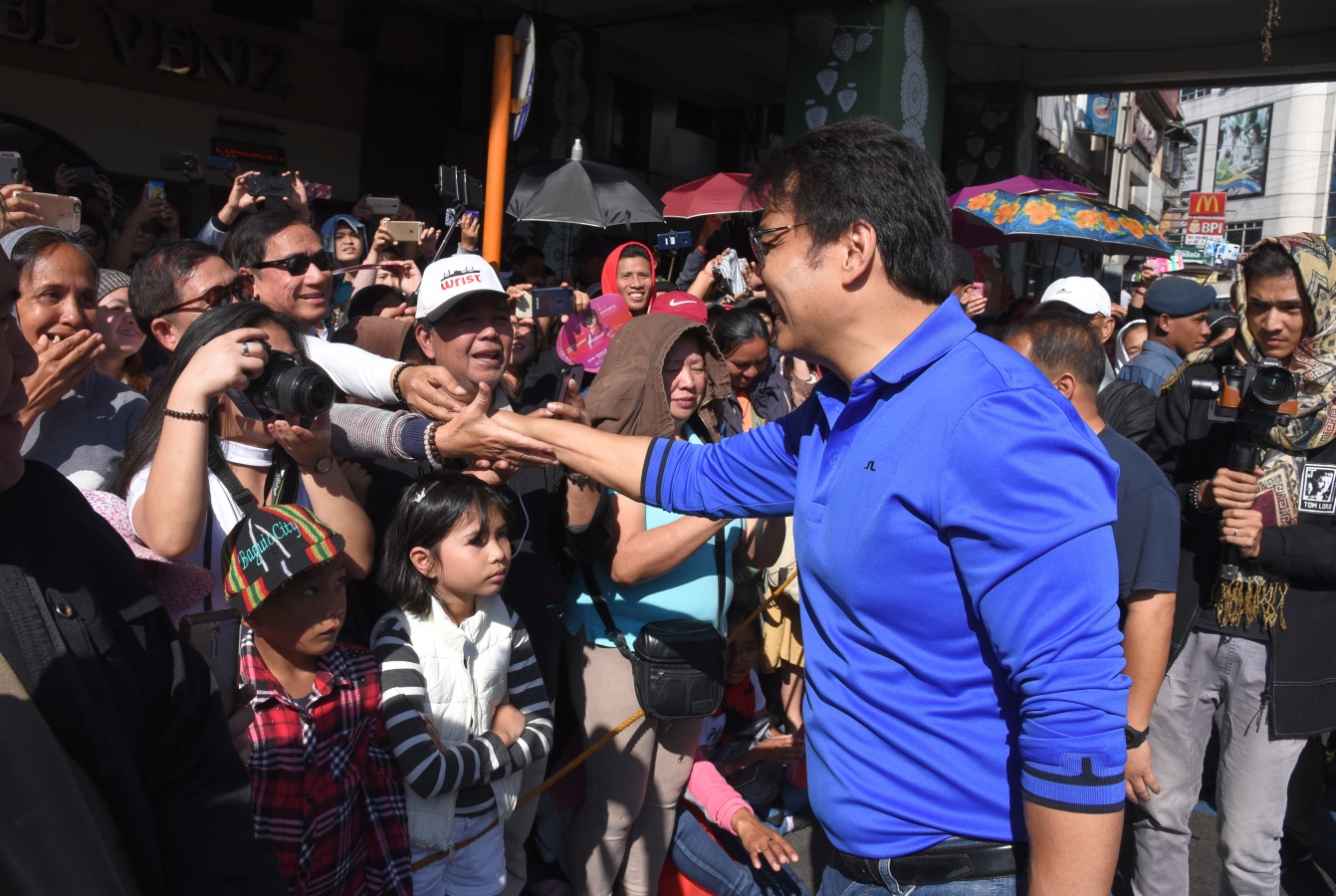 We also note that Revilla is part of the Senate triumvirate of re-electionists accused of plunder for their alleged misuse of the pork barrel called Priority Development Assistance Fund (PDAF) during their incumbency. Co-accused Jinggoy Estrada is embroiled in a case involving P183 million while Juan Ponce Enrile, P172.8 million.
Understandably, private individuals posting their message-laden photos with Revilla are obviously just venting their frustration at how things are turning out, especially with the latest Pulse Asia survey showing him ensconced in ninth place in the senatorial race while other candidates unblemished by plunder charges remain out of the Magic 12.
Any private citizen who wishes to make selfie photos with Revilla "a thing" is free to do so. The act is therapeutic. It helps taxpayers cope with frustration. And whether or not Revilla agrees, the posts make us laugh.
Get more stories like this by subscribing to our weekly newsletter here.
Read more:
Your vote in 2019 has the power to eradicate pork barrel (or start the process at least)
All the President's men…are recyclable?
Cops aren't afraid of harassing teachers. Here's why
TAGS: elections elections 2019 senatorial elections