This series matches Filipina goddesses with western zodiac signs for the modern diaspora
Visayan war goddess Ynaguinid as an Aries? Count us in
Apr 24, 2019
How do you introduce Philippine culture to children of the diaspora while simultaneously decolonizing it? You can start by going to our roots, to our indigenous constellations (Read: The National Planetarium's new exhibit reminds us we have our own stars, too) and babaylans and our own incredibly rich and diverse mythology, with our tattooed and curly-haired goddesses ruling over sky, land, and sea. There was a culture (don't mistake it for a homogenous one) that lived before skin whitening products and the modern English alphabet existed on our shores, before 300 and 50 years of colonization, and it continues to exist despite attempts to stifle it.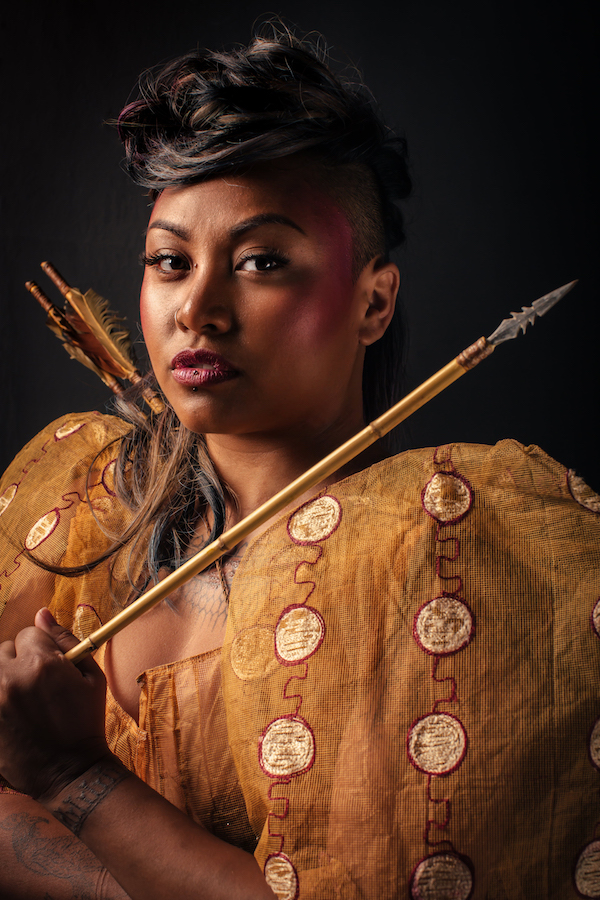 "Pinay Zodiac," a series by the feminist Filipina platform Hella Pinay and designer Jodinand Aguillon, acts as its own introduction into our culture, fusing together western astrology and Philippine mythology to reenvision our goddesses for the diasporic audience. An example of this is their March horoscope: Aries and the Visayan goddess of war and poison Ynaguinid, featuring morena model Crista Aguinaldo as Ynaguinid. "Ask Ynaguinid to show you the poisons in your life," the entry goes. "The places where you are hurting, the habits that are not good for you, the experiences that deplete you."
We caught up with Stephanie Gancayco, founder and editor-in-chief of Hella Pinay, to get a closer look into the series.
How did this project come to light?
Jodi and I first collaborated two years ago on the "9 Muses" series for Hella Pinay, which was inspired by the "Siyam na Diwata ng Sining/Nine Muses of the Arts" sculpture by Napoleon Abueva at UP Diliman and goddess/oracle cards. We interviewed and shot nine different women at Pineapple Lab who were both Manila locals and also from Canada and the States. We wanted to flip the idea of traditional arts muses, derived from Greek mythology, and re-envision them as modern Filipina diwata—we had diwatas of multimedia, business, darkness (BDSM), as well as more traditional categories like dance and theater. So at that time we were already kind of fusing western and Filipino mythologies and flipping them on their heads. Jodi and I are both Scorpios haha so I think it's subject matter that really inspires both of us—tarot, astrology, mysticism, mythology, art, ancient/futuristic.
The idea for "Pinay Zodiac" came about last year because we wanted to collaborate on some new content and Jodi suggested a zodiac series. I did the research and goddess pairings and reached out to astrologer Chase Chualong in New York to write the horoscopes; Jodi brought in gorgeous vintage terno and tapped photographer Dar San Agustin and graphic designer Anissa Aguila to create these beautiful portraits that feel like Renaissance paintings covered in whimsical astrological illustrations.
Since Hella Pinay seeks to empower Filipina voices, what was the logic behind the decision to pair Philippine narratives with the western zodiac?
I believe that the core of my work is always about bridging and trying to create an entry point for people to dig deeper, to connect to each other and themselves, to culture. There's still not a lot of readily-available information on Filipino mythology, but I think it's something many, many people are interested in learning more about. I felt that by drawing people in through beautiful imagery, and pairing Filipino mythology with something they're likely a lot more familiar with (western astrology), it would maybe help the subject matter resonate more easily and encourage them to learn more.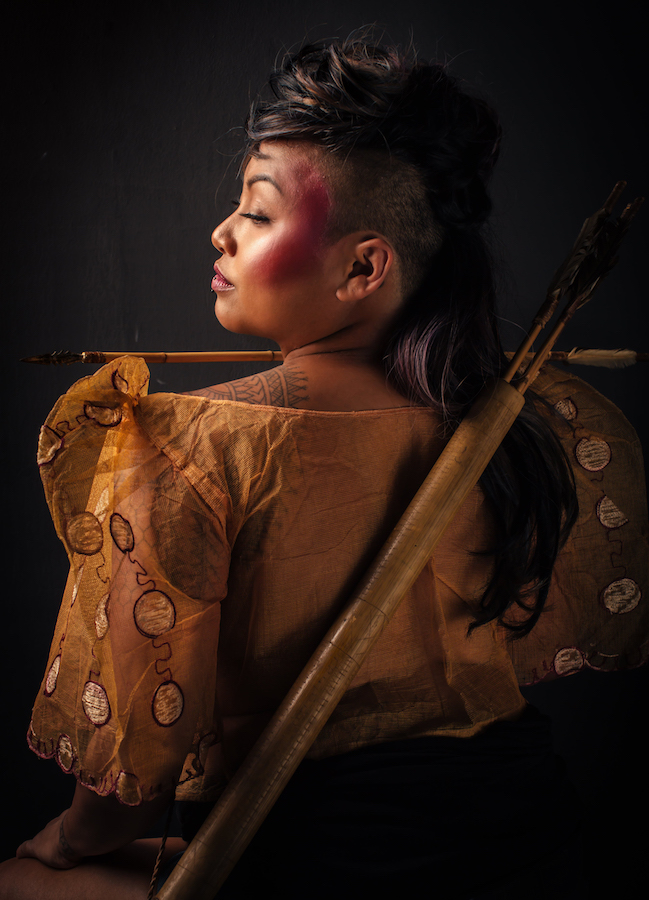 How do you choose which mythological Filipino women to feature and which Zodiac sign to partner them with? Ynaguinid and Aries seemed like a no-brainer because of their shared fierceness, but I'm guessing that there are some signs that don't have quite as an obvious Filipino counterpart.
I've been into astrology and mythology since I was little because of my mom—and as an adult, polytheism and goddess worship—so when I started to research Filipino mythology about four years ago as part of my personal spiritual practice, I saw a lot of parallels.
As far as who to pair with what, I researched a lot into the Filipino goddesses as well as the characteristics of the western zodiac-ruling gods, personality traits of the signs, symbolism, elements. Some of them were definitely more easy and obvious, like pairing Hanan, the Tagalog goddess of the dawn, with Leo, a fire sign ruled by the Sun. Some of them were more about looking into the characteristics of the signs themselves, like Libra is all about balance and being fair and kind, whereas Lakapati the goddess of fertility symbolizes the balance of everything and is the most beloved and understanding of deities in Tagalog animism, so that also felt like a fit in a different way.
Starting the series with a strong but obscure Visayan goddess and pairing her with a morena model seems like an attempt to decolonize our Westernized beauty standards. Would it be right to assume that the rest of the series will follow suit?
Honestly, I always really want to show how diverse we are as Filipinos and also am blessed to have an amazing network to pull models from. For Ynaguinid/Aries, Crista (our model) happened to be my roommate and a frequent collaborator with Jodi—she also has Visayan ancestry, tattoos, piercings, a half-shaved head, and is super fierce; she was a duh for this role. We cast a range of different models with different looks, skin tones, hair textures, body types etc who were good fits for the different signs—and yes, at Hella Pinay we always strive to challenge the norms of what society and traditional media tells us is beautiful.
I've noticed that there's been a growing amount of works by diaspora writers tackling Philippine mythology and folklore, Erin Entrada Kelly's upcoming Leilani of the Distant Sea being a notable example. Why do you think there's a harkening back to PH mythology, and where does "Pinay Zodiac" fit into this?
It's amazing! I think there's just such a growing movement to reconnect to parts of our cultural heritage right now. Also because so much has been passed down through oral history, maybe writers and artists want to document or reimagine these stories so they won't be lost. I hope that "Pinay Zodiac" can help Filipinos feel pride in knowing that we have so much ancient and rich culture, remember parts of ourselves we've forgotten, or at the very least, just discover something new and interesting and beautiful.
Photos by Dar San Agustin, courtesy of Hella Pinay
Get more stories like this by subscribing to our newsletter here.
Read more:
2019 summer reading essential: A PH folklore-inspired children's novel
Local creatures that mainstream media never told you about
Live in mystical Philippines with this tabletop RPG
Read more by Zofiya Acosta:
To all the books we haven't read, yet are already on our bookshelves
Please stop putting light-skinned models and actors in brownface
Why aren't we talking about the Al-Aqsa Mosque?
TAGS: decolonize hella pinay jodinand aguillon nolisoli.ph philippine mythology pinay zodiac