Can you still call it an Italian restaurant if it doesn't have pizza?
Osteria Daniele says sì
info
Osteria Daniele

Italian

11 a.m. to 1 a.m. everyday

₱

P500-P800
The first thing we are served upon settling down at this new upscale Italian restaurant is not pasta or pizza. In fact, it isn't even edible.
The chef lays down before us a smoking gun and combustible bits of hickory wood. Puzzled, I ask: "What do we have here?" To which Dani Aliaga of the Bistronomia group says, "You will see."
In comes a plate under a glass cover. And before we can see what's inside, the chef is already busy pumping smoke into the dome. Aliaga takes photos of this gastronomic trick—lots of photos. He even checks if our crew has a good shot, which takes three batches of hickory burning to achieve.
By the time we have a stunning photo, the chef says the smoke has gone overboard. But that's okay, Aliaga says. We agree. In the end, the burrata with prosciutto, anchovies, and a pepper emulsion turns out fine—if not better with that extra-strong hickory aroma.
Bistronomia is mostly known for its Spanish concepts like Rambla and BCN Wine Gastro Bar. But for Osteria Daniele, they have decided to go another direction. Aliaga, who is Spanish, says it was only natural for them to gravitate towards Italian cuisine since it is the closest to their culture.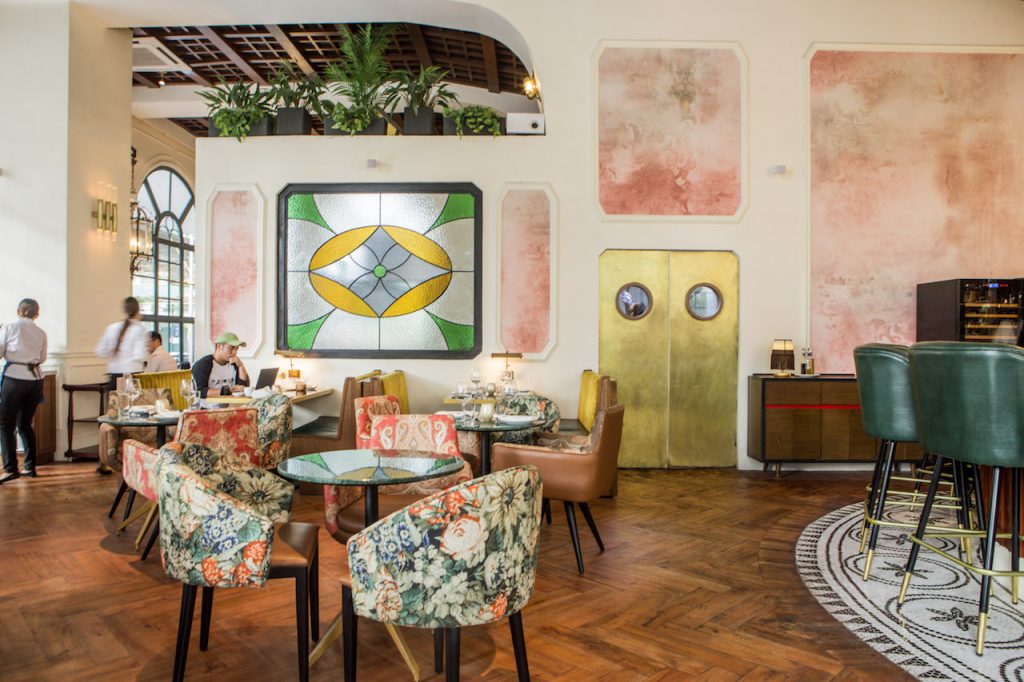 But something seems to be intentionally left out of the menu. While there are a decent number of dishes under three classifications—mangiamo (mains and appetizers), bevanda (beverages), and dolci (desserts)—one instantly notices the absence of pizza.
"We don't have pizza," Aliaga says matter-of-factly. "We realized that there's no need to have pizza in order to be Italian. There can be many other ways to do an Italian restaurant without offering pizza."
And many other ways there are indeed.
Next to the creamy and spicy burrata aperitivo, there's the insalata de pulpo, a warm salad of grilled octopus, potato balls, and blanched green peas, snow peas, and French beans in bagna cauda sauce.
The tangy, balsamic vinegar-based garlic-and-anchovies sauce is usually consumed à la fondue in Italy, but in this dish, it does a superb job of tying together different textures and tastes.
Then there's the seared foie gras on top of the cheesy risotto al limone. The risotto by itself, infused with lemon and saffron, is already rich in flavor, but with the melt-in-your-mouth duck liver, the dish altogether is an explosion of flavors, a battle of textures in the mouth.
After all three courses, one could nearly forget pizza, or that it is quintessential Italian fare. Aliaga may be right after all.
Located at the corner of 9th and 26th streets at the Bonifacio Global City, Osteria Daniele is far from the usual barrage of dining establishments in the area. Instead, it is sandwiched in between a residential and a corporate building. Men with blazers hung over their arms come in throngs, presumably from the same building.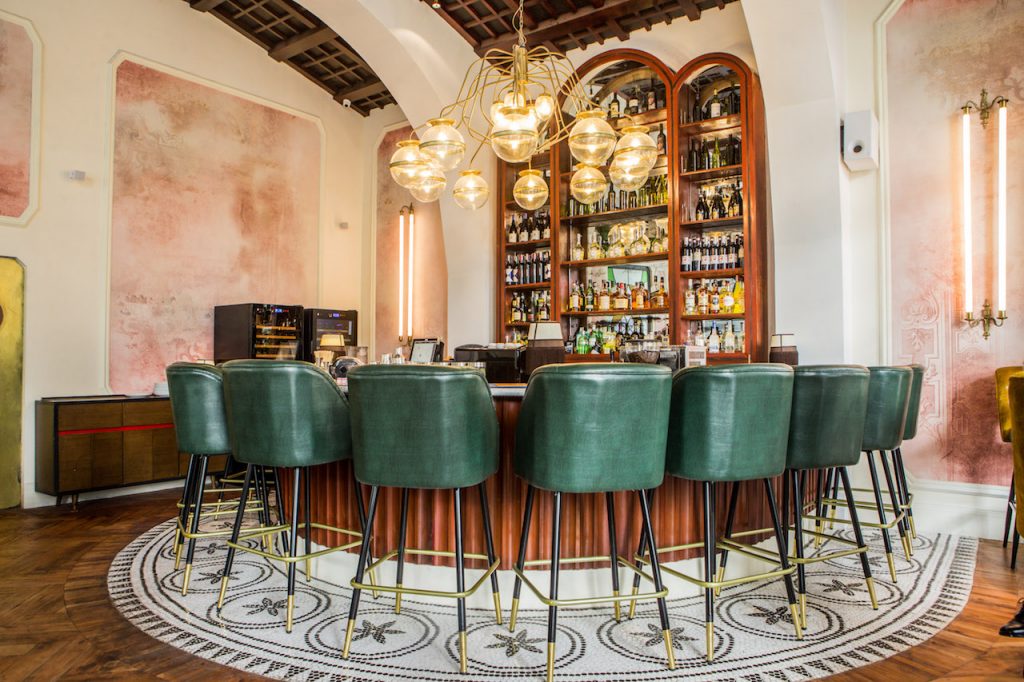 By 5 p.m., an hour before their dinner service, guests donning formal evening wear arrive—a stark contrast to the laid back 9-to-5 crowd that's lounging by the half-moon bar.
And this is how Aliaga and his partners envisioned it to be: the bar on the right side filled with patrons having an afternoon drink, and bigger crowds like families having dinner by the booth with suede backrests and solihiya finish.
As the warm light of the sunset filters in through the large windows rendering the Pompei-inspired interiors a golden hue, dessert is served. The four bars of strawberry and pistachio semifreddo topped with orange pulp imitate the pale pink color of the washed-out walls, making them look almost like a forlorn watercolor painting. The dessert's flavor is reminiscent of fruit popsicles sold in the summer, only creamier and not quite frozen. A fitting palate cleanser after the foie gras.
Then again, there are the drinks to end the day and the dining experience. The Fior d'Alpi is a milky-looking concoction of bourbon, amaretto disaronno, grapefruit juice, fresh lime juice, Angostura bitters, egg yolk, and sugar syrup. It's an after-hours drink, says our photographer, who is better versed in liquor than I, a person who's likely to order a drink because it has a vibrant hue like the Aperol in all its orange glory.
Looking back at the menu, I see that the Aperol originated in Venice in the 1950s prior to becoming a staple in the Italian diet. "Crisp and refreshing, the cocktail can be seen in the hands of Italians all over Italy!" the menu reads. In simpler words, it doesn't get any more Italian than that.
Get more stories like this by subscribing to our newsletter here.
Read more:
Here's where you can have an Italian pizza made the traditional way
There's a hidden restaurant in BGC that serves Italian tapas
This deli restaurant allows you to turo-turo the Italian way
TAGS: bgc Bistronomia Italian osteria daniele
WHY GO?
The Pompeii-inspired interiors catch the goldest of sunsets as you sip a drink of your choice at the demilune bar counter.
MENU