How do you follow a masterpiece?
The third Toy Story film was so well-received, and so loved that it was only the third animated feature nominated for Best Picture in the history of the Academy Awards. It was unanimously considered a great film, with over 300 critics from around the world giving it positive reviews, earning it a 98% rating on Rotten Tomatoes.
Those are just decors, of course. Toy Story 3's true cultural impact (aside from that incinerator scene) was that it was a satisfying and emotional ride about growing up. It was the perfect ending to a trilogy that defined the childhood of many millennials. Something that perfect would have been better served to be left alone, but Pixar and Disney decided Woody and the gang had one more story to tell.
New favorites
This time, they're very happily Bonnie's toys—except Woody is finding himself more and more stuck in storage as Bonnie chooses other toys over him. Jessie is her new sheriff in town, and Woody is gathering dust bunnies in the closet. But Woody, ever loyal to his kid, is always looking out for her. In this film, Bonnie is petrified of going to kindergarten and Woody enlists himself to take care of Bonnie despite toys not being allowed in school.
In school, Bonnie finds it hard to make friends. With Woody's quick thinking and Bonnie's imagination, she literally makes a new friend: a toy made out of a spork and googly-eyes she named Forky. Back in Bonnie's bedroom, Forky gains sentience and immediately tries to go back into the trash where he belongs. 
This kicks off Toy Story 4 being laugh-out-loud funny, with Forky (voiced by Veep's Tony Hale) repeatedly screaming "Trash!" as he tries to escape Woody's protection in favor of the closest bins. It's the funniest Toy Story film to date, with antics from Forky, and later on, Duke Caboom (voiced by Keanu Reeves), giving audiences of all ages something to truly laugh about. 
Woody's story
What's also amazing about this film is that despite the hilarity, it still packs an emotional punch. The larger arc of the film is Woody's personal journey of trying to find his true purpose in this post-Andy reality. It almost mirrors the plot to the first Toy Story film where Woody was threatened by the appearance of shiny new Buzz Lightyear in the toy box. But this time, Woody applies everything he has learned in the past to do things differently. 
All four films were Woody's journey—from grappling with the threat of being replaced in Toy Story 1, finding his way back home after being stolen in Toy Story 2, and moving on after he is outgrown in Toy Story 3. Toy Story 4 is no different in that it is predominantly Woody's story as he asks himself a tough question: Is this where I truly belong?
In the course of keeping Forky by Bonnie's side, he and Forky find themselves separated from their family during a road trip. It was going to be a straightforward mission, but he is distracted by a lamp in an antiques shop that reminded him of old friend Bo Peep, who was given away to a different owner.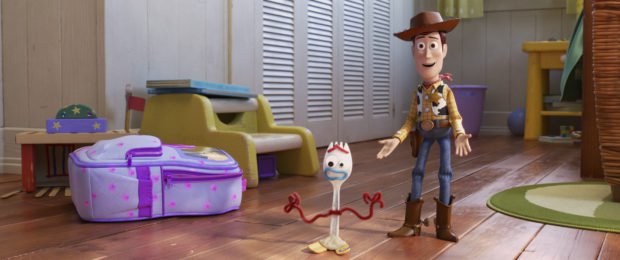 High stakes
Inside the shop, they run into a group of antique dolls that are truly terrifying, even the adults in the audience will get a good scare. One of the toys, Gabby Gabby (voiced by Christina Hendricks), tells them about how she just needs a working voice box—just like Woody's—in the hope of finally being owned. Finally, the film has a villain, but even with the creepy animation, her character is not as cut and dry.
Woody escapes Gabby Gabby's clutches and runs into a group of rogue toys led by an almost world-weary Bo Peep. This Bo is no longer glossy and shiny and all pink. She's a little roughed up, she's wearing pants, she's thriving as a 'lost toy' with the traveling carnival. She helps Woody rescue Forky from Gabby Gabby in a confrontation that's about as violent as a Pixar film could be. We see our favorite toys ripped and torn in the aftermath, including Woody who ends up giving in to Gabby Gabby's demands, anything to get Forky back to Bonnie.
A lot has happened at this point, but the film continues to unravel beautifully and surprisingly in the third act. Gabby Gabby isn't just your garden variety creepy doll, she isn't even a one-note villain. She has her own story and satisfying motivations that make you feel for her just as much as every other character on screen. 
Another hit
Directed by Josh Cooley and screenplay by Stephany Folsom and Andrew Stanton, the film is fast-paced as all other animated films are. It's bright and colorful with plenty of sight gags that will make younger audiences giggle, but it wastes none of its nearly two-hour screen time, packing the story with a lot of humanity and heart that guarantees once again that there are no dry eyes left once the credits roll.
So, how do you follow a masterpiece? Toy Story 4 shows us that it's actually quite simple: by telling a story that's crafted with a lot of thought and care. This is the continued magic of most Pixar films, and why children and adults alike watch every new release. They know they'll laugh, they'll cry, and they'll learn a thing or two about life as they know it.
Get more stories like this by subscribing to our weekly newsletter here.
Read more:
They deserve love, too: Underrated queer films you can watch Pride Month or not
Here's your chance to watch 17 Japanese films for free
Not that easy to forget: Eddie Garcia films to remember his legacy
Writer: NIKKI FRANCISCO